NORFOLK, Va. — Petty Officer 3rd Class Maddison James returned home to Goffstown recently, marking the end of a seven-month deployment aboard USS Dwight D. Eisenhower (CVN 69).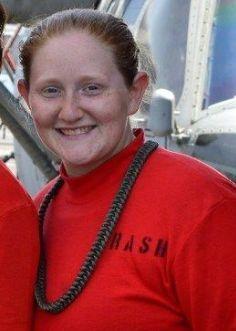 Since departing its home port of Norfolk, Va., in January 2020 for the ship's Composite Training Unit Exercise, the aircraft carrier remained underway and deployed to the Arabian Sea, Red Sea, Mediterranean Sea and Atlantic Ocean.
James is an aviation boatswain's mate (handler) aboard the carrier. As an aviation boatswain's mate (handler), James is responsible for working on the flight deck as a firefighter and standing by for any type of aircraft or fuel emergency.
"My favorite part about my job is the diverse community on board," said James, a 2016 Goffstown High graduate. "Everyone is from different cultures and backgrounds and we all come together to perform our mission as a team."
As the COVID-19 pandemic spread across the globe, USS Eisenhower continued to conduct operations underway, minimizing the potential spread of the virus aboard in order to maintain maritime stability and security and ensure access, deter aggression and defend U.S., allied and partner interests.
USS Eisenhower, along with the USS San Jacinto (CG 56), one of the other ships within Carrier Strike Group 10, remained continuously at sea with no port visits, setting a record for the U.S. Navy, breaking the previous record of 160 days set in 2002 by USS Theodore Roosevelt (CVN 71).
"I'm so proud of the young men and women I see on the deck plates each and every day," said Capt. Kyle Higgins, Ike's commanding officer. "Their dedication to the mission is what makes our Navy the greatest fighting force the world has ever seen."
Sailors assigned to Eisenhower and San Jacinto transited to the equator and participated in a unique crossing-the-line ceremony, on May 14 becoming the Navy's first 'Iron Shellbacks,' with more than 100 days at sea.
"My proudest accomplishment is receiving my enlisted air warfare qualification," said James. "Achieving all my qualifications within my work center helps me stand out and I can help junior sailors with theirs."
USS Eisenhower participated in multiple exercises with allies and partners and dual-carrier operations. The ships in CSG-10 also completed multiple strait and choke point transits, to include the Strait of Gibraltar, the Suez Canal and the Bab-el Mandeb Strait, while operating under two Combatant Commanders — U.S. European Command, and U.S. Central Command.
"My role in supporting the ship is making sure aircraft have a team waiting in case an emergency occurs," said James. "I stand watch during flight operations to ensure safe and efficient execution of the flight plan every day."
Serving in the Navy is a continuing tradition of military service for James, who has military ties with family members who have previously served. James is honored to carry on the family tradition.
"Both my grandfathers were in the Navy," said James. "They both served aboard ships and my uncle was also a fellow aviation boatswains mate on an aircraft carrier."
As a member of the U.S. Navy, James, as well as other sailors, know they are a part of a service tradition providing unforgettable experiences through leadership development, world affairs and humanitarian assistance. Their efforts will have a lasting effect around the globe and for generations of sailors who will follow.
"I joined the military to better myself," added James. "To be a part of something much bigger than myself and I wanted to serve my country."