MANCHESTER — Dozens of people braved frigid conditions Sunday in memory of the Japanese attack on Pearl Harbor in 1941.
The annual ceremony at Arms Park commemorated the 78th anniversary of the raid on the U.S. Pacific fleet and included a reading of an excerpt from the radio address to the nation by President Franklin D. Roosevelt on Dec. 8, 1941.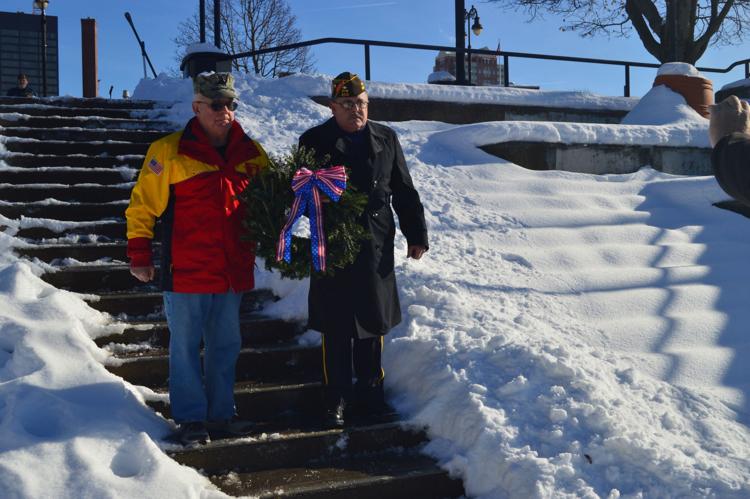 Retired U.S. Army Maj. Dan Beliveau, commander of the Manchester Veterans Council, said all who were wounded or killed in the attack should never be forgotten.
"It is important for us to continue this tradition of remembering those who gave all so that we can continue to enjoy the freedoms we often take for granted," Beliveau told a group of about 30 people who gathered for the ceremony.
"To fail in this would be the beginning of a downward spiral in our culture and of civilization as we know it, and so we gather to remember those who came before us to protect our freedoms and our way of life."
Beliveau said the recent shootings at the Pearl Harbor Navy Shipyard and at a Naval air station in Pensacola, Fla., are reminders of the need to remain vigilant.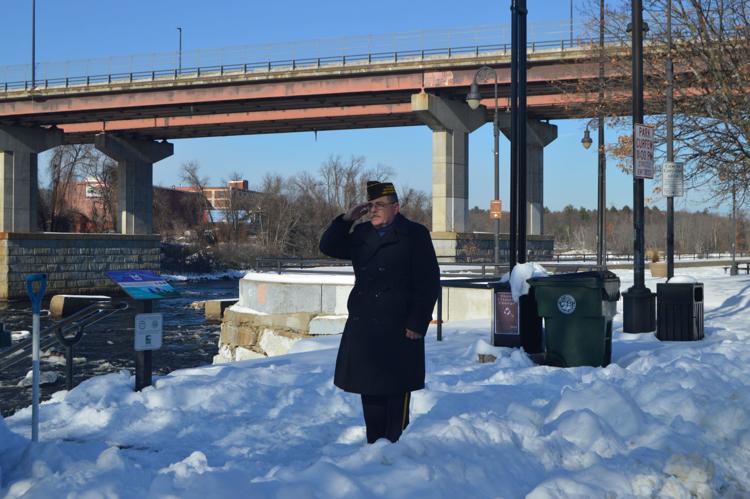 After his brief remarks, Beliveau and U.S. Marine Corps veteran Jim Covatis of Manchester carried a memorial wreath to the water's edge and placed it in the Merrimack River.
A member of the Manchester Veterans Council had to shovel off the steps leading to the river because much of the area was still covered with snow from last week's storms.
David Powe of Manchester, who was part of the American Legion Sweeney Post #2 rifle detail that fired off a 21-gun salute, said it's always an honor to take part in the ceremony.
"It hurts, but this is how we remember them. This is how we carry on," Powe said. "I don't care if it's 100 degrees out. I don't care if it's negative-10 with a blizzard, we're here to honor them — the ones who never even got a chance to fight back."