RAYMOND — A Marine veteran who served in Desert Storm jumped at the chance to help deliver thousands of balsam fir wreaths to veterans' cemeteries and memorials.
"It will honor some people I knew who didn't make it back," Dwayne Morse, a Walmart driver from Hooksett, said before climbing into his tractor trailer loaded with approximately 2,500 wreaths and joining seven other Walmart drivers who made a stop in Raymond Monday as part of the Wreaths Across America movement.
Each year, a ceremony is held on the town common to honor veterans, lay wreaths at a Civil War monument, and send drivers on their way to destinations around the country.
Nearly 100 people attended the ceremony, which included a performance by the Raymond High School Band.
Wreaths Across America began in 2008 as part of the Arlington National Cemetery wreath project, which started in 1992 with the placement of wreaths donated by Maine businessman Morrill Worcester of the Worcester Wreath Company.
The mission is to place wreaths on veterans' grave markers.
Walmart is the biggest corporate supporter of Wreaths Across America.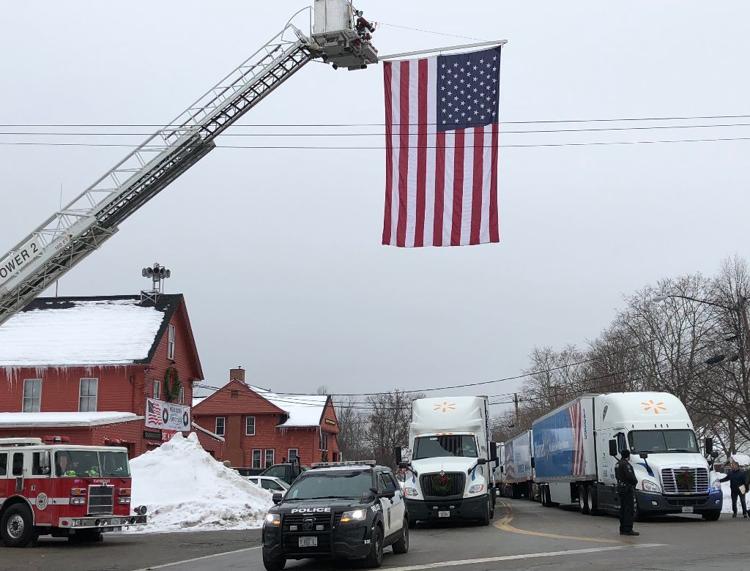 Monday's stop in Raymond is the only one in New Hampshire, according to Lakesha Jolly, general manager of Walmart's Raymond distribution center.
Each truck was filled with about 2,500 wreaths that are being delivered to national cemeteries and memorials, including Arlington National Cemetery, to remember the nation's veterans during the holiday season.
Many wreaths will be placed on National Wreaths Across America Day, to be held Dec. 14.
Morse said he'll drive his load of wreaths to Marcy, N.Y., where another truck will take the trailer and transport them to their final destination in St. Louis, Mo.
In total, Walmart trucks will deliver 100,000 wreaths this year.
Walmart driver Nate Martell of North Haverhill is participating for the first time this year.
"I really respect what Wreaths Across America is about. There are men and women that have served their country and paid the ultimate price, so I just want to be a part of it," he said.
Raymond Town Manager Joseph Ilsley, who is an Air Force veteran, said the local ceremony helps kick off the holiday season.
"As a combat veteran, one of the things I would like the community to reflect on is, as we gather for the holiday season and we spend time with those we love, we have people who have given the ultimate sacrifice. ... In addition, we have a lot of service members who are abroad serving this country that won't be home for the holidays with their family. I hope we can reflect upon that and keep them in our thoughts and prayers this season," he said.