MANCHESTER — The Department of Veterans Affairs' number one clinical priority is to eliminate suicide among veterans. As part of the department's ongoing efforts, VA New England Healthcare System hosted a conference to share resources, to share insight from combat veterans and experts, and to collaborate to better arm our communities to end suicide among veterans.
The conference was held June 26 at the DoubleTree by Hilton Manchester Downtown hotel.
"Women veterans are 1.8 times more likely to die by suicide than non-veteran females. The rate of suicide is 1.4 times higher among male veterans when compared with non-veteran adult men. Male veterans ages 18-34 have the highest rates of suicide and male veterans ages 55 and older have the highest count of suicide. One to two service members die by suicide each day and 123 Americans die by suicide each day. The worldwide rate of suicide is one person every 40 seconds," said keynote speaker Keita Franklin, executive director of suicide prevention at the VA Veterans Health Administration (VHA) Office of Mental Health. "No single organization can tackle suicide prevention alone."
Franklin spoke to the value of partnerships, safe messaging and the need for all to take an action-oriented stance in this fight to put an end to suicide.
The program included presentations from combat veterans Richard Barbato, 82nd Airborne Division, Iraq, acting management analyst with the VHA Readjustment Counseling Service, and Ryan Pitts, Medal of Honor recipient, 173rd Airborne Brigade Combat Team, Afghanistan.
They presented "The Road Home: Interdicting Suicide Risk by Strengthening Our Communities."
They shared their personal experiences with readjustment and loss, and the importance of community connection.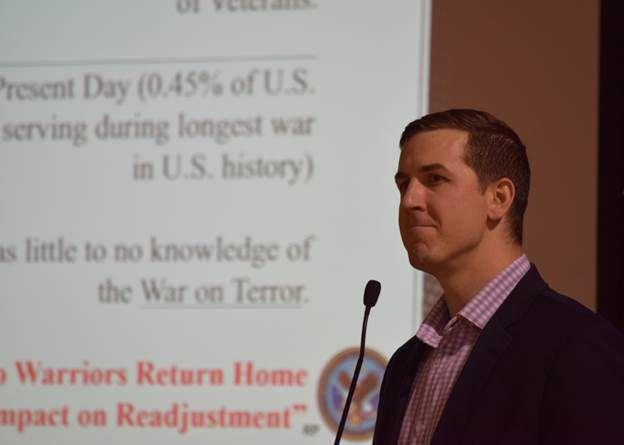 Retired Army Capt. Ray Gilmore, also a combat veteran, shared his story of service which included his personal battle with Post Traumatic Stress Disorder.
"Like many others, I denied the diagnosis. I was a ranger, sapper, airborne and mountain qualified, combat advisory — there was no way that I had PTSD," Gilmore shared.
His story highlighted the impact people had made by being there for him. Today his work is to recover and be there for others.
"Getting up, to speak to a group of strangers, about my journey and my struggles, that is hard. And I hope that it made a difference."
Others in attendance included community providers; veterans; professors; faith-based leaders; leadership from the Manchester, N.H., White River Junction, Vt., and Togus, Maine, VA Medical Centers; Lisa Lehmann, MD, chief medical officer of the VA New England Healthcare System; and Amy Cook, team leader for the Governor's Challenge to Prevent Suicide. In all there were 170 participants."My hope is that you leave today feeling inspired and empowered that we as citizens can share a common purpose to make a difference," said Shara Katsos, VISN 1 deputy leader for the Strategic Initiative for Suicide Prevention, and deputy homeless coordinator for VA New England.
Katsos served as the event's emcee. "Over the last seven years, we have significantly reduced the number of homeless veterans in New England as a community, and I know we can do this," she said.
Every day approximately 20 veterans die by suicide. Of those 20, approximately 6 have enrolled in the VA.
If you are a veteran, service member, or National Guard or Reserve member, there is support no matter what you are experiencing. If you are a loved one, a family member or a friend, there is help and guidance for you. Call the Veterans Crisis Line for free confidential support at 800-273-8255 (press 1). The VA is here for you 24/7. You can also send texts to 838255. For more information and support go to www.veteranscrisisline.net.