On Aug. 26, 1969, five National Guardsmen from Manchester were killed in Vietnam when their truck struck a land mine, just a week before they were due to return home. The city convulsed in grief.
That summer, Americans were transfixed by televised images of the moon landing, and the younger generation celebrated rock and roll and free love at a music festival on a farm in upstate New York. But the news that rocked New Hampshire was the loss of these young men in a far-off jungle.
And 50 years later, the sorrow remains.
Sue Machos was 19 years old when her big brother, Roger Robichaud, died in Vietnam. He was one of five New Hampshire National Guardsmen killed when the truck in which they were riding hit a land mine on Aug. 26, 1969. They were due to come home just one week later.
"It was one of those moments in your life that you don't forget, because it was so monumental," Machos said.
Here's how the New Hampshire Sunday News described the tragedy: Not since the First World War – a half century ago – has a single American city suffered such wholesale casualties in a foreign war zone as did Manchester this past week.
Two years ago, Machos was visiting the grave site in Mount Calvary Cemetery in Manchester where her parents and brother are buried. Her mother had died recently and Machos wanted to pay her respects.
She noticed something sticking out from underneath a pot of flowers that decorated the grave. It was a plastic bag; inside was a quarter, and a note.
"I was the medic that picked up your body on that day," the note said. "I think of you often."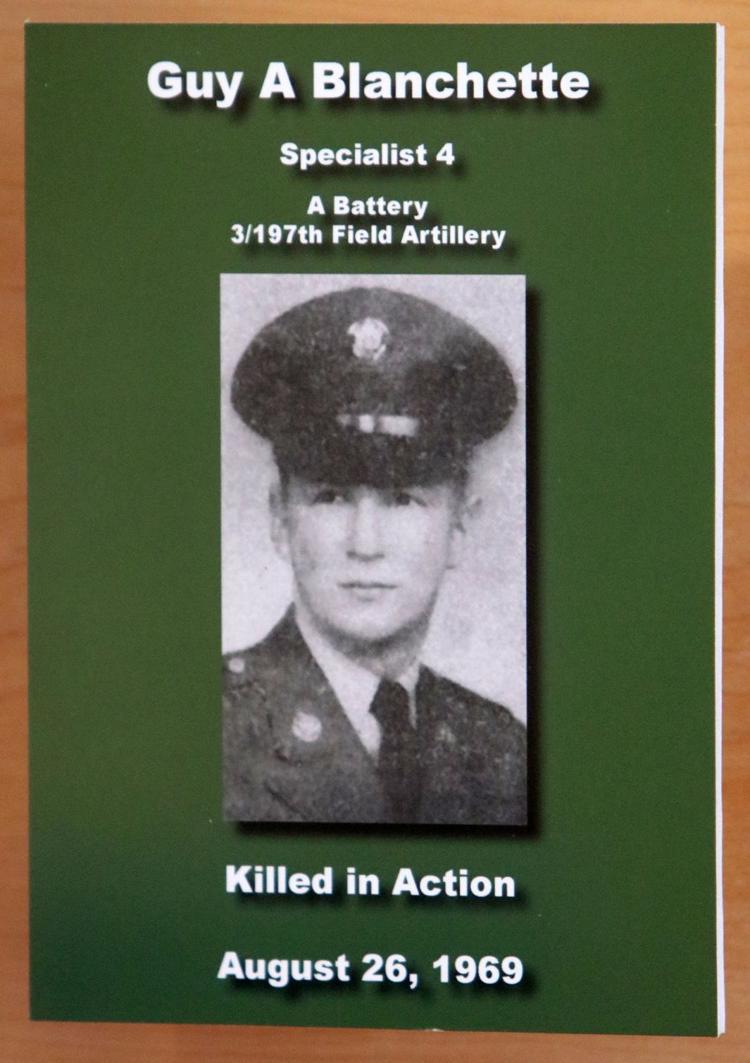 It was signed by a Dan Burger from Wake Forest, N.C. And it included his phone number. "It was overwhelming," Machos said.
Machos called Burger, and they talked at length. It turns out they live not far from each other; Machos and her husband moved to North Carolina a year ago.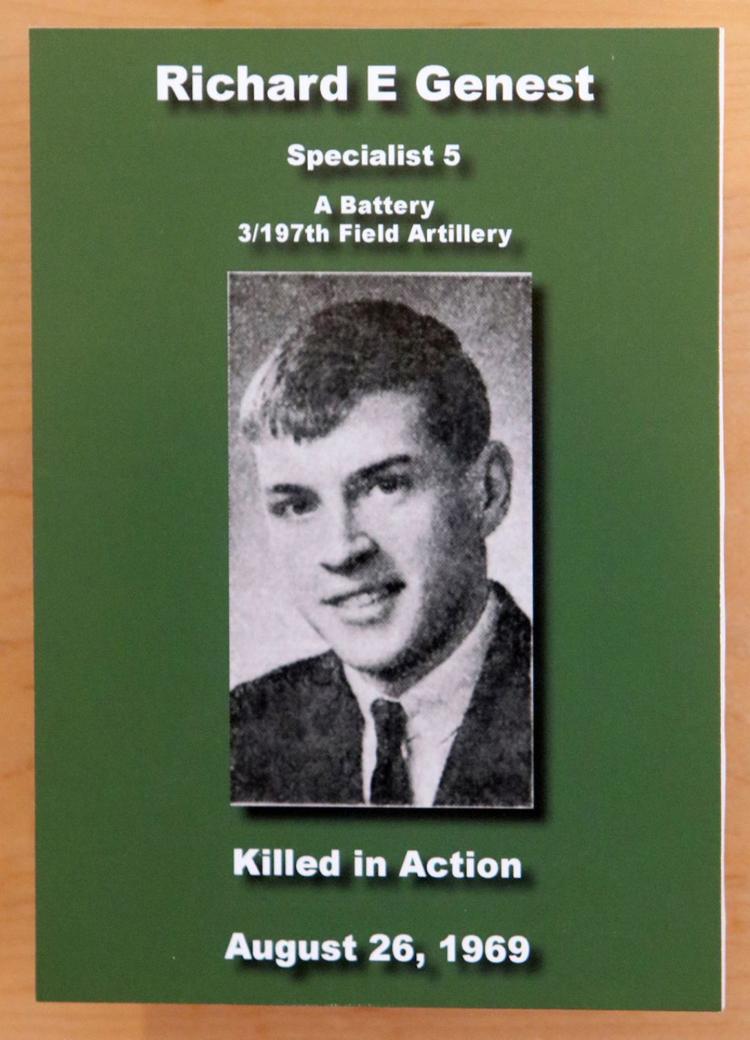 Burger was a medic with the Army's 44th Medical Brigade; he spent 19 months in Vietnam, serving on a medical evacuation helicopter. He's never forgotten what happened on Aug. 26, 1969, he said in a phone interview last week.
"I just happened to be on duty that day, and we got a call that a truck had hit a land mine," Burger recalled.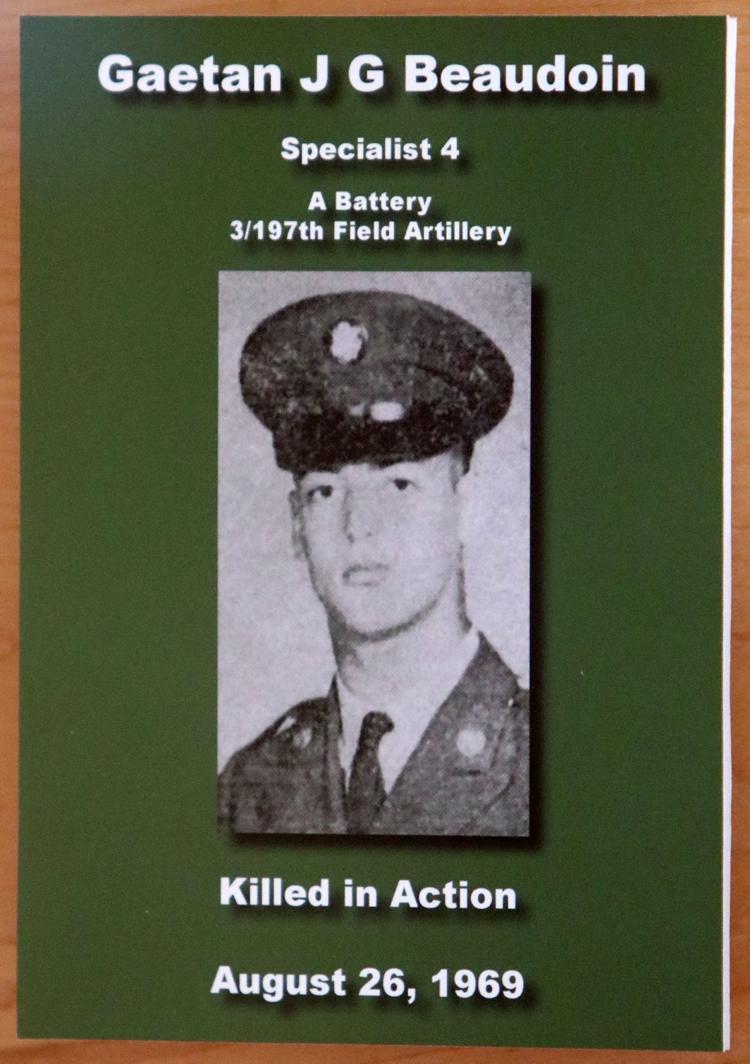 "When we got there, they were all (killed in action)," he said. His crew took the five soldiers' bodies back to their base camp, called Lai Khe, and from there they were flown home.
On that terrible day, Machos was shopping at Jordan Marsh with her then-boyfriend, the man she would marry, when she heard her name paged over the store's intercom. A friend who worked at the store handed her a phone.
She heard her father's voice: "I think you better come home."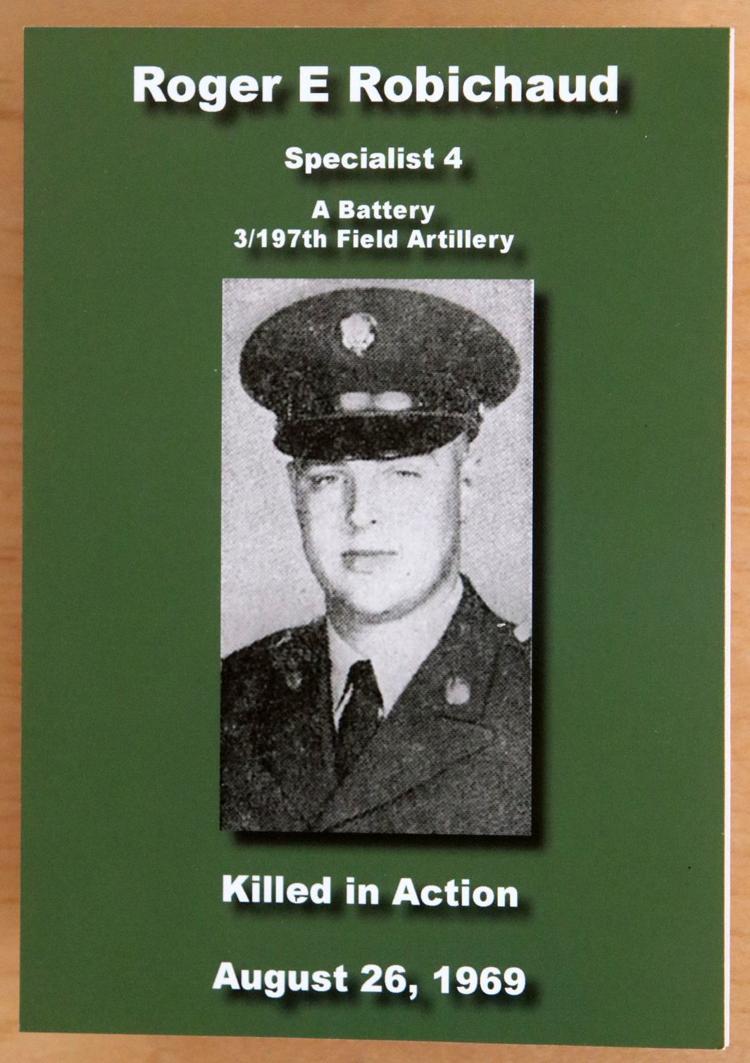 "It's Roger, isn't it?'" she asked him. "And he says yes."
Roger had gotten married shortly before he left for Vietnam. When Machos got home, her sister-in-law "came running out of the house, saying 'he's dead, he's dead, he's dead,'" Machos said.
"It was horrifying. They were on their way home."
When her brother died, Machos said, her mother "just fell apart." So a lot of the responsibility fell on her young shoulders.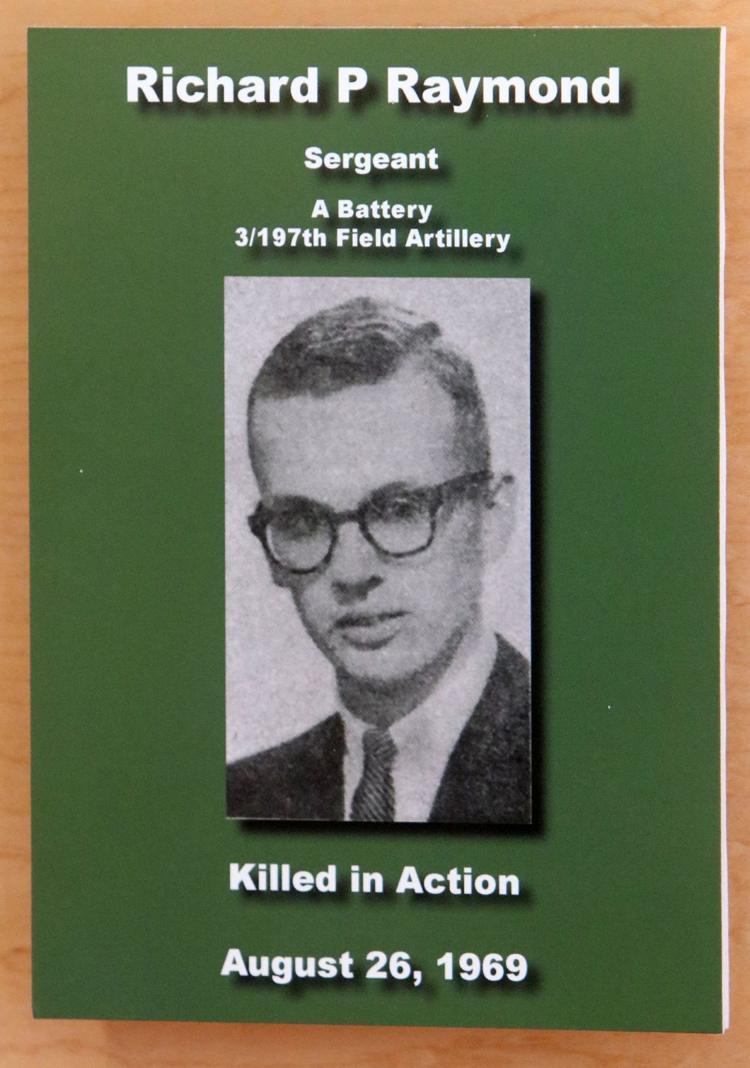 She called her mother's doctor, who prescribed a sedative. She called their priest, who came to console. She notified relatives. And she went back to Jordan Marsh to buy a funeral dress for her mother to wear.
Roger Robichaud had gone to school in Boston to become a mortician and was working for Phaneuf Funeral Homes before he deployed to Vietnam. The Phaneuf family replaced the plain wooden box in which her brother came home with a top-of-the-line casket, Machos recalled.
The Sunday News reported that nearly 2,000 people turned out at the Manchester airport, then called Grenier Field, when the flag-draped caskets containing the bodies of the five Guardsmen arrived home. "There were just mobs and mobs of people," Machos recalled.
Bishop Ernest Primeau, Manchester's Roman Catholic bishop, offered a blessing. Mayor John Mongan called it "the saddest day for Manchester that I can remember."
From the Aug. 31, 1969, edition of the newspaper:
The family members huddled at the edge of the crowd as the first casket was wheeled across the runway on its silver-colored cart; the honor guard started its drum roll as all the spectators became silent.
But then the moans and sobs of relatives were heard above the silence: a small boy flung his arms up across his face and called "Daddy" as the second casket was wheeled toward the crowd; young wives bent forward into the arms of their elders, and they were trembling.
A brother's grief
Christian Blanchette was 20 years old when he deployed to Vietnam with the 3rd Battalion, 197th Field Artillery, of the National Guard; he and his older brother, Guy, were both members of A Battery. "One of us had the option to stay behind," he recalled Saturday. "You've got to do a bit of soul-searching."
Both brothers were newly married, but they couldn't imagine staying behind when their friends deployed, he said. "We told each other: Look, you go, I go," he said. "It was a mutual agreement. We had to approach the battery commander to let him know our wishes."
The Blanchette boys were born and raised in Canada; Christian became a U.S. citizen after they moved to Manchester, but Guy decided to wait. When he died in Vietnam, Guy Blanchette was a Canadian citizen; his name is on the Vietnam War memorial in Canada. "I go every year for a vigil," Blanchette said.
Military policy required National Guard troops to be "infused" into regular Army units. The Blanchette brothers were assigned to separate units in Vietnam. But as their one-year tour of duty ended, the Guardsmen were regrouping at a base camp near the airport. It was a happy reunion for the New Hampshire guys, and spirits were high.
That's where Blanchette learned of his brother's death. "One of the officers came in, they took me aside and they told me about it," he said. "And then I noticed he had a piece of paper with other names on it."
He asked who else was on the list, and the officer read the names of his close friends: Richard Genest, Gaetan Beaudoin, Richard Raymond and Roger Robichaud. "It was blow after blow after blow," Blanchette said. "Just terrible."
The military flew him home so he could attend his brother's funeral. "I went with the group, but I came back alone," he said.
There were long lines for the soldiers' wakes, and the churches were packed for the funerals. "I remember that like it was just yesterday, and I'm 70 now," Blanchette said.
All five Guardsmen were laid to rest at Mount Calvary, four in the cemetery and one in the mausoleum across the street.
A medic's mission
Burger said what happened to the New Hampshire Guardsmen had always stayed with him. "The horrible thing about it was they had served their time and they were coming home," he said. "They would have been out of the country in a few days."
A few years ago, Burger told his wife of 46 years, Dorothy, the story about the five New Hampshire men who died that day. That prompted him to do some research on the internet, where it wasn't difficult to find out their names. And during a 2017 RV trip to Vermont, his wife suggested they drive over and try to find their graves.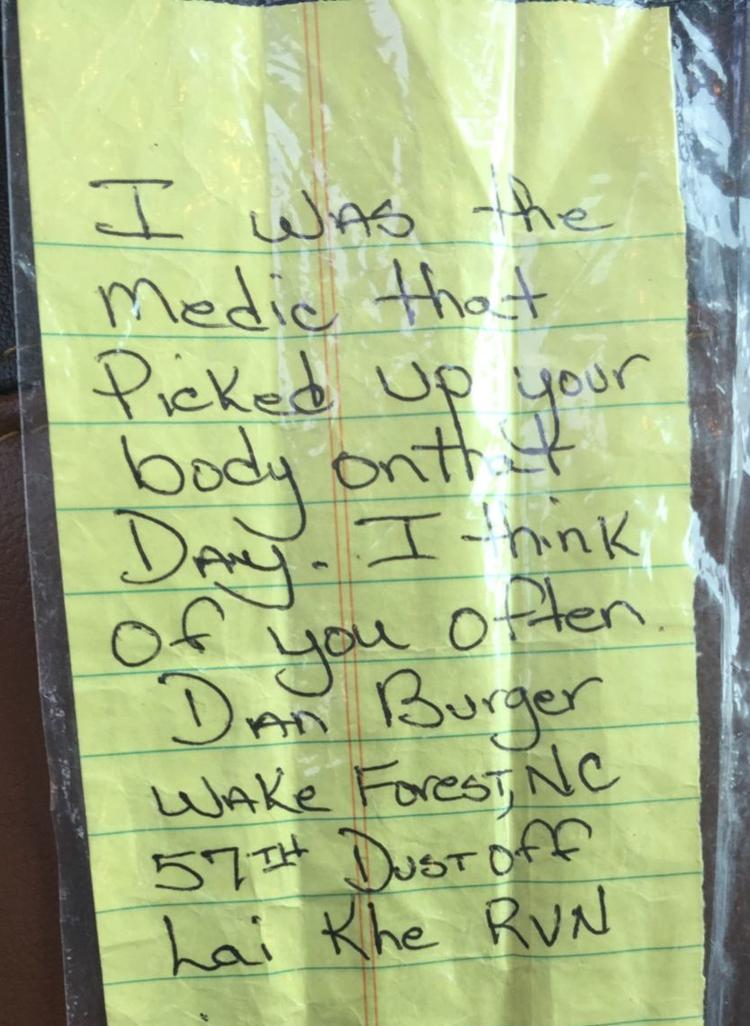 It was his wife's idea to leave the note, Burger said. "It's just kind of a closure, I guess, if there is such a thing to something like that," he said. "I just always thought about them."
Burger flew nearly 1,700 combat missions in Vietnam and picked up 3,430 soldiers. But, he said, "I never knew their names unless they were our own guys."
He left the same note at all four graves and inside the mausoleum.
And the quarter? It's a tradition to leave a coin when you visit a soldier's grave, Burger explained, with a different meaning for each denomination. "The quarter is if you were there at their demise," he said.
After her brother's death, Machos said, her parents talked only of their lost son. "I felt for the longest time that I didn't exist anymore," she said.
Her big brother "was a true gentleman," she said. "I remember dancing to rock and roll with him in the kitchen, dancing to Dick Clark. He was always good to me."
Machos and her boyfriend drove to Boston to see Roger off at Logan Airport but they got lost on the way. "When we got there, he had already boarded the plane," she said. "I never really got the chance to say goodbye."
"All I remember is he waved to me from the window of the plane."
Now, 50 years later, she said, "I think about him all the time."
Blanchette, too, said his brother's death hit his parents hard.
"My dad was always very patriotic," he said. "He never held a grudge against anything. But it really aged him. It took a big piece out of him."
His mother eventually moved back to Canada to be near her sisters; when she died, she was brought back to Manchester to be buried with her husband and son.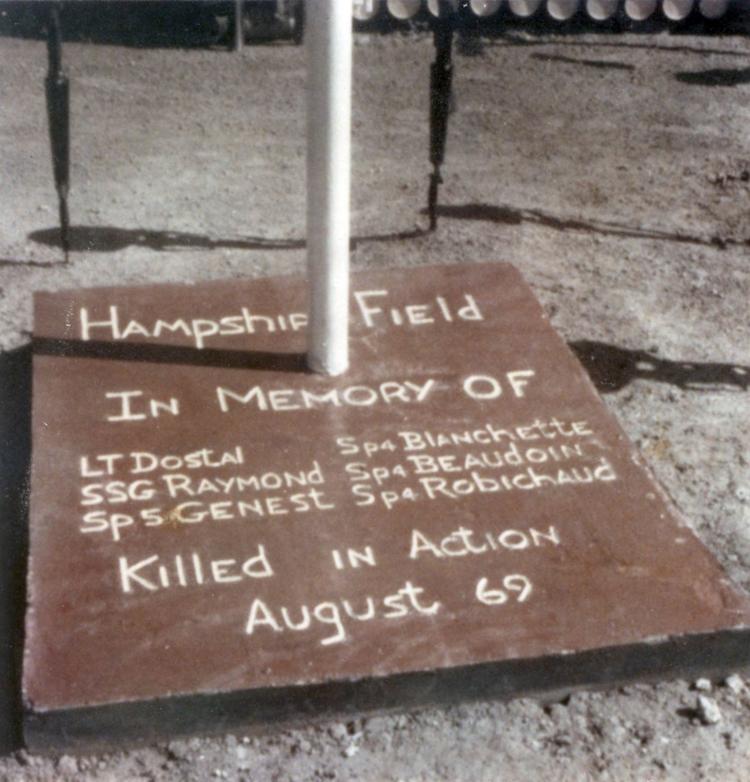 Blanchette and his wife, Patricia, have been married for 51 years. "We have a good life," he said. "She went through just as much as I did. The homefront is not easy."
They have two daughters, three granddaughters and two great-grandchildren, a girl and a boy – who is named Christian.
Blanchette said he found Burger's note on his brother's grave, but he couldn't bring himself to call him. "I'm not ready for that," he said.
He has in-laws who live in North Carolina, however, and the next time he visits there, he just might look Burger up, Blanchette said.
On Aug. 26, he and Patricia marked the anniversary of Guy's death by visiting his grave and leaving flowers there. The pain of losing his brother and his friends still haunts him, he said.
"Not a day goes by without me thinking about those guys," he said. "It was a terrible blow."
"When you're younger, you're more resilient," he said. "What's happening is, the older you get, it seems like it gets worse."
Comrades remember
It's not only the families who carry the memories of those lost; their fellow soldiers still grieve, too.
Bob Blais was one of the sergeants in A Battery and was a gun chief. A Manchester native who now lives in Goffstown, he went to Vietnam with the rest of the 3rd/197th, but his enlistment ended early and he came home in April 1969.
Blais heard about the death of his friends from the media. "It was a big shock," he said. He went to three of his friends' wakes, "and that was about all I could handle," he said.
Blais, a former state commander of The American Legion, visited the Vietnam War Memorial in Washington, D.C., with a group of friends about 20 years ago. Seeing the names of his five friends on the granite wall "was awful," he said. "It was just heart-wrenching. They were all so young."
He made a rubbing of the names of his five comrades from the wall; he has it framed in his home office, and he looks at it every day. "There are memories that just never leave you," he said.
William St. Cyr, who grew up on Manchester's West Side, was also a gun chief in A Battery. He was with the other Guardsmen at the air base, waiting to be processed for the trip home, when they got word that five of their members had been killed on their way there.
"We were all crying, because these were friends of ours," he recalled.
The bodies of the five Guardsmen were flown home right away. By the time the rest of the unit got home on Sept. 4, the funerals were over.
"A lot of us were upset that we couldn't pay our respects to them, to the soldiers and to their families," St. Cyr said.
When they finally left Vietnam, they flew home in near-silence, St. Cyr recalled.
"We hardly talked to each other, because we're home and they're not," he said. "It was a somber flight. All we were thinking of was the five guys."
St. Cyr and his wife moved to Florida five years ago to be near their two daughters and grandkids. He remembers his friends as "good kids" and "good soldiers."
"They did their job and did it well," he said.
Burger said visiting the graves of the New Hampshire Guardsmen has been therapeutic for him. "I got to know the names of some people, and I feel good that we did everything we could for them to get them home," he said. "That's what we were there for, to try to get them home."
It's important to remember and honor these young soldiers who gave their lives for their country a half-century ago, Burger said. "As long as I'm living, they won't be forgotten," he said. "They'll be given the respect that's due them."