Every year about this time, fashion becomes, well, a little tacky.
In fact, expect some downright hideous winter sweaters this weekend in Manchester.
Starting things off is Tito's Ugly Sweater 4 Miler, which returns to the Queen City at 9 a.m. Saturday.
The sixth annual event starts and finishes at the Backyard Brewery, 1211 S. Mammoth Road.
Entry fee is $40, with proceeds going to three animal shelters, the Humane Society of Greater Nashua, Animal Rescue League of New Hampshire and Pope Memorial SPCA in Concord.
The first 75 registrants get a playful t-shirt. The event is capped at 1,000 people.
An online tracking option lets spectators track individual participants.
Also look for the 17th annual Ugly Christmas Sweater Party from 7 p.m. Saturday to 1 a.m. Sunday at the Derryfield Restaurant, 625 Mammoth Road.
Tickets are $20-$30 and will benefit Make-a-Wish New Hampshire.
Plus, Barre Life will host a barre fitness class, followed by mimosas, at 11 a.m. Sunday.
Don't be a Scrooge – just enjoy the show
It's never too late to change the future; there are at least eight more chances for redemption this year at two New Hampshire venues.
In Manchester, "A Christmas Carol" wraps up its holiday run at the Palace Theatre, 80 Hanover St., at 7:30 p.m. today and Friday; 2 and 7:30 p.m. Saturday and noon and 5 p.m. Sunday, as well as Tuesday, Dec. 21, and Wednesday, Dec. 22, both at 7:30 p.m.
In Portsmouth, the Players' Ring Theatre presents Jenry Towle's adaptation of the Dickens classic on its stage, 105 Marcy St., at 7:30 p.m. Friday; 2:30 and 7:30 p.m. Saturday; 2:30 p.m. Sunday, as well as Monday through Wednesday, Dec. 20-22, all at 7:30 p.m.
Tickets are $22-$25, or $15 for ages 12 and younger. Info: playersring.org.
Over in the Monadnock Region, Project Shakespeare's version of the story, adapted and directed by Deborah Thurber, takes center stage at three venues with a cast filled with area students.
Among them is 13-year-old Benjamin Michaud as Scrooge in his eighth production of the show since 2014, when he portrayed Tiny Tim. He'll be joined by Brayden Boice, Brooke and Molly Burman, Maya Fredrickson, Zeph Marean, Helen Martynuska, Lif Petrova, Aurora Sousa, Sophia Spingola and Indigo Wolf.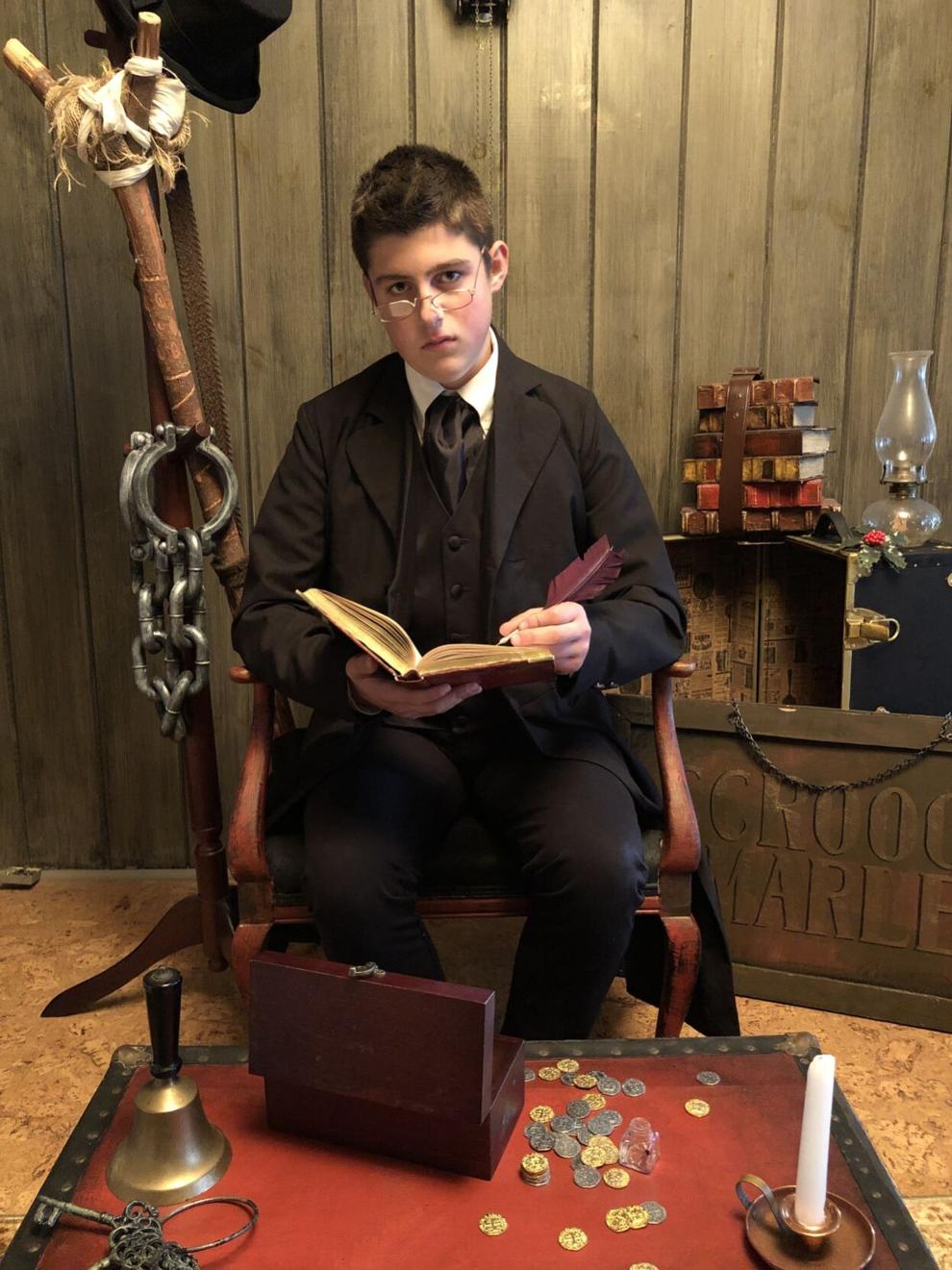 Shows are at 7 p.m, Friday at First Congregational Church, 6 Payson Hill Road, Rindge ($10-$15); 4 and 6 p.m. Saturday at Aldworth Manor, 184 Aldworth Manor Road, Harrisville ($60 for dinner and a show); and 3:30 and 5:30 p.m. Sunday at the Hancock Inn, 33 Main St. ($10-$15).
Holiday artisan market in Warner
WARNER — The Warner Historical Society throws open the doors to the Upton Chandler House, 10 West St., for an artisan fair from 10 a.m. to 1 p.m. Saturday.
Rooms will be filled with artwork, wall hangings, table runners, notecards, ornaments, gourds, turned bowls, jewelry, baskets, bags, maple syrup, baked goods and more.
Welcome to 'Invitations and Carols'
The Rockingham Choral Society presents a program of "Invitations and Carols" at 7 p.m. Saturday at Holy Trinity Lutheran Church, 22 Fox Run Road, Newington and 3:30 p.m. Sunday at Christ Church, Episcopal, 43 Pine St., Exeter.
The holiday concert will feature Antonio Vivaldi's "Magnificat, RV 610," accompanied by an orchestra, and a selection of carols.
The concert will begin with a premiere of "Venite," which Favazza composed.
Tickets are $12 in advance or $15 at the door, if available. It's free for children six and younger.
Portsmouth Symphony Orchestra 'pops' in with holiday classics
PORTSMOUTH — The Portsmouth Symphony Orchestra plays two "Holiday Pops!" concerts at 7 p.m. Saturday and 3 p.m. Sunday at Portsmouth High School.
Perennial favorites include "Sleigh Ride," "You're a mean one, Mr. Grinch," "The Polar Express: Concert Overture" and "The Chanukah Overture."
In addition, guest artist Randy Armstrong & WorldBeat Marimba will perform arrangements of South African and Zimbabwean songs. The ensemble previously has collaborated with the choruses Voices From The Heart, Ben Baldwin and the Stairwells, Songweavers, and the WorldBeat Marimba Singers.
Tickets range from $15 to $30 adults.
Hooksett teen takes center stage in Ballet Misha's 'Nutcracker'
GOFFSTOWN — Thirteen-year-old Eliana Lomanno of Hooksett has been dancing six days a week for months in preparation for the coveted role of Clara in Ballet Misha dance company's annual holiday showcase.
This isn't her first time in the spotlight. She was just 11 when she was asked to perform with The New York City Ballet at the Saratoga Springs Performing Arts Center in New York.
Shows are Saturday at 1 and 6 p.m. and Sunday at 10 a.m. and 3 p.m. at the Dana Center for Humanities at Saint Anselm College.
The cast of the local "Nutcracker" shows numbers more than 100 and includes professional dancers in the company, apprentice company members and students of its affiliate school, Dimensions in Dance.
"I think one of the reasons' The Nutcracker' is so magical for children is because the lead character of Clara is danced by a child. There is no other professional ballet where the most important role is danced by a young girl," explains director Amy Fortier.
Kelly Diamond, who will dance as the Sugarplum Fairy, began her training in Concord before dancing professionally with several prominent ballet companies. She is a Ballet Misha company member and is on the faculty of Dimensions in Dance.
The role of Sugarplum Cavalier will be danced by Ballet Misha Company member Nathan Duszny, of Merrimack. Duszny has performed all over the world including at Radio City's "Christmas Spectacular" and on the national tours of "Finding Neverland," "Flashdance the Musical,'" "Disney's Beauty and the Beast," "Hairspray," "Cats" and "Hello Dolly" with Sally Struthers.