Sweets cover the kitchen counter in Lindsay Carroll's Portsmouth house, where a holiday construction project is underway.
But this is no ordinary build. This one involves recreating the historic Castle in the Clouds in Moultonborough in edible form.
It's just a few days before the deadline for submissions into Portsmouth Historical Society's 31st annual Gingerbread House Contest and Exhibition, and though she's carefully rendered the Arts and Crafts mansion's stonework, she's still tackling other exterior work.
"Right now I'm frosting the shingles on the roof, and then I'll do all the details, like the statue on the pond out front with a fence around it," Carroll said.
For the past month or so, the desktop background on Carroll's computer has been a photo of the landmark, which was built in 1913-14 for Thomas Plant, an industrialist who made his fortune in the shoe business. Plant and his wife, Olive, dubbed their home "Lucknow, though they later would fall on harder times. The mansion features distinctive terra cotta architectural blocks, and is listed on the National Register of Historic Places.
Carroll's now-completed entry is joining scores of others on view at the Discover Portsmouth welcome center for an unveiling Friday, and will be on view through Dec. 22.
A reception and announcement of judges' awards in various levels and age groups runs from 5:30 to 8 p.m. Friday, Dec. 3, and will coincide with the kickoff of Vintage Christmas events and promotions.
In addition, 20 area shops are participating in a scavenger hunt in which visitors collect stamps at locations around downtown.
This year's suggested theme is favorite things to do in New Hampshire, and it reflects a photography exhibit on view at the center --"NH Now: A Photographic Diary of Life in the Granite State."
Contest submissions traditionally take many shapes, sizes and personalities — not just gingerbread houses.
"We've seen boats, cars, books, barns, trees — anything goes as long as it's made of edible materials," according to the historical society's entry guidelines.
For Gia Giordano, who entered her first competition in kindergarten and is now a half dozen years into a gingerbread-making hobby, a "Surf Shack" is a fitting entry this year. One of the 13-year-old's favorite spots in the Granite State is Jenness Beach in Rye, where she goes surfing with her father, Joey Giordano.
"I'm using pretzels, sunflower seeds, graham crackers and 'A LOT' of frosting," she said in an email. "I like adding the final touches, and knowing that I'm finally (finished)."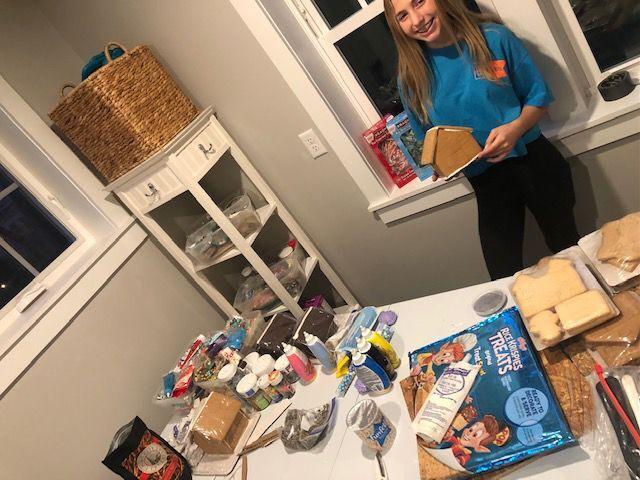 Simplifying the process
Bobby Menard, executive chef at Hilton Garden Inn in Portsmouth, is back for a sixth year in the professional category. He has won honors four times over the years, including detailed renderings of two other landmarks — the Moffatt-Ladd House, which was built in the 1760s for newlyweds Samuel and Sarah Catherine Moffatt, and the landmark North Church, which has towered over Market Square since 1854.
The South Berwick, Maine, resident, who has three children, also has conjured Disney stories and characters. He made Elsa's castle from the movie "Frozen" for a past competition and this year he's crafting Rapunzel's tower.
"I kind of find a peace in doing it. It's my little zen place to go," he said.
Though he's logged as many as 86 hours on a gingerbread house project in the past, things are a bit different this year.
"I've been working 70 to 80 hours a week," he said as staffing shortages continue to impact the hospitality industry. "I'm waiting on tables, doing the cooking and everything else. It's been fun," he said. "With the COVID-19 pandemic, we got laid off for 18 months. I returned back in May of this year."
This year he will simplify things, steering way from the more complex blueprints he designed. Back when he was doing research on his re-creation of the Moffatt-Ladd house, he took copious measurements of the structure in order to build his gingerbread version of the house to scale.
"I don't have time to do that this year," he said, with a chuckle. "I chose something that I could throw together faster than normally. I'm using materials that I can just set and leave to harden themselves."
He does 90% of the assembly and embellishment at the Hilton, which sponsors the entry and supplies building materials.
That means he doesn't wind up tasting a lot of building materials, though he can't say he's never sampled a taste of gingerbread during the process.
Eating the cutoffs
Meanwhile, Carroll, who competes in a non-professional category, has a bit more leeway.
"When I'm building, I use templates to cut out gingerbread pieces, so there are always extra pieces. They're great to eat on their own or I like to dip them in coffee."
Still, she's had to keep a close watch on a new ingredient in her work. Usually, the hardened frosting she makes with confectioners' sugar, egg whites and a little water tends to cement in some of the sweets. But this year, the temptation of marshmallowed material proved too great for members of her family.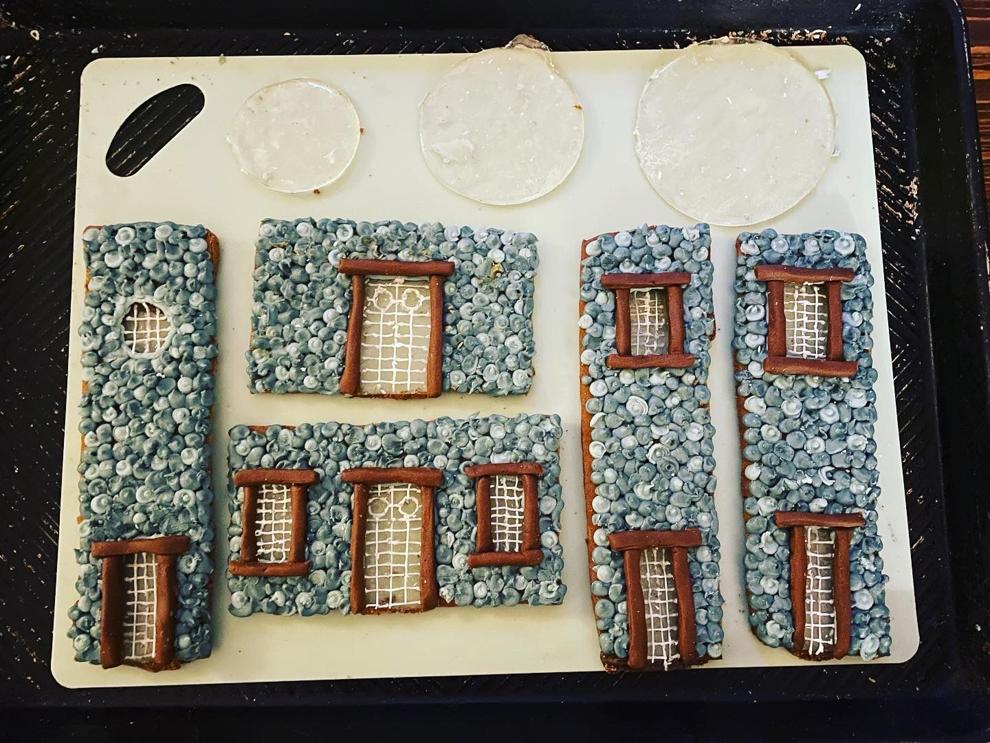 "I leave it out on the counter because my oldest daughter, who is 5, loves to see the progression of the build. I've definitely caught (her) trying to eat a piece here and there," she said, laughing.
At the Giordano household, there's less of an urge to indulge, since the candy supplies are saved from year to year, with new bits and pieces added along the way. That means that while technically made with edible materials, some of the sweet treats adding color to a gingerbread scene could be a bit stale, said Gia's mother, Lizabeth Giordano.
"You'd be surprised just how much accumulates. The new and recycled candy all gets mixed together from year to year. Some of it's probably from six or seven years ago. Like the peppermints, I always tell people, 'Don't eat it!"
For more information, go to portsmouthhistory.org or call 603-436-8433. Discovery Portsmouth is located at 10 Middle St.