'Barber Shop Chronicles' a peek past the haircuts to the sense of community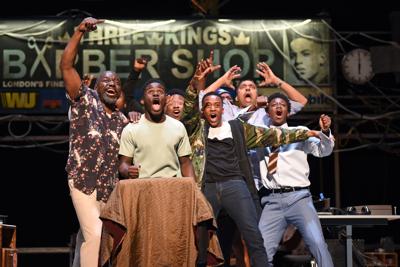 HANOVER — Nigerian-born British playwright Inua Ellams' "Barber Shop Chronicles," inspired by the conversations he overheard in barber shops in England and Africa, conjures a uniquely masculine environment where the banter may be sharp, but it's always telling.
This flamboyant musical by the UK's preeminent theater company "zips between London and four African cities to capture the barber shop as place for African men to gather and talk — with some grooming on the side," according to hop.dartmouth.edu.
"With a punchy, truth-telling script ..., the barbers and their customers joke, squabble, tell tall tales and (of course) discuss soccer — all the while raising profound issues of migration, race, masculinity and fatherhood. The 12 bustling actors use bursts of song, chant and movement to transition from one country and character to another."
Show times are 7 p.m. today and 8 p.m. Friday and Saturday in the Hopkins Center's Moore Theater on the Dartmouth College campus. Tickets are $30-$60, with reduced fees of $25 for ages 18 and younger and $10 for Dartmouth students. Visit hop.dartmouth.edu or call 646-2422 for more information.