For more than 50 years, Diana Kolben of Salem captivated audiences playing the harp her parents gave her when she graduated college with a music degree.
"I've played a lot of weddings" with the secondhand 47-string Lyon & Healy Style 23 Gold harp, Kolben said. She also played it during the high-profile funeral of a former Massachusetts congressman.
But the 6-foot, 1-inch tall instrument became tough for the 74-year-old widow to transport between practices and performances. After recently trying to sell the 82-year-old harp online, she decided to donate it to the Manchester Community Music School to improve access for young musicians.
The same model harp, known for its Victorian-era floral designs, is also used by the Boston Symphony Orchestra and the New York Philharmonic.
Piper Runnion-Bareford, executive director of the MCMS and a fellow harpist, called the donation of the prized instrument an investment in the next generation.
"Most of our students are taking classes online right now," she said. "It really hit me when we had a student come in and play the harp live."
Runnion-Bareford has played the instrument a couple of times herself since it arrived at the school.
"We always joke that playing a harp is like getting to know a person," she said. "It is always interesting when you play a new harp and that exploration of 'What is this instrument like? Is it warm? Does it have a full sound?' This harp is really warm and has a full sound."
Recently, Kolben went to the school to watch one student perform a piece on the harp.
"It made my cry," she said. "It brought up a lot of memories."
A natural fit
Originally, Kolben hoped to donate the instrument to the New Hampshire Philharmonic.
"They didn't have a place to store it," she said. "They wanted the harp, but they really couldn't look after it, especially since they aren't playing at the moment."
The Philharmonic suggested the Manchester Community Music School.
"They are using it well and they are taking care of it," Kolben said of the school. The harp will likely be used for New Hampshire Philharmonic performances in the future.
The harp is well-known for the introduction to "Waltz of the Flowers" from Tchaikovsky's "Nutcracker," which is regularly featured at The Phil's annual Holiday Pops concert.
Many other pieces feature famous harp solos.
"We hope and anticipate that one day, a student from MCMS, having studied on Diana's harp, will perform these iconic solos with The Phil," said Mark Latham, music director of orchestra, in a statement.
Kolben started playing the harp in eighth grade after her choral director in Philadelphia asked if anyone was interested.
"My hand went up right away," she said. "Me!"
She practiced often at the high school and spent two summers at the renown Harp Colony in Camden, Maine, where students would practice for hours each day for six to eight weeks.
She graduated from Oberlin College in Ohio in 1968 with a degree in music and went on to become a music educator, including the director of art and music for the Andover, Mass., public schools.
Runnion-Bareford said she was "touched and moved" by the donation.
"It speaks to the community partnership we have," she said.
As a harpist herself, Runnion-Bareford knows it can be difficult for some students to have access to a harp to practice on. This will be the school's second harp.
"It will be used mostly for ensemble playing and orchestra," she said.
Storied history
Kolben knew her parents were shopping for a harp to buy for her when the Style 23 Gold came to Oberlin College from California to be sold. Her parents jumped at the opportunity to buy it.
She was relieved to have an instrument of her own after years of using the school's or renting one.
She played it in performances with the Nashua Symphony, Manchester Philharmonic and accompanied many choirs and church groups over the years.
One year, a friend asked Kolben if she would bring her harp to Massachusetts General Hospital to play for former Massachusetts Congressman Paul Cronin, who was battling brain cancer.
"He was Irish, so I played many Irish tunes I had rewritten for the harp," Kolben said.
She later played at his funeral, held at Philips Academy in Andover.
"I'm very happy that I was so busy with it," Kolben said. "I think it brought a good deal of satisfaction to people. They really loved hearing it."
Iconic model
One of her favorite pieces to play on the harp over the years has been "A Ceremony of Carols" by Benjamin Britten.
"I've played it in full three times," Kolben said. "I've played parts of it 20 times."
Apparently, many harpists give their instruments names.
"The other day, I asked Diana, 'So what is the harp's name?'" Runnion-Bareford said. "She named it Gladys. I thought that was so awesome."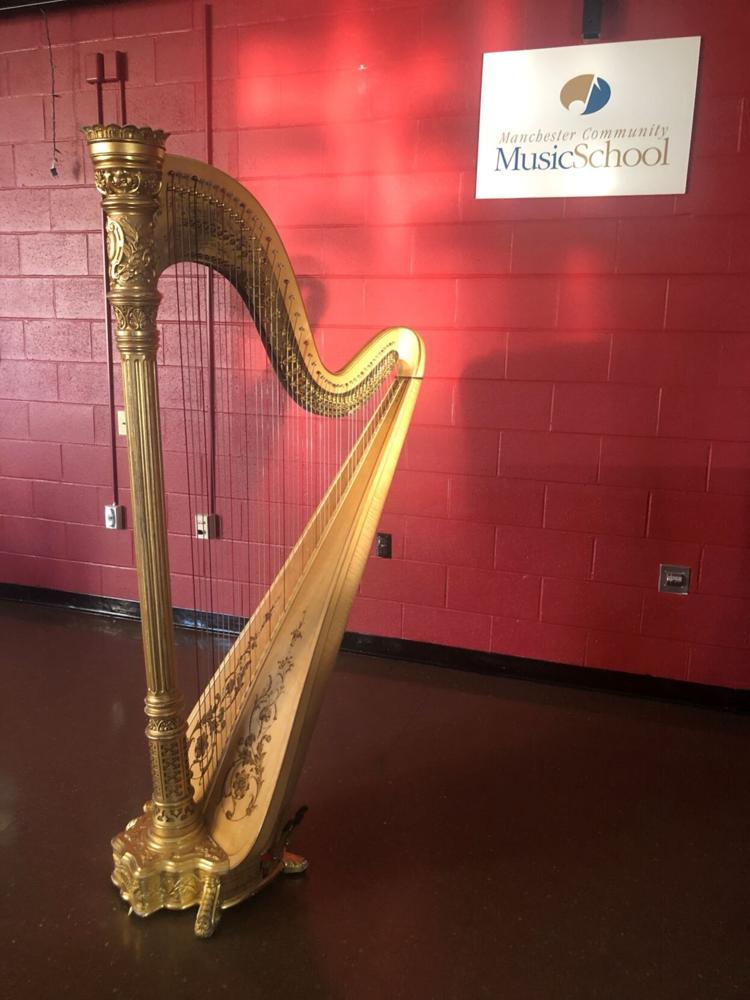 The Style 23 Gold harp model itself is iconic in the United States and beyond, Runnion-Bareford said.
The design was created in 1890 and has remained the same since, according to Keri Armendariz, a spokeswoman for Lyon & Healy. A new one today costs $55,500, but the value depreciates over the years.
There is plenty of life left in the harp. Kolben had it completely restored in 1983, and she said a well-maintained harp can be played for more than a century.
The school plans to have the harp for many years, Runnion-Bareford said.
"Many of the students come in and they are like, 'Wow,'" when they see it, she said.