G oldens on the Green in Amherst is a tale-wagging draw in the fall, but it hasn't been easy retaining a grand marshal for the annual parade of golden retrievers.
In 2019, organizer Bill Swift, who wanted to raise money for the Humane Society for Greater Nashua, was looking for a famous face to lead the highlight of this light-hearted celebration.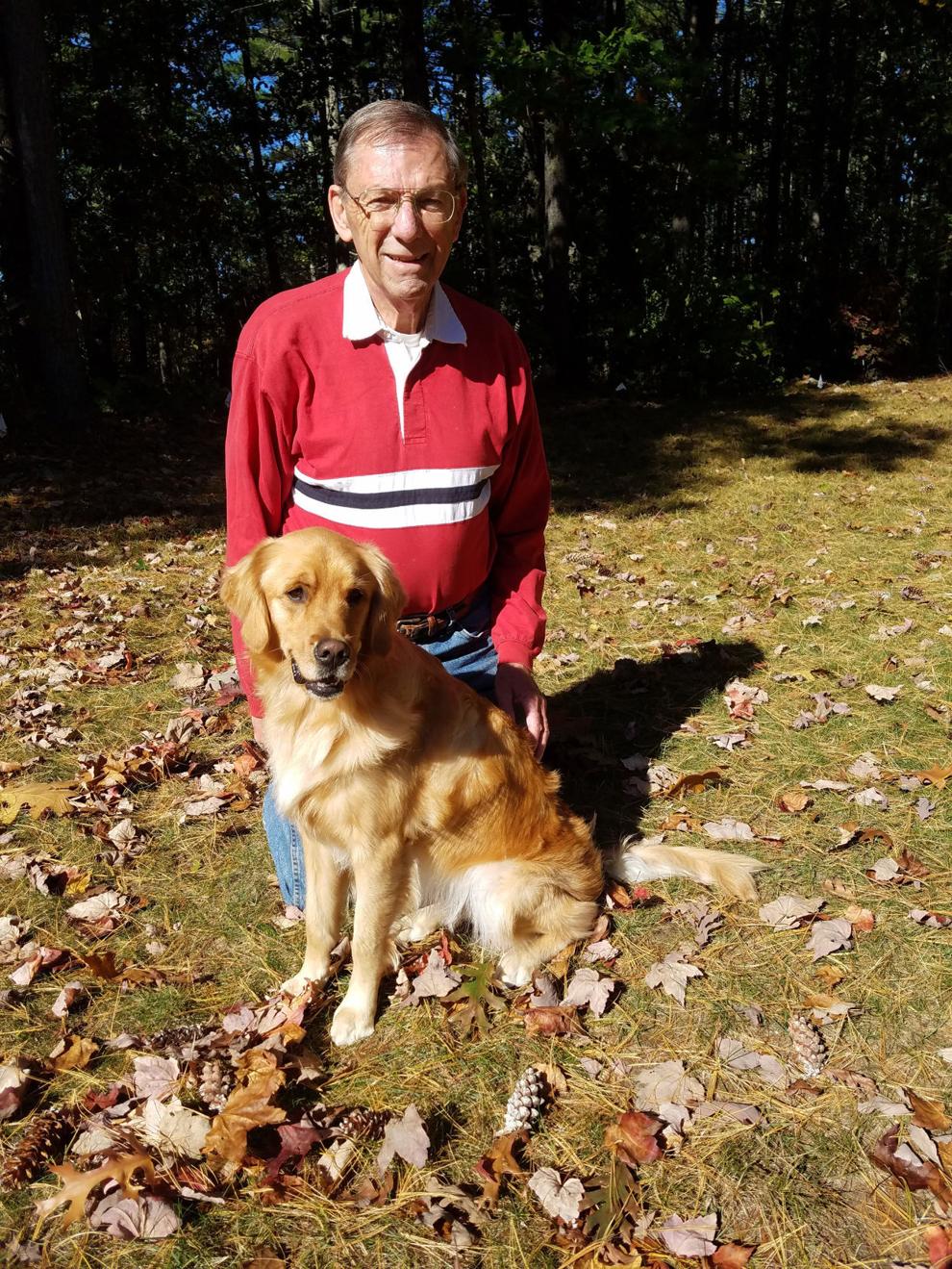 What followed was a heated viral campaign that ruffled some feathers. In a big upset, Amherst Facebook page administrator Thomas Ventura lost the bid for grand marshal to Crackers the Goose in a townwide election.
But after helming the parade, Crackers flew the coop. He had been something of a town mascot, and his absence is still felt. Last year, his former caretaker, Chris Kaiser, walked in the parade holding a framed photo of Crackers, the "Town Goose of Amherst from 2010 to 2019."
Looking for a new grand marshal, Swift said he reached out to Amanda Benson of Amherst, who raises chickens, to see if she might have a candidate to lead this year's parade.
The result was a "Grand Marshall Rooster Audition Tape." The video can be seen on the Goldens on the Green Facebook page. In it, Benson gives all her barnyard critters a chance to vie for the honor. "The General" delivers the loudest and most frequent crows.
Unfortunately, on the day of the big parade, the General, dressed up in a dapper plaid vest and perched in a protective cage atop a decorated garden cart, got stage fright. He didn't crow once.
Swift hoped to give the General another chance in this year's event, which runs from 12:30 to 3 p.m. Sunday on the Amherst Town Green, but he learned that the rooster, too, had passed on.
"They get all this celebrity status and, puff, they're gone," said Swift, who last year intimated that both grand marshals hadn't passed away but left town seeking further fame.
Even though this is a telephone interview, it's clear that Swift says all of this with a straight face and his usual mischievous sense of humor.
Not wishing to fuel any more fervor over a possible grand marshal "curse," Swift and Benson are bringing in the runner-up from the original rooster auditions — a "ladies' man" known as Cruiser.
"He has beautiful markings. He was the prettiest, but couldn't crow," Swift said of Cruiser's initial loss to the General.
He'll have a chance to strut, since the parade traditionally kicks off with the playing of the Baha Men's version of "Who Let the Dogs Out."
Going to the dogs
Swift came up with the idea of Goldens on the Green when he got his first golden retriever, Nellie, about two and a half years ago. Later he heard news reports of more than 100 goldens rescued from a home in Bradford. About half of them wound up at the Humane Society for Greater Nashua.
"Goldens on the Green usually raises about $500 to benefit our animals awaiting adoption," said Elaina Bedio, director of community engagement for the Humane Society for Greater Manchester.
The inaugural event drew about two dozen goldens and 40 humans, and the 2020 event attracted nearly 40 golden retrievers and about 100 people.
"It's like being in Golden heaven," said Leslie Walker Ashcraft of Mont Vernon. "These dogs are so sweet and magical."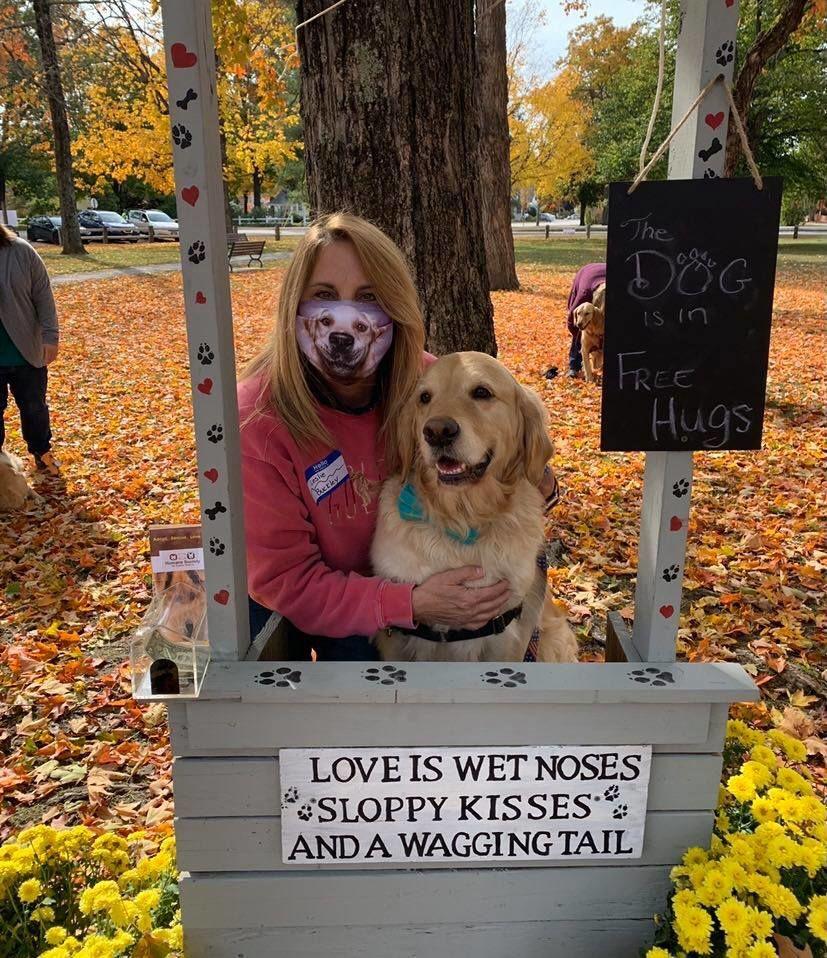 Ashcraft is mom to Buckley, who was a big hit at the kissing booth, which was designed, built and operated by Carol Fortin. A sign on the booth reads "Love is wet noses, sloppy kisses and a wagging tail."
"The joy he gives to others brings me to tears," Ashcraft said. "Last year I went through cancer, surgeries and COVID. My constant, besides my husband, was Buckley. He is attached to me, always. He's my heart!"
Making a return this year is the Pool Diving Event. The timed event centers around a plastic kiddie wading pool filled with water. Each handler tosses an orange dock-diving baton and then commands the dog to run down the runway and retrieve it.
Usually the baton splash is usually enough to get dogs in motion.
"Most goldens think it's a duck (landing) and you've got to hold it back," Swift said. "But last year, this one golden — Oliver — waddles up to the line with its owner.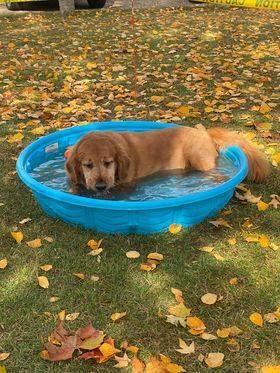 "He slowly meanders down the runway, gets to the pool, takes a look, turns his head from side to side, and thinks about it. He finally steps over the edge of the pool and everyone is holding their breath that he'll grab the baton. But he just flops down in the water, not interested at all. He just wanted to cool off."
The move, referred to now as an "Oliver Flop," earned the canine a honorable mention.
The Goldens on the Green's kissing booth opens at 1 p.m. The pool diving championship is at 1:30 p.m., followed by an awards ceremony for youngest, oldest and best service dogs at 2:15 p.m. The parade of goldens steps off at 2:30 p.m.
A $10 donation per golden is suggested, but spectators don't have to own a golden to take in the festivities.