Take a drive down Heather Street in Manchester and it's easy to pick out the two houses that were the talk of the town in the 1950s.
More than a half century later, they're still sparking conversation.
From the road, they are unmistakable -- structures that seem battened down against traditional notions of hearth and home in this North End neighborhood.
In a city where clapboarded colonials and Victorian embellishments mark generations of tradition, the Frank Lloyd Wright houses are unusual living spaces, different from one another in building materials and facades but both rooted in a sort of mathematical precision of lines and repeating patterns.
But there's more than meets the eye in a street-side glance at concrete or brick. Inside and out, the one-story dwellings -- forerunners of today's open-concept layouts -- retool a sense of space and how a home can look and feel.
Starting today, visitors can get a closer look at the Zimmerman House and, for the first time, the Kalil House, both owned by the Currier Museum of Art and designed by avant-garde architect Frank Lloyd Wright in the latter part of his life and career.
They are the only Wright homes open to the public in New England.
"To have two houses by Frank Lloyd Wright on the same new street in New Hampshire is just remarkable," said Andrew Spahr, the Currier's director of curatorial affairs. "The other thing that is so special is that they came to us in really great condition."
The two couples who originally owned the houses were friends as well as colleagues.
Dr. Isadore and Lucille Zimmerman, who both worked in a urology practice, commissioned their home in 1949 and moved into the neighborhood in 1952. They bequeathed the house to the Currier in 1988.
Dr. Toufic and Mildred Kalil, who worked together in a radiology practice, commissioned their home in 1954, and moved in three years later. The Currier acquired the building from the family in 2019.
Breaking down the 'boxes'
Bring up the Zimmerman House and someone is bound to mention one neighbor's assessment of the home in the early 1950s: She thought it looked like a "chicken coop" with its long, horizontal roofline and rectangular bank of concrete window casings stretching across the front of the home.
But this was far from an impersonal building to the Zimmermans. They previously lived in an antique on Maple Street and didn't relate to the conventional configuration of "boxes" of separated rooms, Spahr tells a pair of visitors who are previewing the grounds.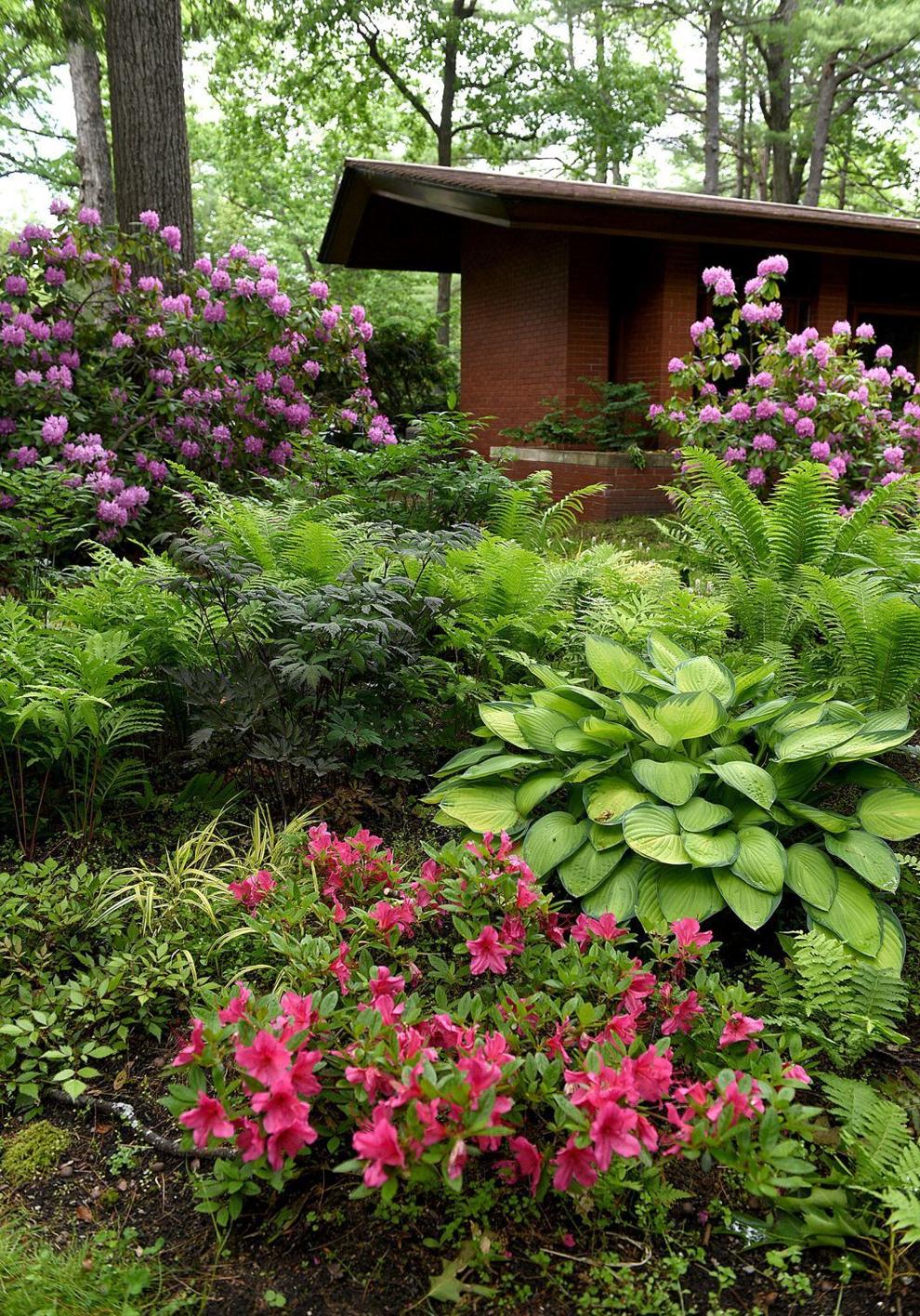 Instead, they sought out Wright as much for his open-concept, ranch-style architecture as for his modern philosophy about rooting a home right into the natural landscape.
That concept shapes everything -- from a bedroom built into a hill so that the windows are at ground level, to the Georgian cypress woodwork throughout the house, to a low-pitched roof with overhanging eaves that dip downward toward formal lawn and gardens.
It has a vaguely futuristic feel inside, with concrete flooring, shifting ceiling heights, unexpected angles and a fireplace that seems partially suspended in air. 
Perhaps most famous for the Guggenheim Museum in New York City, Fallingwater, a house in southwestern Pennsylvania, and Taliesin West, his winter home and desert laboratory in Scottsdale, Ariz., Wright was a pioneer of the Prairie School architectural movement and by extension, Usonian homes. 
In general, the open-floor layouts were intended to pull down barriers between rooms and people, and to create flow to central gathering spaces.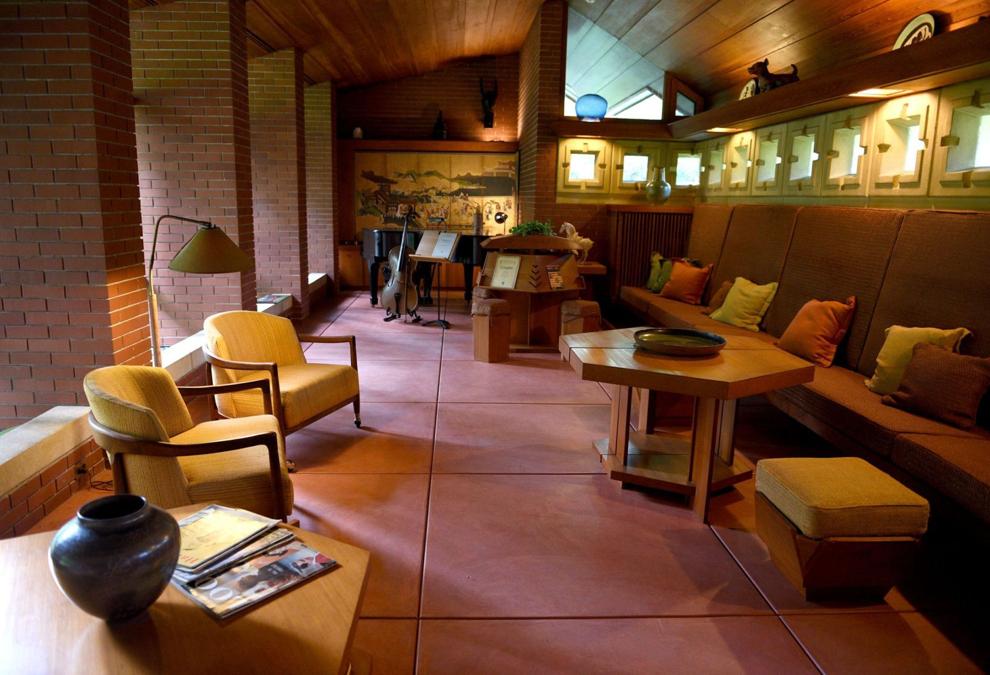 It's an interesting dynamic that at times also can feel utilitarian.
At the Zimmerman House, visitors walk through the front door to face a brick wall with narrow passageways leading off to the right and left.
Even if you were inclined to clutter, there's no room for it, literally and metaphorically. Every space has a purpose in this 1,700-square-foot home, including the galley kitchen, dubbed a "workspace."
"Lucille wanted something that was efficient because she was busy professionally in the office with her husband and also interested in art and hiking, (plus she and her husband) were amateur photographers. So, she didn't want to spend a lot of time cooking," Spahr said.
But there's a distinct artistry here, too. Wright designed or advised the Zimmermans on nearly every facet of the home during their 36 years here, including built-in furniture, a Japanese screen and lamps with decorated paper shades, placemats and linens, and a section of brick wall that features a kaleidoscope of backlit glass remnants in niches.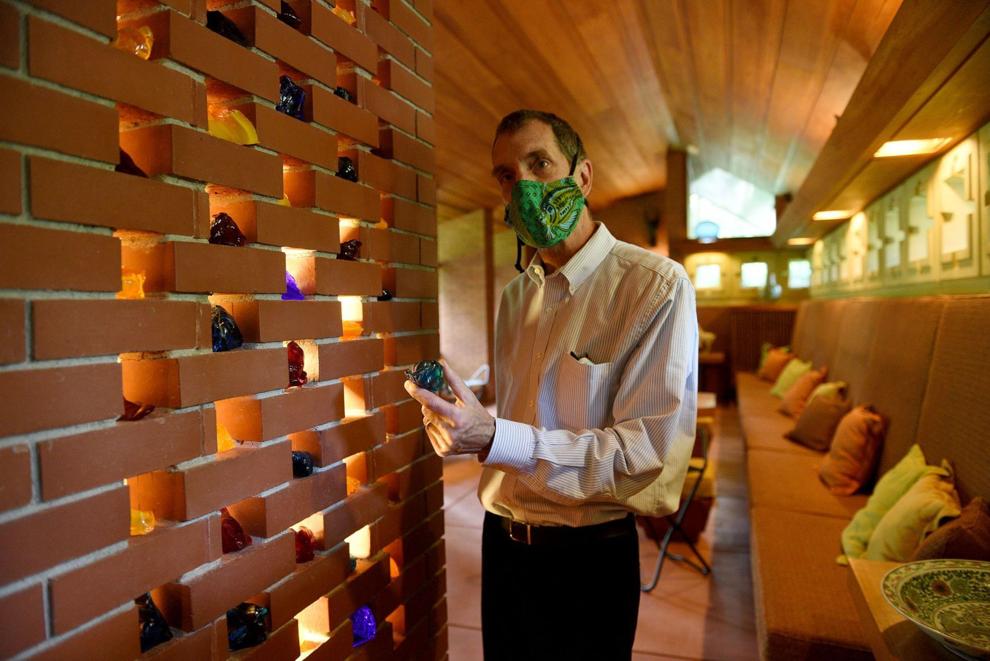 The couple's collection of art from renowned New Hampshire potters Edwin and Mary Scheier and Gerry Williams and other artists is displayed from floor to ceiling.
Everything seems to funnel into the "heart of the home," a central space that blurs the line to the outdoors. Mitered glass panels on one side of the house allow views of the perennial gardens and stands of rhododendron in the backyard. But to further that sense that the house is part of the landscape, there are planting beds on both sides of the glass.
The Zimmermans were musicians -- Isadore played violin and Lucille played cello -- so they also made sure a baby grand piano would be incorporated into designs for the far end of this space. Wright even designed a wooden music stand.
Kalil House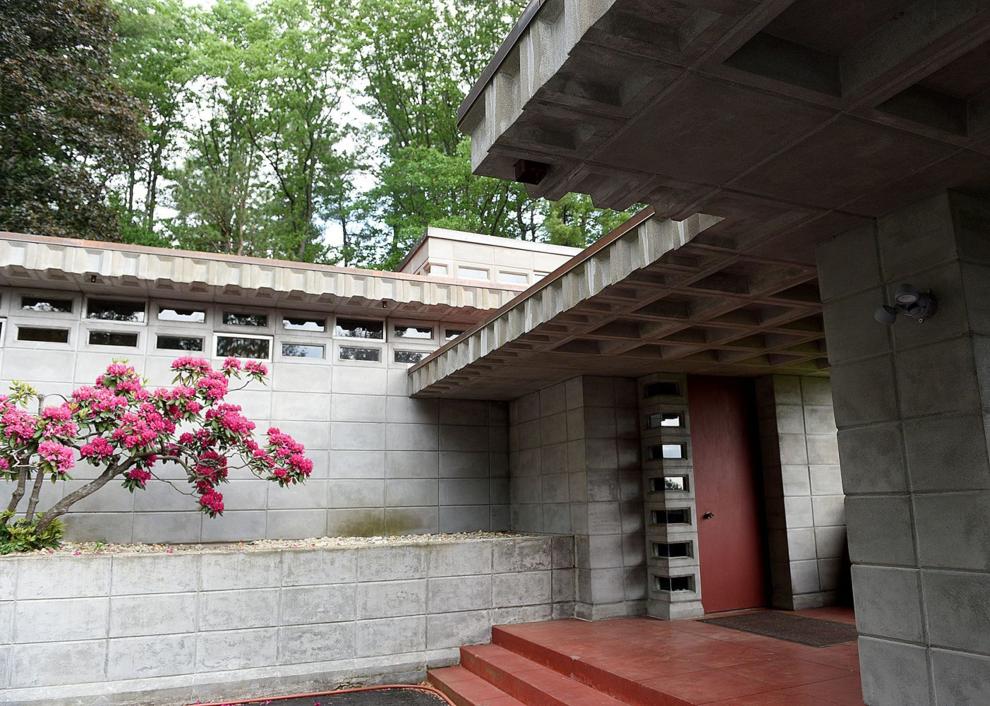 Down the street, the Kalil House is a very different-looking take on Wright's vision. It's one of only about half dozen "Usonian Automatic" buildings ever constructed.
It was built on the site of a log cabin -- a retreat from the bustle of the city.
Exterior and interior are dominated by mass-produced, pre-cast concrete, a heavy construction material that's nonetheless used to aid a sense of lightness.
The lofty great room here features a patchwork wall of gray-framed blocks of windows that cast patterns of sunlight across the floor throughout the day. In the kitchen, concrete shelves climb the wall up to a 15-foot ceiling.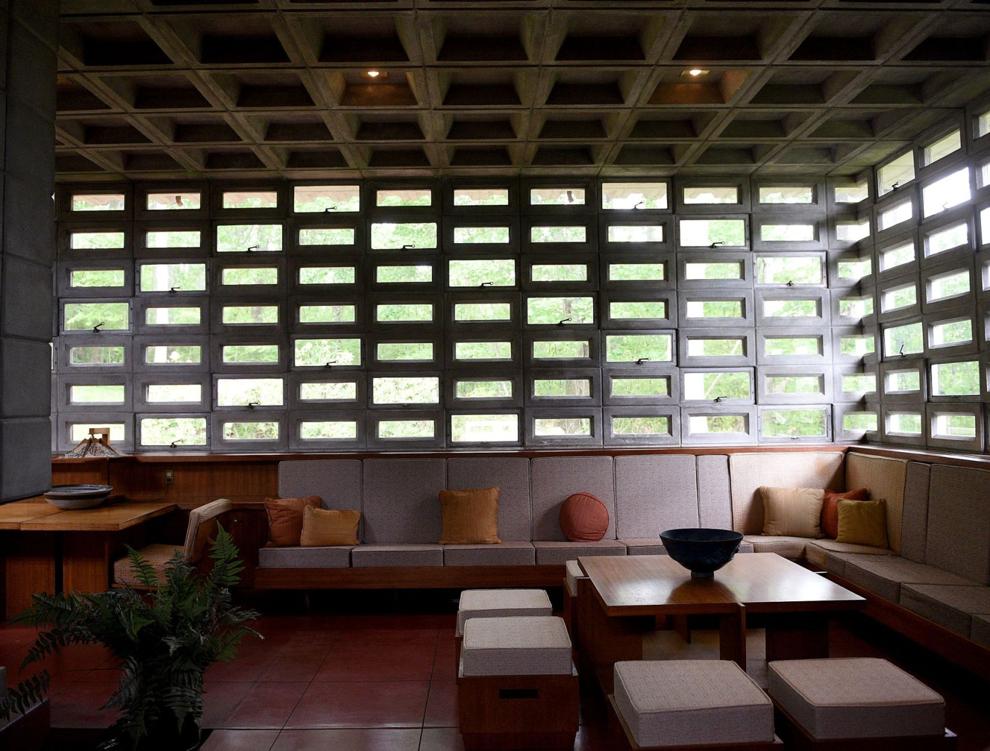 This house is smaller than the Zimmermans' -- 1,400 square feet. Visitors are sure to marvel at the spartan closet and storage pace. Without a basement, attic or garage, there would be little hope of cramming one of today's stuffed households into this home.
There are no formal gardens here, but a walk around the property gives visitors a chance to see how all the horizontal architectural lines look against the actual horizon. An outbuilding that was planned as a guest house  actually wound up being used for storage.
Though the Kalils didn't play instruments, they did request an additional cabinet for their hi-fi sound system be added to the house plans, said Spahr, pulling open a cabinet in the main room to reveal a vintage turntable, amplifiers, a tuner and speakers.
The original refrigerator at the Kalil House didn't make it through the decades, but the kitchen shows the couple's preference for post-World War II stainless steel appliances, rather than the older-style, gleaming white versions. There's even a coal barbecue set right into the countertop.
Like the Zimmerman House, the Kalil House plays with the sense of tight spaces opening up into lofty areas -- what Wright called "compression and release," Spahr said.
Inset lights in the ceiling create a constellation of stars at night.
"It's a kind of romantic, elegant effect with glittering lights," Spahr said.
There's an office tucked off the main room, since Dr. Kalil needed to be able to review X-rays from home.
"If you stand in the office and look toward the far wall of the living space at a certain time of the day, the grids in the concrete floor, the cushions of the built-in benches and the ceiling all line up," Spahr said.
There are at least 13 different block designs that make up the house, with exterior patterns sending saw-tooth shadows against the exterior as the sun shifts overhead.
"To me, it's a miracle of construction," Spahr said of a network of cantilevered features and stacked concrete held together internally by grids of rebar.
As Spahr pointed out architectural features near the carport, a car with out-of-state plates comes down the street and slows to a crawl before a passenger, Alisa Mun of Orlando, Fla., lowers her window and calls out to ask if he is a real estate agent. She's hoping for a peek inside.
It's proof positive that Wright's work continues to draw interest in (even more) modern times.