Tupelo Music Hall owner Scott Hayward is taking his concert business outside.
The A Street venue will host its first drive-in show May 16 in the front parking lot with enough room for about 75 cars, which Hayward said will be spaced in accord with social-distancing guidelines. He hopes to announce the artists soon, and is considering a low-key acoustic performance.
"It's gonna be really good talent," he said. "People might not know everyone who's playing, but it's gonna be good."
The audio will play on outdoor speakers Hayward will be renting for the new set up. Attendees sitting in their cars will also be able to listen through the town-owned radio station at 95.1 FM.
When non-essential businesses had to shut down because of COVID-19, event venues across the country lost their main sources of revenue. Dozens of shows were postponed to summer or fall, and some were canceled.
The town of Derry approved a permit Tuesday for Hayward to host the outdoor concert.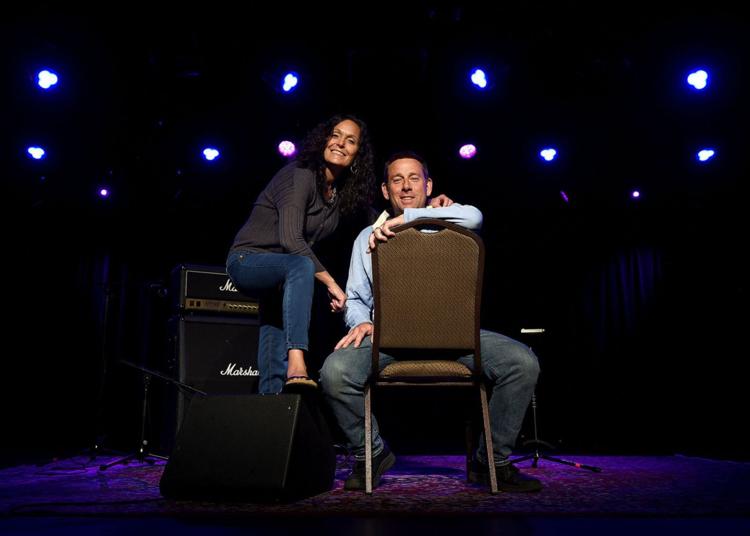 "It's really great to see how some of these local businesses are innovating and reinventing themselves," said Derry Town Councilor Neil Wetherbee, who learned about the drive-in concert series Wednesday.
Hayward said the town has been "absolutely fantastic" in helping him make the idea a reality.
To start, Tupelo will focus on holding shows on Fridays, Saturdays and Sundays. Hayward said he will need to apply for individual permits for each show, but he's hoping the town will eventually be able to figure out a way to grant a blanket permit.
He would normally charge $30 per person for an indoor show; the outdoor concert cost will likely be about $75 per vehicle. Tupelo Music Hall is developing a mobile platform for ordering food and having it delivered to cars, he said. Logistics for spacing out toilet facilities are also being figured out.
The plan is to offer live-stream access to live shows for a small fee, and an option to tip the artists. He said the venue spent about $13,000 on new streaming equipment. The first show will be a test run, streamed internally.
He hopes to make about $25,000 a month in sales.
Eventually, Hayward would like to charge admission for outdoor movies, with possibly a free weekly movie series for people in the community who may be hurt financially by the pandemic.
The format would also potentially work for comedy acts, he said.
"My hope is that we stay busy this summer outside, we pay our bills ... and that we open again in late fall," Hayward said.
Hayward said he had to lay off 30 people, and kept on about eight. The music hall business and its food and beverage operation were awarded about $100,000 in Payroll Protection Program money from the Small Business Administration's relief program. He said every penny is going to go to payroll, and that everyone he laid off will have jobs waiting for them.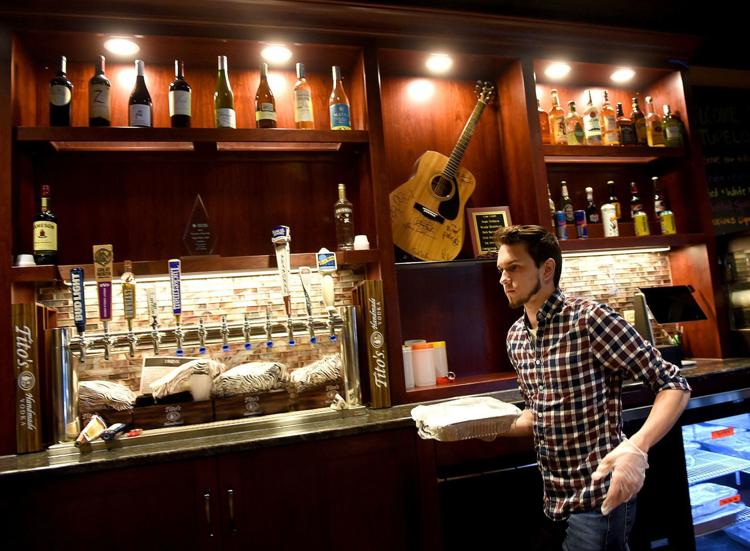 Change of role
About a month ago, the business pivoted into a full-time take-out restaurant and PPE supply store. Since then Tupelo expanded its meals program, adding frozen haddock, scallops, shrimp and salmon, and is selling personal hygiene products like hand sanitizer and toilet paper and protective gear like gloves and masks.
"We sell a lot of sanitizer, we sell a lot of gloves and we sell a lot of masks," Hayward said.
They're also giving out about 150 free meals each week through donations they receive, he said.
While the pivot allowed Tupelo to keep much of its kitchen staff employed, the business was still treading water.
The music hall revenues — usually about $300,000 a month in ticket sales — went to zero, but the food business was still bringing in about a quarter of its usual sales. Hayward said his bank worked with him to push out loan payments.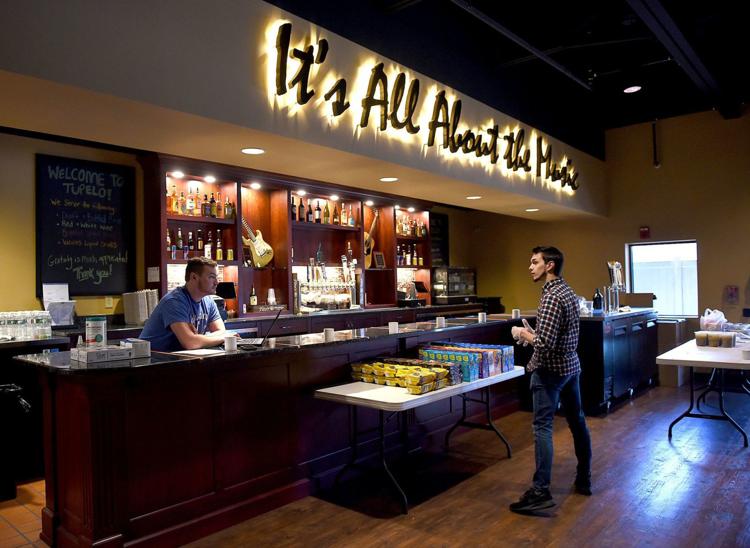 Support from ticket holders
One thing that helped was a movement by local patrons not to demand refunds for their tickets, which he said grew out of a tearful March 13 video that went viral in which Hayward discussed how venue businesses operate and how mass refunds could potentially put them out of business. It was shared about 800 times on Facebook, especially among event industry folks across the country.
"A lot of people have opted to take a credit for a future show, and that's definitely helped us out a lot," Hayward said.
Hayward's friend and regular patron John Tarabocchia said he will buy tickets to an outdoor show as soon as he can. He said he has a pickup truck and looks forward to backing it up and watching the show from chairs on the flatbed.
Tarabocchia said he's a big live music fan, but he also wants to make sure Tupelo weathers the economic crisis caused by the COVID-19 pandemic.
"We understand the position that they're in," Tarabocchia said. "We want to support them. We want to make it easy on them."
Tarabocchia said he bought about $1,500 to $2,000 worth of tickets for three or four shows, including a group of eight tickets for rock band Daughtry (headlined by American Idol season five finalist Chris Daughtry). He said he didn't ask for a refund and will look forward to seeing those shows when they return. In the meantime, his family has been buying weekly meals from the venue.
"I'm glad that people are supporting them (Tupelo), and I hope that when this is all done they're just as strong as they were before because it's much needed in this area," Tarabocchia said.
The shows of support were a "godsend," Hayward said.
"In my business you need to hold onto a lot of cash," Hayward said. "If you can't financially commit to booking shows, that's the end of the road for a concert promoter."
Hayward said the food and supply service will continue unchanged during the new music series.