PORTSMOUTH — Oscar nominations for the 92nd Academy Awards were announced Monday and two of the films which made the cut have New Hampshire connections.
"The Lighthouse" was nominated for Achievement in Cinematography. The psychological thriller was written and directed by Robert Eggers, who grew up in Lee and is known for his critically acclaimed feature, "The Witch."
"The Lighthouse" was one of the featured films at this fall's New Hampshire Film Festival in Portsmouth.
Critics have praised the movie, which stars Willem Dafoe and Robert Pattinson as two lighthouse keepers who drive each other mad on a remote island in 1890s New England.
"The Cave" was nominated for Best Documentary Feature. It is about the Syrian war and features female doctors who work at an underground hospital and treat besieged civilians.
The National Geographic film was called "a moving, beautifully humanistic story whose inevitable hardships are laced with real hope and levity" by Entertainment Weekly.
Matt Renner, who grew up in Durham, is vice president of production at National Geographic and was part of the team behind "The Cave."
Renner was awarded the Van McLeod Award prior to a special screening of "The Cave" during this fall's New Hampshire Film Festival.
The Van McLeod Award is an annual award given to New Hampshire natives and residents who have made significant contributions in film and television and is named after a former commissioner of the state's Department of Cultural Resources. Past recipients include Ken Burns, Ernest Thompson, Mike O'Malley, Lisa Muscat, Paul Lazarus and Gordon Clapp.
Nicole Gregg, executive director of the New Hampshire Film Festival, said on Monday that they are "honored and humbled" to be able to show Oscar worthy movies during their four-day event which draws thousands of people to Portsmouth every year.
"It's a treat for us to be able to celebrate these artists, and filmmakers, and films, and bring them to New Hampshire as part of our program. It's the most we could ever hope for in our program, to showcase talent like this and when it is connected to New Hampshire, to be able to celebrate that as well," Gregg said.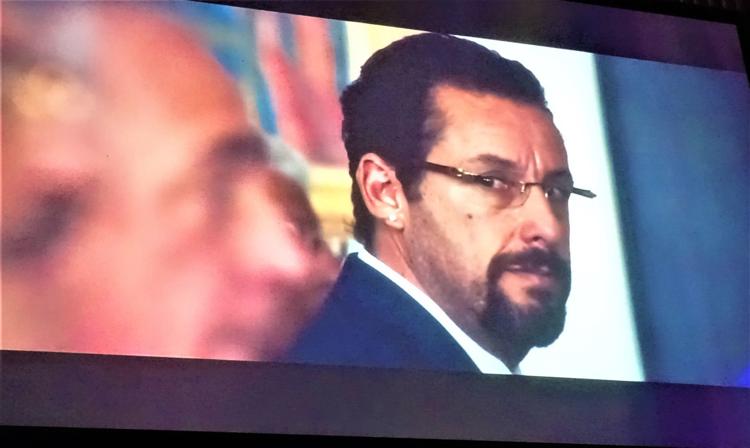 Adam Sandler's movie "Uncut Gems" did not receive any Oscar nominations. It was also a featured film at the New Hampshire Film Festival and so many people came out to see it that some had to be turned away during the screening at The Music Hall in Portsmouth.
Sandler, who grew up in Manchester, invited "60 Minutes" into his childhood home as part of a segment where he talked about taking on the serious role in "Uncut Gems," where the famous comedian played the role of a diamond dealer with a gambling addiction.
Sandler told correspondent Sharyn Alfonsi he had reservations about playing the character of Howard Ratner.
"I was like, I don't know, man. I don't like him very much," according to a transcript of the interview.
That "60 Minutes" segment aired last month.
Sandler reacted publicly on Monday to the news of getting no nomination for his work in "Uncut Gems" by writing on Twitter:
"Bad news: Sandman gets no love from the Academy.
Good news: Sandman can stop wearing suits.
Congrats to all my friends who got nominated, especially Mama."
Sandler posted a photo of Kathy Bates, who starred in "The Waterboy" as an overprotective mother to Sandler.
Bates responded by Tweeting:
"I love you my Bobby Boucher!!! You was robbed!! But Mama loves you!!! I learned a new urban slang word for you! You da GOAT!! Not the one we eat at home, Son."
Bates was nominated for Performance by an Actress in a Supporting Role for her work in "Richard Jewell."The Oscars will air live on Feb. 9, starting at 8 p.m. on ABC.