FRANCONIA -- In the sweltering JULY heat, a few dozen people gathered in the shade of a large tree outside the Abbie Greenleaf Library to celebrate the new Franconia ArtWalk. On the lawn beyond the group, the six large forms comprising "Evolution #1-6," a sculpture by Connecticut-based artist R. Douglass Rice, curved between the town hall and the library, gleaming bright red in the blazing sun.
It seemed apt to hold the ArtWalk opening near "Evolution," as the idea has experienced its own sort of evolution.
"I was thinking about the town and what we could do to attract more tourists," said Bob Montagno, a former selectman and now chairman of the nonprofit Franconia ArtWalk Association.
His first idea was to make an existing dirt path along the Gale River more accessible to walkers of various abilities. But he wanted to do something more, something that would inspire people to pull off Interstate 93 at Exit 38 rather than passing through what he calls "a charming little town with a river running through it."
"I've been to a number of sculpture walks," Montagno said. "I started thinking maybe we could make the path (along the Gale River) into a sculpture walk."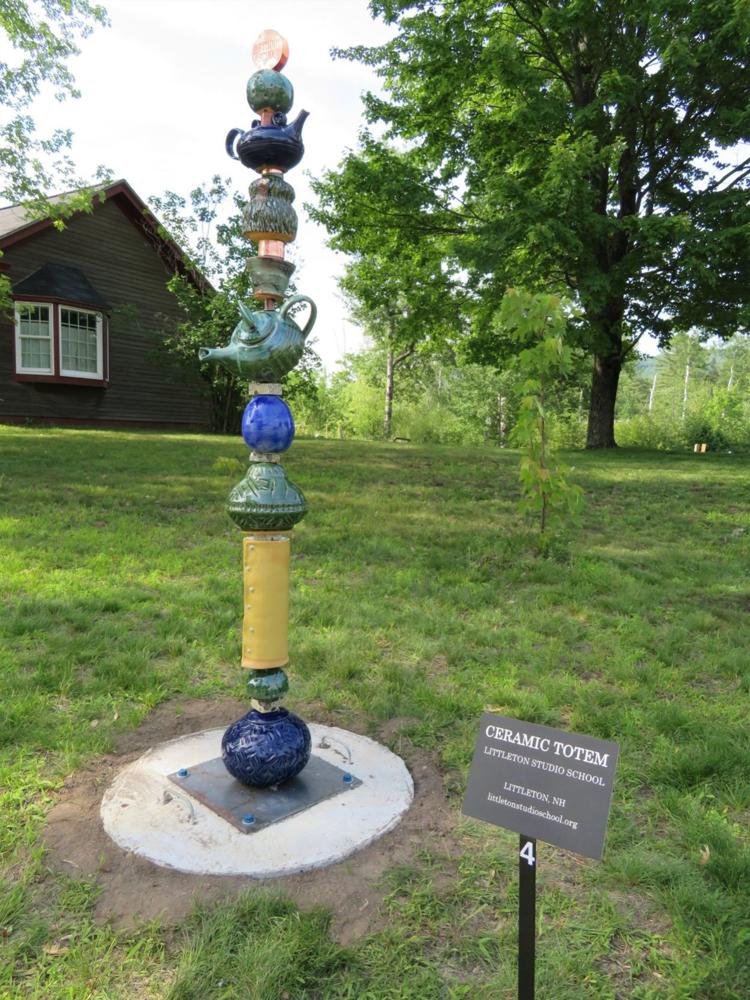 What has emerged from the brainstorming is a much improved path along the river — now wider and smoother — plus a series of works of art placed strategically along Franconia's Main Street. The project was funded partly through a grant from the New England Environmental Grassroots Foundation and is building on the momentum of its inaugural season.
Stretching about a mile along Main Street, from Iron Furnace Brewing to Plain Kate's Riverside Saloon, the ArtWalk includes seven sculptures, which will change annually, and several other existing works of art.
The latter includes a sculpture garden and a collection of large student-created glass mosaics outside Lafayette Regional School, a chainsaw-carved wooden bear in front of the Hungry Bear Café, and the library — on the National Register of Historic Places — whose classic architecture, original stained glass windows, and mosaic floor make the building a work of art in its own right.
As the ArtWalk took shape, the board of directors sent out a call to artists soliciting outdoor works of art to be displayed for one year. Montagno said the group expects to expand the ArtWalk with additional works in the future.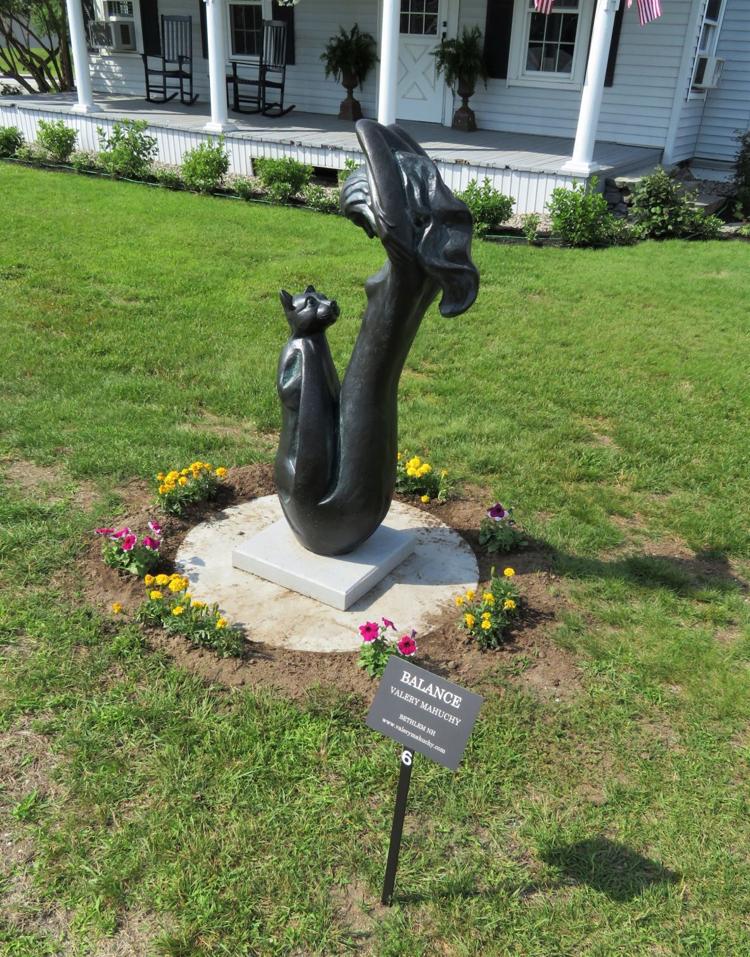 This year's ArtWalk pieces comprise works by a few local artists, including two resident artists from the 42 Maple Contemporary Art Center in Bethlehem: Belarus native Valery Mahuchy's "Balance" stands outside the Peabody & Smith Realty office, and Philip Reeder of Kool Kinetics contributed two welded chain link sculptures – "Link In Log" outside Iron Furnace Brewing and "Chain Bicycle" in front of Chef Joe's Catering. Artists from the Littleton Studio School crafted a teapot totem pole.
Other works include two variations of the metal sculpture "White Oak Leaves" by Massachusetts-based artist Gregory Barry, Douglass's "Evolution," and murals by artist Russell Buckingham inside Plain Kate's.
Each sculpture included on the walk is accompanied by a small plaque noting the artist's name and website.
Montagno said artists received $200 stipends for participation in the ArtWalk, and he'd be thrilled if that participation garnered art sales or commissions for the artists.
A map created by local cartographer Ed Rolfe indicates the location of each featured art work, as well as the path along the Gale River and other artistic points of interest.
During the ArtWalk opening, board member Bernardette Costa noted many people have worked to bring the walk to fruition, including Montagno, who she said, "has been unrelenting in getting this project done."
"We hope to have many more artists involved next year," Costa said.
Montagno said the group will put out a Call to Artists early in 2020 and hopes to be able to expand the number of pieces displayed through downtown. He said Main Street businesses have been incredibly supportive of the venture, with additional businesses hoping to host art work in the future.
"The cooperation has been really, really good," he said. "It's become a community project."