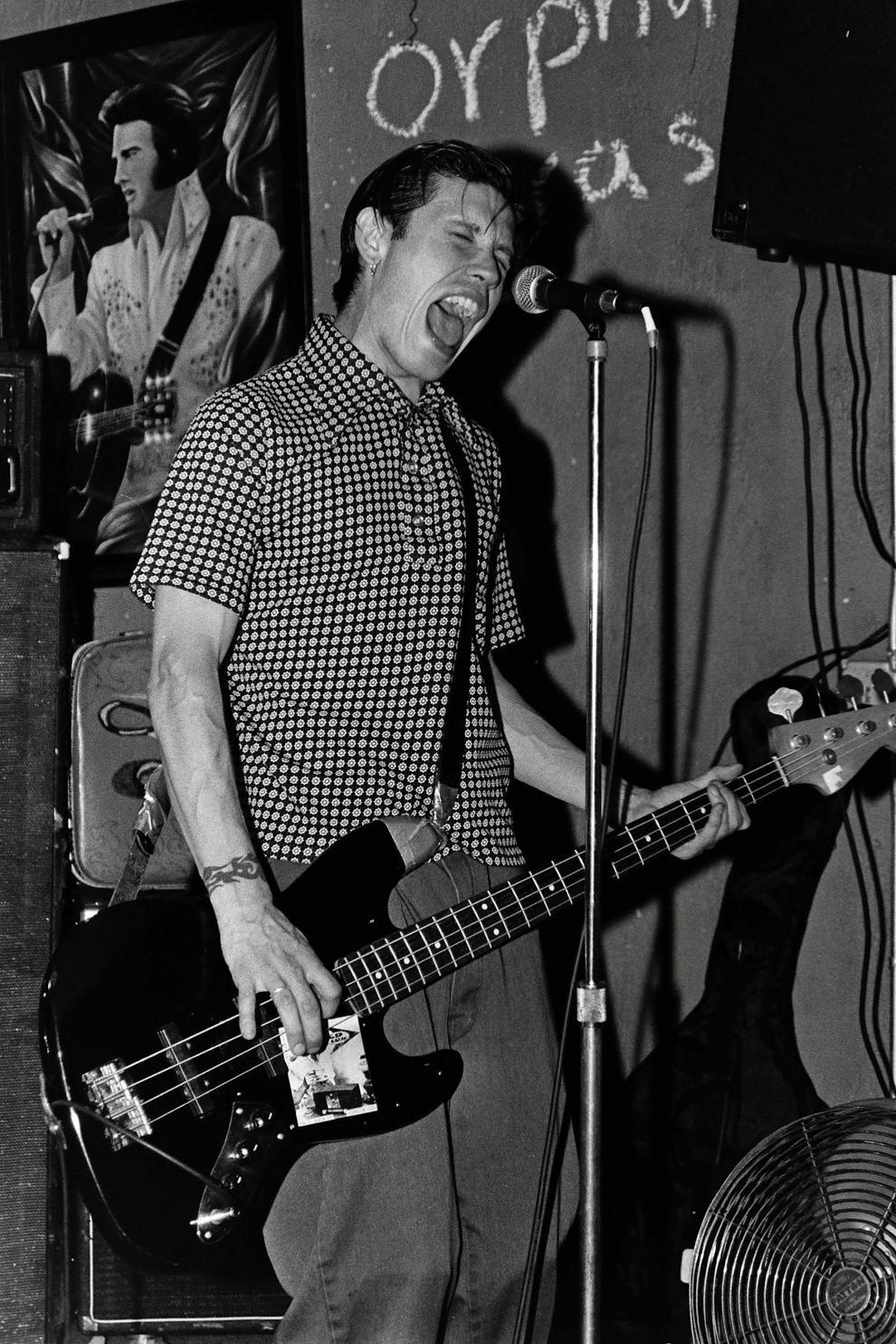 PORTSMOUTH — For six years the Elvis Room was a defiant hotspot at 142 Congress St., a '90s counterculture gathering place tucked in among the Dickensian port city's historic downtown.
All it took was one step through the door of the coffee shop and music club to feel the vibe. It blasted and vibrated through the speakers and snaked like an infectious energy through conversations cloaked with smoky white clouds.
"The lighting was purposely kept indirect and low, so much so that on sunny days you could experience a moment of blindness coming in off the street. Total sensory overload — sight, sound, and smell. Of course it took years to really work that cigarette smell into every nook and cranny, but we managed to do it," said Barbara Steinbach, who with Lori Baker Brown and the late Dawn-Marie Pierre founded the Elvis Room.
Though it closed 20 years ago, and the Goat Bar and Grill now operates out of the space, The Elvis Room hasn't entirely left the building, at least in the hearts and minds of those who found a second home in the club, both for its eclectic roster of music (punk, ska, surf, folk, rockabilly and alt) and its springboard for self-expression with hints of rebellion.
"When I reflect back on what made the Elvis Room such a unique experience is that it was freakishly different from anything else on the Seacoast," said Curt Schulz, who spent many teenage hours there. "It had that '90s alternative luster without trying too hard. For a 16-year-old trying to find himself, it was just 'dangerous' enough to make you feel like you had an edge — in truth, it was actually a very safe and welcoming environment."
It's a place Schulz and co-collaborators are revisiting as part of "Elvis Room 20," a month-long tribute that will transform a corner of 3S Artspace, at 319 Vaughan St., into a nook from the coffee shop and feature concerts by some of the bands that once played the Elvis Room, including punk rock band the Queers, indie alt-rockers Thanks to Gravity, metal-soul ensemble Fly Spinach Fly, power pop group Heavens to Murgatroid and surf guitarist Laramie Dean.
To get an idea of what the original Elvis Room looked and felt like before the doors closed in 1999, the exhibit "Elvis Room 20: A Retrospective" opens Friday at a reception from 5 to 8 p.m. Friday in 3S Artspace's lobby gallery.
One interesting peek into the past can be found in journals in which club-goers, musicians, writers and artists left handwritten drawings, poems and provocative, unfiltered thoughts about lust, love, heartbreak, bullying, rumors and violence.
The exhibit also will feature artwork and poetry from the club's half dozen years of operation, along with black and white images taken by photojournalist Timothy Donovan and color pictures captured by Jayson Harrington, Jenene Bernstein, Pierre and Steinbach.
"Walking into the Elvis Room was one of the best chapters of my life. I walked in sometime in '96 as nervous as a sheep among wolves to ask if I could take photos of willing bands. I ended up with my photos on 'The Wall.' In the process, the E-Room became the one place where my anxiety and depressions that plagued my life could not touch me. It became a place of healing and acceptance," Harrington said in Elvis Show promotions at 3sartspace.org.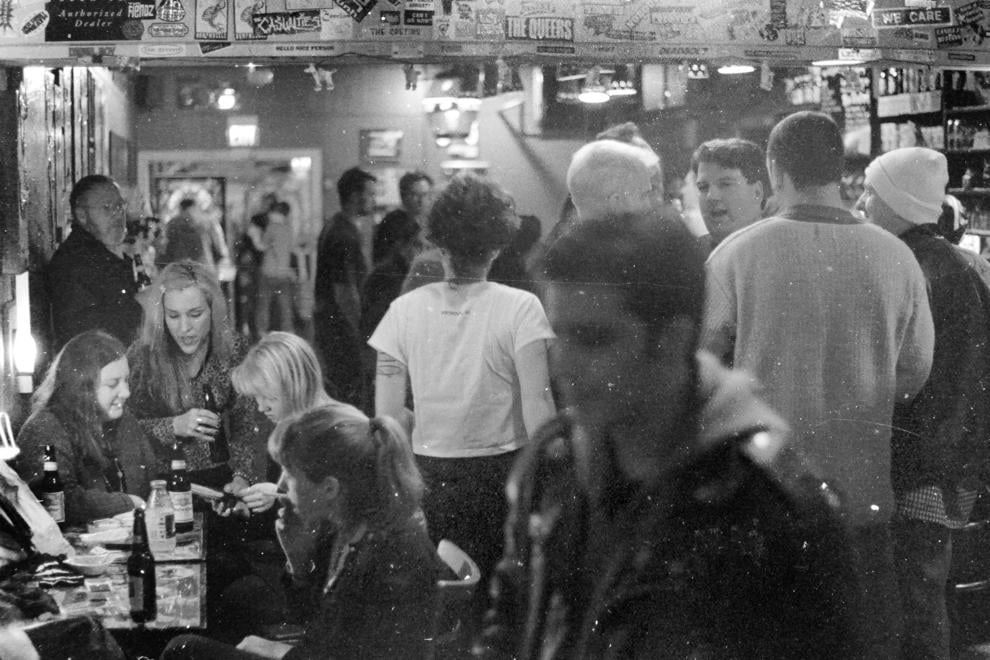 Schulz, who now lives in Salem, Mass., points to two pictures in the exhibition that sum up the club's signature vibe. One captures young concert-goers in mid flail on the dance floor and the other is a crowd shot of patrons tucked into tables and standing by the bar beneath a fog-like haze and a myriad of posters and stickers.
"The first just makes me smile because it captures the energy of a live show. Perhaps it's the guy in the Hard Rock tee's first show and he's waking up to the possibilities of live local music and that magic as a shared experience with others," said Schulz. "A lot of us teenagers had a similar experience of going to our first show at the Elvis Room and having this awakening — live, communal and 'belonging' if only for length of show. The energy was real, and it was absolutely intoxicating."
Elvis Room 20 celebrations on the Seacoast will pay tribute to the chaotic whirlwind of words, sound, art and wildly individualistic people th…
Schulz's first show at the Elvis Room was the metal, soul and hip-hop band Fly Spinach Fly in 1993, an experience he says turned his "suburban, cul-de-sac life in Stratham on its head" and gave kids a window into a music scene that went beyond mainstream radio and MTV.
The second picture Schulz prizes depicts the coffee house side of the Elvis Room. Since most photographers focused their lenses on the performing bands, this image is a rare glimpse of life on the other side of the room.
"It's atmospheric, with all the smoke, and captures a night there as if you are just walking in the door ready to meet up with old friends," he said.
Steinberg said she, Brown and Pierre were going for a warm, funky vibe when they opened the coffee house in 1993.
"I can't remember if purple was everyone's first choice or the compromise, but it became as much a part of The Elvis Room vibe as the music and the art," she said.
"So many parts and pieces had to fall into place for me to go from being an architectural designer in Los Angeles, Calif., to a coffee house owner in Portsmouth," said Steinbach. "I'm so grateful for that. There were so many wonderful shows, both music and art, so many wonderful people I met, on both sides of the bar. I learned a lot about human nature, both the good and the not-so-good, and I carry those lessons with me through everything I've done since."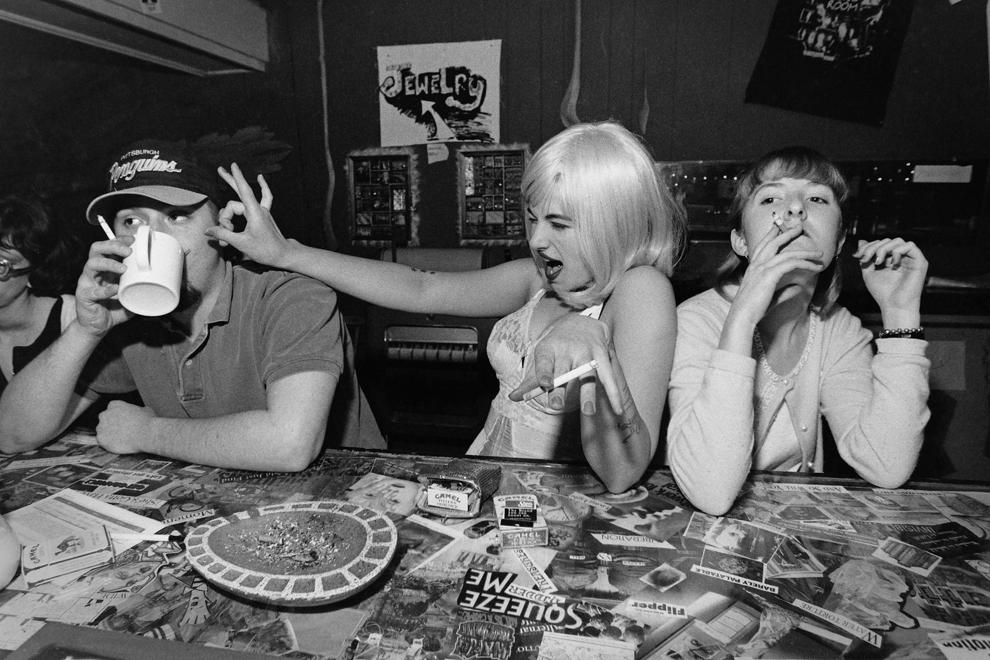 This October's Elvis Room tributes have a bittersweet element. Schulz, who had gone down to Florida to help Pierre digitally archive Elvis Room artifacts, pitched the idea of creating a retrospective to showcase the music, photography and journals generated at the coffee house and club. Pierre jumped on board and immediately began formulating plans and contacting people. Next came a proposal to 3S Artspace to host some of the events.
"After Dawn Marie passed away suddenly and unexpectedly in April, I was at a strange crossroads on what to do. I had just lost a friend and partner in this project and was feeling lost," Schulz said. "I reached out to Barb, who lives in St. Louis now, and she stepped right up and took the torch for Elvis Room 20. Now we're racing toward the finish line together."
The quirky coffee shop, it seems, can still draw a crowd.
"The Elvis Room years were a highlight of my life ... and I'm not the only one. It's been 20 years since it closed but (it's) still in the Portsmouth lexicon, and there are touching stories shared on Facebook by people just like me. It's time for the Elvis Room to gets its recognition and for all of us to celebrate that special place and time that was the Elvis Room."