I t isn't just that no one seems to care when I get the fidgets and rearrange myself in my seat every 5 minutes. Or that I've kicked off my flip flops and propped my bare feet up in front of me. The big thing that reminds me that this isn't a visit to a regular movie theater is the 120-pound ball of fluff sharing our bucket of popcorn.
This is my first drive-in movie experience, and my husband and I are chuckling over the fact that we could bring our giant-breed dog, Tilly, to a double-feature.
We had chosen a Thursday night to try out the Milford Drive-in Theatre, figuring it might be a little less hectic. Sonic the Hedgehog and a bunch of trolls would be running riot over one screen while a creepy, gory slate of horror movies would wreak havoc on the other.
I like a good ghost story, but I'm not usually one for violence and gore. Still, Joe and I decide to go with the more grown-up slate and prepare to watch "Becky," about a troubled 13-year-old who bests a group of escaped cons led by Kevin James in an unfamiliar and unsettling role as a swastika-tattooed ringleader. The follow-up feature would be another dark turn, "The Wretched," in which another defiant teenager takes on a witch who has possessed his next door neighbor.
For the record, I "eeek" audibly at various scenes of vengeful carnage and the cracking-bone sounds the witch makes while inhabiting a human, but my dog just sleeps soundly through the majority of the four hours of mayhem. (Leashed, friendly non-barkers are welcome at the drive-in.)
The setup
But first things first. After going online to milforddrivein.com, we had paid for our admission and printed out our tickets at home. It's $30 for a carload of up to six people, and then $5 for any additional people. Fees for extended vans start at $40. In our case, the cost was the equivalent of $7.50 for each of us for each movie. (Fuzz face got in free of charge.)
We had come the recommended 45 minutes early to find a parking spot. When we arrive at the drive-in's welcome booth, a friendly attendant in a cloth face mask scans our bar codes and points us to the part of the property where the scary movies are lurking.
For safety, the drive-in is operating at half capacity. Only one vehicle can park in between a set of poles, which leaves 10 feet of space on either side. It's a good cushion of sorts, though shows — especially on weekends — especially have been selling out.
People have the option of staying in their cars with the windows up or down, setting up camp in truck beds or open SUV hatches or propping up portable chairs next to their vehicles. We decide to hang out in the car, since it's a cool night, and we lower the windows and tune the radio to an FM station that will deliver the movie soundtrack.
But with some time to spare, we set about a pressing matter. Arming oneself with snacks is practically a patriotic requirement for experiencing this slice of Americana, so we don our face coverings — a requirement if customers head up to the snack bar or the restrooms. Customers order at one window and then pick up items from another.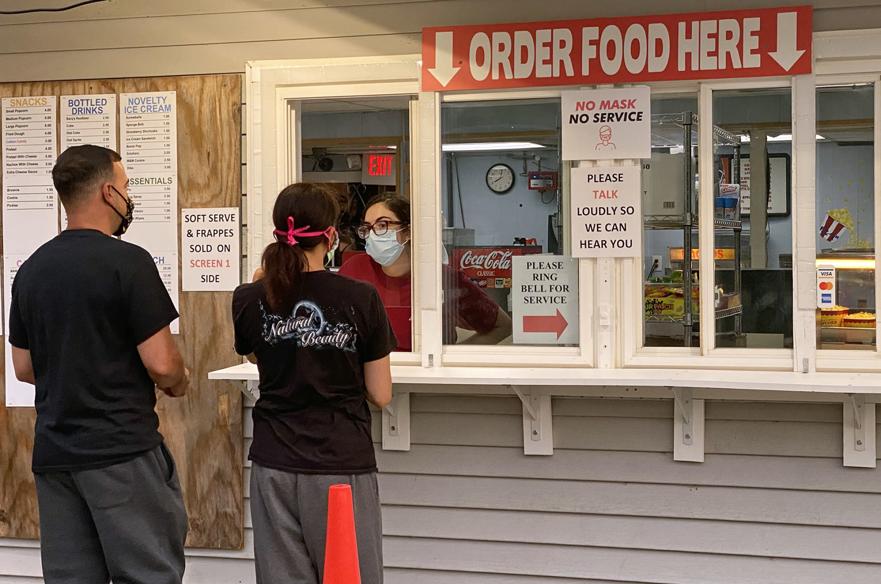 After checking out a menu of everything from hot dogs, hamburgers and chicken tenders to ice cream, candy and an old-fashioned Bomb Pop, we collect a big soft pretzel, a bucket of popcorn and a couple of bottles of soda. (I am really looking forward to the pretzel until I bobble it getting back into the car and it faceplants in the dirt parking lot. But, I digress …)
Regulars here know that "Rockin' Robin," that classic '50s tune, is a signal that the show is about to begin. A guy in the bed of a nearby pickup truck unabashedly hollers along: "All the little birds on Jay Bird Street love to hear the robin go tweet, tweet, TWEET!"
Nobody shushes him. And I give him points for enthusiasm. In a world still smarting from months of self-quarantine, it feels good to be around people while still socially distancing. The little things that could have been irritating — occasional chatter, nearby train horns, wafting aromas from farming fields — don't bother me.
Throwback nights
There's a nostalgia that feels a bit like a reboot, beginning with a free light show of pinks and oranges as the sunset frames the screen and extending to the vintage-looking promos with dancing, juggling and spinning concession stand animations.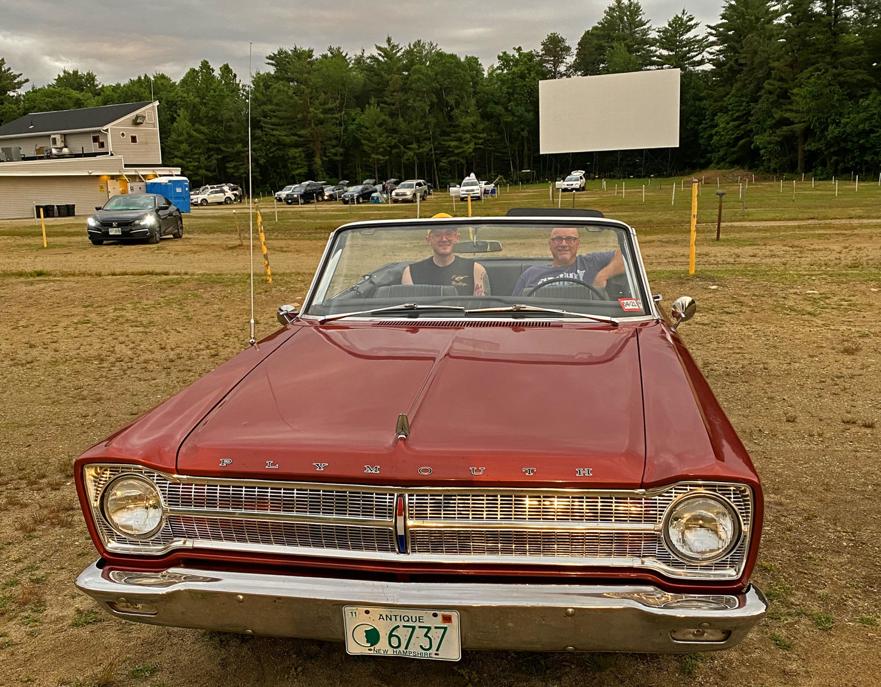 The drive-in's roots go back to 1958, when movies were shown on a single screen on an 84-foot wooden frame. The Scharmett family has largely operated the drive-in since 1969, making upgrades along the way and in 1984 turning the venture into a two-screen attraction. But there's an intentional throw-back vibe, and in a world pared down in recent months by self-quarantine, the chatter tonight in several circles is about just being glad to be outdoors and see a movie on a big screen.
Because the first movie starts at dusk, around 8:45 p.m., and the second can run until after midnight, we prepare for a long night. I had tossed a couple of pillows and blankets into the car to make it more comfortable. Both come in handy when I need to cover my eyes at some of the bloodshed, but just a note of caution: These accessories can also encourage some people to fall asleep and start to snore — loudly. (For the sake of marital accord, I won't name him.)
As for me, a scary scene in the woods playing out against the murky backdrop of actual woods is an interesting dynamic and ups the creep factor.
Still, next time I'm choosing the comfort of an old-school double feature. Cinema has had some struggles in the wake of measures to slow the spread of COVID-19. There isn't the usual deep pool of summer movies — indoor movie theaters have been shuttered, movie sets shut down and film industry releases put on hold or pushed back.
But a thread on the Milford Drive-In's Facebook page shows how passionate people are about seeing old favorites return. When asked which classics people would like to see on outdoor screens, there were more than 630 responses that spanned the 1960s through the 1990s: "The Birds," "Psycho," "Jaws," "Grease," "Raiders of the Lost Ark," "Ferris Bueller's Day Off," "Animal House," "Fast Times at Ridgemont High," "American Graffiti," "Nightmare on Elm Street," "Breakfast Club," "Avatar," "Lion King," and "Ghostbusters," and the "Harry Potter" and "Star Wars" films.
Starting on Friday, patrons at one screen can experience the ground-shaking thud of T-Rex steps in "Jurassic Park" and composer John Williams' signature sign that the water is not safe for swimming in "Jaws." The other screen will feature "Grease," the '70s musical ode to the '50s with John Travolta and Olivia Newton-John, and 1984's "Footloose," in which the hip-shaking Kevin Bacon plays a teen rebelling against a town's dancing ban.