It's a clear, cool April morning and the air is filled with a chorus of chirping birds, but they've got some competition from six eager runners who are loudly prepping for a two-mile loop on wooded trails at Little Lake Massabesic off Depot Road in Auburn.
Tok, Shark, Vencenzo, Biggins, Stryder and Tok have that pent-up energy of athletes waiting for the signal to blast out of the starting blocks.
Only these runners are sled dogs — and their pre-race ritual are sharp barks of excitement and a jittery kind of dance from paw to paw, each hoping to be the next hooked up to the mountain bikes of Nova Clifford and her mother, Jenn Perkins, both of Fremont.
"I'm a third generation (musher)," said the 18-year-old Clifford, who is part of the New England Sled Dog Club and a board member of the Downeast Sled Dog Club in Maine. "My grandpa started racing when he was in his 20s or 30s. He got a Siberian (husky) and got into it, and it's passed down the family ever since."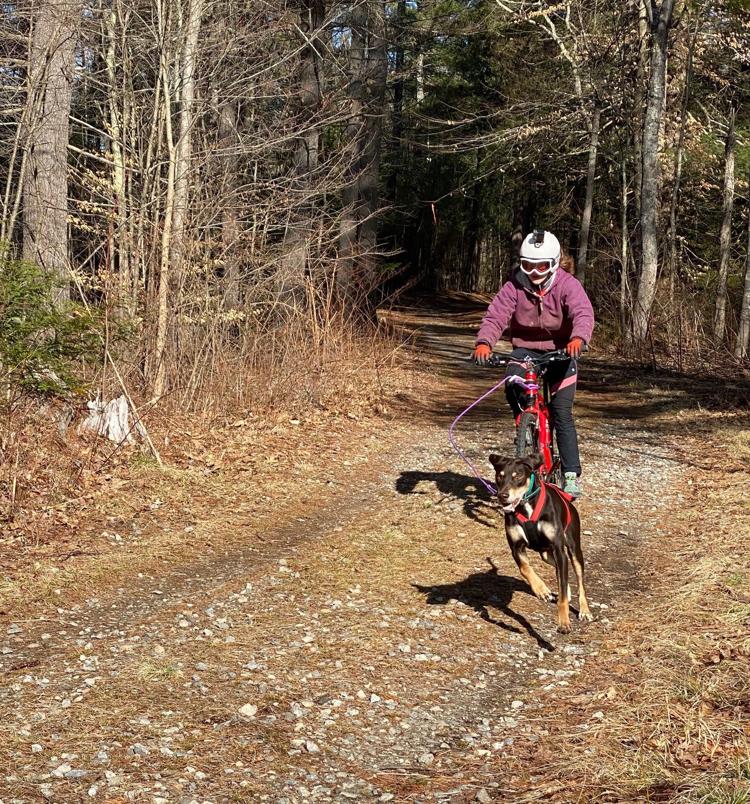 Many area mushers have been doing runs lately with canine athletes connected to waist belts, wheeled rigs and bikes. At this time of year, there are usually canicross (canine cross-country races) but they've been canceled in light of the pandemic. So, the focus now is continuing training until the weather gets too hot and humid.
"We have what is called a dry-land season in the fall — October and November — with bikes and scooters and running, and then we'll transition to more ATV kind of runs to train as a team and for winter sledding, which usually runs January to March," Clifford said after a morning of trail work.
Clifford and Perkins lately have been taking the dogs for outdoor runs about twice a week.
"I have five dogs and my mom has two, one of which is a racing dog," Clifford said, referring to Tok, a German short-haired pointer who is named after a town in Alaska.
Both women wear helmets, and the dogs are outfitted with harnesses. The attachment point for the elastic leash is on the fork beneath the handlebar of Clifford's bike.
"We usually loop around that because that's the safest pulling point," she said. "On my mom's bike she actually has what is called a bayonet, which extends over the front tire to keep the lines held up."
Perkins said her daughter has recently drawn her back into the sport.
"Nova's grandfather on her father's side, Malcolm Clifford, started the whole thing. I raised dogs, and I was pregnant with Nova when I got into it, through her father. I took a few years off, but she's gotten me back into it. As she's gotten older and gotten into the biking, running and scootering, she's roped me back in again," Perkins said with a laugh.
Though Tok, from a litter of 10 puppies, is only 11 months old, he's already showing a competitive streak.
"I would free-run him and then Nova would show up with dogs that have been trained generation after generation, and he thought this was the greatest thing to try. He was hooked up as a puppy to run ahead. He is running 2 miles and single-leading," Perkins said.
When he dashes by, Tok pays walkers on the trail no more than a glance after Perkins issues a command to stay the course. He's clearly in his element.
"You can't force a dog to run out in front of you. One of the sayings is, 'You can't push a rope.'
"They have to be in front, and they have to want to do it," Perkins said. "It's about making sure he has the conditioning so he feels he can do it. We just got back from free running them out in fields and bringing them swimming — about four and a half miles as fast as they want or as slow as they want."
Stealing the Bacon
Back in the day kids played kick the can, hide and seek and hopscotch, but James Peterson, sales and marketing director of Seacoast United Sports Club, has challenged one of his daughters, 4-year-old daughter, Poppy, to a game of "Steal the Bacon."
It's all part of a "Grassroots" effort to kick up some extra enthusiasm for sports and family time. As seen on the club's Facebook page, the Petersons aren't actually dashing around their yard grabbing bits of fried meat. It's an imaginative game designed to introduce younger kids to soccer, using cones, socks — really anything on hand that can stand in as the sought-after fried breakfast treat.
The goal is to dash to a pile of "bacon" 10 yards away, pick up a piece and bring it back to a designated home station under a time limit. Participants warm up by jogging the course, and then try it while dribbling a soccer ball along the route. (Remember, you can pick up the bacon but you can't pick up the ball.)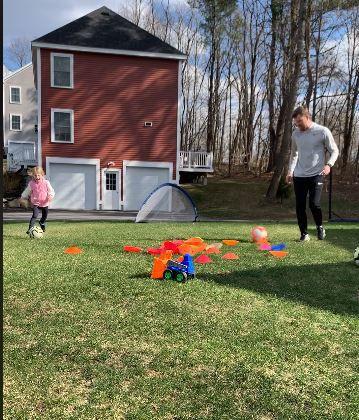 "It's a workout for kids and for mom and dad," Peterson said, adding with a laugh, "It's a good opportunity for kids to get worn out so you get a break once in a while."
Seacoast United, which has facilities in Concord, Epping, Hampton and Kingston as well as Amesbury, Mass., and York, Maine, has long focused on skill building with competitive programs for baseball, softball, soccer, lacrosse and field hockey, among other sports. But when their seasons were put on hold and team practices suspended, Seacoast United began sending out digital training regimens that its skilled club players — for the most part ages 10 to 18 — could do from home.
That got Seacoast United officials thinking about sharing the fundamentals of the game beyond its facilities. They reached out to school principals, heads of recreation programs and athletic directors throughout the region with ways other families could flex their creativity and muscles.
In the past five weeks, kids have been showing some old-school determination and grit, using their backyards, driveways and garages for skills drills in a wide range of sports and putting their efforts up in pictures and compilation videos on Youtube and Facebook with hashtags InThisTogether and The Seacoast Way.
"We've easily gotten 1,000 videos in five weeks," Peterson said. "We took a handful of clips and made compilations of kids doing drills. The simple message is we are in this together. It's really powerful."
And in many cases, they're schooling adults with the results: a lacrosse player sprints and darts through drills with his enthusiastic dog doing tight defense along the way; a teenager arcs a soccer ball up into the air and into a basketball net in the driveway; a girl performs balancing tricks with her field hockey stick; and a young premier-level boy juggles a soccer ball for seven minutes — that's 672 controlled touches — in the living room in a seemingly effortless display.
"It's pretty cool to see all these players around New Hampshire, Maine and Massachusetts getting outside and playing. These kids are out of school, not with their friends or teams. It's gotta be a tough situation for them. This is a way to inject some positivity into the situation," Peterson said.
The Grassroots digital soccer initiative is the latest digital program to roll out. It's geared toward kids ages 3 to 8 — along with their parents, who have seen schools and day care facilities close and in-person group activities cancelled. Seacoast United each week is putting up ideas of activities to do at home on Youtube. It's about sharing the fun of play, rather than honing in on specific skills. Each video includes a warm-up drill and then incorporates a soccer ball into the game.
"You don't need world-class soccer play, just fundamental game-oriented activities," Peterson said.
Work out with Work-ins
Planet Fitness, a global network of fitness clubs headquartered in Hampton , is trying to get people — both members and non-members — on their feet with Home Work-Ins on its Facebook page.
"The home 'Work-Ins' offer tools to combat stress while providing motivation and inspiration to keep people physically and mentally fit during these uncertain and stressful times," said McCall Gosselin, senior vice president of communications at Planet Fitness headquarters. "Exercise is more important now than ever, and people's daily routines have changed in unexpected ways."
Planet Fitness shifted attention to virtual programming, launching the "United We Move" campaign to help keep people active until their clubs can open again. Gosselin said Planet Fitness is offering free, live sessions at 7 p.m. daily, as well as 8 a.m. Mondays and Wednesdays.
"The virtual workouts are 20 minutes or less, don't require any equipment, and are led by Planet Fitness trainers and special guests," Gosselin said. "For example, we've had special guests like 'The Biggest Loser' coach and fitness trainer Erica Lugo, NASCAR driver Joey Logano, actor and director Jerry O'Connell, and New England Patriots star Julian Edelman, among others."
Gosselin said this week's lineup will feature Caleb McLaughlin of Netflix's "Stranger Things," and two New Hampshire natives — former NBA player Matt Bonner of Concord, and Kyle Cooke of Bravo's "Summer House," who has Manchester ties.
About 28 years ago, two Dover brothers, Michael and Marc Grondahl, created the first Planet Fitness workout club. It was meant to be a casual workout space for a wide range of fitness levels — without all the intimidating grunting, competitiveness and weight-dropping by so-called "lunk heads." Teaming up with Chris Rondeau, chief executive officer, they began to franchise these "Judgement Free Zones," and it has grown to more than 2,000 sites worldwide.
For those who can't tune in to the live instruction, workouts will remain on Facebook and are also uploaded to the Planet Fitness YouTube channel after the broadcast ends. Members and nonmembers can download the Planet Fitness app to access about 500 exercises.
Gosselin said that a partnership with iFit has led to additional workouts, including bodyweight cardio workouts, bodyweight strength workouts and dumbbell strength workouts for beginner and intermediate levels.