Harry Potter stage parody conjures some silly magic in NH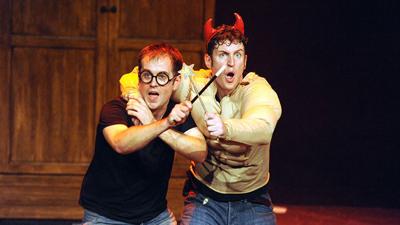 Director Richard Hurst likes to tout the stellar "special effects" in the international touring production of "Potted Potter: The Unauthorized Harry Experience — A Parody by Dan and Jeff."
Hurst may be across the pond in England, on the other end of a spotty phone connection, but it's easy to imagine the little tug of a mischievous grin when he starts to embellish.
"There's a full game of Quiddich in the theater," he says earnestly of the production taking over the Capitol Center for the Arts in Concord tonight. "Everyone flies around on brooms. It's realistic, a bit more than in the films! It's hugely expensive. Everyone in the theater is given a broom."
Yes, he's aware that staging an airborne match ala the Hogwarts School of Witchcraft and Wizardry brings up concerns about audience members taking off into the rafters without any flight experience, or at least signing liability waivers. But production officials are eager to give it a go anyway.
"Initially we thought about safety, and then thought, 'Nahhhh,'" Hurst explains good-naturedly.
After all, the show is pretty much built on gleefully questionable judgment, starting with the two guys on stage who are determined to condense all seven of British author J.K. Rowling's fantasy books into a 70-minute whirlwind of good versus evil. Except, these guys really don't really have any money to hire set designers, actors or a decent flying broom, no matter what anyone tells you.
It's that delightful sense of misdirection that gives wings to this parody, which was created by and initially featured two-time Olivier Award-nominated actors Daniel Clarkson and Jefferson Turner (who are also responsible for pop culture spoofs "Potted Pirates" and "Potted Sherlock.")
For the Concord show, the two-man cast of "Potted Potter" will feature actors James Percy and Joe Maudsley.
"We have a repertory company of actors who do the show — there must be at least eight to 12 actors who are sort of ready to go for (a given production) depending on where," Hurst said of the wildly popular global tour. "The show goes to Australia later in the spring, and we just closed in Texas and Ohio. We had four different casts at Christmastime."
The duo's comic efforts to convey all the creatures, dire straits and sporting events that constantly crop up in Potter stories and films is infectiously entertaining.
"When we first did the show in the UK, only very occasionally (did audience members come dressed in costume) but now, with more and more Potter merchandise available, people do come dressed up," Hurst said.
It was in an early production in a 120-seat theater in the West End of London that he spotted the first signs of excessive enthusiasm in the crowd.
"Two ladies had flown over from the States and were in full Hogwarts robes. It was the first time people — especially adults — dressed up and wanting to take photos" with the cast," he says.
Why does the spoof resonate across so many borders?
"Well ... it's a very silly show," Hurst says with a laugh. "It's kind of a simple, double-act clown relationship that goes back to commedia dell'arte, which goes back to before medieval times. It's two idiots trying to do something they are in no way equipped to do."
The duo seems sincere about trying to conjure Potter's world from both the best-selling books and blockbuster movies.
"In a way it's about Harry Potter, because (the duo) really is trying to as best a job as possible (to convey) a seven-book story. In another way, it's about two idiots failing to do that on many levels. The very first thing we discover, in fact, is that Joe has spent all the money that's meant for the actors and the sets on the dragon in book four," Hurst says.
"James has entrusted this enormous undertaking of doing the whole Harry Potter story to someone who has very poor judgment," he adds. "And of course, the debate is who is a bigger idiot, the entrusted guy who was an idiot or the guy who trusted an idiot."
Which also explains why James plays Harry Potter while Joe tackles the roles of pretty much everyone else. (The production's Web page claims that includes 360 characters, but be forewarned, exaggeration and foolish fact-keeping are key elements of this spoof and conversations with the good-natured director.)
"(Maudsley's portrayal of Harry's friend) Hermione has to be seen to be believed," Hurst says with an air of awe — or maybe just misleading amusement. "There's no shortage of whimsy."
Tickets to the 7 p.m. show today range from $35 to $65. For availability, visit ccanh.com or call 225-1111.