When the Hood Museum of Art in Hanover put up a Facebook post of Visitor Services Manager Andrew Turner taking a big bite of an apple, it wasn't a public service announcement about enjoying a healthy snack while in quarantine.
As part of a local take on a global art trend, Turner was doing his part to bring 19th-century artist Eastman Johnson's 1876 painting "Back from the Orchard" to life, right down to the brown overalls, winter cap and armful of just-picked fruit.
It's all part of a viral challenge to recreate the scenes of favorite works of art using just a few items found around the house.
"Search through our collection online and pick your favorite object or draw inspiration from one of these (suggested) six works, then get creative — use found objects, draw, sculpt, pose in costume, whatever," according to an April 9 post on the Hood's Facebook page.
This clever way to interact with the public first drew attention with the Rijkmuseum in the Netherlands and then the Getty Museum in Los Angeles. Interpretations have run the gamut from painstakingly precise to just plain funny.
For Hood's challenge, Turner said he chose "Back from the Orchard" both because he was familiar with the painting and because he knew he could round up the props.
"It has been my runner-up for a Halloween costume for years, so when I saw this project come up, I ran with it," Turner told NHWeekend. "I have been working around 'Back from the Orchard' for years, and it has become one of my favorites in the collection. This work was easy to recreate with things I already had around the house."
Entries have begun to come in for the challenge, and the Hood plans to feature them online in coming days. Among the submissions is a family project by Jeff Hafner, Dartmouth College Class of 2002, who with his children, Denney, 5, and Jack, 7, was inspired by another piece in the Hood's collections, Alma Woodsey Thomas' 1969 painting "Wind Dancing with Spring Flowers," which features concentric circles of colors suggesting swirling garden hues. The Hafners turned to toy building blocks to render their version, calling it "Wind Dancing with Spring Flowers Legos."
People can post submissions on their own social media accounts with the tag @HoodMuseum and using #HoodMuseumFromHome in the caption, or email it to look.at.the.hood@dartmouth.edu.
Flowers in the windows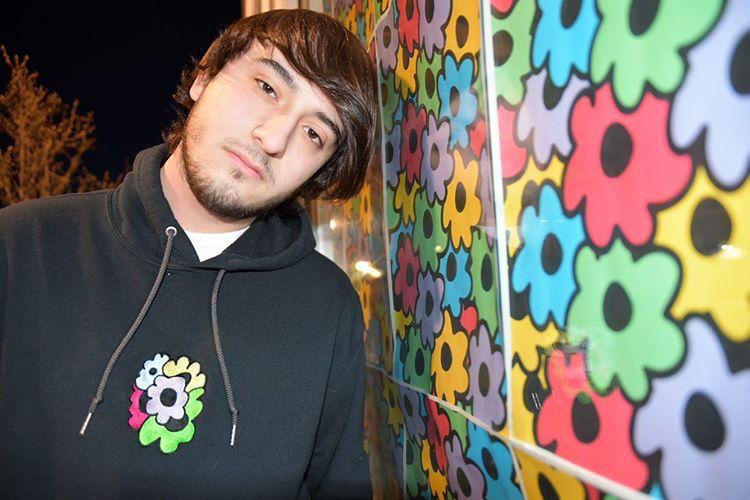 Over in Rochester, one art museum is giving a different kind of creative shout-out to the community. Fields of flowers have cropped up downtown, but they're not in window planters. These brightly colored blooms stretch across three first-floor windows of one building.
By way of an explanation, the Rochester Museum of Fine Arts posted this Facebook message: "Hey, essential workers and first responders! Check out our drive-by art show on North Main Street, featuring artist Jonathan Pereira. The poster files were sent by email and they were printed and installed in isolation. #stayhome #artisessential."
"We want to brighten up their days as they head into work," said Matt Wyatt, co-founder of the museum. "It's been a really tough time, but we believe art is essential. Artists are sending the work to us digitally, we are printing them on poster paper and installing them in isolation because of social distancing."
Wyatt said the museum has been shut down for weeks, as its gallery space is in a public building.
"Our downtown is really suffering, so we wanted to do something to let them know that Rochester is still open for business and to not lose hope. Many of the businesses and restaurants have adapted to the current situation with curbside pickup, etc. We are doing the same thing for art," he said.
Pereira, who lives in Manchester and attends classes at the Institute of Art and Design, creates art in a variety of media, including stickers and designs on clothing.
"I was really inspired by street art and how powerful public art can be," Pereira said. "I was fascinated by the idea that my art could exist wherever I leave it, and if someone doesn't like it, it can be removed. The idea of becoming a part of people's everyday perspective is exciting to me. If you look hard enough, my art is present in our city, whether it be on people's T-shirts, laptops, or outside. This creates a community of supporters, and is such a huge source of positivity."
The flowers, in particular, reflect his growth as an artist, and he hopes to plant further seeds in his home city.
"There are more kids here in Manchester, just like me, doing art in tons of different mediums. I would love to be someone that kids growing up can look at as fuel to their creative fire.
"It's hard to be comfortable with yourself as an artist at first, and I want to help the youth here realize that they don't have to move to larger cities like Boston, New York or LA to succeed with creative endeavors. Instead, we can take advantage of the fact that Manchester's art scene isn't oversaturated, and we can start to make an impact."