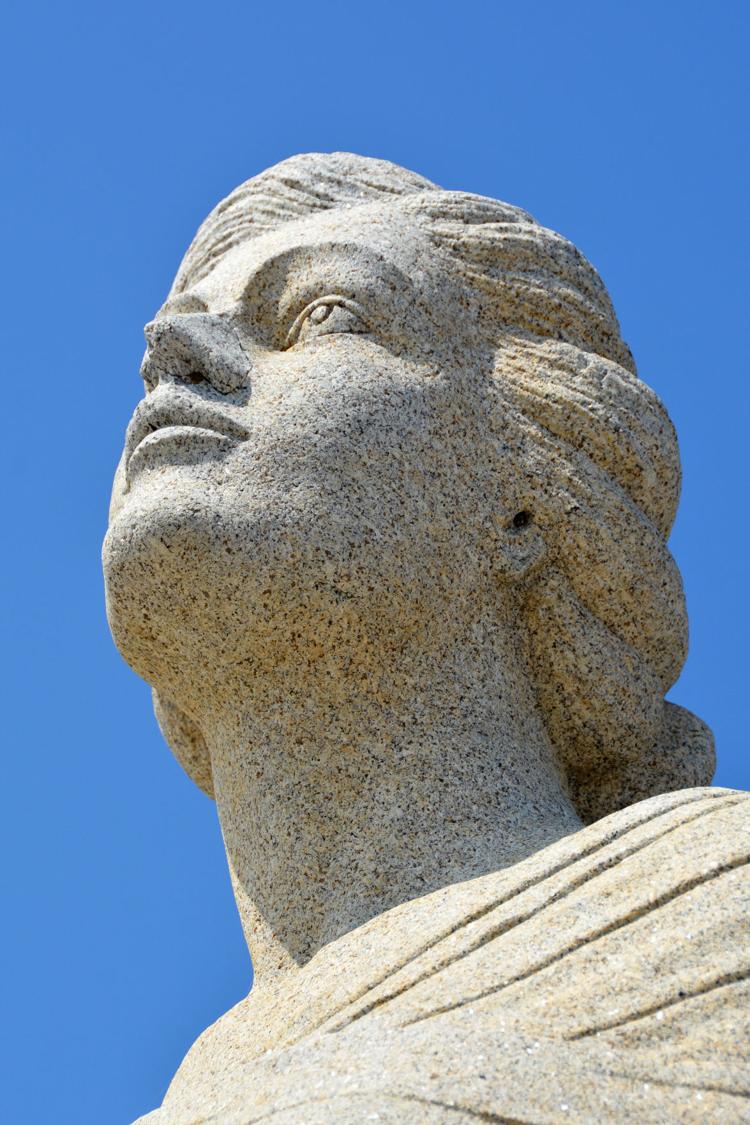 They've been keeping watch over New Hampshire for years, but at times all four figures fade into the background, lost to impatient rush-hour traffic or the crush of a teeming beachside boulevard.
So I decided to pay each a visit — one in Manchester's Millyard, one on the beach in Hampton and two on a city sidewalk in Portsmouth.
I didn't expect that any of them would chat with me in the conventional sense — after all, they're statues. But they're far from silent. Each, wearing a complicated mix of weariness and resilience, lends a very human face to the struggles people have faced in shaping the Granite State.
So, as you take to the outdoors for a walk, run, ride or drive — especially a socially distanced one from behind a homemade mask — consider taking a closer look at some of the amazing artistry around the state. Here are three reasons to stop and look up: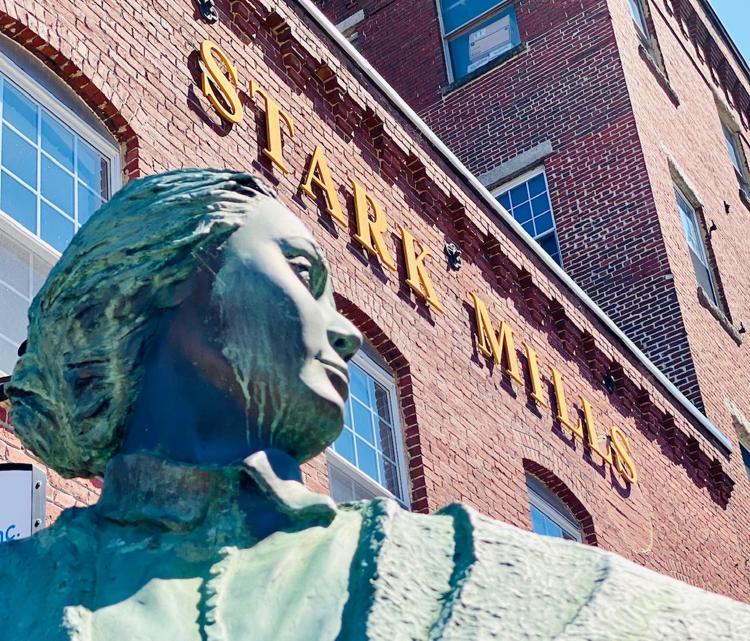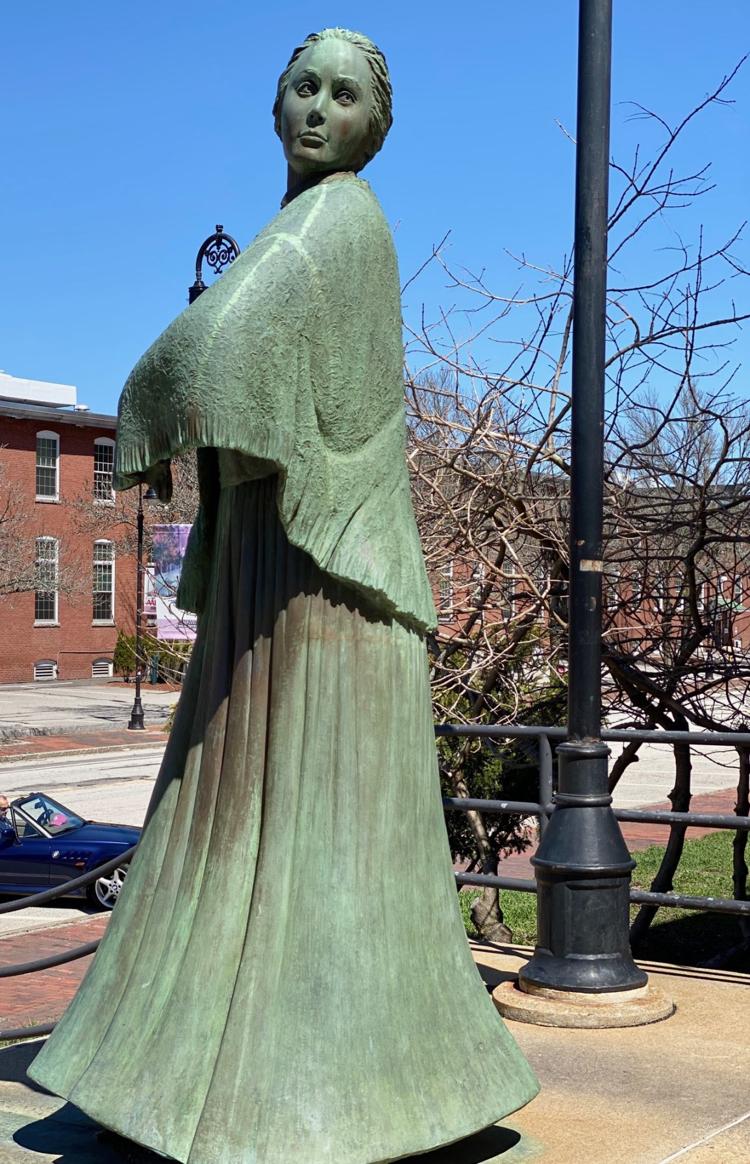 Threads of a story
The Mill Girl, designed by Antoinette Schultz, has been a fixture in the Manchester mill yard since 1988. She stands atop a Commercial Street staircase, a sunny spot that in recent years draws people out of their offices for lunch breaks and cups of coffee on the steps.
But "Millie" looks back over one shoulder at life in the 1880s, when the city's burgeoning mills were drawing workers from near and far. The Industrial Revolution didn't come without sacrifices from scores of women who left their native countries for a challenging new world.
A plaque on the wall of the brick building behind her describes that view:
She stands here, for thousands of 19th-century working women: Industrial revolutionaries who broke with the past to earn their living, making history and creating the future.
In 1880 one third of Manchester's population, 3,385 women, worked in the textile mills of the Amoskeag Manufacturing Company, situated below along the banks of the Merrimack River.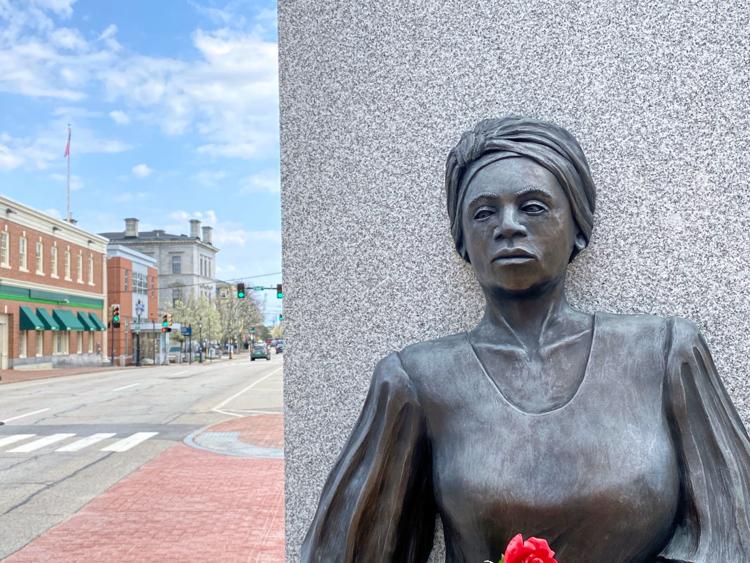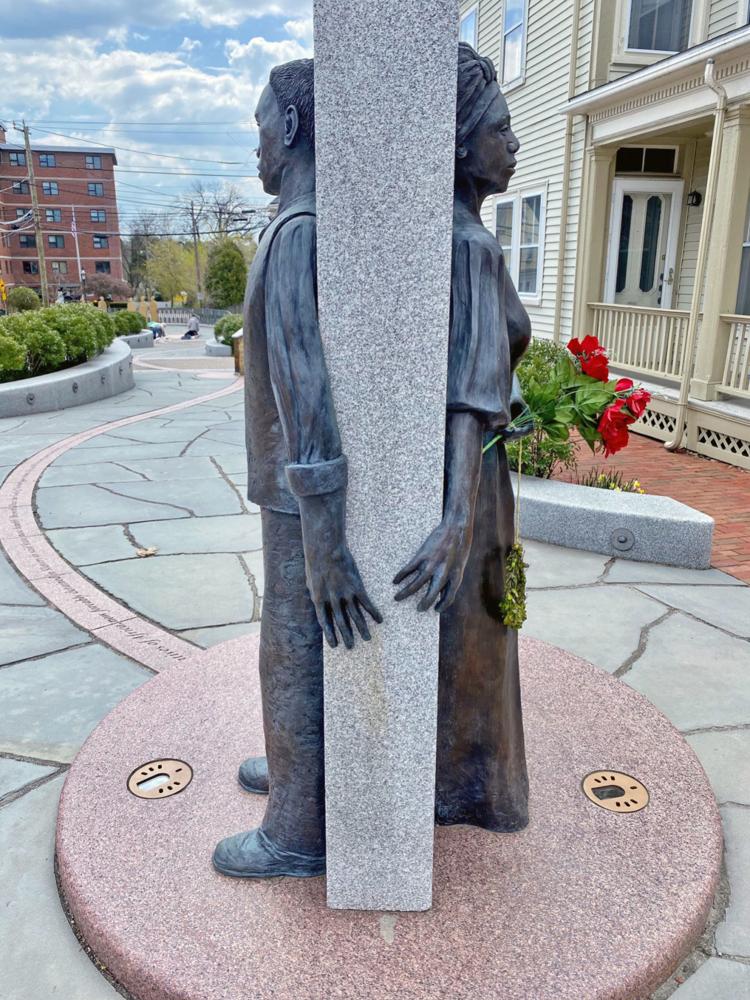 Need for connection
On Sunday, a splash of red blooms in the gray hands of a sculpture at Portsmouth's African Burying Ground Memorial stood out against a downtown muted by social distancing.
Ever since the memorial was dedicated in 2015, on the site where the remains of 13 African Americans were discovered in a long-forgotten graveyard, someone — or perhaps a community of someones — has been trying to make connections between the past and present.
It's a message mirrored in the two figures of the memorial, a moving sculpture designed by Jerome Meadows and situated between Court and State streets. Two figures stand back to back, a seemingly impenetrable stone slab separating them.
On one side is a man who represents a slave put to work in the bustling seaport several centuries ago. His head is turned in the direction of where the rediscovered remains were uncovered during a construction project in 2003 and since then reburied and memorialized.
On the other side is a woman, a symbol of the man's native Africa and the life and traditions he was forced to leave behind.
But each has stretched a hand back and around the side of the barrier, and their fingers are just inches apart from touching. It's both disconcerting and comforting — the sense that while out of reach now, hope remains.
The added flowers — sometimes they are cut blooms and other times they are artificial versions — are bright reminders that people are still trying to make connections with the past and present.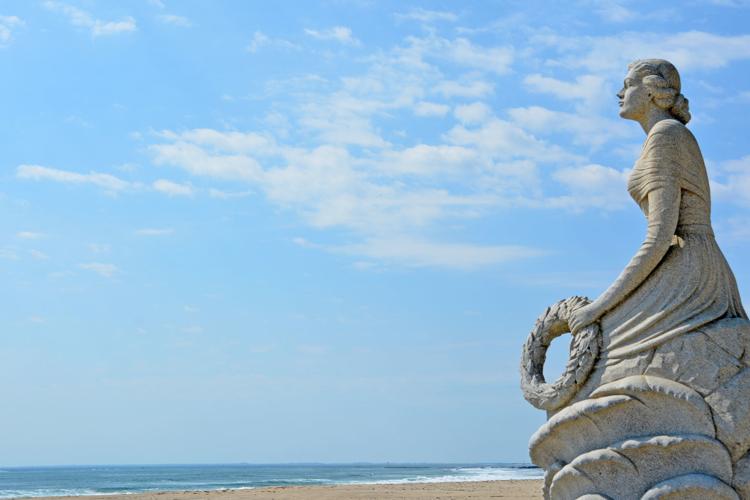 Waves of emotion
In striking contrast to the rainbow of shop and restaurant signs lining Ocean Boulevard, a granite statue of a mother staring out over the Atlantic Ocean is inscribed with the words "Breathe soft, Ye winds, Ye waves in silence rest," a quote from a poem by 18th-century poet John Gay.
The Marine Memorial, which was designed by New Hampshire artist Alice Erickson Cosgrove and dedicated on Memorial Day in 1957, pays tribute to the military sons and daughters who were lost or buried at sea during World War II. The site also features benches and the etched names of merchant mariners.
The granite monument is along a busy sidewalk near the street, across from the Ashworth by the Sea hotel. Still, it captures a moment that is unexpectedly quiet and personal. The figure has knelt down to place a laurel wreath into the water, her long dress gathering in folds around her bent legs. She's raised her face to the waves, and her soft-focus gaze is both a weighted goodbye and a consoling prayer for peace.