Mike McDonald's Comedy Xxtravaganza hits Portsmouth and Lebanon
The lineup for Mike McDonald's 18th annual Comedy Xxtravaganza in Portsmouth and Lebanon is stacked with talent.
"There's no comedy helper in the box. Everybody on the show is a headline comedian," says McDonald of this year's laugh-getters.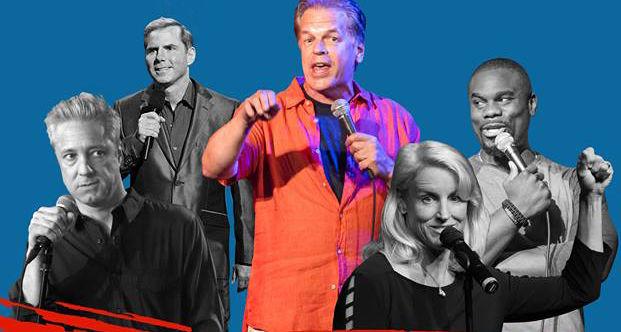 Comedians Tom Cotter, Karen Morgan, Corey Rodrigues and Nick Griffin will join McDonald Friday night at the Music Hall in Portsmouth and Saturday evening at the Lebanon Opera House.
A portion of ticket prices will benefit Crossroads House and Gather, both in Portsmouth, and David's House in Lebanon.
"You pay some bucks, you get a few yucks, and some of the money stays in the community. And we've been lucky enough to have great crowds," McDonald says.
Former lawyer-turned comedian Karen Morgan returns this year to the Comedy Xxtravaganza.
"It's been a long time. I'm happy to come back and do it again," Morgan says.
Morgan, who moved to Cumberland, Maine, from Athens, Ga., was busy raising her three young kids at home and needed an outlet. So she and a friend took part in a stand-up class, where Morgan's teacher sent her tape into Nick at Nite's contest for "The Search for the Funniest Mom in America."
"I became a finalist, and then I did a TV show, like right out of the gate," Morgan says.
She's performed stand-up in places like Caroline's in New York and the Improv in Las Vegas. She can also be seen in ads for Wal-Mart and Zyrtec.
"This is not something I really planned to do. It was a little more like an activity to get out of the house, a chance to do this for myself," she says.
McDonald is impressed with her abilities as a comedian.
"I saw (Morgan) the second time she was on stage, and she was smooth. She was good. I talked to her after the show. I said, 'How the hell are you this good? Nobody who goes on stage a second time is that agile and smooth. And she said, 'Well…' — she's from Atlanta. And — she said (in a Southern drawl), 'Uh, I was, uh, I was a trial lawyer.'" McDonald says.
Comedian Tom Cotter got his start slinging jokes in places like Giggles in Saugus, Mass., and Nick's Comedy Stop and the Comedy Connection at Faneuil Hall in Boston. He says his comedy style comes from necessity.
"It's just a rapid-fire series of one-liners that are somehow linked together. It's born out of insecurity. I hate lulls. So I cram a ton of material into a short amount of time, so that if you didn't get the last joke, we were already into the next one," Cotter says.
That whip-smart delivery helped him land a spot on NBC's "America's Got Talent," where Cotter could unload joke after joke in under two minutes.
"I got a call from the maitre d' at the Friars Club. He said, 'We just had the producers of the show here and they're not happy with the comedians they've seen so far. They want us to send some guys down. Do you want to do it?'"
It was a spur-of-the-moment decision.
"I went down that day, and the rest was history," Cotter says.
Cotter made it to second place in Season 7 of "America's Got Talent," and recently appeared on AGT's "The Champions." Cotter has also appeared on "Inside Amy Schumer," won the grand prize at the Boston Comedy Festival, and has been seen around the late-night TV circuit.
McDonald says every comedian in the Comedy Xxtravaganza is top-notch.
"Nick (Griffin) did 'Letterman' 11 times, did 'The Tonight Show,' 'Conan O'Brien,' traveled all over the United States. Nick and Tom — those guys are big-deal pros," McDonald says.
Comedian Corey Rodrigues has snagged the top prize for The Funniest Comic in New England and Catch A New Rising Star, and has used his talents to raise money for Dana Farber, the Jimmy Fund and other charities.
"Corey Rodrigues is a young lion coming on. You can see him on Rooftop Comedy. He's able to channel Denzel Washington. If you ever see him, you can ask him any question and he can answer it as Denzel," McDonald says.
McDonald himself is a seasoned comedian.
"For me, I've done 10 USO tours, 50 different countries all over the world. I've been producing shows for 30 years. I'm happy to be able to bring these up to Lebanon and Portsmouth," he says.
"I love being part of a lineup with such great talent. I don't know who's going to close because nobody's going to want to follow everybody, because everybody is so strong," says Cotter.
Holding a charity show midwinter keeps the word out that though the holidays are over, giving can take place year-round.
"The charities do OK, right through Christmas. Then there's a giant vacuum of like, 'Oh, we're exhausted, we can't, …. or, 'Hey, we've got other bills.' So this regenerates some exposure for all the charities," says McDonald.
Over the past two years, the Xxtravaganza has generated more than $15,000 for charities, he said.
Crossroads House helps people transition back into housing, while Gather, formerly known as Seacoast Family Food Pantry, offers food as well as nutrition education.
McDonald says David's House, which works with Dartmouth-Hitchcock Medical Center in Lebanon to provide housing during medical treatment, has special meaning for the main sponsors, the family-owned Eastern Propane and Oil.
"Two of the owners of Eastern Propane — a married couple, the Andersons — have two boys," McDonald says. "At birth both the boys had very serious lung issues — issues so serious that they spent the first four to six months at Children's Hospital n Boston. The Andersons were forced to live next door to Children's at a Best Western for six months. They're very empathetic to the plight of parents with kids who have to travel and live next to the hospital. So David's House was a great charity to partner with. The original founder of David's House (Dick Cyr) was an old propane guy, and so the hook up was natural."
Mike McDonald's 18th annual Comedy Xxtravaganza is Friday at the Music Hall in Portsmouth and Saturday at the Lebanon Opera House; both are at 7:30 p.m. For details, go to comedyxx.com.