Milton artist Wendy Morneau has been raiding the kitchen cabinets for cookware lately, but when it comes to ingredients, she heads outside.
She gathers some leaves, berries, acorn tops and twigs, arranges them in a baking pan, adds some water and then lets Mother Nature do the rest.
"If you're lucky, there's a piece of art in the morning," said Morneau with a laugh.
Morneau is the creative wit behind a series of frozen craft projects that are gaining attention on social media.
Her icy shapes are surprisingly stunning, adding unexpected color and detail to wintry landscapes. The way the water freezes can change the effect. In some, the materials seem to hover in an invisible frame. In others there is a crackle effect like the surface of a refrozen pond with many layers or a wavy ripple that subtly changes the shape of an embedded object.
"Each one is unique and beautiful, temporary, magical and satisfying," Morneau said in a December post on her Facebook pages.
Her winter project started with a water tray she had set out for the birds, and picked up momentum when Morneau tried out a Bundt cake pan that added decorative, swirling edges to her ice art.
"I used a sledding saucer for a really big one a couple of feet across," Morneau said.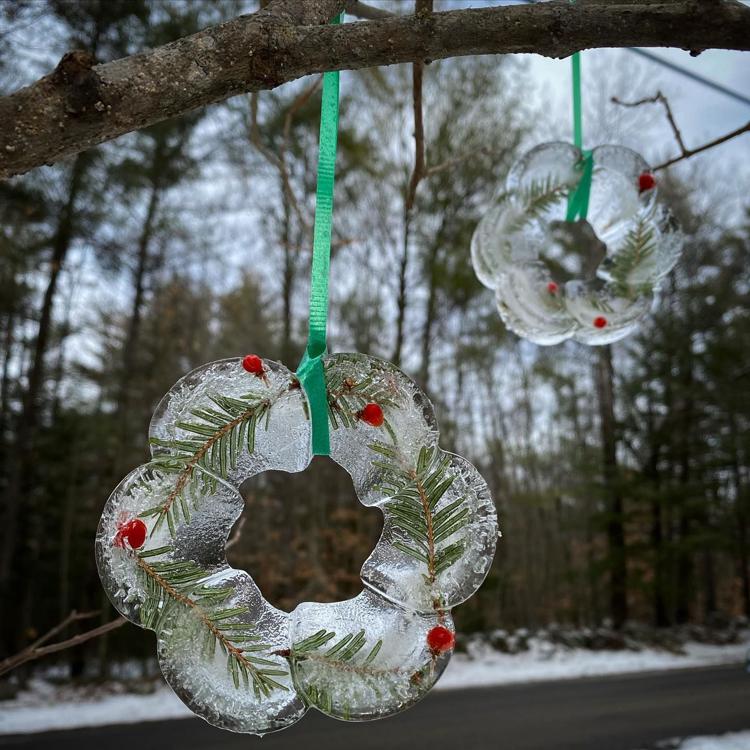 She has transformed her yard into a wintery vignette that sparkles in the rising or fading sun. Dinnerplate-sized ice spheres are tucked into the V-shaped crook of a tree. A larger version is propped up against an antique-looking metal farming plow while ornament-sized hearts and doughnuts hang from ribbons on branches.
Her favorites so far are the little wreaths she crafted with a mini six-place Bundt pan.
"I put greens with red berries in (each of the molds) and let it freeze. It looked like real little wreaths hanging in the tree," she said.
She's been sharing pictures for a couple of weeks on her social media accounts and getting lots of responses.
"I couldn't believe it. My phone was going crazy," Morneau said of all the notification alerts.
Some comment on a work of art, others tag Morneau with their own frozen art or ask for advice on how to get ice out of a container without breaking it.
"They pop right out of the plastic molds, but I've had to run a little water over the metal molds to free them up. Sometimes just bringing the molds in the house for a few minutes is enough to free them, too," Morneau said.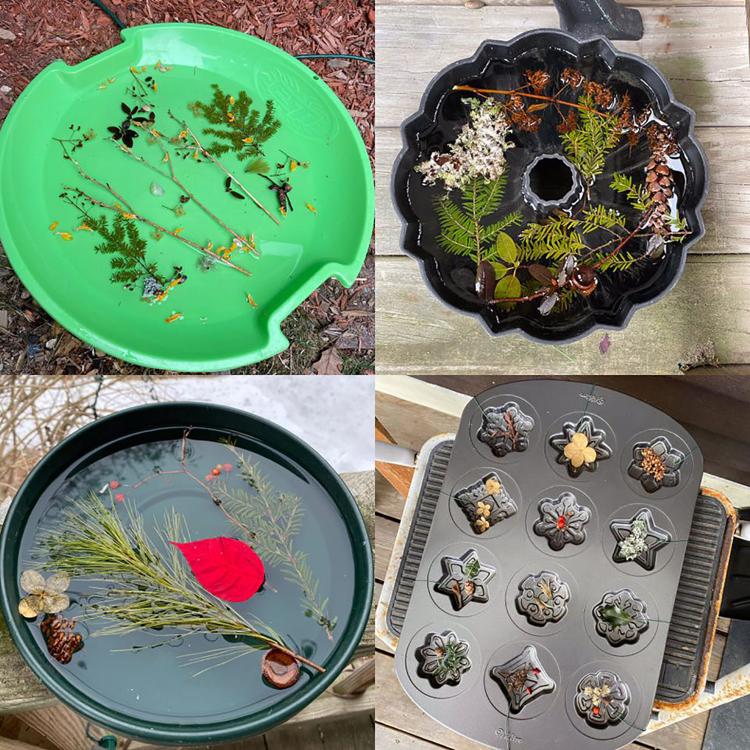 In warmer weather, Morneau repurposes natural materials such as flower petals and fall leaves in her artwork, which she photographs and transforms into prints, cards and bookmarks. She also makes jewelry, and works with fabrics, wood, paper or "anything that sparks an idea."
But there's something intriguing about creating the temporary winter art. The melting process in itself is part of the creative process. The shapes change as it drips and little bits of brightly colored berries and evergreen branches begin to sprout like an early spring.
It's fleeting but fun. An upside is that it's easy to create a new batch, though wildlife sometimes can interfere.
"I have a new piece this morning. I thought I'd have a couple of new pieces, but a squirrel knocked over one of my molds. I just pick up the pieces and add more water," Morneau said Tuesday morning.
"You make up the pans and then you've just got to be patient and wait for the temperature to drop," she said.