Tim Cohen first visited New Hampshire during a family road trip when he was about 10 years old. Traveling from their home in Cape May, N.J., the family arrived in Franconia Notch eager to see the Old Man of the Mountain.
"It was kind of a foggy, rainy day and you couldn't really see it," he recalled during an interview earlier this month. "We walked down the path, and as soon as we got down there, it cleared just long enough that we got to see him. It just stuck with me."
So much so that some four decades later, Cohen, now 51 and the principal percussionist with the New Hampshire Philharmonic, has composed "Profile Suite: A Profile of the Old Man of the Mountain." The piece will first be performed by the New Hampshire Philharmonic March 2 and 3 and include narration by another Granite State icon, Fritz Wetherbee.
Musical beginnings
Cohen, whose day job is as a captain with the Lebanon Police Department, has been surrounded by music nearly his whole life. His mother was a soprano with the Philadelphia Opera Company. His father was a drum-playing tenor who sang with big bands in Cape May during the 1940s. The Cohen kids – Tim and his two younger brothers – were encouraged to take up an instrument. Cohen opted for drums in the fourth grade and there's been no turning back.
"It just fit. I think so many people have musical ability but just pick the wrong instrument," he said. "When I went with drums, it just clicked. I like the variety it offers. There are so many different (percussion) instruments, but each one has its own technique. There's always new stuff to learn. It's fascinating."
Cohen doesn't just play the drums; he also collects them. He has more than 30 drums from the Civil War era, a set of timpani drums from the 1790s, seven sets of drums he uses for performances, the first Ludwig drum set his father bought for him back in fourth grade, and what is perhaps his favorite: a snare drum made in 1829.
"I found it basically ready for the woodpile," he said of the snare. The drum's "maker's label," pasted inside, shows it was made in Farmington Falls, Maine, by a man named Increase Blake. The notarized page that came with the drum indicates a Maine regiment carried the drum in the Mexican-American War and a regiment from New York State marched with it during the Civil War.
A couple years ago, curious about the drum's maker, Cohen took a road trip to Farmington Falls to see what, if anything, he could learn about Blake. After an unsuccessful investigation, Cohen said, "I was headed out of town on Route 2 and pulled over at a cemetery with 15 minutes to spare. The cemetery was massive. I just walked to the left, and it was the fifth headstone, so I played for (Blake) for a few minutes and let him know his drum was OK."
Cohen said he was in fifth grade when he started composing music. As he remembers it, he woke up one night and wandered down to the family's piano, which he was beginning to learn to play, and started to pick out a song.
"My mom helped me write it to paper," he said. "It became the coolest thing to me that you can make something like that."
Over the years, he's composed regularly, writing anything from a collection of Civil War-era tunes to marches for local community bands to musical accompaniment for suicide prevention videos. Perhaps the most memorable was a song he wrote that appeared in an episode of Star Trek in 1986 when Cohen was a freshman in college.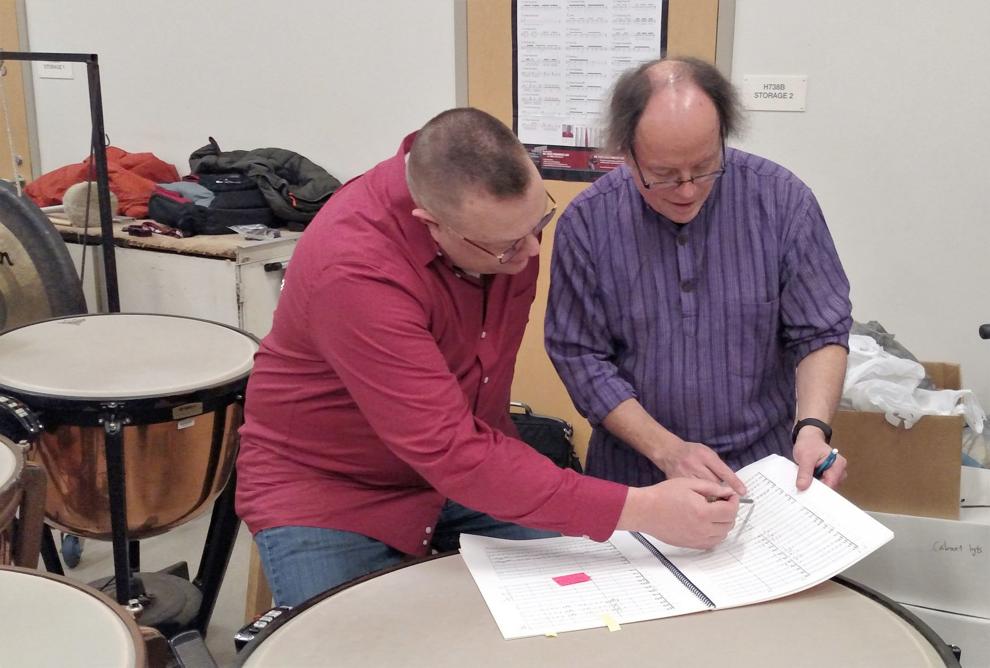 A New Hampshire life
If folks find it odd that a timpanist and composer is also a police officer, Cohen is not surprised.
"I had zero inclination (to enter law enforcement)," he said. "I was just not a cop kind of guy."
He found his way to his career through music, though indirectly so.
"As a musician, you're always doing the 'starving musician' thing and waiting tables, and I did that for a long time," he said.
Beyond his musical inclination, Cohen also has a warm, deep voice – the kind of voice that seems made for radio or Hollywood movie trailers. So it's no wonder he found his way onto the air as an announcer for a New Jersey radio station. That gig led to a job as "the morning man" and program director for a station in Lebanon, where he started meeting police officers and first responders at various promotional events.
"I found them to be a lot different than my pre-conceived notions of how law enforcement officers were," he said, and the percussionist-turned waiter-turned radio guy made another transition into law enforcement.
Cohen started his police career in Canaan, where he served as chief for a time and was also a school resource officer. He's been with the Lebanon department for the past 13 years, overseeing such aspects as internal investigations, policy development and the communications division.
It was through his work in law enforcement that Cohen found his way back to music after a hiatus of several years. During his time as a school resource officer at Mascoma Valley Regional High School, Cohen was asked repeatedly by the late musical director Carol Blake to get involved with music again.
Eventually he relented and is now involved with different community bands and Civil War-era groups, serves on the faculty of the Upper Valley Music Center, gives lessons out of his Claremont home, and plays with the New Hampshire Philharmonic.
"It's really worked into a great separate life for me, away from law enforcement," he said. "It gives me a good balance. The music kind of grounds me, and I'm around different people with different viewpoints."
Inspired by the Old Man
Cohen's first glimpse of the Old Man was so inspiring that the first thing he did when he moved to New Hampshire was journey back to Franconia Notch to see the profile again. When he heard the news of the Old Man's collapse on May 3, 2003, he shared in the state's collective feeling of loss.
Five years later, on the anniversary of the fall, Cohen started composing a musical piece about the Old Man.
"Like so many other compositions you figure will never be played, I wrote up to a certain point and stopped," he said. "This year, Mark Latham, the conductor of the Phil, said, 'Hey, would you like to do another piece?' So I finished it about a month and a half ago."
Inspired in part by Aaron Copeland's "Lincoln Portrait," Cohen's "Profile Suite" includes a narrative piece along with the music. Although he'd never met Wetherbee, Cohen said he wrote the narrative with the cadence of the veteran TV storyteller's voice in mind. Then he called Wetherbee and asked if he'd do the narration during the concert.
"He did a nice job. This is a good piece for the state of New Hampshire," Wetherbee said during an interview last week. "The Old Man was deeply imbedded with me. It killed all of us (when the profile fell). It was like a family member going, or worse."
The narrative — and the music it supports — tells of the Old Man's formation thousands of years ago and his discovery more than 200 years ago. It relays how the people of New Hampshire embraced the stone profile and how it became more than a symbol of the state, but a much-loved icon. It shares the sense of loss Cohen, Wetherbee and countless others felt that day in May 2003 and the efforts since then to memorialize the Old Man.
"This piece is somehow (Aaron) Copland-ish. There's sort of an American flavor to it," Latham said. "It has a sort of rural, rustic flavor to some of it."
Latham said Cohen incorporated a section for the violins that calls fiddling to mind, as well as parts for the brass instruments that inspire an image of summer in a New Hampshire village.
"It's a very skillfully crafted work," he said, one that fits well into the concert's nature-centric program.
Titled "Drawn to the Music: The Beauty of the Earth," the March 2 and March 3 performances at the Seifert Arts Center at Salem High School will also include Felix Mendelssohn's "Hebrides Overture," Claude Debussy's "Prelude to the Afternoon of a Faun," Benjamin Britten's "Four Sea Interludes," and Bedrich Smetana's "Die Moldau."
"One thing that's unique about our orchestra is we incorporate a visual element," Latham said, noting the New Hampshire Philharmonic invites school children to submit artwork they feel expresses the sentiments found in the pieces the orchestra will play. About 100 of these drawings will be shown as slides during the concert.
Latham said he also tries to erase the divide between orchestra and audience by chatting with them between pieces and sharing some of the stories behind the music.
"People have a good time at our concerts," he said.
For information about the New Hampshire Philharmonic and its performance schedule, visit www.nhphil.org.