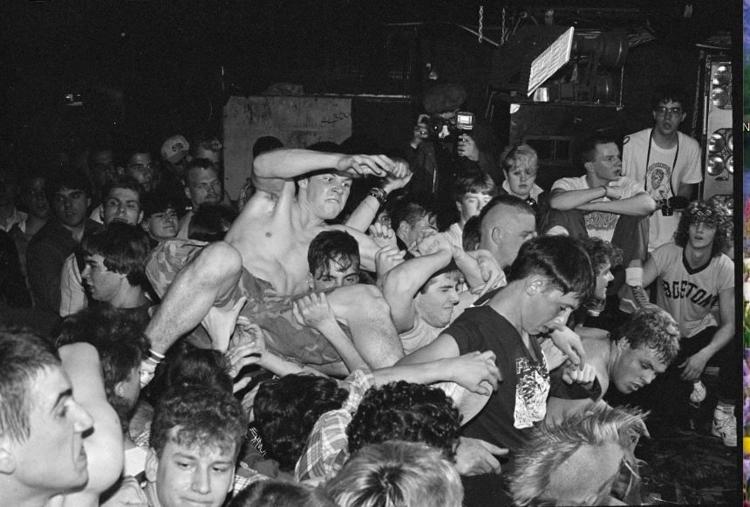 JJ Gonson was in college for photography when she began training her camera on the people hurling themselves around dimly-lit mosh pits in Boston-area bars with names like TT the Bear's Place and The Rat.
"I'm not very big. I'm 5'3." To keep from getting my camera kicked out of my hands, I would climb the speaker stacks so I was above everything — the flying hands and feet below me," Gonson said. "I always tried to get out of the pit, film from above or from in front of the stage. I used to run through the crowd with my camera held up over my head" to protect it from crowd surfers and stage divers.
She was shooting the punk culture at a good time. It was the 1980s and early 1990s, and American hardcore punk, with its in-your-face attitude, was raging.
"All that passion and energy … it was a wonderful moment of synchronicity," said Gonson, who lives in Cambridge, Mass. Her aim in crafting large-scale concert images — they are 3-feet by 4-feet — is to give viewers a feeling not of who was performing on stage but how the music affected the crowds.
Her work will unveiled Friday in the exhibit "Punk Is Alive," along with fellow Boston-area photographer Kim Maroon's more contemporary concert photography, at 3S Artspace, 319 Vaughan St., Portsmouth. The showing will hang through March 24 in the lobby gallery.
The exhibit is part of 3S Artspace's March series "Clash! Loud and Clear," which marks the 40th anniversary release of The Clash's seminal punk album "London Calling" and is meant to "instigate, motivate and encourage action."
Also opening Friday is an exhibition called "The Clash on Record," featuring Clash albums — both official and unofficial, studio recordings and live sets from around the world — stockpiled by Todd Radict, a music collector and owner of Skele-tone Records in Rochester. The albums will be on view through March 17 in 3S Artspace's performance space.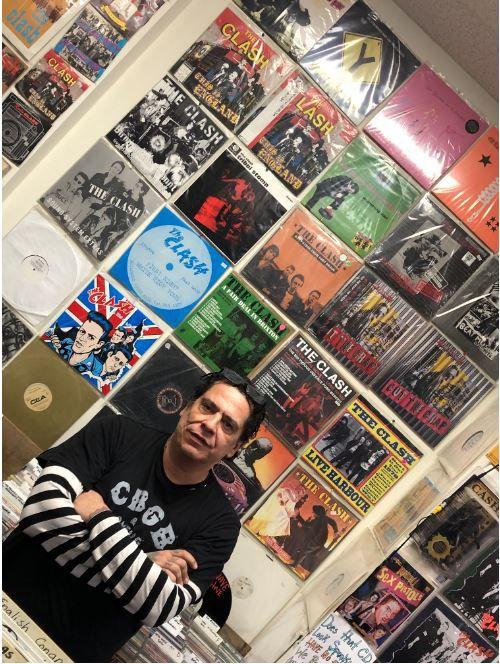 From her very first concert, Maroon was mesmerized by the heart-thumping frenzy and freeing sense of expression at punk rock and hardcore punk shows. For about eight years — between 2003 and 2011 — she jumped into the fray along the East Coast, snapping photos of fervent fans who crowded basements, bars, festivals and even a bowling alley to be a part of something bigger for a moment, a culture unto itself.
"Many times it's as though they see right through me. They're completely captivated by the band on stage," Maroon said of framing her shots. "As I'm capturing the crowd, it feels surreal, like I'm watching someone being hypnotized or in a trance-like state. They are physically there and yet so immersed by the music they're in another place. There is a vulnerability that exists in these authentic unguarded moments."
In one of Maroon's images titled "Crowd for Alkaline Trio," her shutter clicked on a range of emotions taking over a group of concertgoers pushed up against a barricade in front of the stage. One girl, her head gently tilted, gazes up adoringly at a musician, her hand curled around the top of the barrier. In stark contrast, a nearby fan has worked her shoulders and arms over her neighbors' to get full overhead range. She is in so much motion that her hands are blurred and her face is caught in jaw-clenching fervor. "The camera ... is an anchor and the frame is a means of controlling the chaos. Using the frame, I'm able to slow everything down, freezing split seconds in time, and ultimately create a record," Maroon said. "I think of photographs as documents of experience, both my own and others. Photographing so many shows has created a time capsule of live music, the community and the subculture that accompanies it."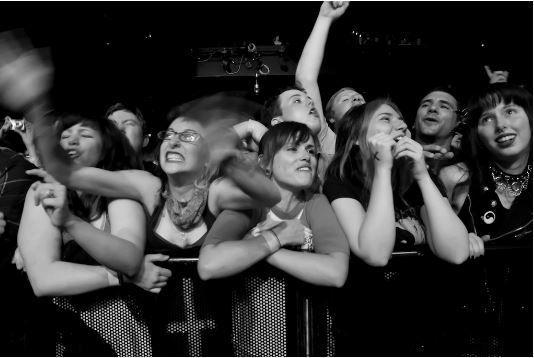 A free reception for the exhibits will be from 6 to 7 p.m. Saturday, March 9. In addition, The Super Black Market Clash City Rockers (Dave Steele, Jamie Perkins, Tim McCoy and Dan Kopko) will play "London Calling" in its entirety and other Clash songs in an 8 p.m. show ($20), plus there's the Rollercoaster: A Family Friendly Dance Party, including artist Sam Paolini's punk-inspired button-making session and a Portsmouth Middle School zine showcase from 2 to 4 p.m. that day. ("Zine" is short for "magazine" or "fanzine" — handmade, self-published works generated by fans to share news, musings and opinions.)
Cliff Lazenby, 3S Artspace board chair and co-creator of "Loud and Clear," said the impetus for the "Clash! Loud and Clear" series was Radict's "jaw-dropping collection of Clash records on the walls of Skele-tone Records. Each time I would visit, I would marvel at the extensive and unusual collection — none of it for sale, only on display to share. As a fan of the Clash and a lifelong record collector myself, it brought such joy to see the fruits of a major and dedicated fan. On one such visit, along with fellow music nerd (another co-creator of "Loud and Clear") Anna Nuttall, we remarked that more people need to see this and celebrate it as an exhibit of the art form that it is."
Co-creator of "Clash! Loud and Clear" and a visual arts teacher at Portsmouth Middle School, Nuttall is thrilled to share her love of punk and hardcore music and its ethos with students through the zine project.
"Our youth are watching the clashing of ideals, opinions and values play out on the world stage, in both productive and destructive ways, and are wondering 'What role can we play? Do we have a choice? A voice?,'" she said. "Punk is art, writing, activism, and more. It's a scene, a movement, and at its core, is a force of fighting for the underserved and overlooked. It raises awareness, promotes a cause, and most importantly, instigates real change for a better world. That's an empowering dialogue worth having with kids."
Passion for Punk
All in all, music leaves a pretty indelible mark on memory.
"In preparing for this exhibit, I was going through work I hadn't thought about or seen in 10 to 15 years," Maroon said. "It was one hell of an emotional journey. The images instantly transported me back in time to the music, the rooms, and how it felt. Even stronger were the memories of those who were there and who stood beside me when I clicked the shutter."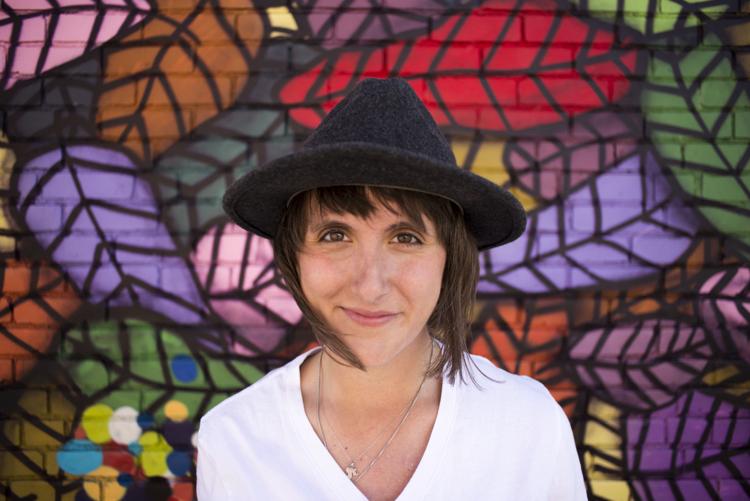 Even with a lens in between her and the audiences, the enthusiasm was contagious.
"Yes, I always get swept up in that wild energy and want to be a part of it," she said. "The combination of forces — the sensory overload — the vibrations, the hum from the walls and the floor that oddly becomes a comfort, the cadence of lights, the roar from the crowd, and the movement of bodies through space. I am drawn to the turbulence of it all."
But if she had to pick her favorites, she'd start with any ska band show that had a dance pit.
"Since I'm from Jersey, that was any time Streetlight Manifesto or Catch 22 were playing — (or) Flogging Molly, Big D & the Kids Table or The Mighty Mighty Bosstones Hometown Throwdown at The House of Blues Boston," she said.
And then there was the farewell tour of The Explosion.
"So many people were jammed into the basement of a church in Philadelphia in August — with no AC! — drenched in sweat," she said. "It was like you had jumped into a pool. Everyone was singing at the top of their lungs to every song. They ran out of bottles of water. I remember Andrew Black, the drummer, hollering that he was going to stop playing and Pete Pedersen running back and forth filling a glass from the bathroom sink for Andrew."
Some of those well-worn and much-loved venues have carried on while others have gone or been reincarnated into new businesses. But their stories carry on in the punk culture that's still evolving both on makeshift and well-established stages.
But for now, refresh your memory or make some new ones at a "London Calling" listening session and pop-up record shop from 7 to 9 p.m. Thursday, March 7, at 3S Artspace.
For more information about the "Clash! Loud and Clear" series, visit 3sarts.org.