GILFORD — It feels like eons since music fans packed into arenas, fist-pumping through rock anthems and swaying to power ballads beneath a sea of cell phone lights.
But it's time to party like it's … 1989.
The Titans of 80s Rock Tribute Festival, a Rock Stage Productions event that features five nationally touring tribute bands, is taking over the Bank of New Hampshire Pavilion in Gilford, a Live Nations venue, at 1 p.m. Sunday.
The lineup for this musical trip down memory lane includes Rock of Ages playing the music of Def Leppard; Dirty Deeds covering AC/DC tunes; Wanted DOA serving up renditions of Bon Jovi hits; Shot of Poison doing Poison songs; and Scarab delivering Journey classics.
Think of it as an old-school refresher course in the concert experience and the nostalgic power of music.
Start believin'
"We start the show with 'Separate Ways,' and just that first note and the crowd goes nuts," said Brett Parker, guitarist of the Boston-bred tribute band Scarab. "It's like a rollercoaster ride."
A hint of Jonathan Cain's famously familiar keyboard intro and the crowd straps in — like 'Oh, boy, now we know what we're in for. Here it comes," Parker said with a laugh.
Ten years into touring and the tribute band has played gigs across the United States — 37 states so far — as well as a couple of other countries.
They're used to people reacting to the opening strains of "Open Arms" with a collective "awwwwww!" Then they're on their feet and swaying.
The finale is always a rendition of Journey's epic stadium anthem "Don't Stop Believin'"
"I don't care if you're 20 or you're 65, you know the words and you can't wait to sing it," Parker said.
It's the same reason Parker, along with band mates Sean Volpetti, Scott Philie, Rob Nemetz and Jean Grenier, celebrates the music of Journey, which was inducted into the Rock and Roll Hall of Fame in 2017.
"We're not Journey. But it's the reaction — hundreds or thousands of people at a (given) show have the same reaction. It's why we want to do this," said Parker, who serves up Neal Schon-inspired guitar riffs.
Though Arnel Pineda, himself a former tribute artist, has been the frontman of Journey since 2007, the band is indelibly tied to Steve Perry, whose soulful and soaring vocals fueled stadium rock in the 1970s and 1980s.
In Scarab, Volpetti, a Dallas vocalist, has the daunting task of taking on those iconic lead vocals. He's got Perry's mannerisms down pat, everything from the lost-in-the-music body language and swing of vintage long locks to the vibratro.
"He's got that mid-'80 Steve Perry (vibe) that is just amazing. He's the showman. He's been a fan of Journey since day one," Parker said.
Scarab also plans to do a show June 3 at Labelle's Winery in Derry and Sept. 18 at the Rex Theatre in Manchester. In addition, Parker, who is in the midst of a move from New England to Florida, said the group plans a July 3 gig in the aptly named community of Celebration, Fla.
Though it's a wild ride, it isn't easy representing history-making repertoire, Parker said.
"The hard part — and the great part — is (this): True bands can have off nights. It happens. But tribute bands can't. We're not playing our own music, but we're trying to recreate night after night what you hear on an album or in a video. Everything has to be as perfect as possible."
Glam-slam party band
In its heyday, glam-metal band Poison was all about swagger mixed with a generous dose of eyeliner and a carefully folded bandana as head gear.
Poison's top tunes include "Every Rose Has Its Thorns," "Look What the Cat Dragged in," "Unskinny Bop" and "Something to Believe In."
But Shot of Poison, a tribute band with a home-base split between Salem, N.H., and Waltham, Mass., says it's Poison's ditty "Talk Dirty to Me" that really gets crowds going.
Poison's 1987 breakthrough hit "captures the youthful zeitgeist of that band's first two, mega-selling albums," said Shot of Poison's bassist, Adam Boc, who also is co-producer of Rock Stage Productions with band mate Bruce Bennett.
Shot of Poison formed in 2017, bringing together musicians who had played in a host of other tribute bands over the years.
Even their stage names are a tweaked take on Poison's famous bandmates: Frank Pupillo is vocalist Fret Michaels; Bennett is B.B. Seville (guitarist C.C. DeVille), Ken Gilman is Kenny Rockkit (drummer Rikki Rockett) and Boc is Bobby Dollface (bassist Bobby Dall).
Their show features costumes, mood-setting rockets of fog via CO2 jet blasters, videos and a salute to veterans.
The best feedback comes from people who come to the show skeptics and leave having had 'Nothing But a Good Time."
For that reason, Shot of Poison's website includes a section titled "Why book a Poison tribute band." There are marketing points, industry notes and a pledge to always bring a "fun, raucous, arena-rock-style atmosphere to every venue."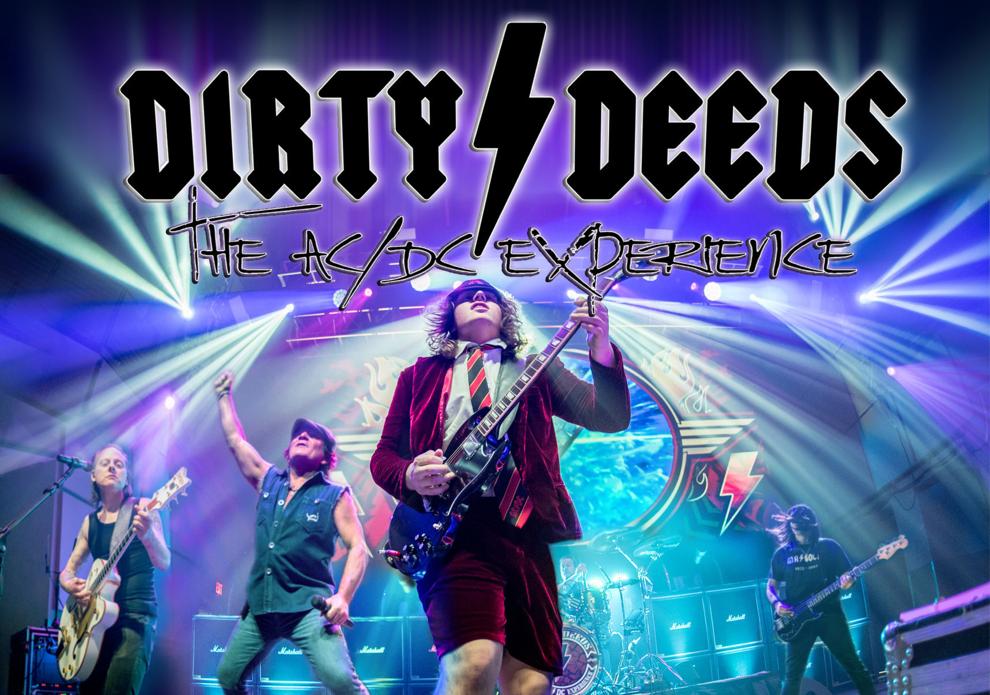 Each of the bands on the lineup represents those roof-raising, foot-stomping classics that help define a musical era of gleeful abandon, including Def Leppard's "Rock of Ages" and "Pour Some Sugar on Me," Bon Jovi's "Wanted Dead or Alive," "Livin' on a Prayer" and "You Give Love a Bad Name," and AC/DC's "Highway to Hell," "Back in Black" and "Dirty Deeds Done Dirt Cheap."
And each has a power ballad as well, from "Bringing on the Heartbreak" and "Never Say Goodbye" to … well, AC/DC isn't known for its soft side. The closest was the road-weary "Ride On."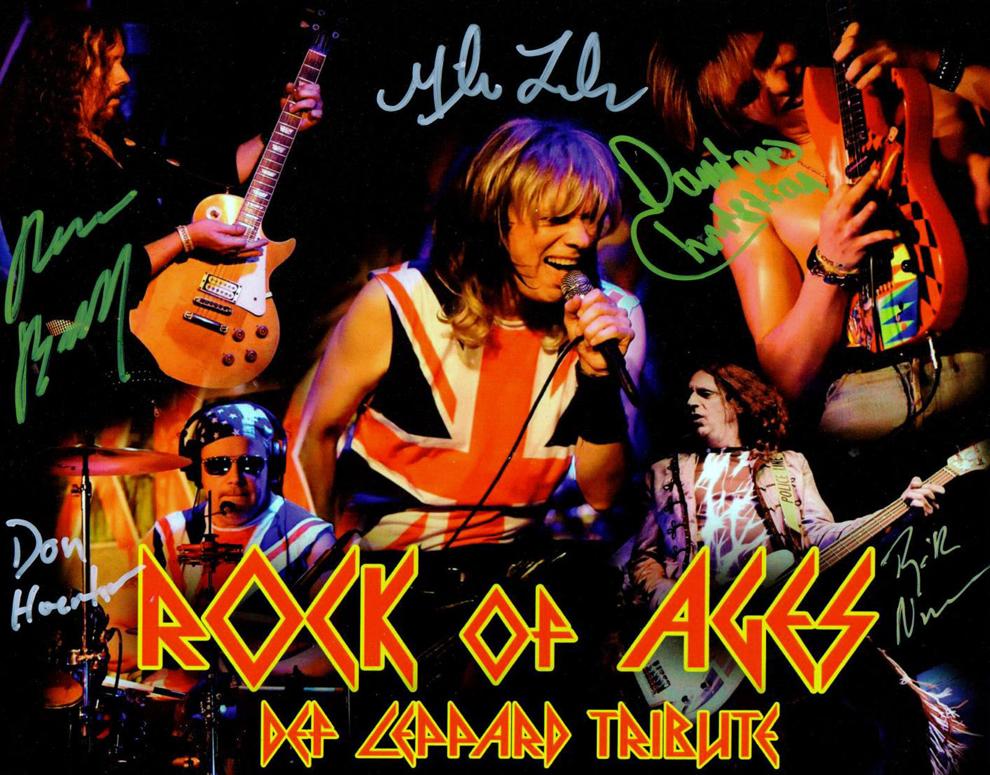 But who needs a tear-jerker when you've got Angus Young-inspired guitar antics and that schoolboy outfit, along with gritty vocals ala Bon Scott and the jaunty cap-wearing Brian Johnson.