Grammy-nominated children's musician Judy Pancoast was just a kid herself when she told a lie.
It was 1973, she was a freshman in high school, and she admits she's had little remorse in the past 40 or so years.
But in 2017, she found herself unexpectedly face to face with Richard Carpenter — half of the 1970s sibling music sensation the Carpenters, and before she knew it, she had blurted out the truth.
"I had the opportunity to tell him, to confess. It was a total scam," Pancoast says, laughing as she describes posing as a student journalist decades earlier to finagle a meet-and-greet with Richard and his sister, Karen Carpenter, at a Maine concert. "When I look back on it — wow, I was really bold for that age. How many people manage to get backstage for a private audience with their idol at 14 years old?"
Just how she used her wit and gift for gab to meet the best-selling superstars — it's a tale that also includes a letter she penned on the bus to the show and a chance encounter with the Carpenter's manager in the arena — are part of "All My Best Memories: Built by the Carpenters." The night of music and memories gets its Granite State debut at 7:30 p.m. Friday at Nashua North High School.
Pancoast has taken the cabaret-style show, directed by David Gaines and featuring musical director Michael Pierce on piano, to Maine, New Jersey, Massachusetts, and New York, but this will be the first time her home state gets to see this side of her.
In an interview with the Union Leader, Pancoast still bubbles with the infectious energy of a "teeny bopper" with a celebrity crush. It's as infectious as the Carpenter's melodic hooks and effective arrangements.
"This concert is to honor (the Carpenters) and the place they had in my life, but also, I'm hoping that people with kids who listened to me when they are little and are now teenagers, and even people in their 20s who have never heard the Carpenters, will look it up. They're timeless," she says.
Pancoast for 25 years has been known as a children's musician, but long before she garnered a Grammy nod in 2011 for best musical album for children with "Weird Things are Everywhere," Pancoast found escape, solace, encouragement and inspiration in the music of the Carpenters – charting songs like "We've Only Just Begun," "Top of the World," "Rainy Days and Mondays" and "(They Long to Be) Close to You."
The Carpenters — Karen, with her silky smooth and earnest alto — and Richard, now 73, a wiz at arranging and composing — were a striking alternative to the glitzy disco frenzy overtaking the country. Their wholesome image, though, belied their own struggles along the way. Karen Carpenter was only 32 when she died in 1983 after a lengthy battle with anorexia nervosa.
Pancoast, who still has the pages of detailed notes she jotted down after meeting the Carpenters way back when, vividly recalls showing Karen some pictures a friend's sister, a professional photographer, had taken at a previous show.
"There was a moment when I met her when she looked at the pictures and she said, 'Oh, my God, I look so fat.' And at that point, that was my big struggle. As a kid, I was 200 pounds when I was 12 years old. So I had weight issues all my life. To hear my idol, the person I wanted to be, say she thought she was fat, it blew my mind. I said, 'No, you don't!'
"At that point nobody knew that she had an eating disorder. My biggest thing now … I hate that that's how people know her. That's not how she would want to be known. She'd want to be remembered for her talent and how much happiness she gave the world."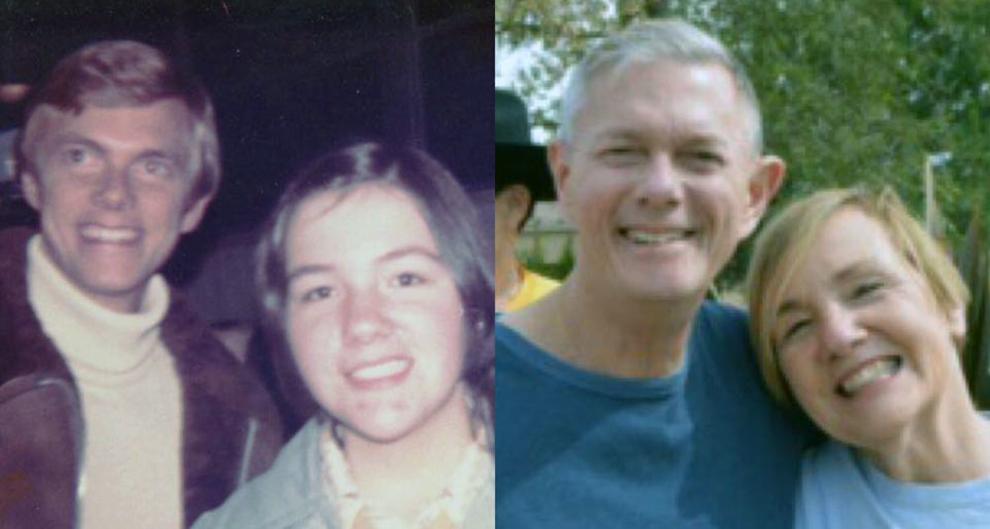 Pancoast says she doesn't feel like she'd be the person she is today without discovering the Carpenters at an impressionable, vulnerable age.
Pancoast also has found a kinship with fellow Carpenters' fans, many of whom she's met via social media. That's how she initially heard about the CarpenTour, a drive around Downing, Calif., to places the Carpenters frequented, from their homes and schools to favorite restaurants, recording studios and performing spots.
"Unbeknownst to us, they actually arranged for Richard Carpenter to meet us," says Pancoast, who decided a mock apology for her childhood transgression was in order.
"(Carpenter) forgave me. Actually," she adds with a chuckle, "he didn't remember it. But it was pretty funny because all of these people were standing around and I said, 'I have this confession to make.' His wife was there, and she thought it was hilarious."
A treasured picture collage on Pancoast's Facebook page makes it seem like it's "Yesterday Once More." Side-by-side images show Pancoast and Richard, in nearly identical poses, with captions that indicate the year and her age —"1973 at 14" and "2017 at 57."
"A lot of the fans you'll meet who fell in love with the music of the Carpenters came from dysfunctional families. We are a tribe that found comfort in Karen's voice. I mean I've gone to her burial site and cried with other fans. We all have our stories," says Carpenter. "That's how it was with my family: My parents were both alcoholics, and basically my siblings and I were left to our own devices."
Pancoast credits her sister, Suzanne, who was older by 12 years and was a guiding presence in her childhood, for introducing her to the Carpenters' music, and taking her to three concerts. Her sister died last year, and Pancoast is dedicating her Nashua show to her.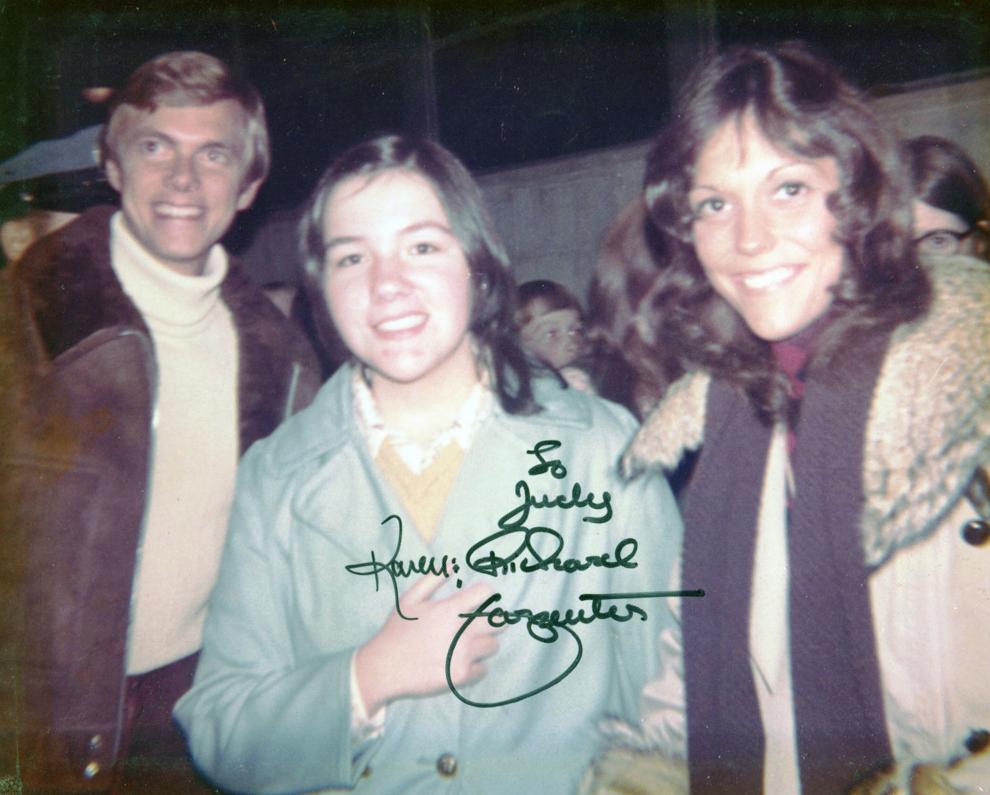 "One day in the summer of 1970, my sister told me about a song she heard on the radio," she says. Her sister added, "'This girl sounds like you. You're gonna want to sing along with it.'
"That's when all my hairbrush songs in the mirror became Carpenters songs," she says.
Pancoast describes her father as a passive, quiet man who worked two jobs to make ends meet and her mother as someone whose hardscrabble youth (and the deaths of her father and brother) made it difficult for her to have high hopes or, in turn, encourage her children to think big.
"She just didn't believe in dreams coming true. She was trying to spare us the heartache from having those kinds of dreams. I didn't realize then as an older woman, I realize it now. She drank because she didn't have the life that she wanted. She took care of us in her own way," Pancoast says. "But I don't want to throw her under the bus. She always made sure there was $5 on the piano for my piano teacher every week."
Pancoast, with a broad smile and stars in her eyes, threw herself into writing and performing her own music.
"It got me out of that house, and into believing that I could do the things I wanted to, because I wasn't raised (to have high aspirations). My mother wanted me to be a cashier at Zayre's (department store.) That was her goal for me."
Instead, she's carved her own niche, making a career out of crafting an upbeat soundtrack of childhood across the globe.
She wants kids to hear what fun sounds like and grow up envisioning their own possibilities.
"It's about projecting your dreams," she says. "I got to do those things on stage. I got to perform. I got to go to the Grammy Awards. I think that's because I imagined it so much when I was young that I had to have it."
Though her own music holds hints of Carpenters influences, Pancoast says she doesn't try to mimic Karen Carpenter in "All My Best Memories."
Pancoast says she "really feel like I wouldn't be the person I am today" without having been introduced to the Carpenters' music at a tough, confusing time in life. Still, there's a bittersweet element, too.
"I went on to have a pretty good career in music, and I got nominated for a Grammy Award, but the most important thing is I met the love of my life and have to great children (Louisa, a professional modern dancer, and Emma, a live events manager at Madison Square Garden), which is something Karen never got to have," says Pancoast.