The movie came out 10 years ago, but Rozonda "Chilli" Thomas and Tionne "T-Boz" Watkins, of the multi-Grammy Award winning hip-hop/R&B group TLC, are still a bit shocked at the dialogue in "The Other Guys."
The movie, which still gets regular play on streaming services, is a spoof of the buddy-cop genre. It stars Will Ferrell and Mark Wahlberg as reluctantly teamed partners chained to desk jobs but yearning to yank hero status from a pair of obnoxious detectives.
But it's Captain Gene, played by Michael Keaton, who sets up a series of notable sendups. The squad leader has a habit of doling out advice that sounds an awful lot like snippets of lyrics from iconic TLC hits.
First there's the slightly exasperated advice to the initially bumbling detectives to rein in a wild goose chase.
"Do me a favor guys, don't go chasing waterfalls," the captain tells them, a frown pulling at the corner of his mouth.
Later, after the detectives have earned his grudging trust, Captain Gene gives them a reluctant go-ahead in the midst of a Bed, Bath & Beyond store, where he moonlights in a blue smock.
"You do us proud, 'cuz I don't want no scrubs," he tells them.
When Wahlburg's character reassures them that they will tread quietly, the captain offers some advice about staying under the radar. "You gotta creep … creep," he says, backing up an aisle.
The captain either doesn't realize he's somehow channeled TLC's signature hits, or he just won't cop to it, much to the annoyance of Ferrell and Wahlberg, who repeatedly call him on the blatant references.
"You don't say 'creep, creep' unless you're quoting TLC," Ferrell's fed-up character says in deadpan protest.
Either way, "they showed us so much love," says Watkins, an admitted movie fanatic. "By the second time … 'Whoa, hey now, we're a part of the movie!'"
And no, neither Watkins nor Thomas knew the quips were coming.
"We didn't get a heads-up," says Thomas, laughing about how she discovered right along with the audience that TLC pop culture had made it into the script.
CrazySexy Cool Tour
Watkins and Thomas, who are in the process of filming for a two-hour documentary "Biography: TLC" due on A&E in 2022, are out on tour celebrating their most iconic album, 1994's "CrazySexyCool."
With the chart-topping singles "Waterfalls" and "Creep," that album earned diamond certification from the Recording Industry Association for sales in excess of 10 million, and helped cement the group as one of the top-selling female groups.
The duo — founding member and rapper Lisa "Left Eye" Lopes died in a car accident in 2002 — will play the Bank of New Hampshire Pavilion in Gilford Friday night.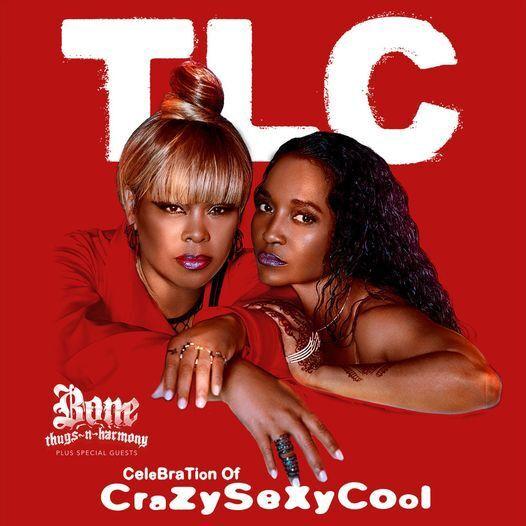 Expect a '90s themed show with equal parts swagger, edgy fashion and female empowerment.
"We always set out to be trendsetters and teach women that it's OK to be comfortable in their own skin and stand up for what they believe," Thomas said. "The lyrics, the content, the way we dress, the way we are in interviews (speaks to being) a strong woman, to respect yourself."
That's been the overriding message behind their music videos, too, whether it's "Unpretty," a poignant song about unrealistic beauty standards, or the unapologetically raucous "Ain't 2 Proud to Beg," in which Lopes wore a condom as a decorative eye patch to promote safe sex.
Audience members often don vintage TLC T-shirts or recreate looks from the group's looks from the 1990s at TLC shows.
"It takes time to put together outfits like that. We never get used to it. Fans are so creative," Thomas said.
Back in the day, TLC shared stages with fellow hitmakers Bobby Brown, MC Hammer and Naughty by Nature. On a previous trip to the Pavilion, they teamed up with Color Me Badd, C&C Music Factory and Rob Base.
Their next stop here will be its first with Bone Thugs 'N Harmony.
"We love it. We are actually fans," Watkins says. "Not many girl groups who can go out on tour with Bone Thugs 'N Harmony and Nelly and Flo Rider. It's cool that we can do it."
Thomas and Watkins have known each other since they were 20. They met Lopes the night they auditioned for L.A. Reid and Babyface's newly launched label LaFace. They haven't replaced Lopes in the group.
"We represent for her. She's present in everything we do. She will always be the 'L' in TLC," Watkins says of Lopes.
The Lakes Region show will center on both familiar singles and lesser known tracks from "CrazySexyCool," along with some other favorites.
"We're not just doing the album from front to back. I'd be mad if I went to see Michael Jackson and he didn't do 'Billie Jean,'" Watkins says.