GILFORD – There was the usual buzz of anticipation as legendary guitarist Peter Frampton prepared to take the stage at the Bank of New Hampshire Pavilion Sunday night, but there was also an unfamiliar current of melancholy.
Frampton earlier this year revealed that he has Inclusion Body Myositis (IBM), which is characterized by progressive muscle weakness and wasting. Time is of the essence, as the autoimmune disease ultimately could rob him of the technical prowess that has fueled his multidecade career and made 1976's "Frampton Comes Alive" one of the best-selling live albums in U.S. history.
As such, Frampton launched his Farewell Tour in June and plans to retire from "vigorous touring" after about 50 tour stops throughout the country this summer and fall.
But make no mistake: Frampton's far from done. It didn't take long for him to prove to fans at the Lakes Region show that he's still at the top of his game. With his contagious enthusiasm and technical wizardry on full display, Frampton played the hits ("Baby, I Love Your Way," "Do You Feel Like We Do" and "Show Me the Way") and served up a retrospective of his career, from Humble Pie days to his new "All Blues" cover album, which has spent four weeks in the top spot on Billboard's blues album chart. (The 2019 album also marks his best overall sales numbers and chart positions since "Fingerprints" in 2006.)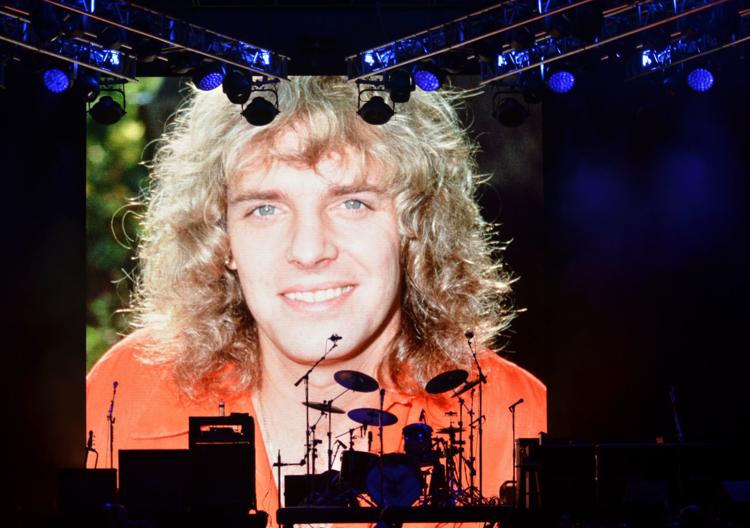 Jason Bonham's Led Zeppelin Evening (JBLZE) opened the show and more than set the tone for the night. Led by the son of the late Led Zeppelin drummer John Bonham, JBLZE really can't be characterized as a cover band. This tightly knitted group stands on its own, recreating Led Zeppelin's catalog with psychedelic precision while seeming contemporary in delivery. Bonham's drumming isn't a background beat but a guiding force to complex shifts and rhythms, while James Dylan's mix of mystical haze and vocal gymnastics — from the guttural to those high-pitched screams — perfectly conjured Robert Plant's phrasing and mannerisms.
Frampton took the stage against the backdrop of a big-screen slide show of snapshots from his life and storied career. First up for the singer and guitarist was his upbeat mid-70s jam "Baby, (Something's Happening)," and the refrain about holding tight for what's coming next was a reassuring start to the evening.
Frampton resiliently blazed through a succession of signature guitar riffs and guitars, including the iconic 1954 modified Gibson Les Paul that he played on his seminal double live album. (Interesting tidbit: Frampton thought it had been destroyed in a cargo plane that crashed upon take-off, but he was reunited with the treasured black guitar 32 years later.)
Frampton, a self-taught musical prodigy in his native England who was fronting the band The Herd at 16, still has a contagious sense of joy in concert — something felt on his rendition of the Freddie King song "Me and My Guitar." Decades later, you get the sense that the affable performer still thinks this is the coolest job ever, and that the audience is half of the equation.
It's in the sly grin he breaks into when he's about to let go with one of those signature riffs, and the squinty-eyed rocker expression on his face when carving out layers of rhythms, shifts and textures.
"Do You Feel Like We Do," with those iconic voice-box effects, bluesy jazz guitar and keyboard solos and that pulsing triple drum beat, remains a crowd favorite. It's a showcase not only of Frampton's inventive musicality but the adeptness of longtime touring band — Adam Lester on guitar and vocals; Rob Arthur on keys, guitar and vocals; and Dan Wojciechowski on drums, joined by Steve Mackey on bass. (And to answer Frampton's enduring question, "Yes, we do feel like you do.")
Frampton also served up some stripped-down rawness in "Breaking all the Rules" (the title track of his 1981 album); gave a wailing ache to Hoagy Carmichael's "Georgia on My Mind" on his new blues cover album; and explained the quirky reason he channeled his irritation at an unexpected stranger ringing his doorbell in the middle of the night into "The Lodger" in 1972's "Wind of Change" album.
There were times when lyrics and riffs took on an extra poignancy, such as when he paid tribute to two late band members, John Siomos and Bob Mayo, with the song "Lines on My Face" (off the 1973 "Frampton's Camel" album) and the late Chris Cornell with a raw, reverb-fueled cover of Soundgarden's "Black Hole Sun."
Frampton fittingly closed out the show with The Beatles' "While My Guitar Gently Weeps," letting his guitar do the talking.