Nicole Wakelin knows how to drive in ice and snow, and every other New England weather condition in between.
The Nashua woman also has experience off-roading through mud and rocks, but the massive sand dunes of the desert in California and Nevada are a different story.
"Just like snow, you learn how to feather the throttle so you can get through that snow and don't get stuck," she said. "You learn how to drive so you slow down slowly instead of hitting the brakes too hard and careening through an intersection."
Just like driving in the snow, it takes practice.
"You get some techniques on how you handle this non-grippy stuff that is under your tires," she said.
For the past couple months, Wakelin has traveled out west several times to train for the fifth annual Rebelle Rally, the first women's "off-road navigation rally raid" in the United States, which started on Saturday. The 8-day competition, which stretches over more than 1,200 miles, is more about endurance than speed.
"It is not about screaming through the desert in a race where I have to get to the finish line first," Wakelin said. "It is about navigating through checkpoints."
But there's another twist: No GPS, no cellphone, no laptops.
Wakelin, 50, married with two teenage daughters, teamed up with Alice Chase from Dallas, who will navigate using a topographical map and tools such as a compass, ruler, plotter and calculator — almost like those heading out onto the American frontier in the 1800s.
The two automotive journalists met covering the event several years ago before signing up.
"She (Chase) said, 'I really want to do this,'" Wakelin said. "She reached out and said, 'Do you want to do it instead of just writing about it?' So here we are."
The two — known as Team Wander Women — are competing in a modified 2021 Infiniti QX80.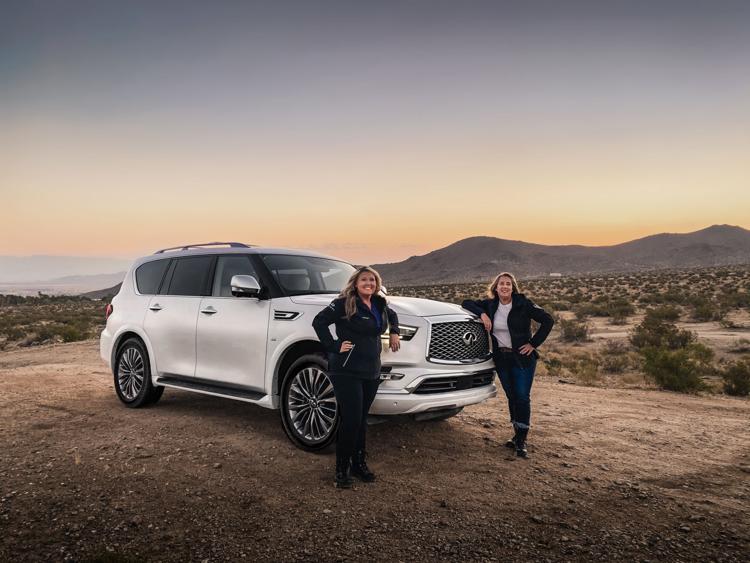 "You have so many checkpoints you have to hit through the day that you have to hit and so many that are optional, but if you hit them that's great, you get more points," Wakelin said.
The Rebelle Rally starts in Lake Tahoe, Calif., and ends with an award ceremony on Saturday at Glamis Dunes, near the California/Mexico border. This year, 36 teams are competing.
Like Wakelin and Chase, the Infiniti QX80 is also making its first appearance in the rally after similar challenges in the Gobi Desert and Jordan.
The luxury full-size SUV has been outfitted with off-road performance shocks, custom front and rear bumpers, heavy-duty control arms, thicker skid plates and 18-inch all-terrain tires.
Wakelin, who has covered the automotive industry for the past 10 years as a freelance journalist, usually test drives a different car each week. Her work has appeared in the Boston Globe, Ride by Kelley Blue Book and U.S. News and World Report.
Her favorite part of the job is giving practical advice to people who are shopping for a new ride.
The duo scored the QX80 through contacts they have in the industry. It still includes standard features such as heated/cooled leather seats and a Bose premium sound system.
"The Infiniti QX80 is up for nearly any task," said Eric Rigaux, general manager of product planning and strategy for Infinity Motor Company, in a statement. "Whether it's tackling the challenges of the grueling Rebelle Rally or the routine of daily life, we're excited to see our flagship SUV put to the test."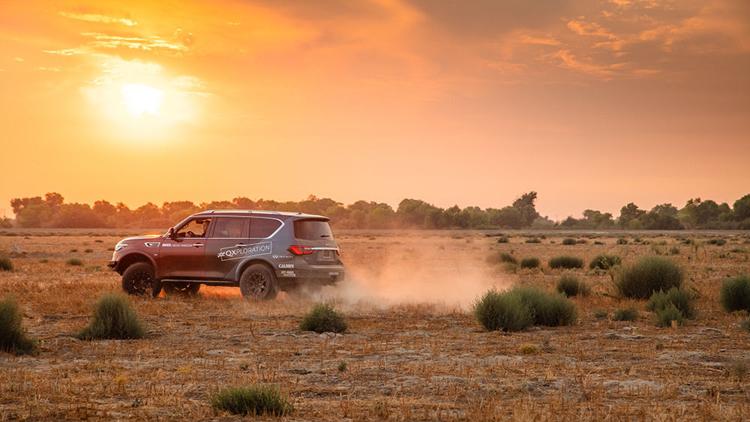 Working as a team
To prep for the rally, the duo focused on navigation skills in one training session, while another focused on driving in the desert near Las Vegas.
"A lot of it is working together because while I am looking at the road — or lack thereof — and trying to figure out the best path on how to not hit rocks, not damage the car and get where we need to go, she's got her head buried in a map," Wakelin said.
It takes strong communication, including hand gestures they've developed during training that only they would understand, she said.
"It is not as though I am sitting there and saying, 'Well, I think we should go left here' and I am randomly going to go left and she is saying, 'No, no, no go right,'" Wakelin said. "She literally has the map in front of her … without her I don't know which direction to turn."
Part of the rally involves a sense of urgency to reach some of the checkpoints, which become inactive after a certain time.
"You don't want to spend an entire day getting one check point, because you aren't going to get any points," Wakelin said. "If you are having a good day and you can hit every checkpoint that is available to, you might hit them all. If you're having a bad day you might not hit them all."
Paige Moody, who is from Lee and now lives in San Francisco, knows what it's like. She took part in the rally two years ago.
In a blog post for her company Mapbox, she wrote about having to stop her Jeep and use a compass to reorient the map north.
"After identifying three distinct features in both the surrounding topography and paper map, we are able to triangulate our position," she wrote. "It takes almost thirty minutes from the moment of realization of being lost to the moment we can re-fasten our seat belts and roll forward."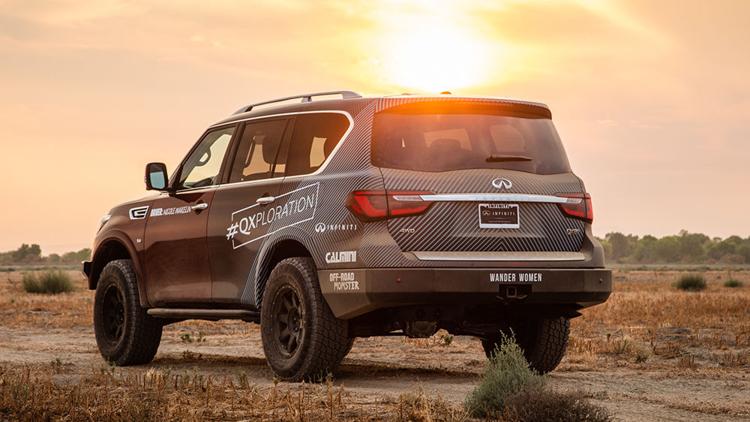 The rest of the field
The competitors come from 21 states and provinces of the U.S. and Canada, with ages ranging between 24 and 72. Some teams will be competing for the fifth time.
The Rebelle Rally was established by Emily Miller, a former team driver for Rod Hall Racing, to give women a platform "to shine, build and test their skills."
Other vehicles in this year's rally include a 2020 Lexus LX 570, 2013 Range Rover Supercharged, 2020 RAM Power Wagon and plenty of Jeeps.
The teams get off to an early start — around 4 a.m. each morning, when they receive their maps for the day.
"You spend the rest of the day trying to hit those checkpoints, Wakelin said.
While Wakelin and Chase will be driving in luxury, the accommodations aren't as nice.
"It is not like we go back to a hotel and take a shower and sleep in a nice bed," Wakelin said. "We are camping outside for 10 days."
She compared the nerves she's feeling about the rally to what she felt sending her daughter off to college in Milwaukee this fall.
She's excited to push her skills as a driver.
"I like the idea that my teenage daughters are seeing me do something that is a little different," she said. "You wouldn't think a mom of two teenagers would do this kind of thing, but I am.
"I hope it teaches them that if there is something you want to do, go out there and try it."