What do a profusely sweating waiter, a gorilla armed with a dainty red purse and an alien wearing a glazed expression and a winter hat with a "Such is Life" logo have in common?
The sign at the top of the desert trail says it all: Free beer ahead.
They just need to walk 600 miles to get it.
Dreamed up by North Hampton artist Jordan Roy, the quirky cartoon scene is one of 25 finalists in Pabst Blue Ribbon's 2020 Art Can Contest.
A first-place finish would mean a $10,000 cash prize and having his design printed on over 30,000 PBR cans.
The exposure for Roy, 29, is a victory in itself. All finalists will get a chance to do some commission work in the next year.
"It's a win for me already," he said of his quirky design, "Long Walk for Cold Beer."
Voting is underway at pabstblueribbon.com/art through Feb. 24, and the top three winners will be announced Feb. 26.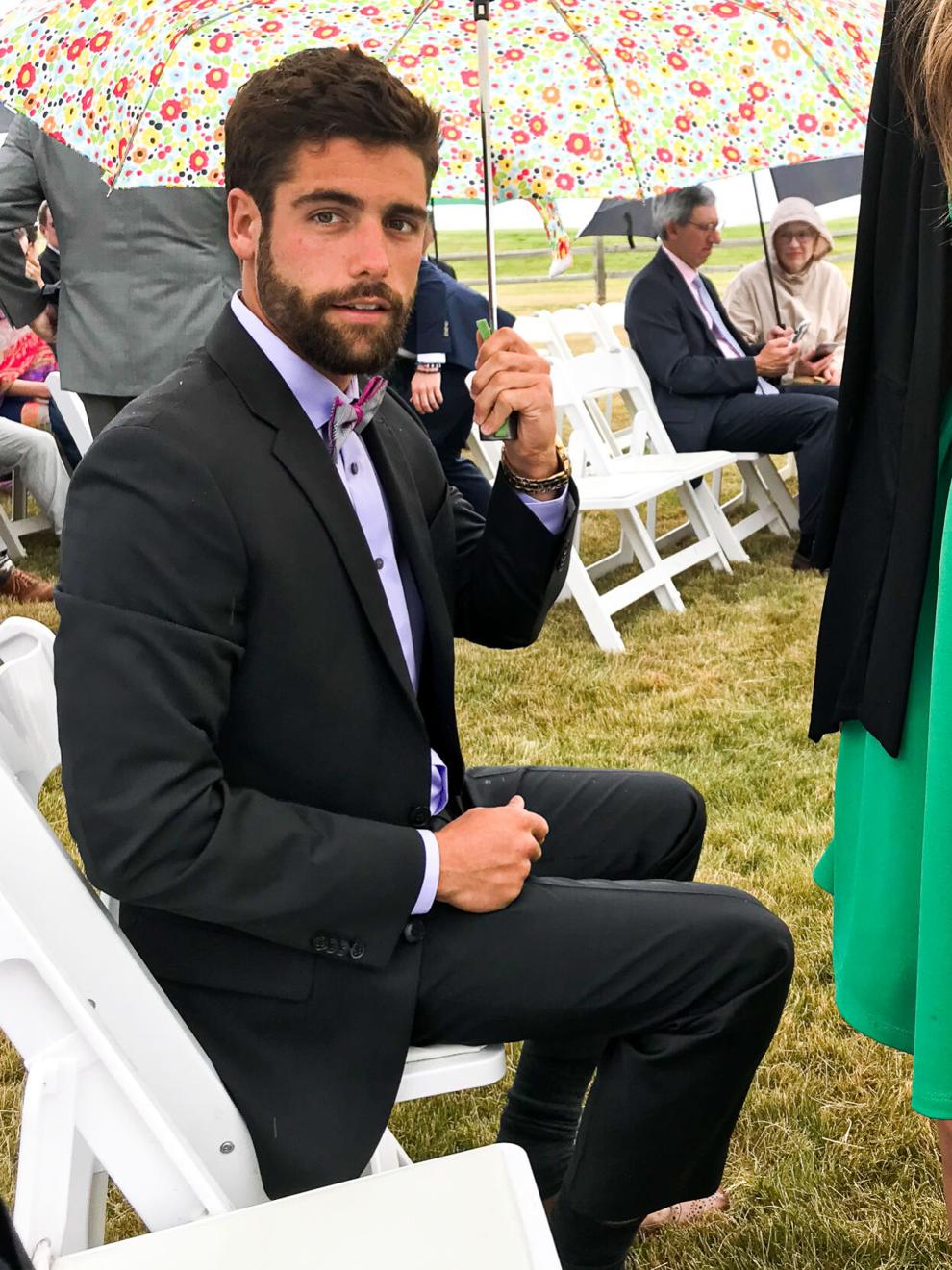 All of Roy's artwork has an underlying theme about holding onto hope in hard times. Anything he posts via his Timemachine brand is tagged with the mantra, "Everything is Fine."
''My artwork always has a theme of overcoming difficulty," Roy said. "Yeah, life is a complicated mess. It can be confusing, but let's keep it together, remain calm, and do the best we can. Laugh at it — and do it for the sake of other people."
That sense of humor comes through in his PBR entry. There's a psychedelic, science-fiction vibe, with an inexplicable mix of creatures from all walks of life plodding through a landscape hot enough to fry a couple of eggs and some bacon.
"It's a bunch of unique characters struggling and just trying to make the best of it together," he said. "I guess it's kind of like life. You don't really have the answers to the deep questions in life. It can just seem absurd and ridiculous. But it's about perseverance and acceptance of your situation and just keeping it going, pressing onward."
Still, this is an unusual group of hikers. Some are human-esque, and others are, well, not. There's an exasperated ice cream cone of a guy who is clearly melting under pressure, and a skeleton in zoot-suit garb can't take his eyes off the cash spread out in his bony fingers like a hand of cards.
The longer a viewer looks at the image, the more details come into focus, like clues hidden in plain sight. (Look for the sizzling breakfast items off the left side of the trail.)
Various appliances with stick arms and legs have joined the trek. In the front of the pack is a clock with a half grimace that suggests it may be out of time. Nearby an older-model television set with rabbit-ear antenna sports a zigzagging mouth like an angry wave of bad reception. Behind it a small rectangular electrical outlet with a tiny briefcase can't seem to catch up.
And for the record, the ape is carrying that little red purse for a rather entitled lady in a matching dress, who is sprawled across his back and using the top of his head as a place to rest her beverage.
"I feel like every man has had to carry their girlfriend's purse and feel like an idiot for a couple of minutes," Roy says, laughing.
Up the trail is a rough and tumble toddler with a pacifier, a forearm tattoo and a fedora. It's an artistic nod — with creative licensing — to the fact that Roy soon will be a father.
"We have a baby due within the next week here. It's exciting and a little scary, because I quit my job to do artwork during a pandemic and then found out I had a baby coming," he said with a chuckle.
For the PBR contest, Roy incorporated some of his own imagination as well as characters from artists who inspired him to take the leap into professional art. That includes high-school friend Reggie Moore, who launched the California-based brand Skyblue — skybluecollective.com — and introduced the world to the laid-back smoking alien, who in Roy's illustration dribbles a basketball beneath a haze of his own making.
Another friend, abstract artist Victor Stewart — @Victorstewartvisuals on Instagram — made Roy realize that art could be more than just a childhood pastime.
"It was cool to have a friend that had art books and notebooks full of (drawings), that was watching art documentaries and into the whole universe of art. He taught me to take it seriously and that it can grow and evolve into something more real."
This past April, PBR launched its 1000 Creators Program to commission 1,000 artists affected by the COVID-19 pandemic, giving artists of all stripes — bartenders, designers, animators, dancers, singers, directors" — a chance to expand the bounds of art through commissions.
This year's Art Can Contest drew 4,200 entries. Since 2012, PBR has awarded more than $100,000 to emerging artists and designers and put original artwork on more than 350 million cans.
Their own manta: "It's always been your beer, now make it your can."
Info box: To vote by Feb. 17 on the Top 25 finalists in Pabst Blue Ribbon's Art Can Contest, including "Long Walk for Cold Beer" by New Hampton artist Jordan Roy, go to pabstblueribbon.com/art.
For more information about Jordan Roy's work, go to @timemachine.28 on Instagram or Timemachine Art Company on Facebook.