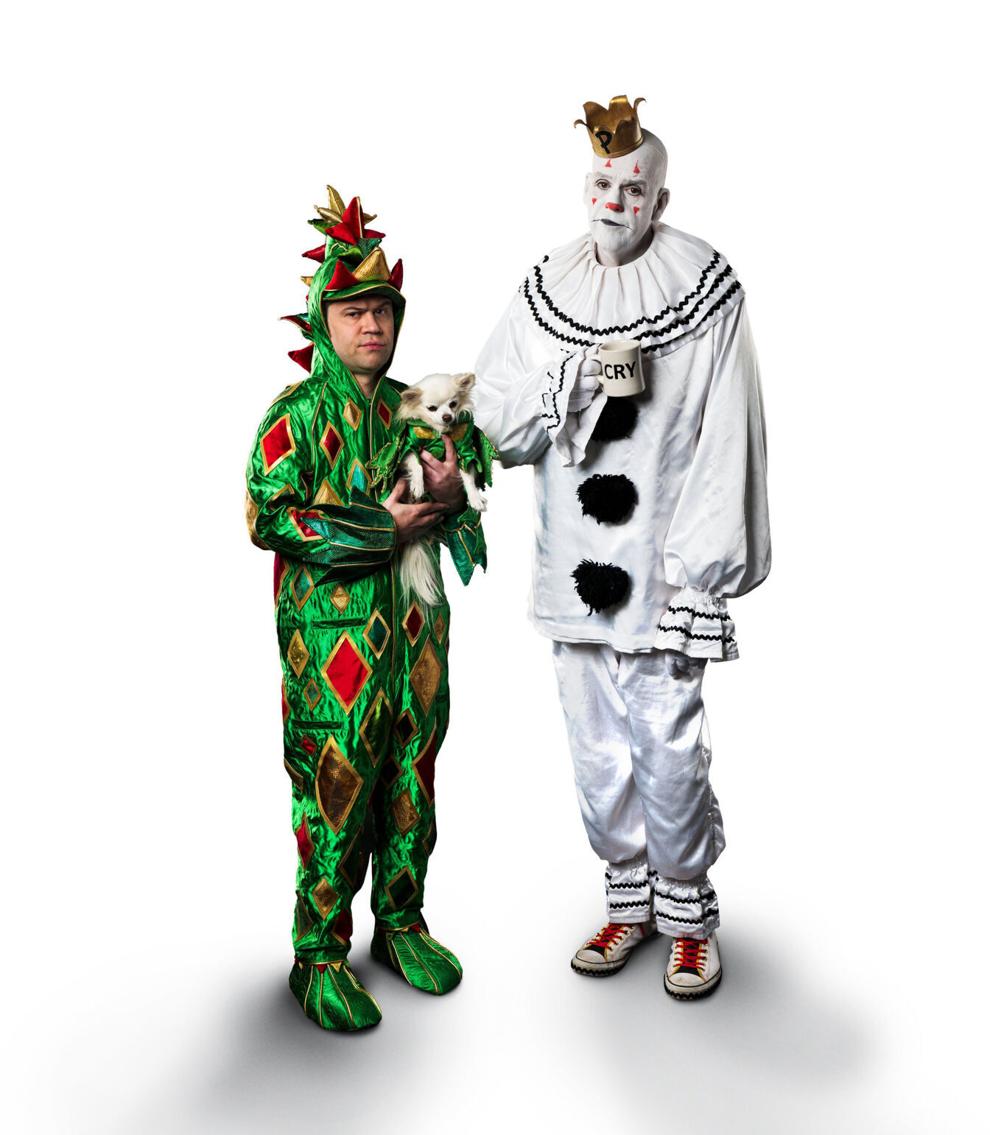 As one half of the Misery Loves Company Tour, it's no surprise that Piff the Magic Dragon often answers in one-word responses and audibly yawns in possible boredom during a recent phone call.
He has a disinterested air that borders on irritation, and it's that guise – and the fact that he delivers card and magic tricks in a green, not-particularly-realistic dragon costume — that's led to a standing gig in Las Vegas at the Flamingo Hotel and Casino. The attraction even named a theater after Piff, but he's since moved into a larger showroom now that he's a bigger draw.
So, why is he so unenthused?
"I think I'm just trying to get the recognition I deserve for being a magic-performing dragon (since) everyone just wants to pet the dog," he says of his sidekick, Mr. Piffles. In a miniature dragon costume, Mr. Piffles is a 14-year-old chihuahua with an endearing gaze and amiable demeanor.
And Piff – aka John Van der Put – isn't psyched to admit people may be coming to see the dog.
Down and out and loving it
Dour delivery aside, Piff is glad to be teaming with Puddles Pity Party, a nearly 7-foot, "golden-voiced" but sad-sack clown who wears a loose-fitting jumpsuit with a tiny gold crown perched atop his head. Both are graduates of TV's "America's Got Talent" competition; Piff in 2015 and Puddles (aka Mike Geier) in 2017. They met at the Edinburgh Festival Fringe a few years ago.
If misery loves company, Piff is the smug, hard-cracking ring master and Puddles Pity Party is the dejected host of a vaudevillian hug fest.
Both tend to get audiences rooting for them.
For his part, Piff's understated approach has led to some notable appearances.
"I was invited to the NFL draft, opened a hockey match in Vegas and … for Mumford and Sons on the road – a lot of crazy times," he says.
Piff, who grew up in southeast London, has been doing his signature card tricks and other moments of magic since he was a kid.
"Over the years, I just sort of turned what I thought was a hobby into a job. It became my full-time career."
In addition to his habit of grabbing a sandwich or banana as a snack during a show, he often pairs perfunctory answers – "Yup" and "Yeah" – with an understated expression that looks a bit like distaste.
Sometimes it makes some people (and interviewers) overcompensate in a conversation, as if to perhaps convince Piff to cheer up.
"Yeah, there's the idea that we're miserable people. But we're very content in our own company," he says.
In fact, though Mr. Piffles is often recognized off stage, Piff says without his familiar dragon costume, he tends to go undetected in public.
"It's the greatest. I can live a Clark Kent/Superman life."
Piff shared a post on his social media pages that illustrates the point. After running into a guy in some kind of hooded dinosaur costume on an April cruise, Piff went up and introduced himself. The stranger responded with this post: "Ran into this guy on my recent cruise, and he tried to tell me he was Piff The Magic Dragon. Once I stopped laughing, after I spit out my drink, I said, "Dude, I personally know Piff The Magic Dragon, and you, sir, are not Piff The Magic Dragon!"
In addition to the May show, Piff The Magic Dragon & Puddles Pity Party will be at the Colonial Theatre in Laconia on Sept. 30 at 8 p.m.