T he memes started popping up on social media last week in an already shaken (definitely not just stirred) 2021: "Anyone else taking a break from Dry January? Asking for a friend."
Joking aside, restaurants and patrons across the Granite State have been getting serious about mocktails — non-alcoholic drinks with spice or fizz for pizzaz and jazzed-up names like Just Peachy, Baby Bee Sting and Forest in the Meadow.
Promoting a "stigma-free and more inclusive drinking culture," the New Hampshire Liquor Commission has launched its first New Hampshire Mocktail Month, in an ongoing partnership with Brown-Forman, The Mocktail Project and Old Forester bourbon.
Dozens of Granite State restaurants are participating.
"We have patrons who come in specifically for non-alcoholic cocktails," said Tom Sandel, general manager of Bedford Village Inn.
A customer favorite is the "Lower Loxley," and with Sandel's British accent, it has a storied air.
This is no Shirley Temple.
"It's definitely a mocktail aimed at adults. It's not very sweet. It's made with Seedlip Spice 94, which is imported from England, as you might tell from the accent. It's a distilled spirit that is non-alcoholic," Sandel said.
Seedlipdrinks.com describes it as a "sophisticated blend of allspice berries and cardamom with warm notes from two bark distillates and a bright, zesty finish."
Sandel said it's mixed with a spicy carrot and pear "shrub," a concoction that in this case involves soaking chopped carrots and pears in apple cider vinegar and sugar for 24 hours before straining.
The Lower Loxley "is doing really well. I think it will stay for a while," he said.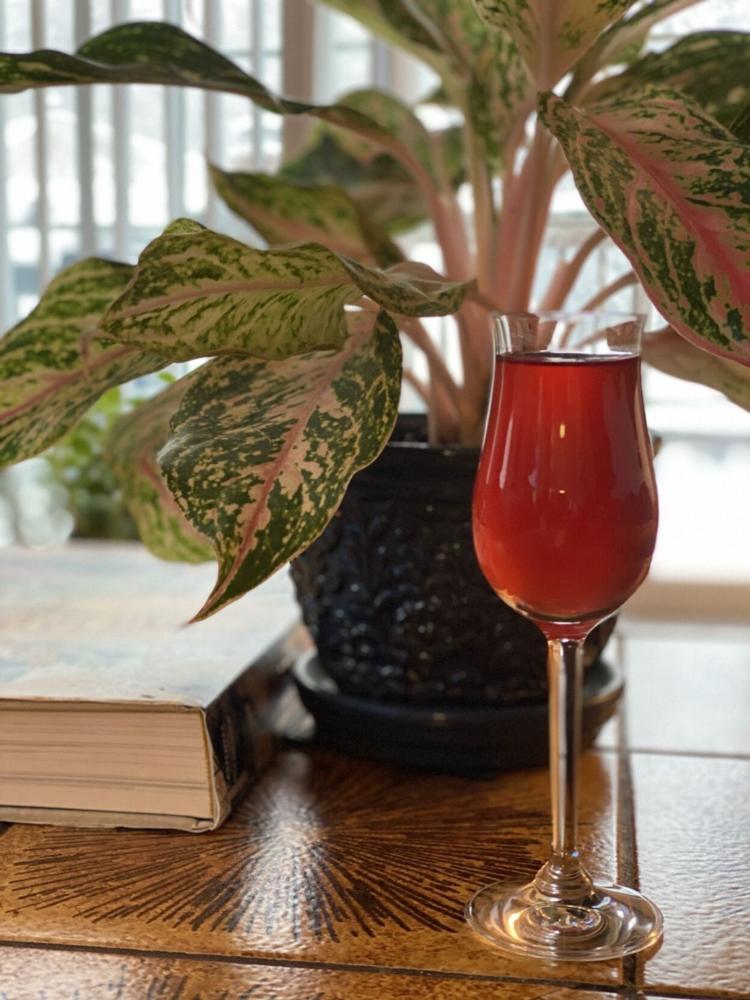 At 815 Cocktails & Provisions in downtown Manchester, the menu has a "Hard No" section for booze-free selections.
"About three or four years ago, I started making my own kombucha (fermented tea) and it's now the staple mixer," said Sarah Maillet, who co-owns the business with Ryan McCabe.
It can be served straight up or with either lemon/lime soda or soda water and a lemon twist for "something sparkling."
The list of venues participating in Mocktail Month also includes:
Claremont: Ramuntos Brick Oven Pizza.
Concord: Buffalo Wild Wings, Tandy's Pub & Grille, and The Barn at Bull Meadow.
Hampton: The Community Oven.
Keene: Chili's Grill & Bar and Granita Enoteca.
Londonderry: Twins Smoke Shop.
Manchester: Shaskeen Pub and Restaurant, BluAqua Restrobar, Buffalo Wild Wings, CJ's Great West Grill and Masa Japanese Hibachi.
Nashua: Buffalo Wild Wings, Nashua Country Club and Casey Magee's Irish Pub & Music Hall.
North Conway: May Kelly's Cottage.
Portsmouth: Rooftop at The Envio, The Hammer Pub and Grille, The Shanty and Toscana Italian Chophouse.
Salem: Tomo Japanese Steakhouse.
T-Bones Great American Eatery locations in Bedford, Concord, Derry and Hudson.
Chances are many restaurants and bars have non-alcoholic specialty drinks and beers on hand. During the holiday season, the Rooftop at The Envio in Portsmouth created the "Merry Christmas, Johnny Rose," made with Seedlip Spice, raspberry syrup, rosemary honey, lemon, Q Mixers Club Soda and a rosemary sprig. The Barn at Bull Meadow in Concord mixed up "Forest In The Meadow," made with maple syrup, orange spritz, orange soda, cola and an orange slice.
Patrons are encouraged to post pictures of their visit with the hashtag #nhmocktailmonth or tag "@themocktailproject" and "@nhliquorwine" on social media.