For 14 months, Alfred greeted visitors and staff at the AVA Gallery and Art Center in Lebanon before losing his battle to bone cancer last year.
Ask patrons and staff members what made him so endearing, and many say Alfred was a trusting soul who treated every stranger like a potential friend.
He was also a red-tick coon hound who had his own Instagram account, and now is inspiring artists from near and far to give their takes on his baleful brown eyes and trusting nature — along with his ties to a gallery that still welcomes four-legged guests inside its walls.
Coming two years after Alfred came to live in the Upper Valley, "Shadowing Alfred: An AVA Dog Show" opens Sept. 26 and runs through Oct. 23 in the new Members Gallery at 11 Bank St. It's a warm-fuzzies kind of exhibition about the canine-human connection, with artwork by people ranging in age from 6 to 70 in a variety of mediums. Each piece comes with a story about Alfred or other dogs who have touched lives in ways great and small.
"I knew Alfred very well. I brought him treats all the time. I carried them in my car. He was unbelievable — such a lovable hound," said Springfield artist Elizabeth D'Amico, a printmaker and painter who created two versions of a picture of Alfred for the upcoming exhibit. "Give me those sad eyes and I'm taken right in. He was always ready to meet new friends."
Introducing AlfredSheryl Trainor, the office manager at AVA, remembers the moment she knew Alfred would be a part of her life.
"My across-the-street neighbor fosters dogs for Long Trail Canine Rescue in Vermont. I was driving home from work and she was walking Alfred, so I stopped to say hi and meet the new foster dog. She made him sit next to her, and he just looked up with such adoration that I said, 'I gotta get me that,'" Trainor said laughing. "So I put in an application. He was never even listed on their site. He did his eye thing with me, and I just fell immediately in love."
Picked off the streets of South Carolina, Alfred was still a young dog. A veterinarian estimated the 40-pound dog was about 3 or 4 years old. He was very approachable, but Trainor says there was also a "dark side to his adoration."
"He had severe separation anxiety, so he could not be left alone in the house for even a half an hour. He would destroy things. I tried blocking off areas of the house but … it was really horrible. And it was horrible for him because it was like having a massive panic attack. It was his reaction to being so afraid. I also suffer anxiety issues, so I can relate to a certain degree," she said. "So I begged my (then) boss to let me bring him to work."
At work was where he was in his element, staring intently into the eyes of guests and AVA staff members and flopping onto his side for belly rubs.
"He was incredibly photogenic. It got to where he'd turn his head away and do the 'Oh, God, not again' reaction to the camera," Trainor said with a chuckle.
But those images came in handy when Trainor put out the call for artists around the country to honor Alfred or other special dogs. In addition to online postings, she printed out photographs and put them on a table in the front lobby, where passersby — in pre-COVID days — chose images as inspirations for their own artwork.
Fifteen-year-old Melaina Ashworth, of Catesville, Ga., learned about AVA's art show from following Alfred's Instagram account (@alfredthehound), where one picture shows the coon hound in a gleeful sprint through one of the galleries.
"I never got to meet Alfred in person but I talked to Ms. Trainor when he passed away and I knew he was very special to AVA Gallery and everyone who was able to meet him," Ashworth said. "When I found out about 'Shadowing Alfred,' I knew I wanted to make Alfred in clay and title it 'Greeter.'"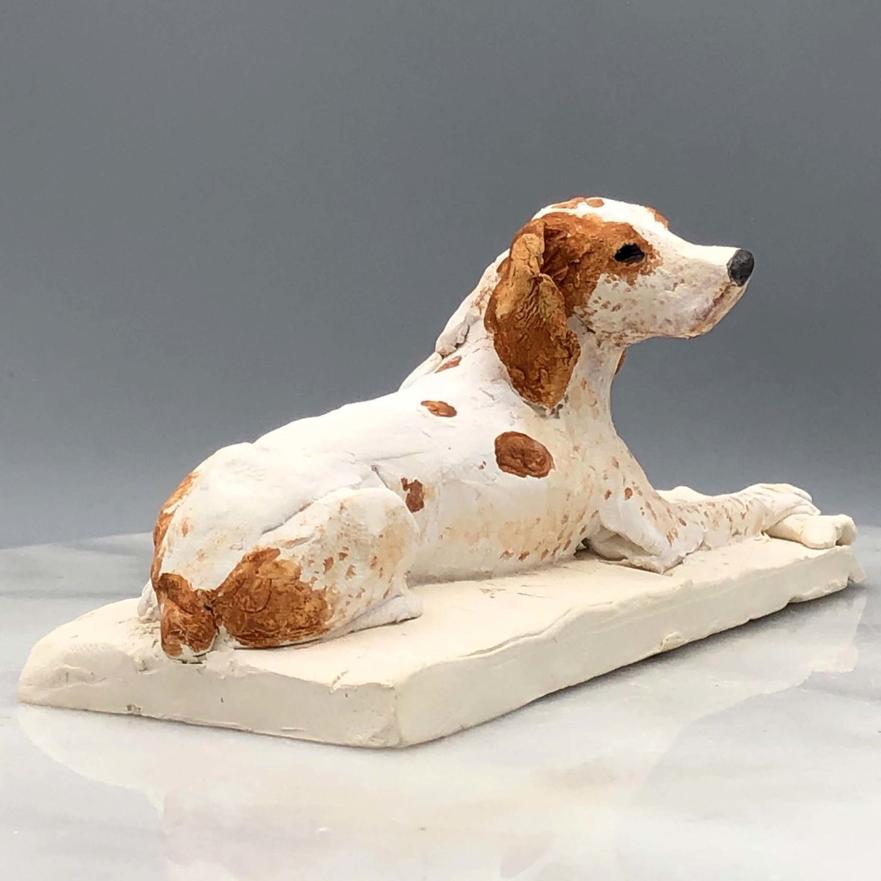 It's a sweet rendering that shows off the dog's pattern of white and reddish-brown spots and his rapt attention on something or someone nearby.
"Dogs don't have to speak to make us feel happy or accepted. Alfred was a very special art hound and greeter," Ashworth said in her artist's statement.
The 'cheeky mongrel'
Another artist who took up the challenge was Sarah Copps, who submitted a drawing of her dog, Amelia, a "cheeky mongrel" of a rescue dog who was fostered in Tennessee and delivered to New Hampshire along with a bottomless pit of an appetite.
"She did have an abiding interest in hole digging and would jump 2 and a half feet straight up when dinner was being assembled, like a circus dog," Copps said in an obituary she penned for Amelia, who was 16 when she died just a month ago.
Copps, who lives in Enfield, also chronicled Amelia's "out-sized personality" and antics in a bittersweet Facebook post during Amelia's final weeks:
"We all know what a heart-breaker it is to watch your dog fade. These are creatures so pure of heart, so eager to please, so obedient, affectionate, forgiving, that any suffering they do feels like a personal assault. Except that's not Amelia. With her uppity little trot, tail raised, alert to the smell of anything edible, she often sleeps through our arrival home. 'Oh yeah, those two? What's for dinner?'"
"... Dog lovers agree on one thing: They die too soon and take a chunk of your heart with them."
Tail-wagging place
AVA has been a dog-friendly space throughout its 30 years in Lebanon.
It started with the gentle presence of two German shepherds owned by Bente Torjusen, former longtime executive director at AVA and her artist husband Clifford West. Vincent and Phoenix were familiar faces in the galleries, and the story goes that Phoenix was even happy to pose for life drawing classes when the model was late.
Still, Alfred has left his paw prints on many hearts.
"Alfred was so at home there. He wandered through the galleries. He was there to welcome everybody. It was good for him and good for the gallery," D'Amico said.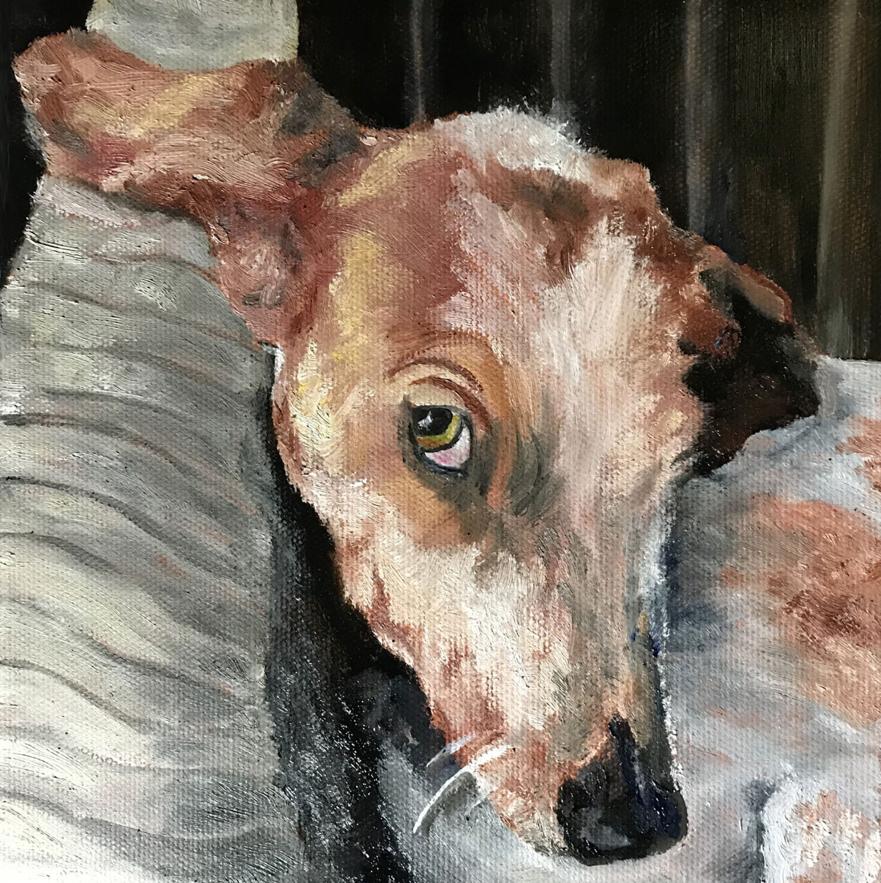 In an artist's statement accompanying her two submissions, D'Amico said when she first met Alfred, she felt as though she'd known him for years.
"He reminded me so much of my office mate's rescue dog, Ozzie, who provided love to everyone at Plymouth State University when he arrived from the aftermath of Hurricane Katrina. Ozzie still visits campus, but I have only seen him occasionally since I retired. I felt as if Alfred took Ozzie's place. I so much enjoyed feeding him doggie treats when I visited AVA in place of the treats I used to give Ozzie," D'Amico said.
D'Amico titled both of her works of art "Who, Me?" because of a look both dogs had perfected.
"I selected this photo reference from Alfred's Instagram page because it is one of my favorites. It reminded me so much of a certain look that both Ozzie and Alfred would give visitors from under their master or mistress's desk: Who Me? Are you talking to me? Do you have a surprise for me? I have plenty of love to give you! Then I'll go back to napping."
Though it was crushing to lose Alfred to osteosarcoma in June of 2019, Trainor is grateful that "he did have a glorious last 14 months" at AVA.
Trainor these days is accompanied to work by two chihuahuas, Javi and Frida Mae, who hail from Puerto Rico and were placed through Hearts and Tails Animal Alliance. Their little yips have been a lively backdrop during a recent phone conversation.
"One is 15 pounds and the other is not even 10. Together they weigh less than any other dog I've owned," she said with a laugh.
"It's about how dogs enhance our lives," added Trainor, who also has had three golden retrievers over the years. "They're a presence, an energy in your life. They're fun, and they're responsive."