There's no place like the movies. Theaters are hoping you are ready to come back.
Two chains with locations in New Hampshire — Cinemagic Theaters and Regal Cinemas — will reopen Friday. But don't expect refills on the large popcorn and soda at either place under their COVID-19 reopening plans.
The openings coincide with the release of "Unhinged," an R-rated psychological thriller starring Russell Crowe, which takes road rage "to an unpredictable and terrifying conclusion." It's the first new movie out since mid-March.
Locally owned Chunky's Cinema Pub, which reopened June 29, has added live pub trivia, sports games and family-friendly live entertainment to draw more customers in the absence of summer blockbusters. The company teamed up with Rock 101 WGIR-FM to offer previously released and classic movies for $1.01 through Sunday.
"There are no movies, so we had to evolve and come up with creative events," said Michael Mannetta, marketing director at Chunky's.
"We are way down from last year," he said of the company's theaters in Manchester, Nashua and Pelham. "It is the special events that are selling the best."
Some of the popular classics have been "Jaws," "Ghostbusters" and "The Goonies."
AMC plans to reopen its Londonderry theater on Sept. 3.
Previously released films will be used to fill out schedules with productions of many new Hollywood films being delayed because of the pandemic. With theaters closed for five months, some movies have been released straight to popular streaming services.
Other new releases to hit the theaters include "Words on Bathroom Walls" (PG-13), based on the young adult novel of the same name by Julia Walton, and "Tulsa" (PG-13), about biker Tommy Colston (Scott Pryor) reuniting with his 9-year-old daughter he didn't know existed. "The New Mutants" — the latest in Marvel's X-Men series — will be released on Aug. 28.
Cinemagic aligned its opening with studios' plans to release new movies, starting with "Unhinged," said Marketing Director Zachary Adam.
"You can't survive on old movies alone," he said, noting a strong lineup of movies planned for the fall. "Every week there are new movies coming."
Cinemagic is offering a marathon of "Harry Potter" movies based on requests made on social media, and classics going back as far as the "Wizard of Oz" at its Hooksett, Merrimack and Portsmouth locations.
Regal is offering $5 flashback features. Think "Back to the Future," "Star Wars" and "Rocky." The chain has locations in Concord, Hooksett and Newington.
Regal says 66% of its Regal Crown Club members say they would return to the movies without hesitation, according to a news release.
"Research shows how much people miss the cinemas," said Mooky Greidinger, Cineworld CEO, parent company to Regal, in a statement.
More than movies
Since opening on June 29, Chunky's has been showing classic films for $4.99. But the small chain also started to focus on special events to bring in more cash flow and keep people socially distant.
"We were doing this before, but we ramped up our live comedy acts," Mannetta said. "Those are kind of 'COVID sell outs.' Those are very popular."
New this year are live family-friendly acts such as live magic and juggling by Robert Clarke, who will appear at 6:30 p.m. Saturday. On Thursday, one theater is dedicated to 21-plus trivia.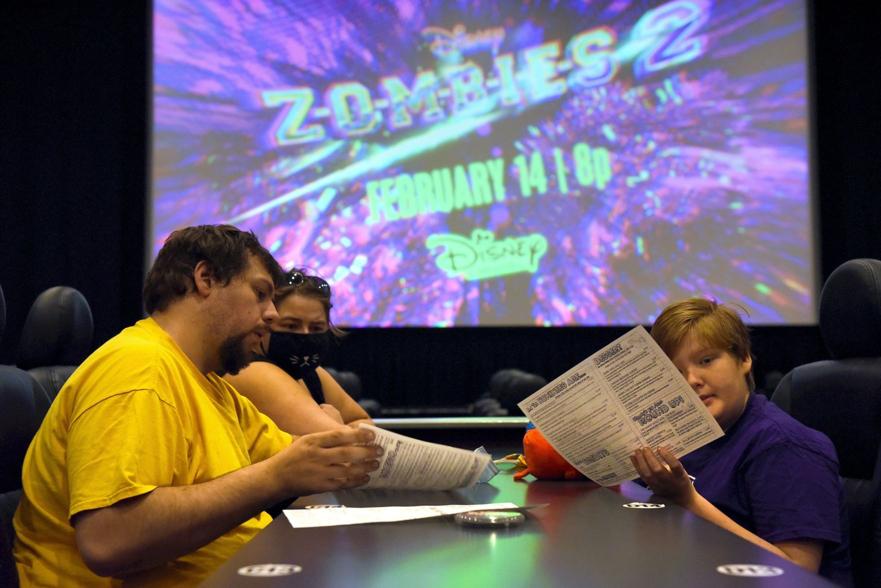 O'Neil Cinemas in Epping has adapted to include drive-in movies and will show "Jurassic Park" at 8:30 p.m. Friday at Brickyard Square.
Precautions
The theaters all have similar procedures to prevent the spread of COVID-19, including spreading out seats, limiting ticket sales and deep cleaning protocols.
Unlike some other theaters, Chunky's was able to physically remove some of its seating and tables.
"We are at 50% in each theater, so there is plenty of spacing and social distancing," Mannetta said. "We are sanitizing constantly. Our staff is wearing masks, we have disposable menus and one-way directions in the hallways."
Some theatergoers might not be comfortable with returning yet, Adam said, but Cinemagic is making the environment as safe as possible. Ultra low volume (ULV) foggers will be used by employees between every screening to sanitize every auditorium and seat.
"We are following the CDC- and state-provided guidelines," he said. "Masks will be required by everyone when they are attending the theater."
Masks can only be removed for eating and drinking at both Cinemagic and Regal.