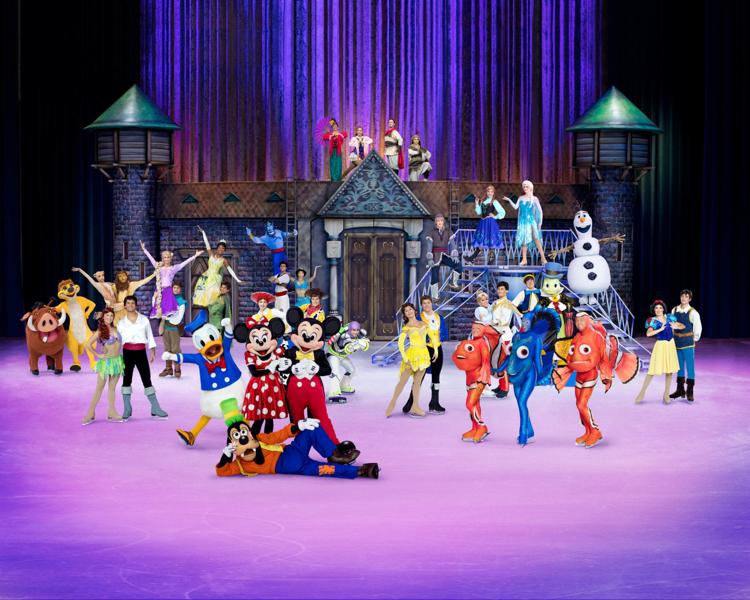 Skater Madeleine Gallagher is enchanted to be Snow White in Disney Ice show
Competitive pairs skater Madeleine Gallagher was enchanted when Disney on Ice invited her to join their cast.
"All the stars collided," she said.
But it wasn't always her dream to be a princess on the ice.
"When I started skating at 4 years old, my entire family were all hockey players, so I was going to be a hockey player. That was the goal," she said. "And then I found out they didn't wear the pretty dresses. So then I became a figure skater."
And as Snow White in the traveling production "Disney on Ice Celebrates 100 Years of Magic," which visits SNHU Arena in Manchester today through Monday, Gallagher gets the full princess treatment.
"My costume is just like the one that she wears in the movie. I have a beautiful long yellow skirt and a blue velvet top with a beautiful white collar. I love it so much. There's lots and lots of rhinestones on it, though, just for a little bling, which I love."
And as Snow White, Gallagher does get the prince, who, in the classic story, gives her that magic kiss to break the spell cast by the Wicked Queen.
"He is my prince, the guy who's lifting me up and everything. He's got some gems and a pretty outfit of his own," she said.
Gallagher feels a special connection to Snow White.
"It's just the Disney magic. You turn into that character — you become a princess. And then once you go on the ice, everyone cheers so loud," she said. "It's the best moment for me. It's unexplainable."
"Disney on Ice Celebrates 100 Years of Magic" brings more than 50 characters to life in the show, among them Minnie and Mickey Mouse, Donald Duck, Olaf and Goofy and princesses Cinderella, Rapunzel, Ariel and Tiana.
Some of the Disney movies represented in the show include "Beauty and the Beast," "Aladdin," "Lion King," "Finding Nemo," "Mulan" and "Toy Story." Viewers can sing along to more than 30 Disney classics, including "Let It Go," "Hakuna Matata" and "Someday My Prince Will Come."
"We have something for everyone. The adults know these stories. We have 'Pinocchio' and 'Snow White,' which are some of the oldest stories on Disney. We go into newer stories like 'Toy Story' and 'Frozen.' We have a whole green army man segment from 'Toy Story.' So we have something for boys and girls," Gallagher said.
Gallagher, now 20, had been training for Team USA when Disney On Ice rolled through her hometown of Bay City, Mich.
"Disney just happened to be coming through my town. I thought it'd just be fun, something to expand my horizons ... but it led to a whole other amazing life that I never knew was waiting for me," she said.
She was encouraged to audition by her friends and coach.
"I didn't really know what to expect. And I was 17 at the time, so my mom had to come with me. It was a whole other level of skating, and I appreciated it so much. Later on in the summer, they said, 'We have a job for you,' and they hired me."
Gallagher says the experience is a step away from competitions and scores.
"My favorite part of competing back in the day was the performing aspect. When I came to audition (for Disney On Ice), they really focused on really showing that emotion and excitement. I really just got to be me, and that's why I loved it so much."
Besides performing tricks and jumps, Disney On Ice skaters also work on facial expressions and body language.
"You've got to portray the character in the way they would in the movie, the way they act. Elsa's a very graceful but strong person, and Snow White's very delicate."
Gallagher says skaters maintain a busy training schedule to keep up with the travel schedule, program and choreography.
"It takes a long time to get to that caliber of expertise. It definitely takes lots of training to reach the expectations of Disney on Ice," she said. "I couldn't even put a pin on how many hours I work a week, honestly for just practicing. I would also include the off-ice practicing, where we're also working on lifts off the ice or jumps off the ice as well as training, getting our cardio. It's a constant lifestyle," she continued.
Skaters must also adjust to the atmosphere and size of each venue, whether it's in the arid desert climate of Dubai or the temperate, rainy conditions of London.
By the way, Gallagher says Dubai is really hot.
"Very hot, let me tell ya. We were there in the summer. I was really grateful for working in an ice rink at that time. It was pretty exotic. We went sand-dune riding. It was actually my 20th birthday when we were there in Dubai, so I was really grateful."
Gallagher says through Disney On Ice she's been able to travel to western Europe, the Middle East — all over the world.
"You go from towns like Manchester to … sometimes you end up in cities like Bahrain. The show that came through my small town in Michigan also traveled to Paris and London. It's a show that reaches out to everyone."
Her job surprises her, even now.
"I'm grateful because I come from a small town of Bay City. I'm a girl who never thought would end up just having a few weeks in Dubai for work," she said.
Gallagher says she still gets emotional when kids call her Snow White; it's one of her favorite things about being with the company.
"Even the parents sometimes blow me kisses. When (the kids) look at you and give you a big kiss or a wave. It really is the best. I get a little teared up still, because it's just a (great) experience."
And the cast has a special way to end the performance.
"We get a chance at the very end to do a final goodbye wave. All the characters come out and you say goodbye," she said.
Gallagher always loves when kids dress up just like Snow White.
"Everyone's young and just adorable. When they have the Snow White costume on, I get so excited. I'll point at my dress and I'll point at theirs. They'll show me their skirts, and it's really adorable."
During the show, which runs for about an hour and 50 minutes, the skaters also celebrate Mickey Mouse's 90th birthday.
"This is the really awesome part of this year. We do a whole parade for him. We're excited," Gallagher says.
"Disney On Ice Celebrates 100 Years of Magic" stops at SNHU Arena in Manchester on Jan. 17-21. The shows start at 7 p.m. There is an eight-ticket limit. Tickets cost about $15. Visit ticketmaster.com for more information. SNHU Arena is at 555 Elm St.