Why is Southern New Hampshire University President Paul LeBlanc manning a cowbell in a medley of Sia hits, Laconia tech editor Dan O'Meara trying to blot out loud breaths, and SNHU Music Director Richard Cook contemplating the metallic clang of a vehicle's brake drum?
It's all part of a global remote learning project out of SNHU in Manchester. The school's music ensembles have long been a collaborative project that brings together musicians from the student body and surrounding communities. But a new series of ambitious virtual projects are bridging even greater social distances, one uploaded track at a time.
Called the SNHU International Wind Orchestra, the program now includes 215 musicians from around the world. They record themselves playing individual parts from their homes, and then send the videos to a local team that cleans them up and weaves them together into group performances.
"We have members joining us from every continent except Antarctica," Cook said. "It has been fun to watch musicians who would not have otherwise met begin to develop friendships through these projects. Last week, we watched our students and a musician from Ireland try to help a clarinetist in Rwanda fix his chipped mouthpiece so that he could create higher quality (video) submissions for our project."
It's also been a balm for an arts community smarting from a sense of isolation during the coronavirus pandemic. In addition to an hour of individual recording time, there is a 45-minute video conference each week to share thoughts, visions and concerns. A private Facebook group gives participants a chance to continue conversations — to connect in a disconnected time.
"The opportunity to play a role in providing musicians from all over the world with a musical — and for many, a therapeutic — outlet during these challenging times is incredibly rewarding," said Lyndsay Boysen, SNHU faculty member and co-conductor of the virtual orchestra with Cook.
How it started
In a normal semester, SNHU has a full symphony as well as a wind ensemble (also called a concert band) on campus.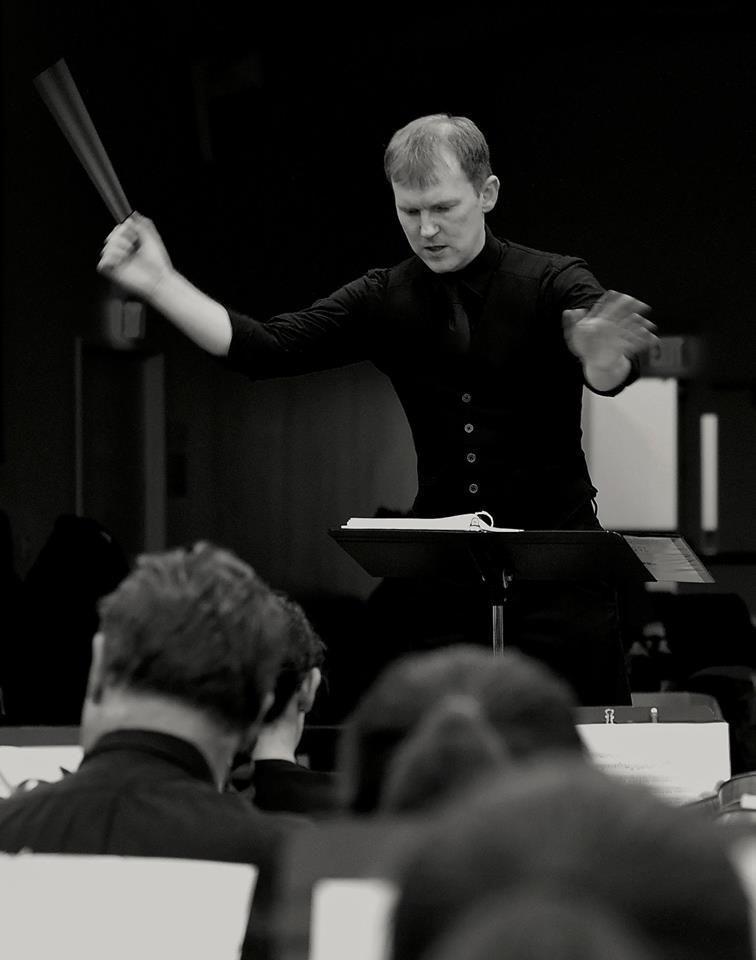 "Last year at this time, both ensembles were on a concert tour in Manhattan," Cook said.
But a lot has changed since then. When SNHU officials decided in mid-March to shutter classrooms on campus and go to a remote instruction model, the music department faced its own ripple effect. Half of each SNHU music ensemble of about 75 musicians comprises students enrolled in for-credit courses and the other half consists of community members — many of them local teachers now grappling with retooling their own curricula in the wake of school shutdown orders.
"It became apparent right away that a number of our regular members would not be able to participate in the virtual version of our ensembles," Cook said. "The move to strong social distancing impacted our members in a wide variety of ways, and some of them were understandably too busy with bigger life concerns to participate."
So, SNHU officials expanded the focus, sending out a general call to students, faculty and friends across the world, asking for people with strong musical backgrounds to consider participating in an expanded student-community effort.
"The response has been far greater than we had anticipated," Cook said. "This is a scary time for musicians, but it has been comforting to see that all of the musicians interacting on our discussion page share the same concerns. A lot of the conversation revolves around speculation about when players will safely be allowed to rehearse in person again, and when audiences will be allowed to return to concert halls."
In the meantime, keep an eye on the SNHU Music's Facebook page this weekend. The first two virtual projects will be revealed: a take on Eric Whitacre's haunting experiment "Lux Aurumque," which set the bar for virtual performances with a chorus of 185 voices in 2010, and a compilation of melodies by pop powerhouse Sia. Look for SNHU's president to lend a hand to both.
"Leblanc will be recording a cowbell track that will be incorporated into the video of our medley of Sia songs (and) recording a few hits on our largest gong that will be used in our video of 'Lux Aurumque," Cook said. "He put on his tuxedo to record seven huge hits on our largest concert gong in his living room last week. His contribution will be included in our first virtual orchestra video, (and he) will also be recording a woodblock part for our next project. "
The team
It took a lot of footwork to get the series up and running. New York City trombonist Chris Bill, who has been creating virtual ensemble videos for years, came on board as tech advisor, and also plays on some of the projects. It's his model for remote ensembles that SHNU is using. (Check out his version of "Bohemian Rhapsody" on YouTube to get a sense of the way he seamlessly patches together individual recordings.)
Keith Kelly, a clarinetist in the virtual ensemble who organizes a lot of band music in Ireland, helped to recruit international musicians, and Brooke LaMonica is serving as contact point and personnel manager for a collaboration with the New Hampshire Philharmonic on Gustav Holst's "Jupiter from the Planets." And a team of 10 volunteers is helping edit submissions.
Dan O'Meara, a Laconia euphonium player, is putting his undergraduate degree in film and TV production from New York University to use for the project. He previously lent a hand to SNHU's "Film Scores and Video Game Music" concerts, and was hired to take the lead on video work for the virtual project.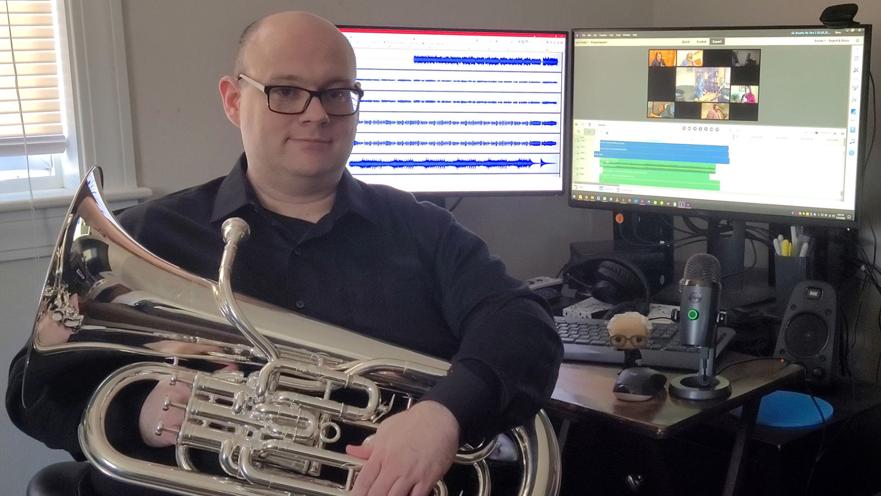 "Our players are by and large not professionals and most do not have any sort of dedicated audio recording equipment," O'Meara said. "Instead, they rely on microphones built into phones and webcams and record in their homes with no control over background noises. We go through all of those recordings and try to scrub out that noise, edit out unwanted sounds, adjust the volume levels to within an acceptable range, and fine-tune the balance of high and low pitches.
"You haven't lived until you've tried to subtly edit out each breath you've taken in a 2-minute long section of music. Suffice to say, I'm now hyper-aware of how loudly I can breathe," O'Meara joked.
Putting separate together
O'Meara called it an "almost a Herculean task" to patch together all those individual recordings together and then mix the levels to get it to sound like a single, cohesive performance.
"I learned pretty quickly that the best way to go about it was to balance each section of the ensemble individually and then work on balancing those sections with one another," O'Meara said. "So I'll take all the saxophones, get them sounding as good as possible with a nice representation of the full range from the baritones up to the altos, and then eventually add them to the trumpets, clarinets, flutes, etc. It kept me from becoming too overwhelmed and produced great results."
Because there's often a time-lag issue with video conferencing, Cook said they use a "reference track" to help musicians play in time and in tune with one another.
"We generally record a video track of the conductor first, and then layer audio recordings of just a handful of principal players on top of that, and then send this reference video out to all members of the ensemble," said Cook. "In order to record at home, a player needs to watch the reference track conductor video and listen to the reference track audio through headphones on one device, while recording themselves playing their part on a second device."
They've learned a lot in the past few months, said O'Meara.
"For instance, in order to synchronize all the individual recordings, we have the players provide a reference noise, usually a clap at a specific moment. Initially, we placed that moment right before they were supposed to start playing, resulting in some rather comical videos of people trying to go from clapping their hands to playing a clarinet in under 2 seconds. We've since moved the reference to allow for more time to make that transition. The musicality has improved, even if there's considerably less humor now."
But those miscues and wonky notes might come in handy later.
"Having now sifted through hundreds of tracks submitted by the musicians on our projects, we are thinking about putting together a short outtakes track," Cook said. "We generally edit mistakes out, but if we went the other way, we could create an alarming 2-minute recording of the third movement from Candide Suite project that would be almost entirely wrong notes followed by players softly cursing. We have learned that our participants from Ireland do this in a particularly charming way."
One-take challenges
Like Cook, O'Meara gets to hear those mistakes during tech work on the project. But since he's also a participating musician, O'Meara can empathize with players who find the recording process sometimes exasperating.
"I'd say the hardest art from a musical perspective is that it's incredibly difficult to hide mistakes or imperfections when you're playing alone in a room with a microphone and a camera catching everything you do," said O'Meara. "In a live space, with other musicians playing along, a lot of smaller issues like messy attacks on notes or inconsistent tone are masked."
Instead, virtual orchestra tracks are like one-take challenges.
"Trying to get through even a 3-minute long section of music where you make no mistakes can feel like an exercise in futility, and when a mistakes comes in the final 5 seconds, it's quite frustrating to have to go back and re-record the whole thing over again, somethings just to make a brand new mistake in the first 30 seconds," O'Meara said.
"I'm grateful to have these virtual ensembles to sustain me until we can all safely get together in a room and play music the old-fashioned way," he said. "I just need to remind myself of the gratitude I feel the next time I flub the last note in a challenging 5-minute long recording."
It's also tough for conductors and players not to have the usual interplay of in-person rehearsals and performances. It's a group experience that is taking place in bits and pieces, from corners of living rooms, kitchens, basements and bedrooms across the world.
"The most challenging aspect of this project as a conductor is not having that instant musical response from your players, which creates this personal interpretive relationship with ensembles," Boysen said. "In order to create the conducting track for the musicians to follow, I have to conduct along to a recording and record myself, which is far more difficult than you would imagine, as it is another conductor's interpretation of the piece."
How it's done
With one ensemble now at work on Leonard Bernstein's "Candida Suite" and another teaming with New Hampshire Philharmonic for Gustav Holst's "Jupiter from the Planets," there's continuous planning and processing of audio and video.
"The players upload their videos to Google Drive," Cook said. "I download them onto my computer and separate the audio from the video with Adobe Premiere Pro. This raw audio is uploaded to google.drive again and cleaned by our team of 10 volunteer editors. They do this with Audacity (a free online editing program). They upload the cleaned individual audio tracks to google.drive — now for the third time — and I combine all of the cleaned audio into one audio track with a program called Ableton Live."
Then the audio is married to video, which has had its own sprucing up via Adobe Premier Pro.
If the "performances" sounds complicated, consider the virtual orchestra's work on "Lux Aurumque."
"There are 104 player tracks in this virtual performance, but at any given moment, the focus is on anywhere from one solo player to an 8-by-8 grid of 64 musicians," Cook said.
That visual element requires its own careful orchestration.
"I start by going over the music (to) identify which musicians are playing in each section, how the mood and style changes, where the transitions are and so on," O'Meara said. "Logistically, you can only put so many people up on the screen at a time without it being overwhelming for the viewer, so you need to decide who's going to appear and when and how you might want to go about ensuring that everyone is getting their moments to shine."
It's all about pacing, making sure transitions are synchronized with the music so the stream of images flow with, rather than fight, the music.
"I try to always allow the music to dictate style. For instance, if the music is slower and more lyrical, I might use a lot of dissolves and fades, whereas I find that hard cuts are more appropriate for faster, more rhythmic music," O'Meara said.
Official video release dates are not yet set, as there are some stragglers who still have to send in their tracks, but Cook hopes eventually to share all of their virtual experiences on its social media sites.
In the meantime, Cook acknowledged there is one thing still on his to-do list: drawing in that last corner of the globe with a request for one of those experimental rhythmic beats that are often sampled for loops.
"We are trying to figure out a way to get someone in Antarctica to record some type of track for the project so that we have all seven continents represented," Cook said. "One of our pieces calls for a 'break drum' — you you literally just hit the brake drum from a vehicle and it makes a metallic clang, so that might work if we can find a researcher willing to do it."