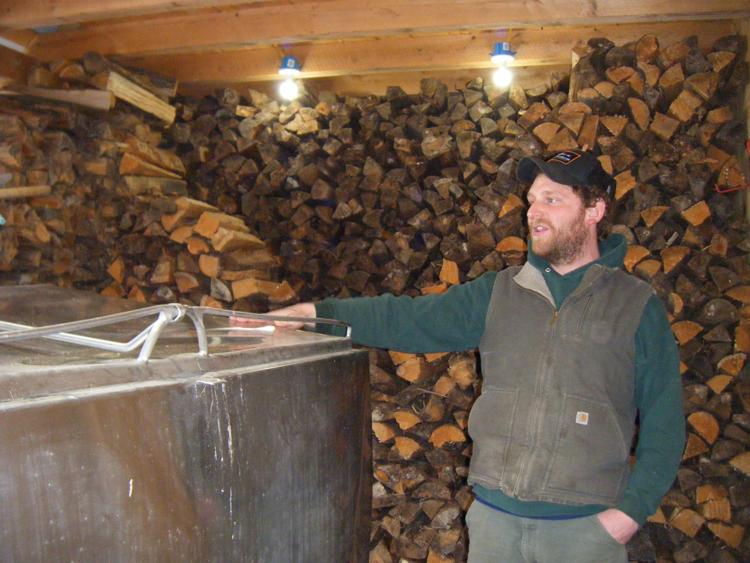 Trail Side Sugar House: Owner Zach Barton now taps 1,600 trees and hopes to eventually expand to 2,000-plus taps and a farmstand store.
To be perfectly honest, Zach Barton isn't that crazy about maple. "I'll have it on pancakes, sure," the genial owner of Trail Side Sugar House in Andover said. "It's way better than the artificial stuff. But I don't stand around and drink it out of the bottle."
What Barton's more interested in is the process and visiting with his customers, who'll be driving down his dirt road as New Hampshire celebrates Maple Weekend, coming up soon on March 21-22.
Barton began tapping trees in middle school. "I was about 10, and I had a little evaporator outside on the driveway," he recalled on a chilly March morning. He was low-tech, tapping with an old-fashioned bit brace.
His first yield was maybe three or four gallons, which his mother used on family pancakes. "It was a little dark, but it tasted OK" he recalled. But Barton was hooked. He put out more taps, tapped as a teenager, invested his profits in more equipment, and soaked up all the education he could.
He built his current sugar house in 2013, with the help of family members. He now taps 1,600 trees, with 100 of them done with the old-fashioned buckets and the rest with tubing.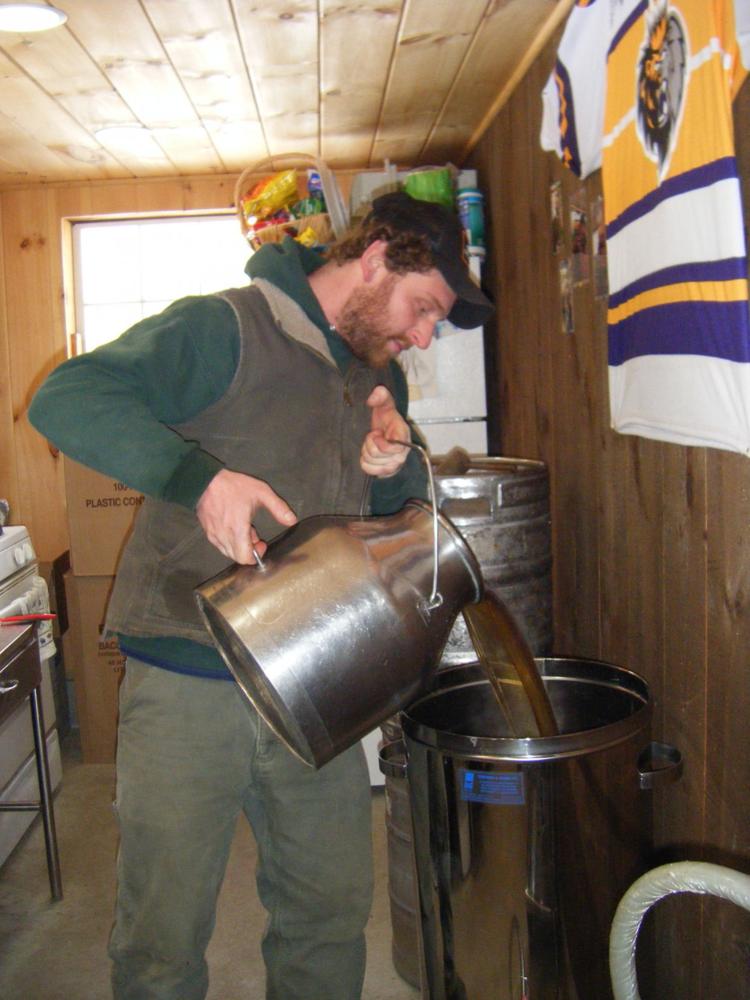 Barton has a full-time job, and maple is another full-time job. He's always doing something with his taps or his sugar house. In the fall there's tubing to be checked, repaired or replaced; in the winter there's product to be made. In addition to the syrup itself he makes candy, maple cream and other treats, noting, "You can't just make syrup. The market's flooded."
And in the spring he's out in the woods. For the past two years he's started tapping on Feb. 1. Once again he'll check his tubing. "A squirrel will bite through the tubes, a moose will rip the lines," he said with a philosophical shrug. "There's always plenty to do."
In full "maple season" he puts in 80 hours a week on top of his day job, Barton estimated.
"My holding tank is filled to the brim," he said. "The run this week has been great — I've got 4,000 gallons of sap."
Barton uses up-to-date tech including reverse osmosis, a mechanical process that extracts the water from the sap. "People think it changes the flavor, but it really doesn't," he said.
But he still uses a wood-fired boiler, though many other producers have gone to oil, and he cuts his own wood. He burns 30 cord a year.
Though Barton takes advantage of scientific advancements, his sugar house recalls earlier days, from its rough wooden exterior to the dirt road to the smoke coming out of the chimney.
Eighteen years in, Barton is still fascinated by the process. "It's an addiction," he observed. "I love being in the woods, I love being around family and friends." And though it takes 40 gallons of sap to make one gallon of syrup, he doesn't mind the work.
"As aggravated as I get, I'm still happy at the end of the day," he said.
Barton's plans for the future include upgrading his evaporator. "I hope to eventually expand to 2,000-2,500 taps," he mused as he shoved another log into the evaporator.
He's also mulling plans for another building that will serve as a farmstand store. "It gets crowded in here on Maple Weekend," he said, noting that his kitchen is also his sales floor. He'd like to have a farm store featuring other local products, adding, "I have an arrangement with the owner of Blackwater Mustard. I exchange my syrup for their mustard."
And he'll continue his work in the woods as long as he can, remembering that 10-year-old and his first taps. "At the end of the day it's the same product, whether it's with a turkey fryer or a sugar house," Barton said with a smile.
On Maple Weekend he'll welcome a steady stream of new and repeat customers. He's lived in Andover all his life, so many of the faces will be familiar. Family and friends will help out, and Barton expects to explain the process to children. "I love seeing the kids," he said.