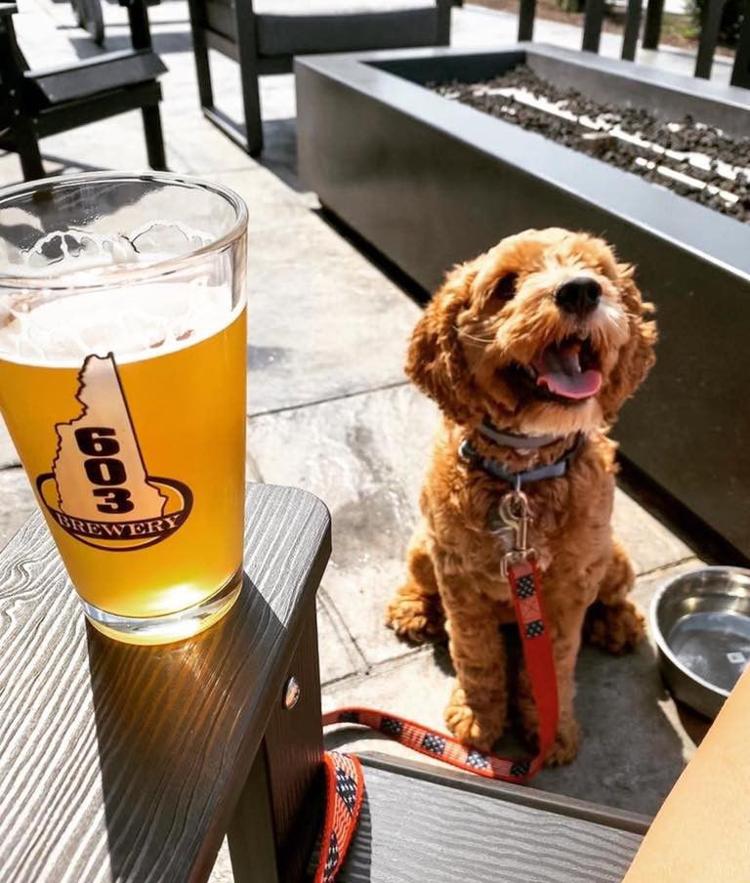 A number of state-inspected breweries and restaurants have been told to stop letting customers bring dogs to their outdoor patios after years of relaxed enforcement of food safety regulations. And they're not happy about it.
Complaints made their way up to the state's top dog. Gov. Chris Sununu stepped in Thursday to pause enforcement by the Department of Health and Human Services while his office reviews the situation.
For years, certain eateries have been flying under the radar, often unaware of regulations that do not permit dogs in restaurants or outdoor areas where food is being served.
The owners of three Londonderry breweries — Long Blue Cat Brewing, Pipe Dream Brewing and 603 Brewery — say they have made dogs a part of their business model and culture, and what they describe as a "crackdown" has hurt their business.
Representatives from those breweries sat down with the Union Leader recently to discuss their frustrations with the regulations — what they describe as their selective enforcement and their desire to change the state law.
"This is such a massive shift in the business," said 603 Brewery Marketing Manager Morgan Kyle.
Three or four weeks ago, Long Blue Cat was told to stop allowing dogs. About a week later, the state inspectors said the same thing to Pipe Dream. Finally, 603 Brewery was told last Thursday.
"We were building our business around 'we are dog friendly,'" Pipe Dream Manager Kerry Bacheller said.
Now, all three breweries have seen a decline in business and they believe it's directly related to the new policies they've been told to implement, which they've had to advertise on posted signs, websites and social media.
Kyle said she asked for a 24-hour grace period, but that request was denied. They immediately set out to update signs on their patio, and a post on Facebook received 300 comments and 80 shares in the 24 hours that followed, she said. Kyle said most of their patrons were "outraged" by the change.
While the policies may be new for the businesses, health inspectors say the rules were already laid out in the federal health code, upon which the state bases its regulations.
"We received consumer complaints," said Colleen Smith, the administrator of the Food Protection Section of the Division of Public Health.
Smith said the enforcement actions in Londonderry were in response to August complaints against Long Blue Cat and Pipe Dream and a Sept. 26 complaint against 603 Brewery.
But the breweries say they were allowed to effectively serve patrons with dogs outdoors for years.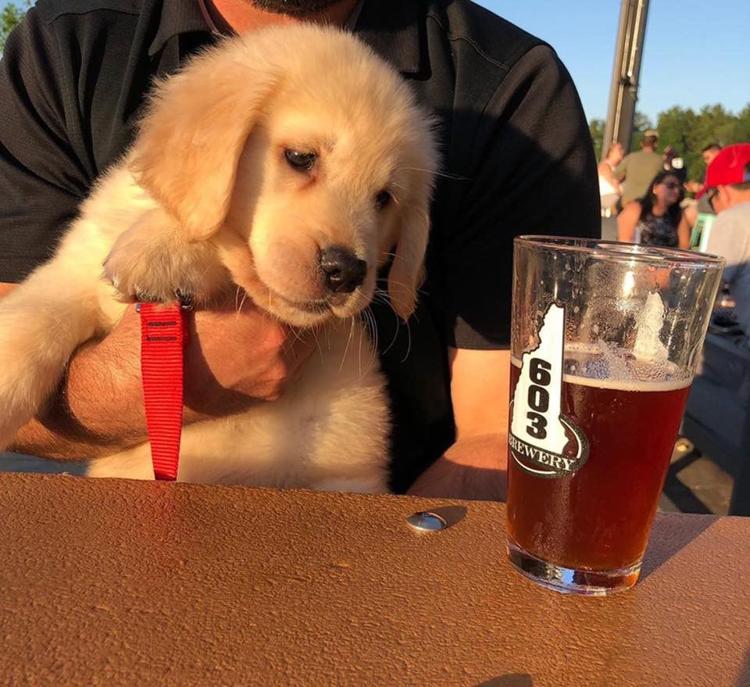 While some businesses say the policy was akin to Don't Ask Don't Tell, health inspectors like Portsmouth Health Officer Kim McNamara say "it is the restaurant owners' responsibility to know the food code."
Soon after speaking to the Union Leader, the owners of 603 Brewery reached out to Londonderry Town Manager Kevin Smith, who forwarded their concerns to the governor's office.
"Our office has received a significant amount of feedback from small business owners and patrons expressing confusion on this topic," said Benjamin Vihstadt, Sununu's spokesman. "Given that, we have talked with officials at HHS and they have agreed to not enforce this specific rule while we review the situation and work to find a solution that is in the best interest of everyone."
Vihstadt said this pause in enforcement only affects the communities that are inspected by the state.
Canine culture
For breweries and wineries, there's a lot riding on this.
Long Blue Cat co-owner Shane Sorensen said the brewery helped raise hundreds of dollars for Harvey's Hope Animal Rescue between two fundraisers in June and August.
"It's just a part of the culture across the country," Sorensen said, referring to dog-friendly breweries.
Long Blue Cat co-owner Jason Knight said he estimates 70% to 80% of the breweries in New Hampshire are dog friendly.
Pipe Dream has done several fundraisers for the Greater Derry Humane Society, and 603 Brewery has hosted multiple dog adoption events and fundraisers for the Salem Animal Rescue League — one dubbed the "Bark and Brew" event was held as recently as last Wednesday.
"The community gets really involved in these events," Kyle said.
She said more than 30 dogs have been rescued through 603's adoption events over the last seven years. Kyle adopted a black Lab named Bear from one of their events and 603 co-owner Geoff Hewes adopted a Lab named Barley.
She said people often bring their dogs to breweries to celebrate the dogs' birthday, and one time, a dog owner brought an elderly dog for a proper send-off hours before the owner brought the beloved companion to the vet to be put down.
The dog-loving community bring their dogs to breweries in part because there are so few places one can bring a dog in public, she said.
"This is what sets us all apart," Kyle said.
The newly built 603 Brewery has a large patio area. Signs posted outside had clearly laid out the rules for dogs — requiring they be leashed, stay outside, accompanied at all times, and prohibiting feeding, excessive barking or dog "business."
A dog waste station was installed on a separate grassy area next to the brewery, which included a baggy dispenser and a trash bin.
The dog-friendly culture is also common in some area wineries, according to Mike Appolo, the owner of Appolo Vineyards in Derry.
Appolo said the town's health officer, Courtney Provencher, circulated emails to area eateries reminding them about the dog rules in the summer or fall of 2018. His approach then was to keep quiet, he said. Now, he's speaking out.
"I can understand not having dogs where the food is being prepared. That's a completely different thing than having them where it's served," Appolo said. "What is the problem that it's trying to solve?"
In a written statement from 603 Brewery, the owners say they are not happy with the regulations or how they were enforced.
"Not only are we disappointed about this shift for the business, but the fact there was no warning prior to this enforcement, and that it appears to be being selectively enforced by the N.H. health department around the state," the statement said.
Uneven enforcement
Londonderry, like most communities, is inspected by the state Division of Public Health under DHHS, but about 15 communities, including Manchester, Nashua, Derry and Portsmouth, are self-inspecting.
Bacheller told the Union Leader that the previous health inspector, Rhonda Thomas, told them dogs were allowed in outdoor patio areas when they opened the brewery three years ago. Now, she says, the state has changed its tune by defining beer as food and patios as part of a restaurant's premises.
Smith said she finds it hard to believe that any state inspector would tell a brewery that patios are fair game, since this rule comes up a lot.
"This is a subject we discuss regularly at staff meetings," Smith said.
During a Sept. 12 visit to the brewery by food safety inspector Jeff Hughes, Hughes told Pipe Dream operators they could allow dogs to be present for an upcoming fundraiser for the Greater Derry Humane Society only if the dogs were kept in a roped off area outside where drinking and eating would not be allowed.
Pipe Dream canceled the event.
In the last couple of years, Nashua and Portsmouth began offering ordinances offering restaurants the option to apply for a variance to allow for dogs on outdoor patios provided they adhere to added safety regulations.
Nashua Health Officer Heidi Peek-Kukulka said the Gate City passed a variance ordinance last year in response to some interest among aldermen. So far, she estimates four restaurants have been granted a variance.
She first checked with Smith at the state Division of Public Health to make sure it was OK.
"We, all of us, the self-inspecting communities, try to be in sync with the state," Peek-Kukulka said.
Still, enforcement varies not only between state and local authorities but the law grants cities more autonomy than towns in the day-to-day management and enforcement of food safety regulations, she said. Unlike towns, cities aren't required to report to the state.
Portsmouth Health Officer Kim McNamara said Portsmouth started offering a variance in 2017 when they implemented a full food-code update.
Plus, it seems restaurant owners are still learning about the regulations. Many restaurants are allowing dogs, but they come to McNamara's attention when individuals file complaints, inspectors see the dogs during visits or if the business advertises they are a dog-friendly establishment.
Soon after the Union Leader published a story about a dog menu and dog-friendly patio at Ri Ra Irish Pub last month, McNamara said she had to tell the restaurant to stop allowing dogs at the restaurant and to discontinue the dog menu.
Ri Ra and one other restaurant have expressed interest in applying for a variance, she said. No restaurants have formally applied for one yet.
She said that while it may seem like everyone wants dogs allowed, that's not true for everyone. They get anonymous complaints, and she said the regulations are in place to ensure food safety and patron safety.
In order to obtain a variance in Portsmouth, a restaurant must make provisions for regular cleanup, separate cleaning materials, keep the animals off tables and chairs and have signs setting the ground rules and notifying patrons that it's a dog-friendly place. And a variance can be revoked if a restaurant is found to be non-compliant.
So far, the variance option is only available to self-inspecting communities. Smith said it would require a change in state law to allow for that kind of flexibility for the nearly 4,600 establishments inspected by the state.
The laws governing dogs in restaurants are also a hodgepodge of contradictions and loopholes. While the U.S. Food and Drug Administration's food code precludes animals on the premises, it allows an exception for service animals.
Anyone can claim their pet is a service animal and restaurant operators cannot demand proof or inquire further without risking legal reprisals, which McNamara said is an abuse of the system.
"Restaurant owners are really put into a difficult place," McNamara said.
And, according to New Hampshire law, a restaurant owner can have their own "properly disciplined companion dog" at their place of business, as long as it's not in any food production or preparation areas.
Appolo said his own dogs Sam and Sage are often wandering around the vineyard and greeting customers at the patio.
New legislation
This past legislative session, a bill that would have enabled dogs at outdoor patios was tabled, according to Smith, but the issue hasn't died with it.
Sorensen said he has tried bringing up the issue of dog regulations at his local brewery association meetings, but encountered resistance to discuss it. As long as breweries are flying under the radar, the incentive is to remain quiet, but that's starting to change, he said.
Knight said he wouldn't have talked to a reporter about this topic a month ago. But now, he's got nothing to lose.
"We've seen a definite dip in business," Knight said.
He wants to see a state bill to enable dog-friendly patios. 603 co-owner Dan Leonard agrees.
"That's the next step; to get some legislation going," Leonard said. "We're not going to take this sitting down."
For this upcoming 2020 session, Rep. Werner Horn (R-Franklin) is sponsoring a bill "relative to allowing dogs in open air restaurant patios."
Horn told the Union Leader that he has heard of some restaurants being told to shut down any dog-friendly operations without notice in his district lately, and he submitted the legislation after some individual constituents approached him with concerns over the "ambiguity" in the state statute regarding dogs on restaurant patios.
The exact language of the bill hasn't been finalized yet, but he said the intent is to support New Hampshire businesses.
"My hope is that we are adding clarity to the statute governing the situation," Horn said.
Mike Appolo at Appolo Vineyard says the current law is "just another form of government tyranny, telling people what to do."
"Somebody's gotta fight this nonsense," he said.
In the meantime, another option for the Londonderry breweries would be turning the town into a self-inspecting community with a variance enabling dog-friendly patios. Bacheller said she has already begun exploring that option by reaching out to Londonderry Building Inspector and Health Officer Richard Canuel.
In the meantime, Bacheller said it would be helpful to have brewery patrons write letters to their local lawmakers expressing their interest in changing the law, so they can bring their furry friend back for another round.