I t's hard to believe Thanksgiving is next week — some people are still working through their Halloween candy they managed to hide from the trick-or-treaters. When reality hit me that turkey day was just around the corner, I realized I felt unmotivated to put together a big holiday meal.
I used to joke that Thanksgiving was no holiday for women. I would always watch my mother, grandmother or aunts working away in the kitchen on Thanksgiving day peeling potatoes and carrots, prepping the turkey, making stuffing, setting the table, doing the dishes and so on. That doesn't even take into consideration the time spent planning the meal, shopping, making pumpkin pie and cleaning the house. It's a lot of work.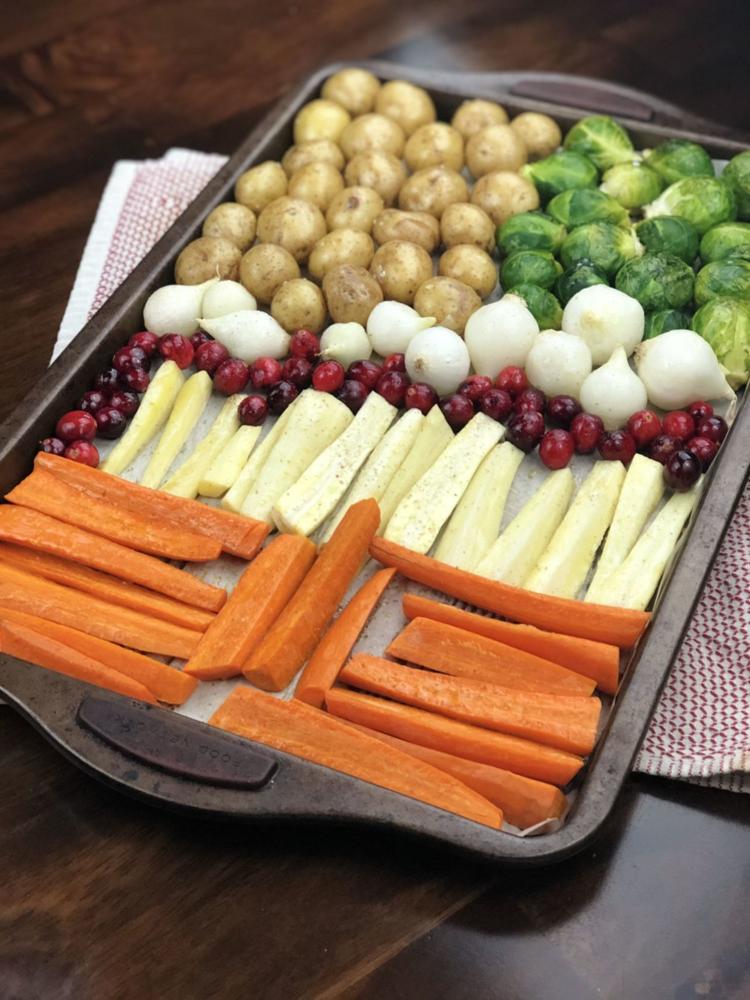 One way to streamline the Thanksgiving cooking process is to roast your sides on one sheet pan. This doesn't just produce delicious food; it also cuts back on the cleanup process because you don't have a bunch of dishes to clean up. It's also a way to maximize oven space; a turkey can take up a lot of room in the oven when it's cooking and sometimes there's only enough room left to slide in a cookie sheet.
I tried this out with some Brussels sprouts, baby potatoes, carrots, parsnips and small white onions. I also tucked a few cranberries in here and there. Since there were only a couple of us who'd be eating this dinner when I put my experiment to the test, it was also a good way to offer a variety of sides with little work. (If you were hosting a large group of people, it could be difficult to use this method because you can only put so much food on one sheet to cook.)
For the roast turkey, I decided to draw inspiration from a remarkable meal I had recently in Camden, Maine. There's a restaurant there called Natalie's that turned out to be an incredible experience. I had tandoori halibut and loved the flavors and spices. I decided to season my turkey in a similar way.
Tandoori spice mixes are available commercially, or you can mix your own; there are recipes online with varying amounts of coriander, cumin, garlic powder, ginger, nutmeg and other spices. I used a commercial spice blend, along with honey and butter; the flavor combination was excellent.
If you have out-of-town guests coming and want to try a sweet potato casserole with a New England twist, try using maple marshmallows. I came across some at the grocery store and I picked them up with no specific plan for what to do with them. I decided they would make a delicious topping on sweet potato casserole (they would also elevate basic Rice Krispie treats).
Next week I will share a few ways to use up all those Thanksgiving leftovers.
12 lb turkey, thawed, giblets and neck removed
4 tbsp tandoori spice mix
Set the turkey on a rack in a large roasting pan and bring to room temperature for about an hour before seasoning.
Preheat oven to 425 degrees.
Use your hands to thoroughly coat the turkey with the softened butter, then sprinkle with salt and pepper.
Roast, uncovered, for 30 minutes. Remove from oven and baste the turkey with any butter and juices in the pan. Drizzle the honey over the turkey, then sprinkle with paprika and tandoori spice.
Cover the turkey with aluminum foil or the lid of the roasting pan. Lower the heat to 325 degrees and set the turkey back in the oven.
Roast for the amount of time needed for the turkey you are cooking; about 13 minutes per pound or until a meat thermometer registers 160 degrees at the thickest part of the bird.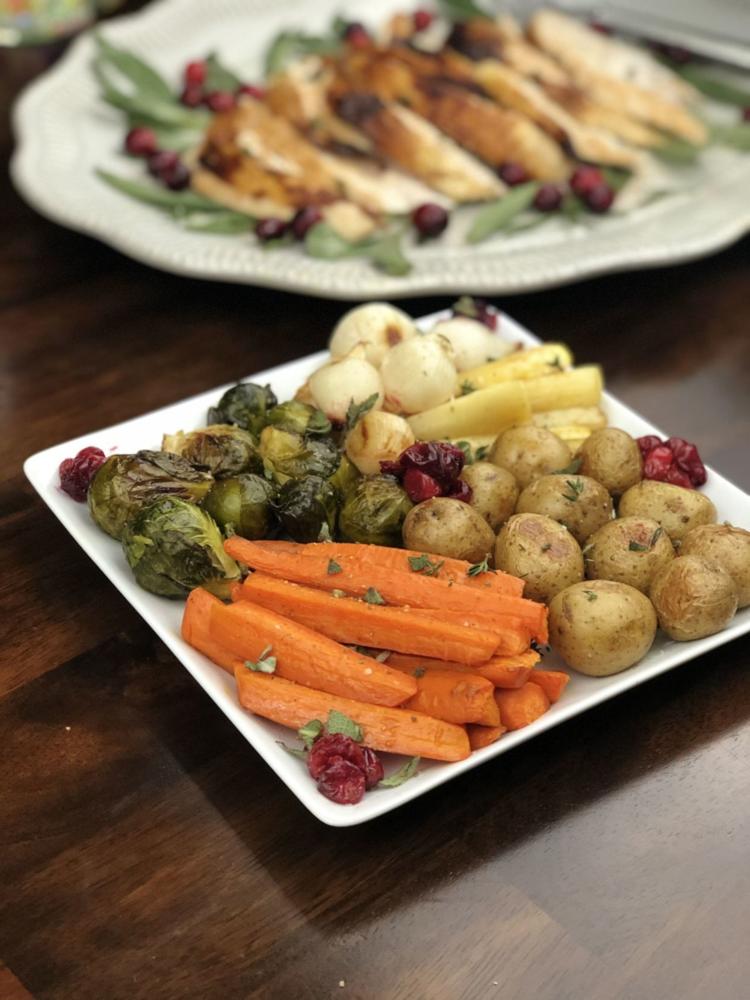 Sweet Potato Casserole with Maple Marshmallows
4 large sweet potatoes, peeled and chopped
2 tsp vanilla extract or vanilla paste
1 cup mini maple marshmallows
Preheat oven to 350. Spray a baking dish with cooking spray and set aside.
Add the sweet potatoes to a stockpot and cover with water. Set over medium high heat and bring to a boil, then lower the heat to medium and simmer for about 15 minutes or until the potatoes are softened. Drain and rinse the potatoes with cold water to cool.
Transfer the sweet potatoes to a bowl and mash, then add the butter, brown sugar, cinnamon, egg, milk, salt, and nutmeg and stir well to combine.
Transfer the mixture to the baking dish and spread in an even layer. Add the pecans, melted butter and maple syrup to a bowl and stir to combine, then spread in a thin layer over the potato mixture.
Set in an oven preheated to 350 degrees and bake for about 35 minutes or until the mixture has set and is slightly pulling away from the sides of the dish.
Remove from oven and place the marshmallows evenly on the top. Turn the oven to broil and return the dish to the oven. Broil for 30 to 60 seconds or until the marshmallows are lightly browned and puffy.
Remove from oven and serve.
Sheet-Pan Roasted Vegetables
4 large carrots, peeled and cut into sticks
1 lb small white or red potatoes
4 large parsnips, peeled and cut into sticks
7 oz container small white boiling onions, peeled
1/4 cup fresh cranberries
2 tsp herb mix, such as Herbs of Provence
Combine the vegetables and cranberries in a large bowl and drizzle with olive oil. Sprinkle on the herb mix, salt and pepper and then toss well to combine.
Line a baking sheet with parchment paper.
Transfer the veggie mix to the baking sheet in a single layer. Place in the oven and roast for about 30 minutes or until the the vegetables begin to brown and are slightly softened.