L ast week I drove my oldest son and his new girlfriend to Boston so she could catch a bus back home to Bangor, Maine.
It was a brutally hot and humid day and traffic heading to South Station was bumper to bumper and virtually at a standstill. To add to the traffic misery, the GPS on my car started telling me to take a left in the middle of a tunnel where there was no left to take. Naturally, our cell phone signals disappeared just as the GPS went crazy and we ended up heading the wrong way.
When we finally got to South Station, the bus my son's girlfriend was supposed to be on was already five minutes down the road. Luckily, another bus was heading to Bangor about 2 1/2 hours later, so we had some extra time on our hands.
After all the stressful driving, I was thrilled when I realized we were just a couple of blocks away from Boston's Chinatown, so we decided to hunt down some bubble teas and do some exploring.
We stumbled upon an Asian grocery store and went in. It was quite large and had a seafood counter, frozen foods, a large produce section and aisles and aisles of interesting noodles, seasonings, cooking gadgets, vinegars and just about anything else you would need to whip up your favorite Asian dishes.
Of course, all the packages were in different languages and I had no idea what half the stuff was or what to do with it. No matter though — when it comes to cooking supplies, I can always find something to put to use.
I was particularly drawn to the vinegars. I picked up a couple of different black vinegars to add to my burgeoning collection.
I also couldn't resist picking up a couple of packages of fresh, thick Udon noodles and some soba noodles made from oat flour.
From the produce section, I grabbed a green papaya and some Japanese eggplant. The kids hit the candy and snack section and found some interesting treats.
The new vinegars were a good purchase; I used them in a dressing for a green papaya salad. The salad was made with julienned carrots and cucumber, then garnished with basil and crushed peanuts. Next time I make it, I plan to let the salad stand for at least an hour to let the vegetables soak up the dressing.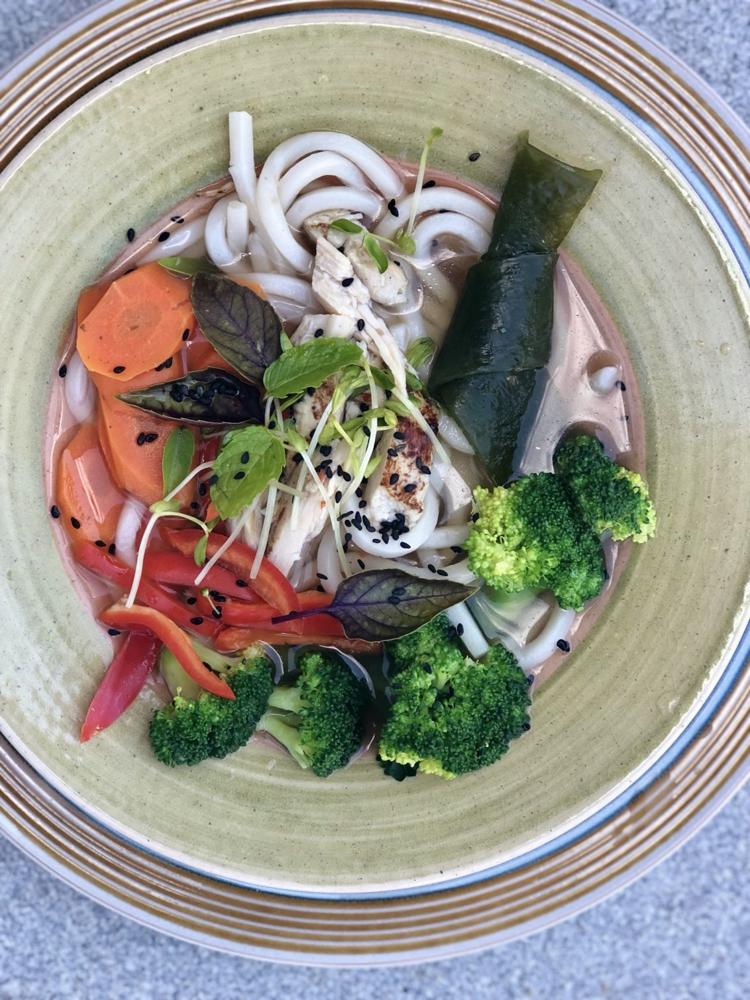 The udon noodles came in handy when I was pressed to get a quick dinner together. I used a container of ramen-style ginger chicken broth to simmer a few pieces of kelp, then added the noodles and some vegetables. The whole dish took less than 10 minutes to make and was quite tasty (and healthy too).
The soba noodles were excellent dressed with a peanut sauce and tossed with some crunchy purple cabbage and shredded carrots, so those were also a good purchase.
Despite the stressful drive, the afternoon was delightful and offered some unexpected (and tasty) fun.
1 medium green papaya, julienned
3 large carrots, peeled and julienned
3 small seedless cucumbers, julienned
1 bell pepper, seeded and julienned
1/2 tbsp Tamari or soy sauce
1/2 tbsp liquid aminos, such as Bragg's
2 tbsp fresh Thai basil, chopped
2 tbsp fresh mint, chopped
2 tbsp peanuts, crushed, if desired for garnish
Add the papaya, carrot, cucumber and bell pepper to a bowl.
Add the shallot, garlic, lime juice, black vinegar, fish sauce, Tamari sauce, aminos, chili paste, honey and rice vinegar to a lidded container and shake well to combine.
Pour the dressing over the vegetables, then add the sesame seeds. Toss gently to combine. Refrigerate for at least an hour.
Garnish with peanuts, mint and basil before serving.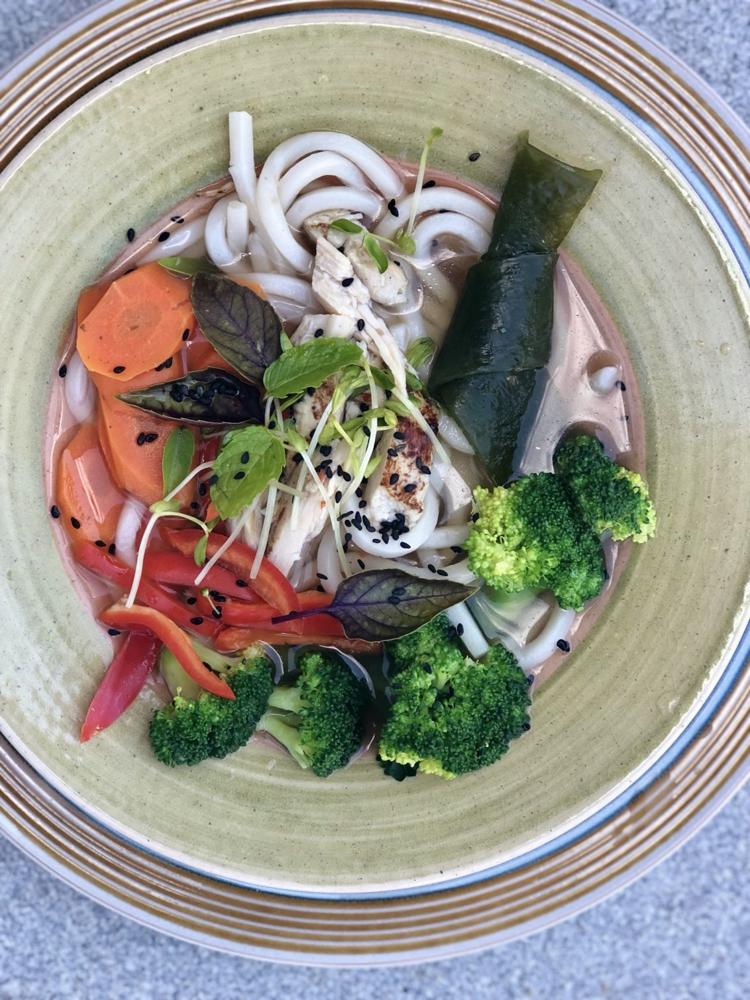 Cold Soba Noodles with Peanut Sauce
13 oz package oat flour soba noodles (or whole wheat)
1 1/2 cups broccoli florets
2 carrots, peeled and grated
3/4 cup purple cabbage, shredded
3/4 cup red bell pepper, diced
3 tbsp Tamari or soy sauce
2 tbsp sweetened black vinegar
2 tbsp Thai basil, for garnish, if desired
Cook the noodles according to package directions; drain and rinse with cold water then transfer to a large bowl.
Add the carrot, purple cabbage and bell peppers and stir to combine.
In a lidded container, combine the peanut butter, Tamari sauce, rice vinegar, black vinegar, sesame oil, garlic, honey, chili paste and water. Cover and shake well to combine.
Pour the sauce over the noodles, add the crushed peanuts and mix well.
Garnish with basil, if desired, before serving.
Udon Noodle Bowl with Kelp
1 lb package fresh udon noodles
1 1/2 cups carrots, peeled and sliced
1 1/2 cups broccoli florets
1 cup red bell pepper, sliced
1 1/2 cups rotisserie chicken, shredded
2 (16 oz) containers soy ginger chicken broth
1/4 cup sprouts, for garnish, if desired
Add the broth and kelp to a large pot and set over medium high heat. Bring to a boil, then add the udon noodles and simmer for about 3 minutes.
Add the carrots, broccoli, pepper and chicken and cook for an additional 3 minutes, then remove from heat.
To serve, transfer to a bowl and garnish with sesame seeds, sprouts and basil.