On Thanksgiving, millions of kitchens across the country will be bustling with last-minute meal preparations, pots of boiling potatoes, turkeys roasting in the oven and tables set with special plates and napkins.
But the real challenge comes when dinner is over and it's time to figure out how to cram all the leftovers in the fridge and what else to make with all those extra Thanksgiving Day dishes.
A Harris poll conducted in 2015 revealed that many people enjoyed eating the leftovers from Thanksgiving more than the meal itself. The poll found that nearly eight in ten adults agree having a fridge full of leftovers is the best thing about hosting Thanksgiving. This could explain why seven out of 10 people polled said they'd rather cook Thanksgiving dinner than eat in a restaurant.
We typically host Thanksgiving every year, although a couple of years ago I decided to take a break from cooking and hosting and we headed to the Seacoast for the long holiday weekend and enjoyed our turkey dinner in an upscale restaurant. Although it was a wonderful weekend, it felt a little sad to return home and realize there was no leftover turkey and stuffing in the fridge. I ended up making a turkey anyway, although this time it was a much more relaxed situation.
Over the years, I've tried to get creative with crafting Thanksgiving leftovers into other interesting meals. I tend to buy the biggest turkey I can find so they'll be plenty of meat left to enjoy during the week, but after a couple of days of turkey sandwiches, it seems everyone loses interest in them. This is when it's time to find new ways to put those leftovers to use.
One quick solution is to pack leftover stuffing in the bottom of a casserole dish, then layer it with turkey and whatever vegetables you have. Once you have that accomplished, you can top it off with an egg batter and a little cheese and bake it in the oven and you have a turkey-stuffing casserole.
Turkey soup is another great dish to make when you're trying to use those last few cups of roast turkey and those extra, stray vegetables hanging around in the fridge. Instead of making a basic broth-based soup, try making a lentil soup and adding in the leftover turkey. The lentils add some extra protein to the soup and it's a thick and hearty creation to enjoy at the end of a chilly afternoon of putting up Christmas decorations.
Finally, if you have spare puff pastry, you can it put to use by making an open-faced turkey pie kind of a thing (like a fruit galette but with turkey and gravy instead of fruit). This is an easy dish to throw together and is also great if you have to serve a crowd because you can cut it into wedges and set it out on platters. A few dollops of cranberry sauce on top before serving can make it extra festive.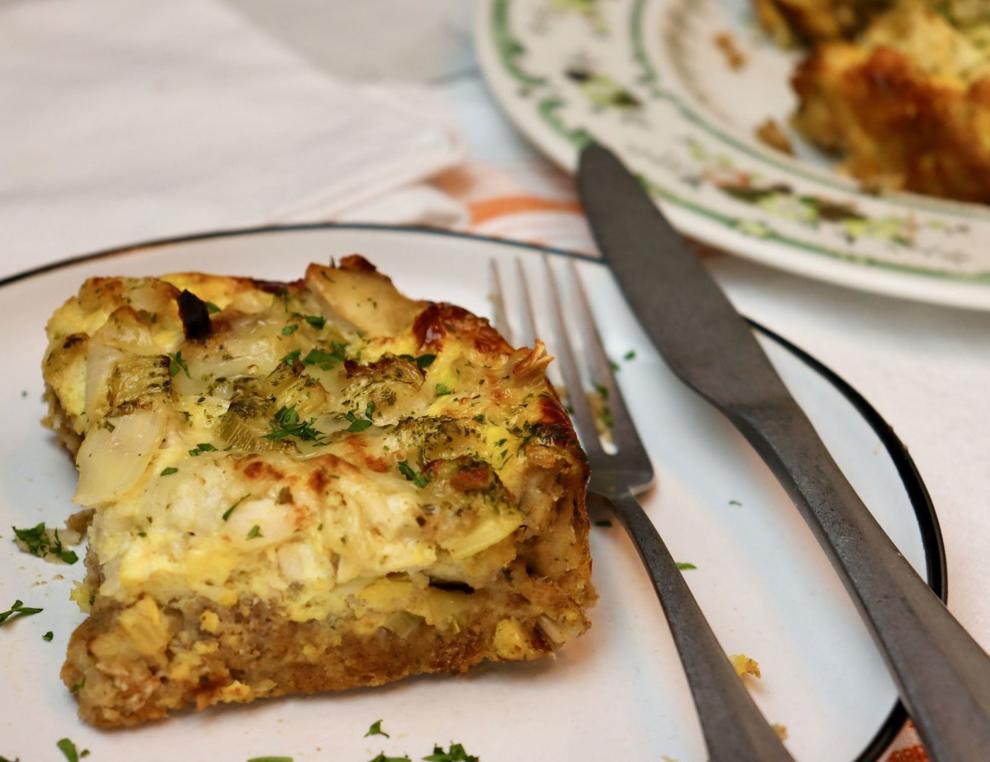 Turkey and Stuffing Casserole
4 cups prepared stuffing
1 large sweet onion, chopped
10 oz package frozen vegetables, such as cauliflower and broccoli mix, thawed
4 cups cooked turkey, shredded
10 eggs, beaten
1 1/2 cups shredded cheddar cheese
parsley for garnish, if desired
Spray an 9x13-inch baking dish with cooking spray and add the stuffing. Spread the stuffing in an even layer.
Combine the onion, thawed vegetables and turkey in a large bowl and stir to combine. Spread the mixture in an even layer over the stuffing. Pour the egg mixture over the top, then spread with cheddar cheese.
Set in an oven preheated to 350 degrees F and bake for 30 to 40 minutes or until the egg is set and the cheese is melted.
Garnish with fresh parsley before serving, if desired.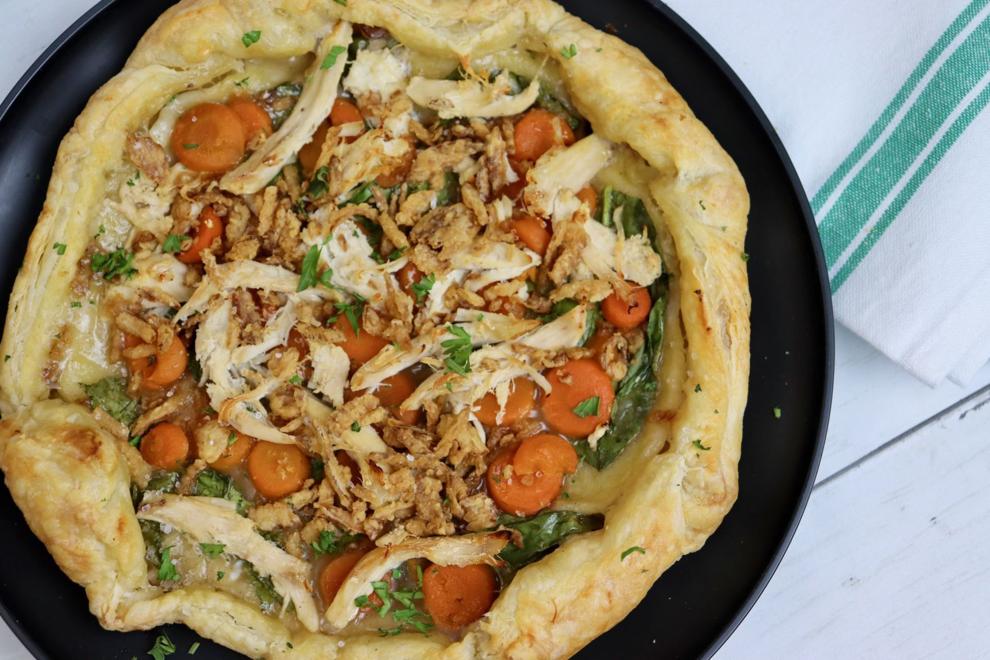 Open Faced Turkey Pie
17 oz package puff pastry sheets, thawed
2 cups gravy
2 cups fresh spinach
1 1/2 cups carrots, cooked and sliced
3 cups cooked turkey
3 slices bacon, cooked and chopped
1 1/2 cups french fried onions
1 cup canned cranberry sauce
2 tbsp fresh parsley, if desired, for garnish
Line two baking sheets with parchment paper. Set a sheet of puff pastry on each pan.
Working on one sheet at a time, trim the corners of the pastry to create a circle shape. Discard the unused dough. Spread one cup of gravy on each pastry sheet, leaving about 1 1/2 inch border.
Divide the spinach in half and layer over the gravy. Divide the carrots in half and layer over the spinach. Divide the turkey in half and layer over the carrots, then sprinkle half the chopped bacon on top of the turkey.
Spread half the french fried onions over the top.
Gently fold the borders of each pastry dough over the edge of the fillings to form a rim. Set in an oven preheated to 350 degrees and bake for about 20 minutes, or until the dough is light golden brown and slightly puffy.
Remove from oven and dot with cranberry sauce and top with parsley before serving.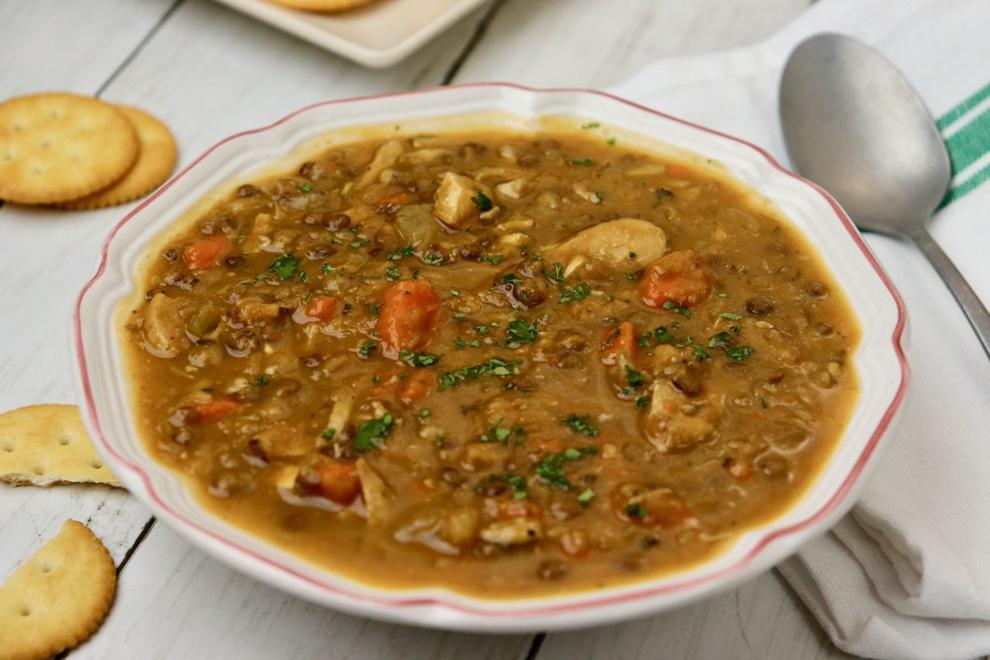 Turkey Lentil Soup
1 tbsp olive oil
1 large, sweet onion, peeled and chopped
3 cups carrots, peeled and diced
3 stalks celery, chopped
1 1/2 cups lentils
6 cups chicken or turkey broth
2 cups cooked turkey, chopped
3 tsp curry powder
1 tsp turmeric
1 1/2 tsp Kosher salt
1 tsp fresh ground black pepper
Add the olive oil to a stock pot and set over medium high heat. When the oil is warmed, add the onion, carrots and celery and sauté until softened, about 7 minutes.
Stir in the remaining ingredients and bring to a boil, then reduce the heat to medium to medium low and simmer for 30 to 35 minutes or until the lentils are cooked throughout and the soup is sightly thickened.
Adjust seasonings to suit your taste.