W hen I was a kid, I would cringe when I saw cabbage on the dinner table. It was usually mushy and served with a boiled dinner of some sort. I would move it around my plate with my fork instead of eating it, much to my mother's dismay.
Times have certainly changed.
These days, cabbage is pretty much a staple item in my refrigerator, especially red cabbage. I make salad a few times a week and like to mix shaved cabbage in with the greens to add crunch and a boost of color.
I also love to roast cabbage in the oven. I greased a baking sheet with duck fat I found at the market a couple of weeks ago before placing red and green cabbage wedges on it. I brushed the wedges with olive oil and seasoned them with salt and pepper, then stuck it in the oven to roast. The duck fat gave the dish a rich, delicious flavor.
Another great way to put a head of cabbage to use is to shred it and sauté it with chopped bacon.
Thick-cut, applewood-smoked bacon works well sautéed with the onions and cabbage.
To add a nice tang, you can drizzle some apple cider vinegar on top at the end.
I recently made stuffed cabbage, too. To make the leaves easier to fill and wrap, I soaked them briefly in hot water to soften them before filling. I then filled them with rice, chicken apple sausage, fire-roasted tomatoes, garlic and onions.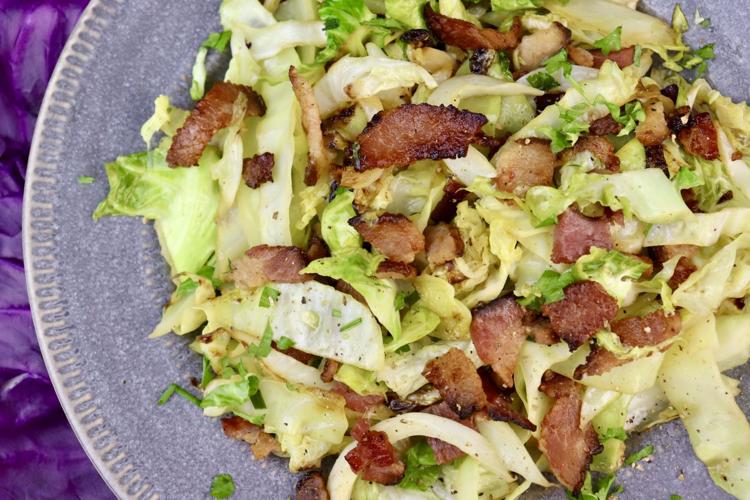 Bacon, Onion & Cabbage Saute
1 small head green or Savoy cabbage, shredded
1 medium sweet onion, halved and sliced
1/2 pound thick-cut, applewood smoked bacon, chopped
1 teaspoon fresh ground pepper
2 tablespoons apple cider vinegar
Add bacon to a sauté pan and set over medium-high heat. Cook bacon until it is browned, stirring frequently.
Add the onions and cabbage and sauté, stirring frequently, 5 to 7 minutes or until they start to slightly brown. Drizzle the vinegar over the cabbage, season with salt and pepper, and cook for an additional minute, stirring well to distribute the vinegar. Remove from heat and serve.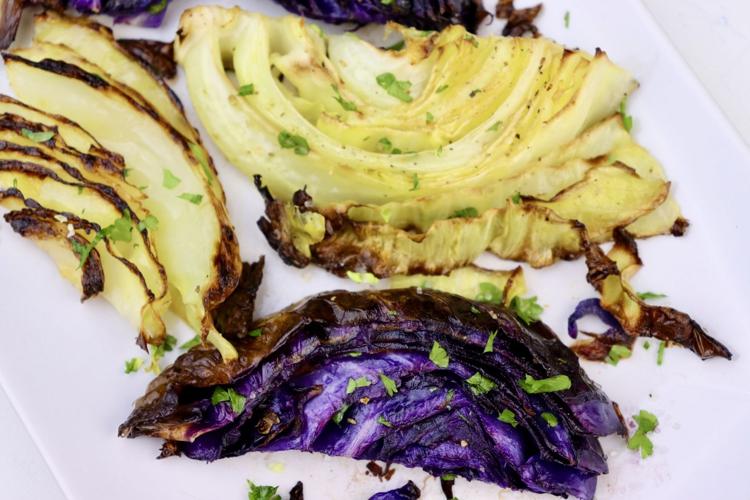 1/2 head red cabbage, cut into 1 1/2-inch think wedges
1/2 head green cabbage, cut into 1 1/2-inch thick wedges
2 tablespoons duck fat (you can substitute coconut oil)
2 teaspoons fresh ground pepper
1 tablespoon fresh parsley, chopped
Place the duck fat or coconut oil on a rimmed baking sheet; spread to coat the sheet. Arrange the cabbage wedges on the baking sheet.
Add the olive oil to a small bowl and use a brush to generously brush the cabbage wedges, then season with salt and pepper.
Set in an oven preheated to 400 degrees and roast for 15 minutes, or until the cabbage begins to brown. Remove from oven and top with lemon juice and parsley before serving.
Sausage Stuffed Cabbage Rolls
12-ounce package chicken apple sausage (or sausage of your choice), chopped
14.5-ounce can diced fire roasted tomatoes
1 sweet white onion, chopped
1 medium zucchini, chopped
2 cups white or brown rice, cooked
2 teaspoons Kosher salt, divided
1/2 teaspoon black pepper
1 head Savoy or green cabbage
2 tablespoons butter, melted
Gently remove 8 to 10 outer leaves from the cabbage and use a paring knife to remove the hard triangular rib at the base of each leaf.
Set the leaves in a shallow bowl and cover with hot water; let the leaves soak for 3 to 5 minutes, or until they have softened slightly. Drain and set aside.
Chop enough of the remaining cabbage to equal about a cup. Add the olive oil to a sauté pan and set over medium-high heat. When the oil is warmed, add the garlic, onions, sausage, chopped cabbage and zucchini. Cook for several minutes, stirring frequently, until the sausage and vegetables are lightly browned.
Lower the heat to medium and add the tomatoes, rice, chicken broth, pepper and one teaspoon of the Kosher salt and combine. Simmer for about 5 minutes, then remove from heat.
Set a cabbage leaf on a clean workspace and add about 1/2 cup of filling (more or less depending on the size of your leaf). Tuck one side of the leaf around the filling and gently roll to wrap the leaf over the filling (you can use a toothpick to hold the leaf in place if needed).
Set the cabbage roll in a baking dish and repeat with remaining leaves. Generously brush the tops of the cabbage with melted butter and season with remaining salt.
Set the dish in an oven preheated to 375 degrees and bake for 20 minutes, or until the cabbage rolls are slightly browned.