This is the season for holiday gatherings, office parties and other festive occasions that call for snacks and appetizers, so if you're looking for a few ideas, read on.
If you want to offer a snack that is substantial and easy for guests to eat, try chicken peanut skewers.
Marinade the chicken in an easy-to-make sauce, then thread it onto bamboo skewers before cooking. I cooked the skewers on an electric tabletop grill, which made cooking a cinch. You can serve the skewers with an extra side of peanut sauce and add a little chili paste for guests who like it spicy.
If you need something on hand that you can whip up in no time during the holiday season, stock up on fresh chicken meatballs, maple bacon jam and cocktail sticks.
If guests drop by at the last minute, all you have to do is spoon the jam over the meatballs and stick them in the oven.
When they're done cooking, arrange them on a platter and insert cocktail sticks. Voila!
The jam adds just the right amount of sweet and savory flavor, and a sophisticated touch.
If you're looking for something simple for your guests to munch on, a platter of fresh vegetables served alongside a tangy, homemade dip is an excellent choice.
The dip can be spooned into a round bread with the middle hollowed out and you can cut up the extra pieces of bread into cubes for dipping. The bright, fresh flavors of the vegetable dip will keep guests happily snacking through any holiday gathering.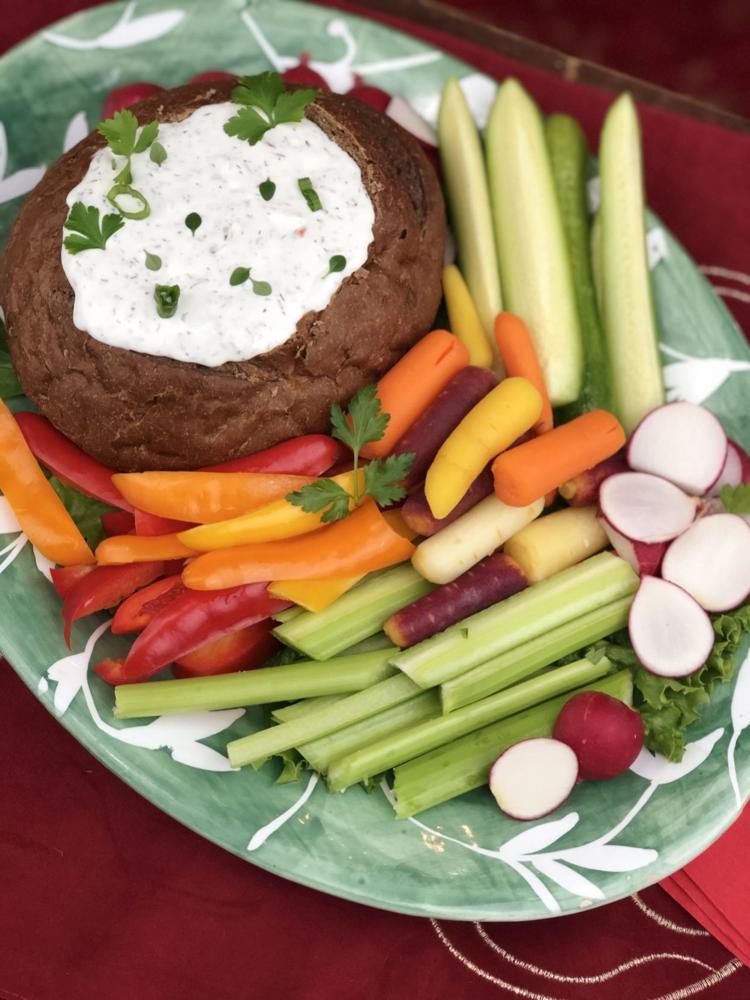 Lemon and Dill Yogurt Dip
1 cup plain Greek style yogurt
1/2 teaspoon black pepper
1/2 teaspoon onion powder
1 teaspoon fresh grated lemon
1 teaspoon red wine vinegar
1 1/2 teaspoons shallot, minced
2 teaspoons fresh parsley, minced
12-ounce round bread loaf, top removed and hollowed out
Assorted fresh vegetables for dipping
Whisk together ingredients in a large bowl. Place in refrigerator for 30 minutes before serving to allow flavor to develop.
To serve, spoon the dip into the hollowed-out bread bowl, accompanied by fresh vegetables.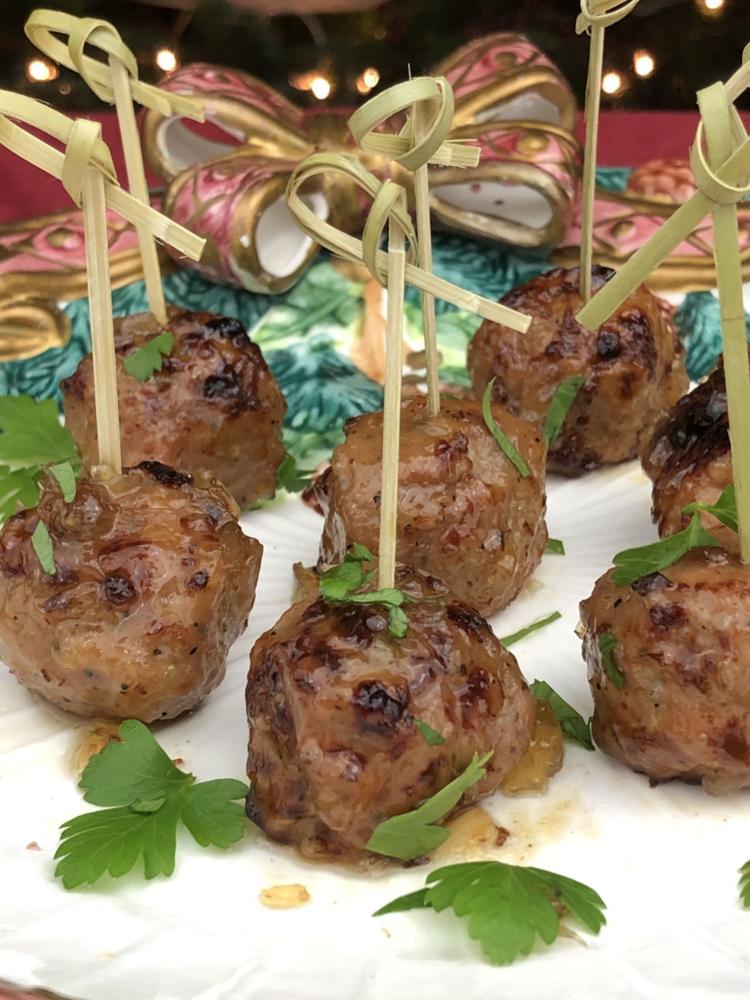 Maple, Bacon & Onion Chicken Meatballs
2 (12-ounce) packages fresh chicken meatballs
11-ounce container of maple, bacon and onion jam (I use jam made by Stonewall Kitchen)
Add jam and meatballs to large bowl. Stir gently to coat the meatballs. Line a baking sheet with aluminum foil and spray it lightly with cooking spray. Place meatballs on the baking sheet and set in an oven preheated to 375 degrees.
Bake for 10 to 12 minutes or until meatballs are heated throughout. Transfer to a tray; serve with cocktail sticks or toothpicks.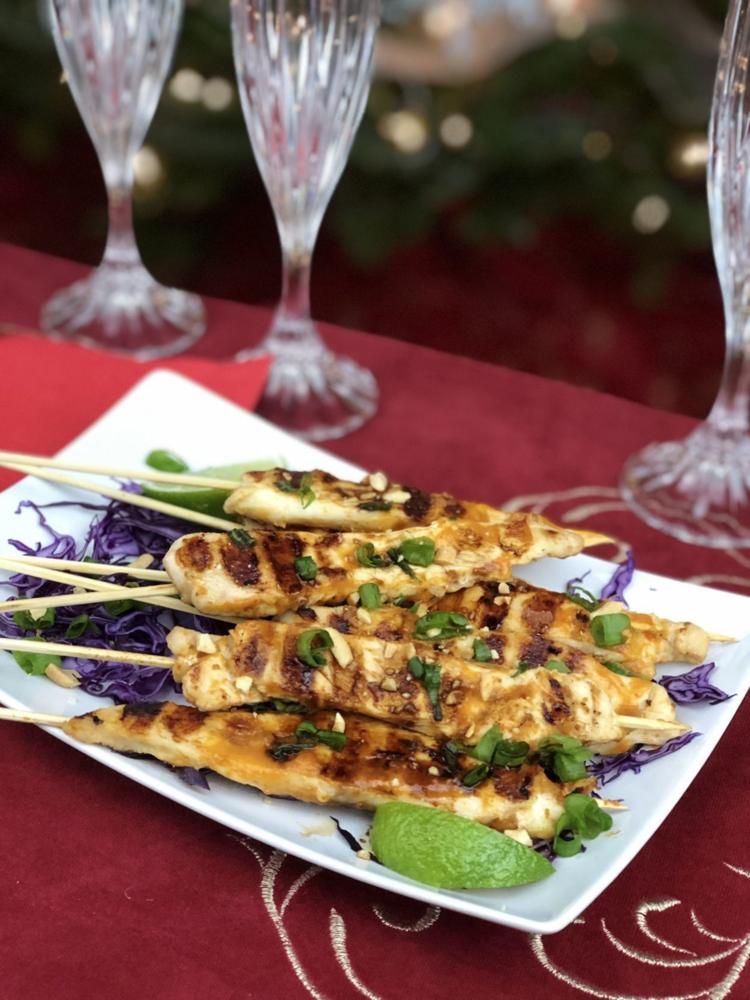 Peanut Chicken Skewers
1 1/2 pounds boneless, skinless chicken breast cut into 1-inch strips
1 1/2 tablespoons tamari sauce
2 tablespoons fresh lime juice
1/2 teaspoon rice vinegar
1 teaspoon fresh ginger, minced
1/2 cup chunky peanut butter
1/2 tablespoon fish sauce
2 tablespoons chicken stock
1/4 cup green onion, chopped, for garnish if desired
Add chicken to a large bowl; add sesame oil and garlic. Toss to coat and set aside. In a medium bowl, combine remaining ingredients.
Thread each piece of chicken onto a bamboo skewer, then coat each piece with the peanut sauce.
Heat up an electric grill. Cook chicken for 7 to 10 minutes or until chicken is cooked throughout. Remove from grill and brush with additional peanut sauce, if desired.
Garnish with green onion before serving.