J ANUARY IS National Oatmeal Month, making it a perfect time to celebrate the beloved breakfast food. Oatmeal is great on a cold winter morning when you have a full day ahead.
It's filing and nutritious and can be customized with mix-ins like fresh berries, raisins, brown sugar and cinnamon.
It can also be used in dozens of other ways, too. Stir some oats into ground meat as a filler for meatloaf, or use ground oats as a flour to make bread. It's also a go-to topping for a fruit crisp or combine oats with peanut butter for no-bake cookies.
When my boys were younger I would often make oatmeal in the slow cooker so they would have a warm breakfast waiting for them when they got up (and this also scored me an extra half hour of sleep).
But I always made too much and would have leftovers I didn't know what to do with.
I figured out that you can spread the leftovers in a dish and refrigerate.
When you're ready to make another breakfast, or whip up a quick snack, you can cut the oatmeal into pieces, and fry it up ala French toast.
My kids liked it even better than the slow cooker oatmeal version.
You can also try baking your oatmeal.
Add your favorite mix-ins, such as raisins, chopped apples or chopped pears. It's great served with jam or with a fruit sauce. Add nuts to the oatmeal for a nutritional boost.
You can also use oatmeal to make filled squares. Just choose the jam or jelly of your choice for the filling.
I had apricot jelly hanging around and some dried apricots in the pantry so I mixed them together and spread them over an easy mix of old-fashioned oats, flour, brown sugar and butter.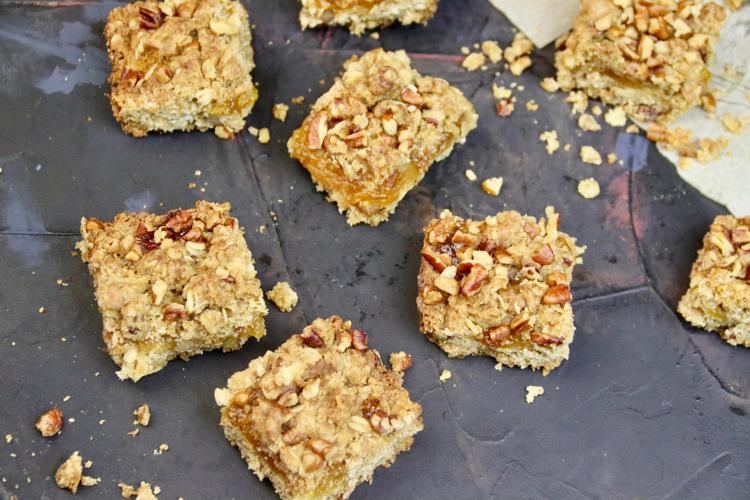 2 cups old-fashioned oats
1/2 cup dried apricots, chopped
Line an 8 x 11-inch baking sheet with parchment paper and lightly spray with cooking spray. Set aside.
Add the jam and chopped apricots to a bowl and mix well, then set aside.
Add the oats, flour, cinnamon, baking soda, brown sugar and walnuts to a large bowl and stir together. Add the butter and egg and stir well.
Add half the mixture to the baking dish and use a spatula to press the mixture into an even layer in the baking dish.
Spread apricot jam over the oat mixture leaving about 1/2-inch border around the edge. Spread remaining oat mixture on top and set in an oven preheated to 350 degrees.
Bake for 30 to 35 minutes or until the top is lightly golden brown. Remove from oven and allow to cool completely, about 1 1/2 hours. Slice into squares, and serve.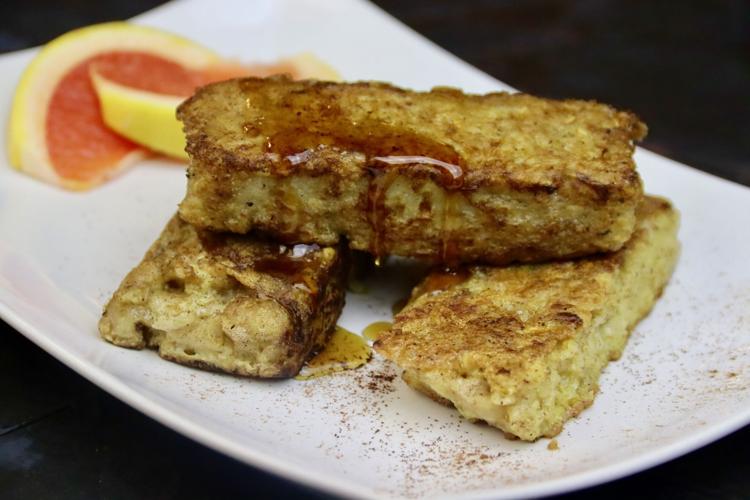 French Toast Oatmeal Sticks
2 1/4 cups old-fashioned oats
1 cup milk, divided (regular or plant-based)
3/4 cup regular or gluten free flour
3 to 4 tablespoons butter, for frying
Maple syrup, if desired, for serving
Add water, 3/4 cup of the milk, salt, cinnamon and oats to a saucepan and set over medium-high heat.
Bring to a boil, then lower heat to medium and simmer until the liquid is absorbed and the oats are softened, about 12 minutes.
Remove from heat and transfer to an 8x11 baking dish lightly coated with cooking spray. Spread into an even layer and put it in the refrigerator to cool and set for at least two hours (overnight is best).
Remove from refrigerator and cut into rectangles about 2 inches wide and 6 inches long.
Add the eggs to a shallow bowl; add vanilla and remaining milk. Whisk the eggs, milk and vanilla together. Add flour to a separate shallow bowl.
Add a tablespoon of the butter to a skillet and set over medium heat. When the butter is melted, dredge an oatmeal piece in the flour, then dip in the egg and set in the skillet.
Repeat with 2 to 3 more pieces of oatmeal, depending on your skillet size. Cook on each side for about 3 minutes, or until lightly golden brown. Repeat with remaining oatmeal. Serve with maple syrup, if desired.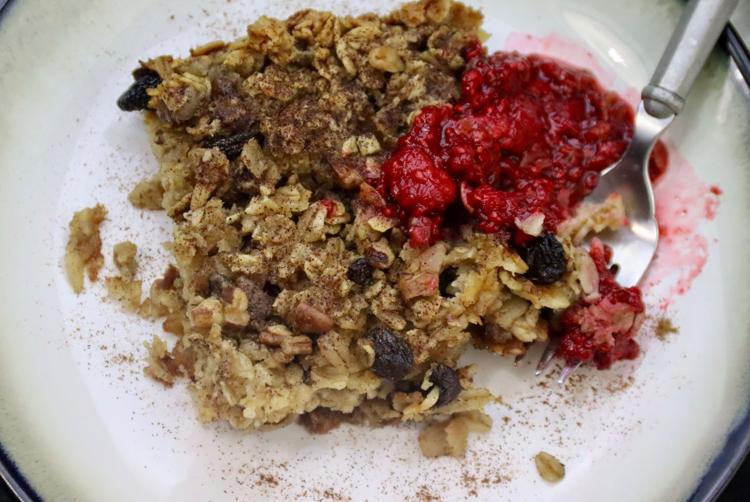 Baked Cinnamon Pecan & Raisin Oatmeal
3 cups old-fashioned oats
1 cup regular whole milk or coconut milk
Add oats, brown sugar, cinnamon, salt and baking soda to a large bowl and stir together. In a separate bowl, whisk together the eggs, milk and butter. Stir the wet ingredients into the dry ingredients and combine well. Stir in pecans and raisins.
Lightly spray a 9-inch square baking dish with cooking spray and spread the oatmeal evenly in the dish.
Set in an oven preheated to 350 degrees and bake for 35 to 40 minutes or until top of the oatmeal is light golden brown. Serve with raspberry sauce, if desired (recipe follows).
Raspberry Sauce
Add ingredients to saucepan and set over medium-high heat. Simmer for 7 to 10 minutes or until raspberries are heated and sugar is dissolved.