T he holiday season is in full swing, which means more time visiting with friends and family. But no one wants to be stuck in the kitchen cooking when guests come over, especially when it is a last-minute get-together.
Putting together snacks to offer guests on the fly can be a challenge in these situations, but don't fret — get out your air fryer and try a few recipes that will wow your friends and family.
I recently fell back in love with my air fryer when I discovered you can purchase silicone liners and baskets that make cleanup much easier. The silicone baskets also mean you can make dishes such as oatmeal and soups in your air fryer.
Countertop air fryers have surged in popularity over the past couple of years — some industry studies say that almost 40% of American homes now have one. Air fryers are basically mini-convection ovens that blow hot air around the food to cook it. This means you can get a fried-food effect without using loads of fats and oils, which also makes air-fryer food a healthier option.
I used my air fryer to turn store-bought biscuit dough into a fast batch of doughnuts last weekend when my sons had friends over.
You cut a circle out of the center of the biscuit dough and put it in the air fryer. When they're done, you brush the rings with butter then dip them in cinnamon sugar and voila — you have a platter of fresh, warm, delicious doughnuts. (Save the centers that you cut out and turn them into doughnut holes — just cut back on the cooking time.)
Speaking of sweet things, if you want a small batch of fresh, warm, gooey cookies in a flash, your air fryer can make that happen, too.
Once in a while I'll make salted caramel and chocolate chunk cookie dough and keep it in the fridge. So if a cookie craving kicks in, in just a few minutes you can have a delicious cookie with a slightly crispy outside with a warm and gooey center.
On the savory side, if you have a box of macaroni and cheese kicking around in the pantry, you can make mac and cheese bites in the air fryer. In no time at all, you'll have a deliciously addictive appetizer to share.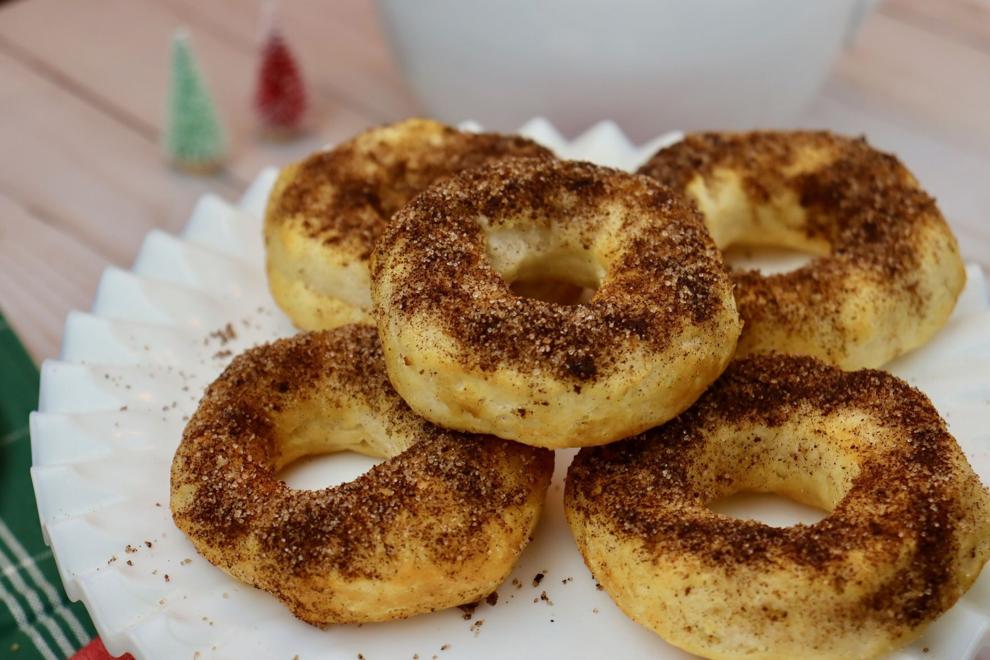 Air Fryer Mac & Cheese Bites
16-ounce package macaroni and cheese (you can also give pesto or another flavored option a try)
1 1/2 cups mozzarella cheese
1/2 teaspoon black pepper
Cooking or coconut oil spray
Prepare the macaroni and cheese according to package directions, then transfer to the refrigerator to chill for at least an hour.
Remove chilled macaroni and cheese from the refrigerator, add the mozzarella cheese and stir to combine.
Set up a three-bowl dredging station: Combine the flour, paprika, salt and pepper in the first bowl. Beat the eggs in the second. Put the panko in the third.
Form the macaroni and cheese into golf-ball sized balls by pressing together firmly. Place the balls on a wax paper-lined baking sheet.
Dredge each ball in the flour mixture, then dip in the beaten egg then dredge in the panko, coating thoroughly.
Preheat the air fryer to 350 degrees.
Set the coated balls in the basket of an air fryer sprayed with cooking oil. Place as many balls in the basket as can fit, leaving a little space between each.
Spray the macaroni and cheese balls with additional cooking spray and cook for 8 to 9 minutes.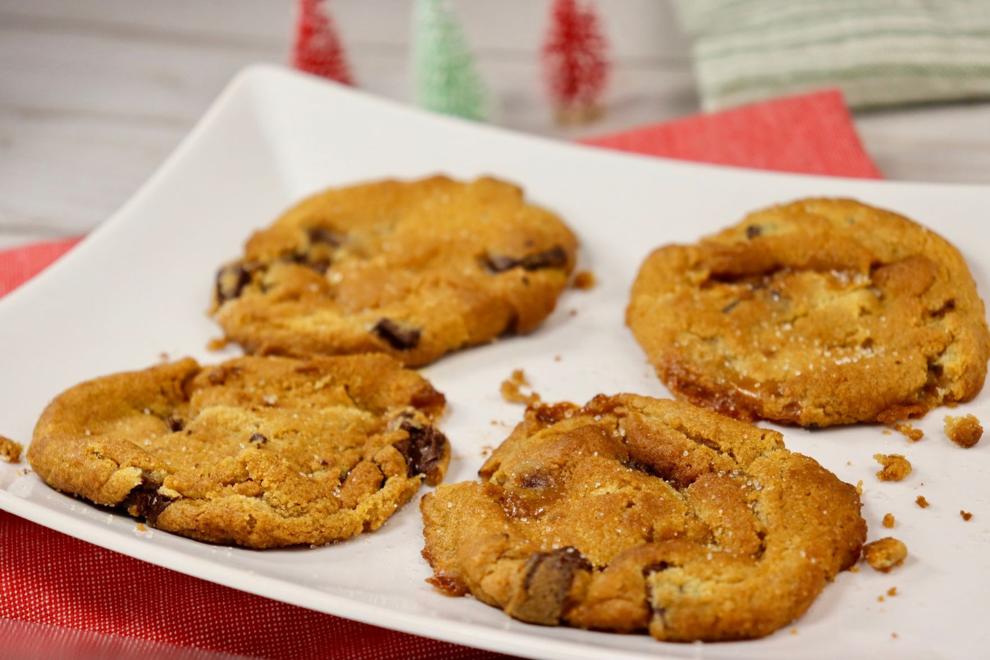 Air Fryer Cinnamon Doughnuts
16-ounce package biscuit dough
3 tablespoons butter, melted
1/2 cup white or brown sugar
Remove biscuit dough from the package and transfer to a clean workspace.
Use a paring knife to cut a small circle from the center of each biscuit.
Preheat an air fryer to 350 degrees by letting it run for 2 to 3 minutes. Once the air fryer is heated, lightly spray the bottom of the air fryer basket with cooking spray and set 4 to 5 biscuits in the basket, making sure to leave space in between each biscuit.
Set the air fryer to run at 350 degrees for 5 minutes. At the 3-minute mark, open the air fryer and turn each biscuit over. Cook for additional 2 minutes.
While the doughnuts are cooking, add the cinnamon and sugar to a small bowl and mix together.
When the doughnuts are done, generously brush each with butter then top with the sugar and cinnamon mixture.
Air Fryer Chocolate Chip Salted Caramel Cookies
2 sticks butter, softened
1 cup chocolate chunks or chocolate chips
Combine the flour, baking powder, baking soda and salt in a bowl.
Add the brown sugar and butter to a separate bowl and use an electric mixer to cream together. Beat in the eggs one at a time, then beat in the vanilla.
Add the flour mixture to the butter and sugar mixture and stir well to combine.
Stir in the chocolate chunks and caramel bits.
Transfer to a lidded plastic container and place in the refrigerator to chill for at least an hour.
When ready to bake, preheat an air fryer to 350 degrees.
Line the bottom of the air fryer basket with a silicone mat (or cut a piece of parchment paper to fit the basket and poke several holes in the paper to allow the air to circulate).
Use a cookie dough scoop or a tablespoon to form the dough into balls a little smaller than a golf ball. Set the dough balls on the silicone mat, allowing a couple of inches for the cookie to spread.
Cook for 5 to 6 minutes at 350 degrees, or until the cookies are golden brown. Remove from the fryer and cool on wire rack for 10 to 15 minutes before serving.