T he holidays can be hectic and stressful, especially with the current spike in the cost of food and other goods. Supply-chain shortages and shipping delays are also making gift-giving this year particularly difficult, with some items selling out or not being expected to arrive until after Christmas.
So, many are instead giving treats they've made themselves. I put together a few favorites you can give as gifts or make holiday entertaining a little easier.
This week's recipes don't even require cracking an egg or getting out the electric mixer, and cleanup is minimal.
One of my favorite new things to make is peppermint bowls made from peppermint candy shaped and melted in the oven.
I shaped some into bowls and filled them with the soft peppermint candies (my favorite) and chocolate peppermints.
Another fun way to use peppermint candy bowls is to use them to serve ice cream (peppermint stick, of course).
Here's a gift idea: you can load the bowls up with Christmas cookies and tuck them into a plastic treat bag with a cute gift tag. You could also stack several bowls together, set a jar of hot fudge and some ice cream toppings inside and wrap everything together for a fun gift.
Another no-bake treat that's easy to put together is eggnog truffle bites made from golden Oreos. You turn the Oreos into a fine crumb and mix them with cream cheese, eggnog, nutmeg and cinnamon. You then roll the dough into balls and coat them with powdered sugar. If you want to make them more decadent, skip the powdered sugar and dip the balls in melted white chocolate instead.
You can also swap out the golden Oreos for other flavors such as chocolate and peanut butter and skip adding the eggnog. You'll still get a tasty, no-bake dough you can dip in chocolate or top with powdered sugar. These are great as gifts or look elegant on a tray served at a holiday get-together.
I also turned sugar cones into Christmas trees. You coat the cones with green candy melts or white chocolate tinted green with food coloring, then use green frosting to create ruffles that mimic the texture of a Christmas tree.
A little powdered sugar sprinkled over the top gives the trees an authentic look and candy pearls mimic ornaments that make the sweet trees look more festive. I made some this year to flank the gingerbread house my son made and they look adorable. To give them as gifts, frost each tree on a small white plate.
You can set the tree on a piece of clear plastic and pull the sides up like you're wrapping a basket. Carefully twist the top together and secure with wired twist tie, add a bow and you'll have a tasty gift.
10-ounce bag round peppermint hard candies
1 small bowl, about 6 inches wide.
Line a baking sheet with parchment paper. Set a small bowl upside down on a piece of waxed paper.
Remove any wrappers from the peppermint. Set a piece of peppermint in the center of the baking sheet, then place 4 pieces of peppermint around it, building a solid circle shape.
Continue to add peppermints to form a solid circle slightly smaller than the bowl you are using (the peppermints will spread slightly as they melt). Set the baking sheet in an oven preheated to 350 degrees for about 6 minutes or until the mints have melted into a flat circle.
Remove from oven and slide the parchment sheet onto the counter. Allow to cool for 1 to 2 minutes so that the peppermint is still warm and flexible but cool enough to touch. Peel the peppermint from the baking sheet and drape it over the upside-down bowl, pressing gently to form a bowl shape.
Cool for about 15 minutes, then gently remove the molded peppermint from bowl.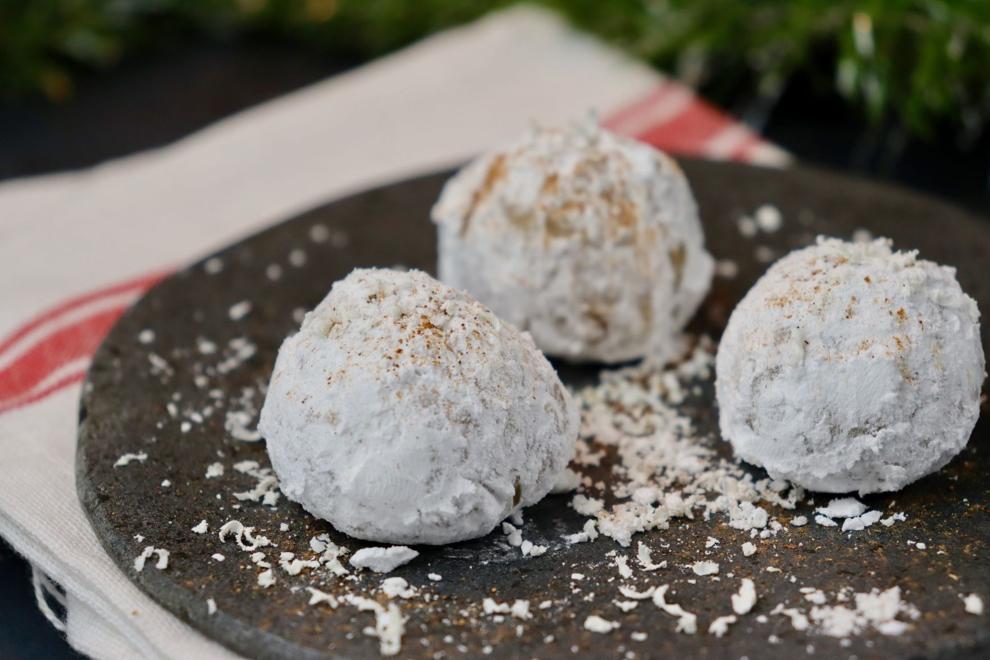 Oreo Cookie Eggnog Truffle Bites
16-ounce package Golden Oreos
8-ounce package cream cheese, softened
2 teaspoons nutmeg, divided
Line a baking sheet with waxed paper and set aside.
Add the Oreos to a large plastic zip close bag. Use a rolling pin to break the cookies into smaller pieces. Add the Oreos in batches to a food processor and process into fine crumbs.
Transfer to a large bowl and add the cream cheese, eggnog, cinnamon and 1 teaspoon of the nutmeg and mix until well blended. Add the powdered sugar to a medium bowl.
Roll the dough into balls about 2 inches in diameter, then dredge each ball in powdered sugar and place on the waxed paper. Repeat with remaining dough. Use the remaining teaspoon of nutmeg to sprinkle over the balls as garnish.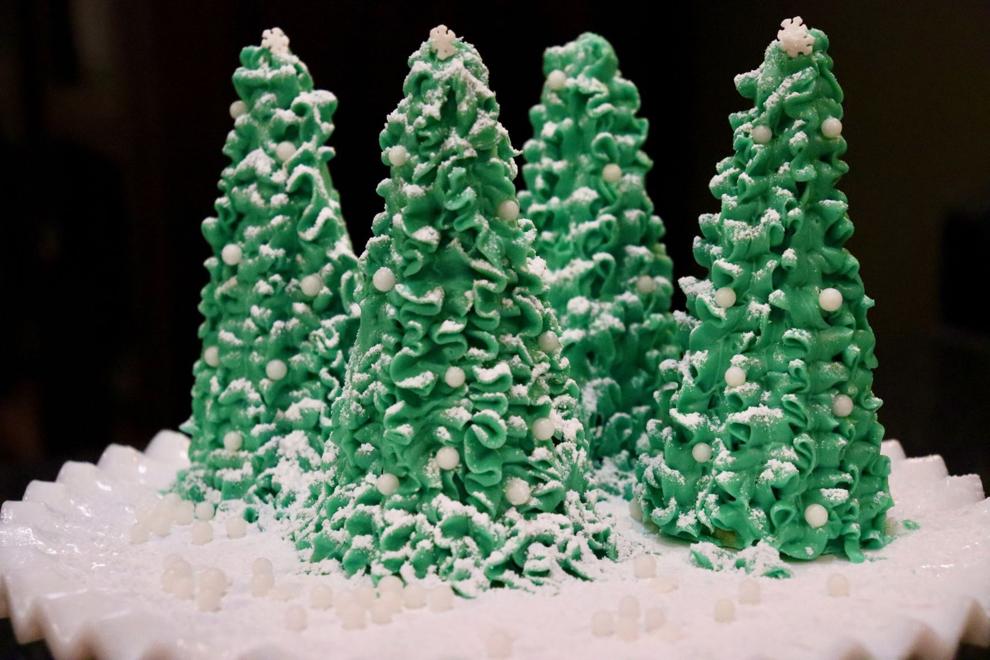 5-ounce package sugar ice cream cones
8-ounce package green candy melts
16-ounce package green frosting
5-ounce package sugar pearl candy decorations
Line a work space with waxed paper.
Prepare the candy melts according to package directions using a bowl large enough to fit the ice cream cones.
Dip each cone into the candy melt to thoroughly coat, then transfer to the waxed paper. Stand the cone up to allow the candy coating to harden.
Select the plate, platter or cake stand you want the trees to stand on. When the candy coating is set, transfer cones to your selected plate. Add the frosting to a pastry bag with a leaf tip, such as a Wilton 67. (if you don't have one, you can use a zip close-type bag, twist it up and cut the tip off of a corner for a similar effect).
Working from the top of the ice cream cone to the bottom, pipe the frosting onto the cone by gentling wiggling the pastry bag to form ruffley waves. Repeat with remaining cones.
Add the powdered sugar to a sifter and gently shake the sifter over the trees to mimic the look of snow. Use tweezers to set the candy pearls on the trees to look like Christmas ornaments.