A new year means a fresh start and a chance to resolve to exercise regularly or eat healthier.
This is a particularly good year to commit to eating more nutritious food since the pandemic is still raging. Eating food that supports your immune system can help you fight off illness.
Salads are one of my favorite healthy things to make. I've always loved putting together fresh salads loaded with colorful vegetables.
Lately I've been roasting nutritious beets, chopping them up and pickling them (along with red onions) in unfiltered red wine vinegar, then adding them to my salads.
I love it so much I probably have some kind of salad with pickled beets at least three times a week. I recently made a winter citrus salad with grapefruit, tangerines, radishes, and of course pickled beets and onions.
It was so tasty there was no need for dressing; a little olive or avocado oil and a splash of balsamic vinegar did the trick.
Another new favorite is honey mustard salmon. The honey mustard glaze is easy to put together and it's a nice change from the standard garlic, butter and sea salt combination I usually make.
I also created a carrot ginger soup, which is loaded with vitamins and minerals. The carrot and ginger are blended with onion, tumeric, chicken stock and other spices that give it a fantastic flavor. It's a great alternative to chicken soup on a cold winter night.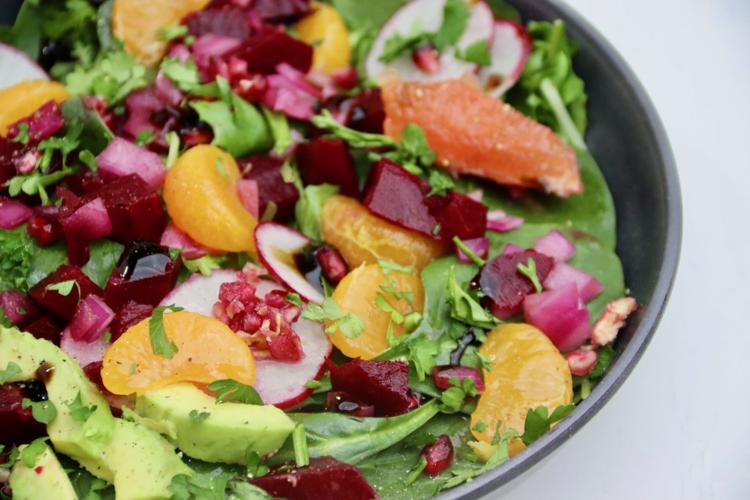 Winter Vegetable and Citrus Salad with Spinach
1 tangerine or clementine, peeled and sectioned
1/2 large grapefruit, peeled and sectioned
2 tablespoons pomegranate seeds
1 avocado, seeded, peeled and sliced
2 or 3 radishes, thinly sliced
1/2 cup pickled beets, chopped (instructions follow)
1/4 cup pickled red onion, chopped (instructions follow)
1/4 cup fresh chopped parsley
1 tablespoon avocado or olive oil
2 to 3 tablespoons balsamic glaze
Add spinach and greens to a bowl and toss to combine. Top the greens with the parsley, tangerine and grapefruit sections, avocado, celery, radishes, beets and red onion.
Before serving, drizzle avocado oil and balsamic glaze over the top of the salad. Garnish with pomegranate seeds and season with a pinch of Kosher salt, if desired.
Quick Pickled Beets or Red Onion
1 beet (or red onion) roasted, peeled and cooled
1 to 2 cups unfiltered red wine vinegar
Chop or slice the beet (or red onion) in pieces that you can fit into a lidded container such as a canning jar.
Sprinkle the sugar on top, then cover with enough red wine vinegar to cover the pieces. Cover and place in refrigerator for at least 20 to 30 minutes before serving.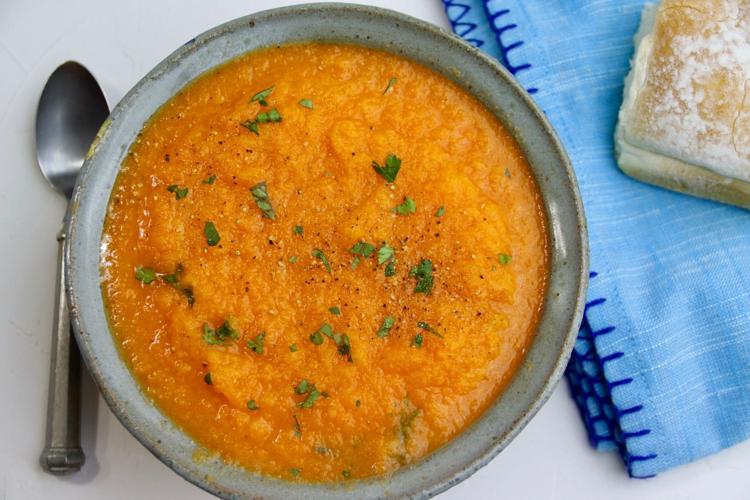 2 pounds carrots, peeled and ends removed
32 ounces of chicken or vegetable broth
12 ounces frozen chopped onion, thawed
1 1/2 tablespoons Kosher salt, divided
1 tablespoon fresh ginger, grated
1/2 teaspoon smoky paprika
First, roast the carrots: Add the coconut oil to a baking sheet spread around to cover the sheet. Add the carrots and season with a pinch of Kosher salt.
Set in an oven preheated to 425 degrees and roast for about 10 minutes, then turn the carrots over and add another pinch of salt to season. Roast for an additional 10 minutes or until the carrots are softened and cooked throughout. Remove from the oven and allow to cool slightly.
Chop the carrots into pieces that will fit in a blender. Blend the carrots with the onions in batches, adding chicken or vegetable stock if the mixture becomes difficult to blend.
Transfer to a stock pot set over medium heat. Continue with remaining carrots and onion.
In the last blender batch, add the garlic and ginger and remaining ingredients and blend. Add the mixture to the stockpot and stir together. Adjust seasonings to suit your taste.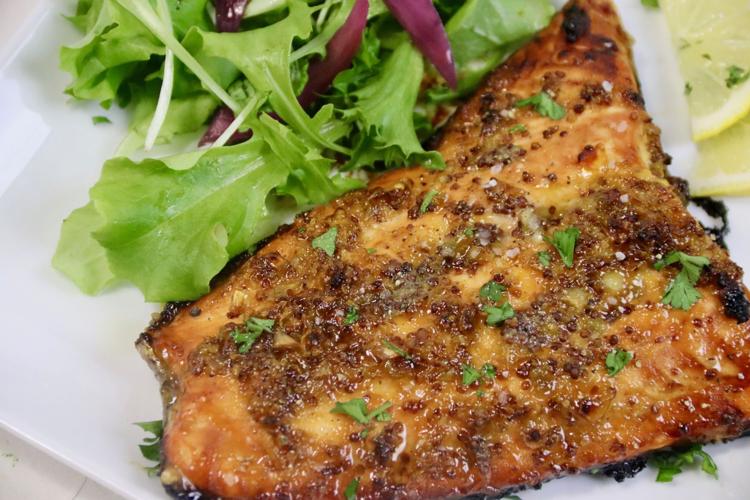 4 tablespoons grainy mustard
1/4 teaspoon black pepper
1 tablespoon fresh lemon juice
1 tablespoon fresh chopped parsley, if desired, for serving
Line a baking sheet with parchment paper and set the salmon on top. Brush lightly with the olive oil and set aside.
To make the glaze, whisk together the remaining ingredients. Generously brush the glaze on the salmon and place in an oven preheated to 375 degrees and bake for 20 minutes.
Turn the oven to broil and cook for 2 to 3 additional minutes or until the salmon starts to char slightly on top. Remove from oven and serve with fresh chopped parsley, if desired.