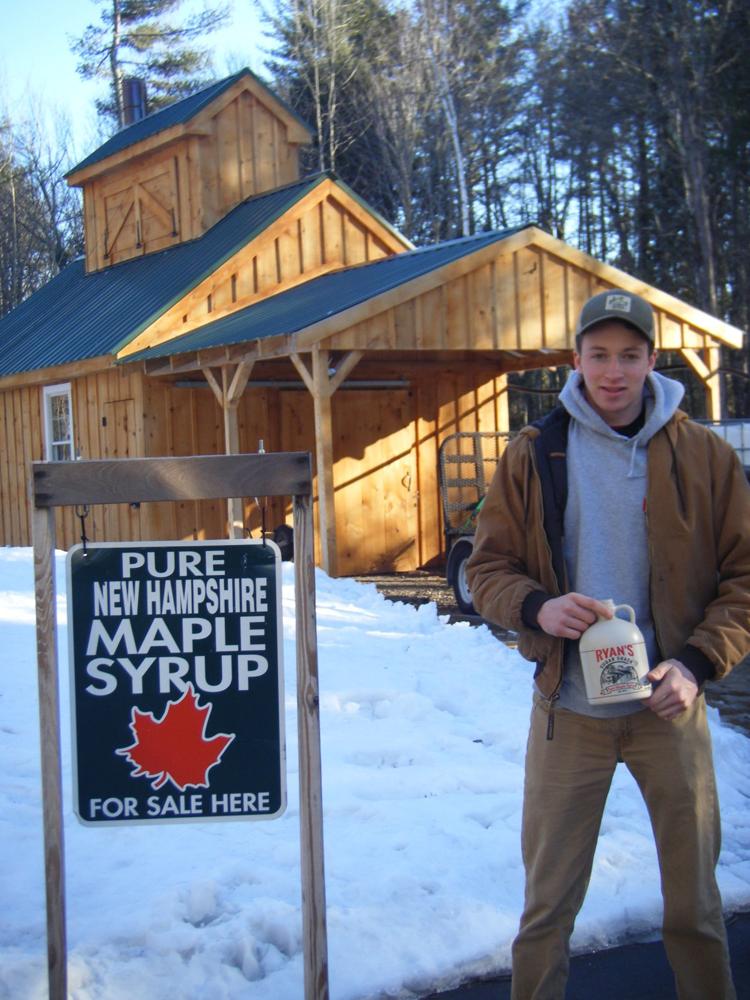 Ryan Neal will never have the traditional teenage job of flipping burgers. He's more likely to be flipping pancakes, and serving them up with his own liquid gold.
Neal, 18, has been producing maple syrup on a professional level for two years. A middle-school hobby turned into a passion and a profession, one he'll demonstrate on Maple Weekend at his Chester sap house.
Neal and a friend decided to try maple sugaring in middle school. "We did two to three trees, and used those blue buckets," he said, pointing to two sap buckets hanging on the wall of his sugar house. "We got maybe a gallon." But Neal was hooked, and in time so were the trees on his parents' property, as he moved from sap buckets to tubing.
"The operation," he said, "wasn't always this big."
He tapped 20 trees, then another 20, then 60, until he had 400 taps on his parents' property. As the demand for his syrup grew, and Neal's passion grew, he expanded, leasing 200 acres in Raymond. This year he has 1,500 taps out, he said.
Neal also became involved in the Pinkerton Academy maple program. The high school has its own sugar house and a hands-on, for-credit maple sugaring program. For two years Neal worked in Pinkerton's program, learning new skills and techniques, and also tapped his own trees.
Pinkerton recognized his abilities, and, Neal said, Career Coordinator Doug Cullen helped him work out a schedule where he has all classes in the morning and can work his taps in the afternoons. "Without that, I wouldn't have had the time," he said. He did a co-op program, building up his business while going to school.
After boiling the sap on different grills and fireplaces, Neal was ready to up his game, and he built the sugar house with help from his father and friends. He also invested in an evaporator, a full-size professional boiler which he found up in Lancaster two years ago. "It's 20 years old, manufactured in Canada," he said. The brand is Waterloo and with the evaporator, he can boil more sap per hour than with his previous smaller ones.
Last year he scored 400 gallons of the sweet stuff, and this year he's on target to make 500, he said.
His busiest time for the maple business is tapping the trees and stringing the wires, Neal added. He prefers to do them all at once, before the weather gets too warm. He puts in 12-hour days when he's boiling, but when he strings the wire, he said, "I didn't sleep for 30 hours."
Customers have told Neal that they like his syrup because it has a "unique flavor," he said. He attributes that flavor to the fact that he uses not just sugar maples, but red maples, which have a lower sugar content. Most producers boil 4 to 50 gallons of sap to get one gallon of maple syrup, but because of the red maples, his proportion is closer to 60 to 1.
But it's worth it, he said. "I love being outdoors, love working in the woods. I enjoy the freedom. And I love spring, when the days are warmer."
Neal, the son of Jim and Wendy Neal, credits his parents for helping him fulfill this dream. "They encouraged me and didn't try to limit me," he said, adding that's no easy feat when your son wants to put a sugar house in your backyard and invest in $50,000 worth of equipment.
Neal graduates this year and said he will go to college. He's been accepted at Colby-Sawyer in New London and will be in their Environmental Studies program. But it's more of a back-up than anything, he added: He already knows what he wants to do, and is doing it. His long-term plan is to move up north, "where land is cheaper," and expand his operation on his own property.
While Neal's profession dates back hundreds of years, he has a modern sensibility about promoting his business. He has a Web designer working on a new Web site and online store, "and we're currently rebranding," he said. While he currently offers the maple syrup in glass or plastic bottles, he's creating new products including a maple granola and his own pancake mix.
He gives a share of the credit to his parents and also his soon-to-be alma mater, noting that he picked up skills from the Pinkerton program.
Pinkerton's program
Pinkerton has had its sugar house since the early 1970s, according to Julia Mitchell, director of public information for the school. In 2012, a new sugar house was constructed. Students now give tours to local preschools and kindergartens, senior adults and ESL programs.
The program is run by teacher Michelle Mize and involves Forestry and Environmental Studies students, FFA and Introduction to Natural Resources, and has 60 students tapping and boiling this year, according to Mitchell.
Students tap when the nights are 32 degrees and the days over 40. A sunny day with a west wind makes the best sap conditions, Mitchell said.
The program has scored as few as 11 gallons and as many as 75 gallons a season, Mitchell said, adding, "One never knows what the season will bring."
Mize wrote in an email, "Students maintain, harvest, produce and market maple syrup as part of their curriculum which also teaches biology, chemistry, weather, history, economics, marketing, communications and more. It is multi-faceted and multi-disciplinary, which is my prefered teaching style as it grounds students involvement and knowledge is so many ways."
As for Neal, he'll be taking his self-taught and Pinkerton-taught knowledge through another sugaring season. But when that's done, don't look for him behind any fast-food counter: he owns another business, a pressure-washing concern. "That's what I do in the off-season," he said.
Neal's business, Ryan's Sugar Shack, is located at 118 Meadow Fox Lane in Chester and will be open Maple Weekend. For more information, email ryansugarshack@gmail.com or call 370-0077.