MANCHESTER — From as far away as central Maine, northern New Englanders flocked to Manchester to dine Monday for the first time at a Golden Corral restaurant, a treat usually limited to mid-winter Southern sojourns.
Socially non-distancing diners stood in lines for 15 minutes or so before getting seated and then having their go at the all-you-can-eat, buffet-style offerings of fried chicken, mashed potatoes, grilled burgers and other down-home food.
"What's not to like?" said Jean DeMerchant, who drove three hours from Augusta, Maine, with family members.
They are renting a room, will do some back-to-school shopping and hit up the Golden Corral before returning to Maine.
The restaurant opened on Monday at one of Manchester's newest shopping centers — the Shoppes at 655 South Willow. Lines were due in part to its popularity and in part to its half-capacity dining room.
Before Monday, the closest Golden Corral to New Hampshire was in Springfield, Mass., and none were operating in the three northern New England states. The restaurant chain has 781 locations in 44 states, many in the Sun Belt, according to the website menuism.com.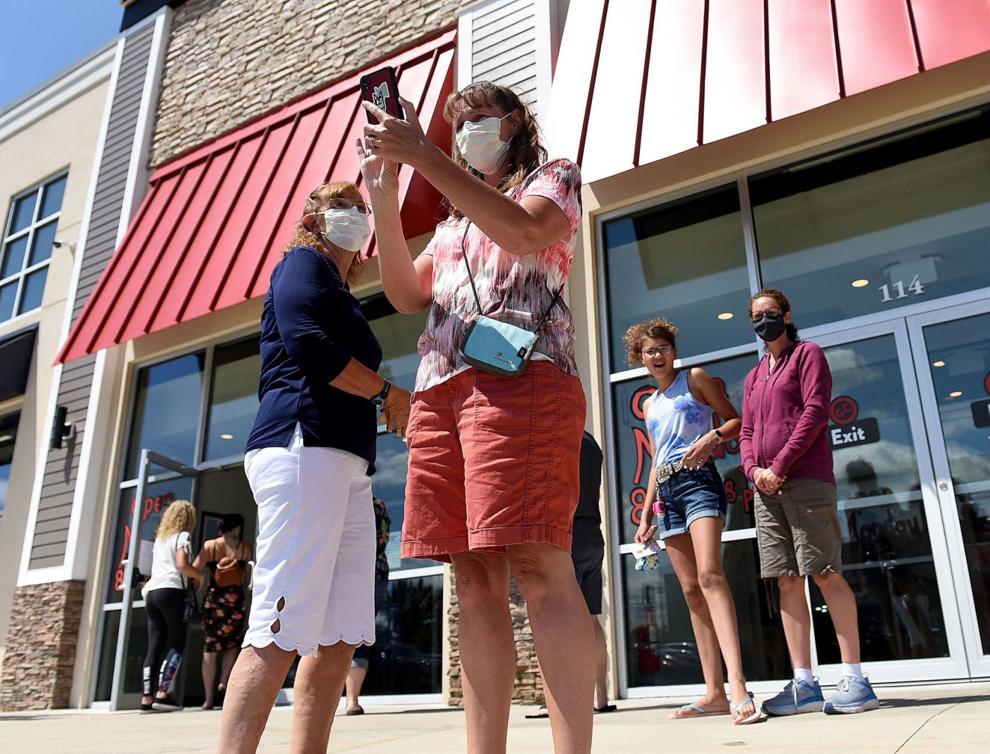 Things have changed
The COVID-19 pandemic has altered the standard operations at the restaurant.
Customers can no longer serve themselves in the buffet line. Rather, employee servers will spoon food onto their plates. Plates can't be reused.
Also out: salt and pepper shakers and other communal condiment dispensers.
Those are part of the requirements that Gov. Chris Sununu placed on restaurants before they could reopen, said Aaron Krycki, the city environmental health supervisor who oversees restaurant inspections.
"COVID has basically said there's no self-service, now it's employee service," Krycki said. Having multiple people handle utensils is a good way to spread pathogens, he said.
In fact, a self-serve buffet was in use in November at the Puritan function room where 18 people were sickened and one died from norovirus.
State health officials never gave a concrete explanation for the outbreak. But Krycki said health officials are trying to eliminate community-held utensils at buffets.
"Buffets inherently have a different risk profile," he said.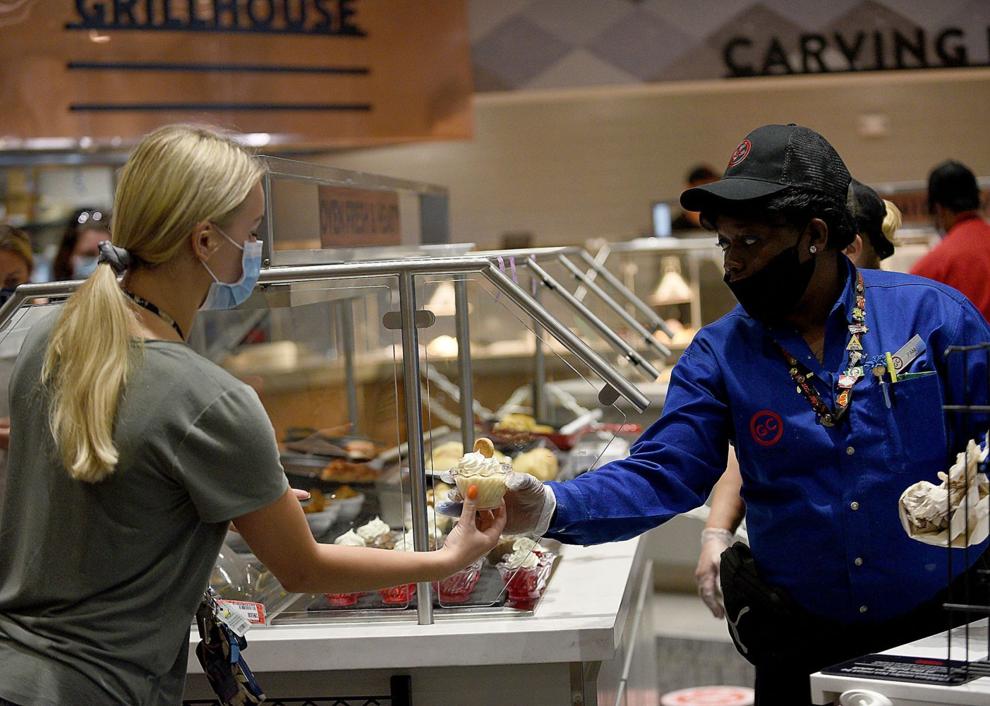 The Manchester Golden Corral featured four manned serving stations. There was no salad bar — individual bowls of salad were covered with plastic wrap and sitting on a bed of ice.
Melted chocolate streamed from a fountain, but no dipping is allowed. Plates of individually coated marshmallows and fruit were available for the taking.
Servers change utensils every 20 minutes, said co-owner Leonard Abreu.
"We've had our challenges and hurdles. We've jumped through every hurdle," he said. "Restaurants in general are doing more than Market Basket and Home Depot. We've increased what we're doing tenfold."
Another rule is that diners have to wear masks and be 6 feet apart when standing in the buffet line.
Raymond resident Sue Orso said she wouldn't be bothered if a fellow diner got too close as long as he were wearing a mask.
"I don't panic. It is what it is. Keep your head and you'll be safe," she said.
A place in NH
Orso said she and her husband, Ron, travel, and have enjoyed Golden Corral around the country. She said they have gone as far as writing company executives pleading for them to open one in New Hampshire.
"We've been waiting for this for years," she said.
Another restaurant partner, Steven Leary, said Golden Corral conducted market research that looked at population and restaurant density.
"We had to find the right spot, that's the biggest thing," he said.
Meanwhile, they struggle with hiring. Pay ranges from $11 for servers to $15 for cooks.
"I don't feel this is a gamble. People have been waiting for a long, long time up here for Golden Corral," Abreu said.
"I'm unbelievably excited. Neither hell, nor high water, nor COVID is going to stop us."