Holiday gatherings this year may be smaller due to the ongoing pandemic, but no matter the size of your celebration, tasty bite-sized snacks make any get-together more festive.
I like appetizers that are easy to make but are high in flavor and sophistication.
It's a bit of a tall order, but one ingredient that offers great potential is egg roll wrappers or wonton wrappers. You can use them to make sweet or savory snacks, or even little cups for salads or a tasty slaw.
Apple pie bites are especially easy to make. You can either buy prepared apple pie filling or chop up a few apples, simmer them with spices such as nutmeg and cinnamon, and make your own filling.
Then you spread a scoop on an egg roll wrapper or wonton wrapper, fry it up, then garnish with sugar and cinnamon or powdered sugar.
If you want to snack on something more substantial, try chicken skewers. Skewers are a great party food because they're easy to eat and you can offer different sauces on the side. I love peanut sauce with chicken skewers. The sauce is a snap to make or readily available at most grocery stores if you're short on time.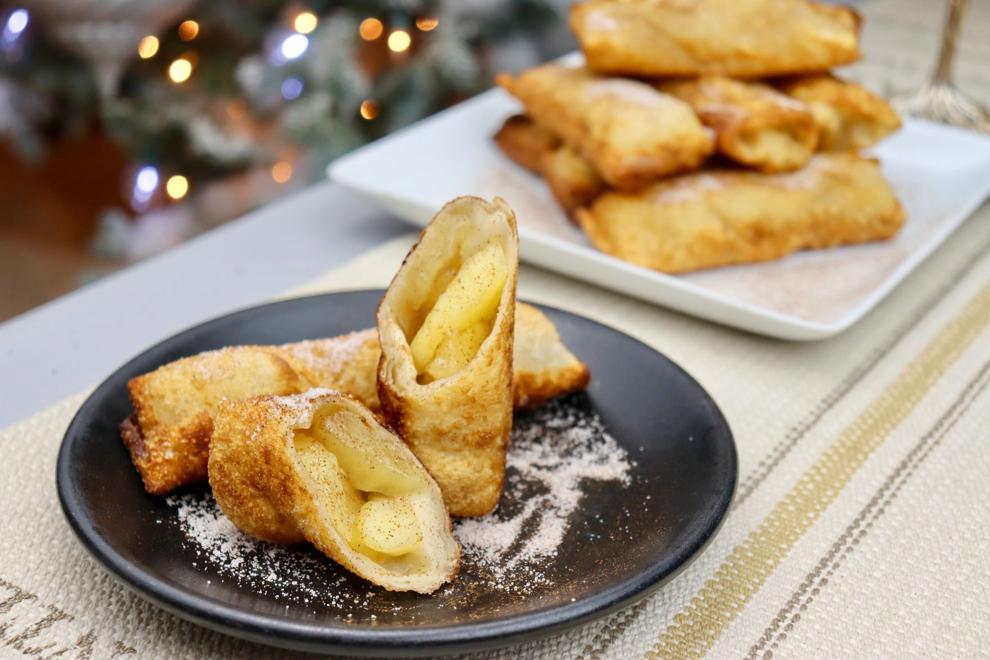 Apple Pie Bites
1 pound package egg roll wrappers
2 (20-ounce) cans apple pie filling
3 tablespoons sugar
1 tablespoon cinnamon
Peanut or canola oil for frying
Add the sugar and cinnamon to a small bowl and mix together. Set aside.
Line a baking dish with waxed paper and set aside.
Clear a workspace to prepare and fill the wrappers. Have a bowl ready with about 1/2 cup of water.
Working with one egg roll wrapper at a time:
Place a wrapper on the workspace with one corner toward you. Dip a finger in water and run it along the edges of the wrapper to moisten.
Place about two heaping tablespoons of pie filling toward the corner closest to you. Fold that corner up and over the filling.
Next fold the side corners over filling, forming an envelope.
Then roll the filled envelope up to the remaining corner, and press gently to seal.
Add enough oil to a deep sauté pan so the oil is about an inch deep. When the oil is warmed, use tongs to transfer the rolls to the hot oil. Don't crowd them.
Cook on each side for 1 to 2 minutes or until the egg rolls are light golden brown. Transfer to a paper towel-lined platter to drain. Repeat with remaining egg rolls.
Top with cinnamon sugar before serving.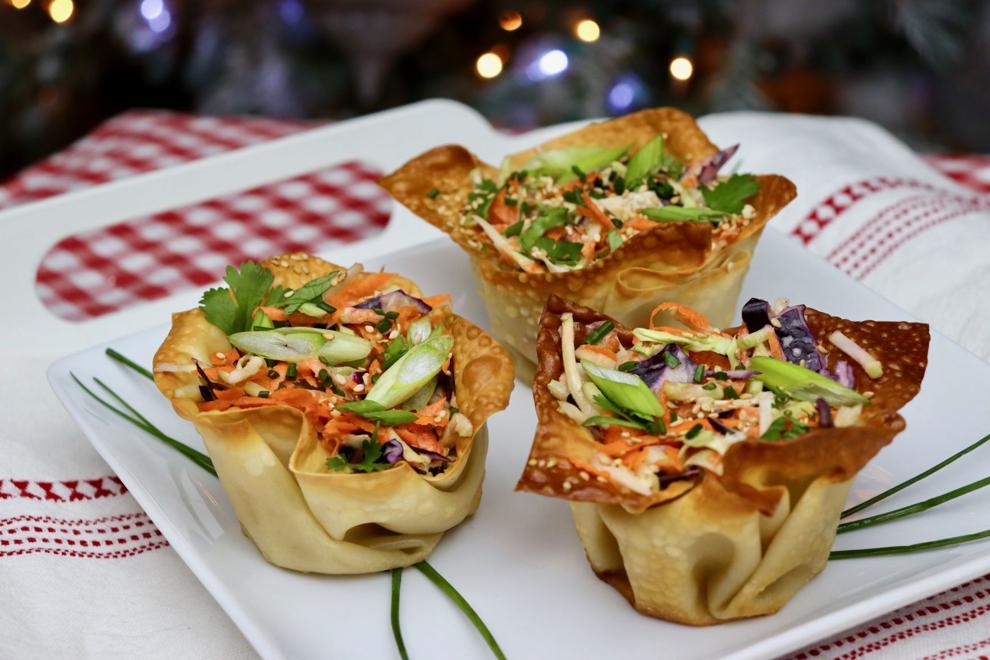 Asian Slaw Cups
1 pound package egg roll wrappers
12-ounce package broccoli slaw mix
12-ounce package coleslaw mix
3/4 cup green onions, chopped
3/4 cup store-bought sesame ginger dressing
3/4 cup mayonnaise
1 tablespoon soy sauce
2 tablespoons fresh lime juice
2 to 3 tablespoons toasted sesame seeds for garnish, if desired
2 to 3 tablespoons fresh cilantro, chopped, for garnish, if desired
Spray a deep muffin tin with cooking spray. Tuck an egg roll wrapper into each muffin cup to form a bowl, then lightly spray the wrappers.
Set the muffin pan in an oven preheated to 350 degrees and bake for 7 to 10 minutes or until the wrappers are light golden brown. Repeat with remaining wrappers.
While the wrappers are baking, make the slaw. Add the broccoli slaw mix and coleslaw mix to a large bowl and combine well. Add the sesame ginger dressing, mayonnaise, soy sauce and lime juice to a medium-sized bowl and whisk together. Pour the dressing over the slaw mix and stir well to coat. Fill each egg roll cup with slaw, then garnish with fresh chopped cilantro and toasted sesame seeds, if desired.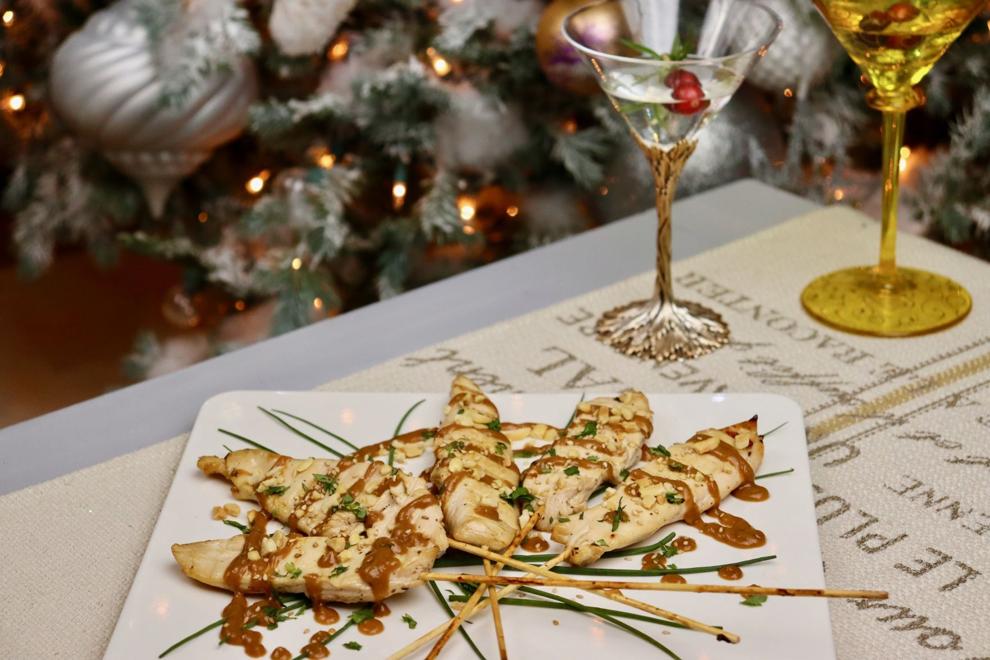 Five-Spice Chicken Skewers with Peanut Sauce
2 pounds boneless chicken breast
2 tablespoons sesame oil
1 tablespoon Chinese five-spice seasoning
1 teaspoon Kosher salt
1/2 cup smooth peanut butter
2 tablespoons soy sauce
2 tablespoons rice vinegar
2 tablespoons brown sugar
1/2 tablespoon soy sauce
1 teaspoon Siracha chili sauce
4 tablespoons warm water
1-2 tablespoons fresh chopped cilantro for garnish, if desired
1/4 cup peanuts, crushed, for garnish, if desired
1/2 tablespoon toasted sesame seeds, for garnish, if desired
Cooking oil spray
Lightly spray the top of a broiler pan or a rack set in a baking sheet with cooking oil spray and set aside.
Place the chicken breast on a clean workspace lined with plastic wrap. Cover the chicken with another piece of plastic wrap and use a kitchen mallet to gently pound the chicken so it is a uniform thickness about 1 1/2 to 2 inches.
Remove the plastic and use a sharp knife to slice the chicken breast into strips about 2 inches wide. Add the chicken to a bowl and drizzle with sesame oil, then sprinkle with salt and 5-spice seasoning.
Lightly spray skewer sticks with cooking oil spray. Thread a skewer stick into each chicken strip the long way, then set the skewer on the prepared broiler pan or rack. Repeat with remaining skewers, then set in an oven preheated to 375 degrees. Bake for 12 to 15 minutes or until the chicken is cooked throughout.
While the chicken is cooking, prepare the peanut sauce: Add the peanut butter to a small, microwave-safe bowl and heat in a microwave for 10 seconds (this makes it easier to mix). Transfer the peanut butter to a medium bowl and add the vinegar, brown sugar, Siracha, soy sauce and water. Whisk together until smooth.
Remove the chicken from the oven and set on a serving platter, then drizzle peanut sauce on top. Garnish with chopped cilantro, peanuts and sesame seeds before serving.